Thanks for stopping by! Black Friday 2018 is now over.
If you missed these deals, visit our sewing machine Cyber Monday deals 2018 to get exclusive discounts that are only available on Cyber Monday.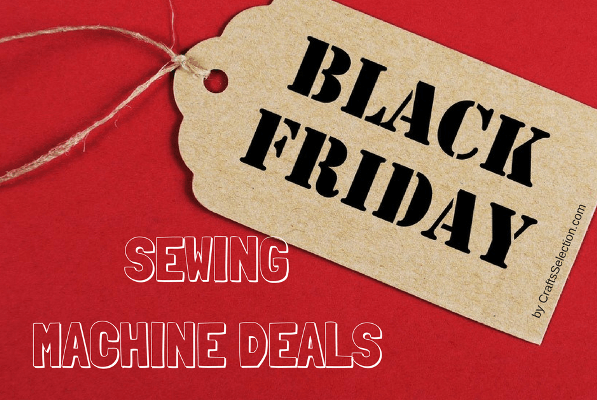 See also: Best Black Friday Embroidery Machine Deals
Best Black Friday Sewing Machine Deals 2018
Below is a summary of all the great sewing machine deals you missed this Black Friday – but it's not too late. You can still find savings on Cyber Monday sewing machine deals.
Black Friday Missed Deals

29% Off

Janome MOD-200 Computerized Sewing Machine

Reliable, full-featured machine for intermediate and advanced sewers
200 stitches, 12 buttonhole, adjustable thread tension
Durable, fast and quiet operation

25% Off

Brother Sewing Machine XM2701

Best mechanical machine for beginners
27 stitches, 6 sewing feet
Easy needle threader, bright work area

20% Off

Brother Sewing and Quilting Machine CS6000i

Easy to use sewing quilting machine
60 stitches, 9 presser feet
Includes a wide table, free arm

15% OFF

Brother Project Runway CS5055PRW

Good choice for novice designers, beginners, quilters
50 built-in stitches, 87 stitch functions
Lightweight, easy to use, low price

6% Off

Brother SE400 Sewing and 4x4 Embroidery Machine

Best embroidery sewing machine for beginners and home sewers
4x4-inch hoop, 70 built-in designs, 67 stitches, 5 fonts
Easy to use and edit designs
Good price

13% Off

Arrow Sewing Cabinets 901

Airlift function for 3 sewing positions: freearm, flatbed and storage
Convenient, has wheels to easily move
Heavy, solid and spacious cabinets
We're also be back prior to Black Friday 2019 to bring you all the news, ads and the best deals on sewing machines for Black Friday 2019.
Want to learn more about these sewing machines before buying? Check out these sewing machine guides and reviews:
When is Black Friday 2019?
As you know, Black Friday happens on the day after Thanksgiving every year. In 2019, Black Friday takes place on the Friday 29th November 2019.
However, the good news is that Amazon's Black Friday event doesn't last just one day. It takes place over several days and has lots of new and exciting deals released every few minutes.
Why You Should Sign Up For Amazon Prime Before Black Friday?
If you're not an Amazon Prime member yet, it would be a great idea to consider joining the program before the holidays start.
This membership is only available through Amazon.com and comes in handy all year long, but particularly during major shopping events.
Not only do you get free two-day shipping on most items, but you also get access to Amazon's instant video streaming service, digital photo storage, and early access to several lightning deals before any non-member sees them.
It's a fantastic way to get your hands on some of the hot items at great prices without having to wait outside a store during those early morning hours.
Not yet Prime? You can sign up for a free 30-day trial of Amazon Prime here.
Tips to Get The Best Amazon Black Friday Deals
The best way to find Amazon Black Friday deals is to take a look at what's upcoming for the next several hours on their lightning deals.
Every few minutes the website releases more products for sale, some of which are kept secret until they go live, and you have to be on your game to grab one to your cart before they run out.
Some of the deals show you a preview of what's going on sale next, and you can have Amazon send you a notification to remind you a minute or two before they are open for purchase.
If you're into crafts, this is the place to be on the lookout for what we anticipate to be Amazon's best Black Friday sewing machine deals.
Be sure to check back frequently for updated deals.