Wanting to own the best sewing machine for upholstery is only natural. You may be a professional tailor in an interior designing company or an independent sailmaker or the head designer in an automobile firm. And the sophisticated features of an industrial sewing machine are bound to make your work easier and faster.
But the thing with finding the right sewing machine for vinyl and canvas, for example, is a challenge. There are so many popular brands and nice models available on the internet to choose from.
Top 5 Best Sewing Machines For Upholstery:
Picking the best – one that is ideal for YOUR specific needs – is a daunting task. And that's where this guide comes in.
As industry watchers and sewing machine experts, we have created this handy buying guide. We have focused only on top industrial sewing machines that are suitable for hard and thick materials like vinyl, canvas, leather, suede, sailcloth, other marine fabric, automobile upholstery fabric, and home décor fabric.
Everyone from beginners to intermediate sewers to DIYers to decorators to sailmakers will find this guide helpful.
You can start with the quick guide below and then move on to read detailed reviews of those models that have caught your fancy. The good thing about this guide below is that whichever machine you choose, you can be sure that it won't be a bad choice.

What is the Best Sewing Machine for Upholstery Fabric?
The answer certainly is an industrial sewing machine.
Because it is all about power. Usually made of solid metal (as opposed to plastic/fiber in regular machines), an industrial sewing machine is powerful enough to stitch through thick materials such as canvas and vinyl. This type of stitching, if done using a regular sewing machine, will lead to wear on the fabric. The final result will also look like a shoddy job.
This variation in the quality of the stitch on harder and thicker materials is why professionals choose an industrial walking foot sewing machine. It has several benefits such as:
a large work area
does not wobble when fed with fabrics thicker than a quarter of an inch
high-quality stitch
high speed (some machines offer up to 5,000 RPM)
Together, these advantages shadow that of a regular home sewing machine, regardless of which manufacturer you go for. It is true even for machines attached with a walking foot. Yes, you get that extra assistance (feed dog support), but the machine build and needle strength remain the same.
It is also largely believed that the only difference between an industrial and a residential sewing machine is the work area. That's a wrong belief because clearly the former is designed in a way to accommodate thick and obstinate materials like vinyl and leather.
Disadvantages
Naturally, an industrial sewing machine has a few demerits in comparison.
Apart from the cost factor, a machine intended for upholstery usually has limited single stitch styles and functions. This lack of versatility is understandable because you are not going to add frills on a sail.
But the bigger point here is that you cannot use an industrial machine for decoration work. It will also not double up as a regular machine or sewer where you can experiment with designs or stitch styles.
Newer models (2019 and 2020) do have additional bells and whistles but professionals prefer these heavy-duty machines for their strength and not for their versatility.
Upholstery sewing machines also require regular maintenance (oiling and cleaning), special threads, and a bit of skill from the user. It is good to note that not everyone can operate an industrial machine. Having operated a domestic sewing machine does not automatically prepare you for an advanced one.
Therefore, before buying one it is good to ask yourself some questions. Most importantly, getting an industrial machine means you will only be working on heavy-duty projects. For smaller projects, it is assumed you have another one, a residential model.
Questions to Ask Before Buying
A list of questions and answers that will help you make a decision.
Best Sewing Machine for Upholstery Fabrics – Review of 2023
These are the best sewing machines for upholstery that professionals use.
#1 – JUKI LU-1508NS Walking Foot Sewing Machine For Upholstery
In 2015, Financial Times ranked Juki the #1 sewing machine manufacturer in the world. Ask any professional in the field and you will only hear positive opinions about the Japanese brand known for its wide range of machines.

Sewing Machine Review
The Juki LU-1508NS is a powerhouse of a machine with its strong servomotor and full metal body. With its single-needle, single-stitch function, you can throw any fabric at it and it will reply with a perfect sew. We are talking materials like leather, vinyl, canvas, and webbing.
In our tests, the LU-1508NS didn't flinch even once when we fed an upholstery sheet in a single file for a car headrest cover that we were making.
The sturdy table (it comes factory-assembled) did not wobble nor did we feel a strain in the motor (something we did sense when we tried it on our Janome domestic). And the final output: perfect stitches with gaps of 5mm as selected.
It can stitch with a max length of 9mm and has an excellent speed of 2,500 stitches per minute (STM). This is more than enough for any projects – if you are a home user or a professional factory tailor.
LED light for illuminated work area and front bobbin wonder are the standout features. The entire unit weighs 250 pounds, so portability is out of the question; not that we were expecting it from heavy-duty upholstery sewing machine like this.
The 110V motor is also a great piece of work in this model, with its noiseless operation, giving you a silent experience while working.
Highlighted Features
High speed of 2,500 stitches per minute
Bright LED light in the work area
Noiseless servomotor provides a silent sewing experience
#2 – JUKI DNU-1541S Industrial Walking Foot Sewing Machine
If you fancy the LU-1508N but find the price tag a bit on the high side, consider this affordable model with the same features.

Sewing Machine Review
Since this model comes with the same features available in the 1508N model (above), we will focus on features that we did not discuss above.
The silent servomotor (with its speed control and power efficiency) and horizontal axis hook for side loads apart, the DNU 1541S comes with a double-tension mechanism. It allows you to control the tension of the thread feed depending upon the type of fabric you are sewing. It's a nice little addition for those who want everything to be perfect while sewing.
Add to that the high speed of up to 3,300 RPM that will see your projects finishing in less time.
The 1541 is basically a lockstitch industrial sewing machine for upholstery that can stitch through most fabrics. Juki claims that its single needle mechanism can cut through vinyl, leather, synthetics, awnings, tarpaulin, camping equipment, and even slippers.
What more range are you looking for?
In our tests, it was hard to pinpoint any difference between the two Juki models. Both of them are sturdy, come assembled for immediate use, and work on a very strong yet silent servomotor.
The only difference is the weight of the materials you can work one. The 1508N is more equipped to handle heavier materials like boat fabrics and car upholstery.
Working on this affordable powerhouse is going to be a treat no matter how long stretches you work on.
Highlighted Features
2,500 stitches per minute
Variable speed of up to 3,300 RPM
Silent servomotor
#3 – Consew 206RB-5 Walking Foot Sewing Machine
Consew is an American company that has been around since 1898. It is best known for its 4-needle multiple feed mechanism that helped revolutionize the sewing and quilting industry.

Sewing Machine Review
Apart from the iconic logo of Consew that welcomes you into its myriad features, what captured our eye was its game-changing triple feed system.
For an industrial sewing machine, it is a perfect addition that makes sewing a tighter job. Together with the alternating presser feet and walking feet, you are looking at a machine that will help you through all types of projects involving any type of material.
Consew claims easy sewing through leather, vinyl, upholstery, synthetics, canvas, and various coated and laminated products, and in our tests, the single-needle setup was able to verify it. However, we did feel that the motor strained a little when we fed it with thicker leather sheets. Compared with Juki's motor, this one definitely comes second.
Along with the easy bobbin change – where you don't have to remove the fabric being sewn to refill the bobbin – and support of walking feet (which is not necessary with the triple feed function), this Consew easily ranks high on our list of the best sewing machines for canvas and vinyl.
We have mentioned the need for regular maintenance in our buying guide above, and that is where Consew earns some brownie points. The centralized arm lubrication of 206RB-5 means you don't have to worry about being pedantic in your weekly oiling activity.
In other words, it's easy to oil and maintain than other models on this list.
Hot Tip: Consew's official YouTube channel has an excellent collection of videos for your perusal. Take a look.
Highlighted Features
Centralized oil lubrication
Tripled feed system
#4 – Techsew 1660 Walking Foot Industrial Sewing Machine
Techsew is a Canadian corporation that emerged in the 1970s but pioneered the industrial stitching industry only in the 1990s. This through its partnership with Canadian and American military departments, organizations like NASA, and aircraft companies like Bombardier. This is enough evidence for its reliability and high-quality products.

Sewing Machine Review
One of our favorite features in this model is the compound feed mechanism. Here a walking foot, alternating presser foot, needle feed, and dog feed come together to help you with bulky fabric sewing.
For example, if you are working on leather sheets for a car's upholstery, this combined mechanism will allow you to sew it in one go without having to move around the fabric. An excellent feature for professionals who struggle with thick materials that need detailed sewing in more than one area.
This Techsew model also has other bells such as reverse feed for reinforced stitching, a large, soft flywheel (we love this more than the one in Juki) for better control, and a servomotor with variable speed. It stitches at a maximum speed of 2,500 RPM which seems like the general number across models these days.
The Techsew 1660 is marketed as an industrial upholstery sewing machine for a variety of purposes. You can stitch through all types of stuff – auto and marine upholstery, aviation products like leather seats, home décor, fashion designing – you name it.
Which is why we recommend this machine for DIYers because you never know what type of fabric you will be working on in the future. Get it today!
Highlighted Features
Compound mechanism allows easy stitching over bulky fabrics
A large flywheel
Sturdy table and assembly
#5 – Highlead GC0618-1SC Heavy Duty Compound Feed Walking Foot Machine
A brand from the UK with production units in China, Highlead has been around since the early 1990s and is best known for its small range of heavy-duty upholstery sewing machines.

Sewing Machine Review
Built with longterm usage in mind, this heavy-duty upholstery sewing machine boasts of a metal body and a very large flywheel. So sturdy that it will stand on its legs no matter how thick a fabric you feed it, there isn't any type that the GC0618 cannot handle.
Its large hook and base allow for increased bobbin thread capacity. This means that you can wound a bobbin before a big project and focus on your stitching without having to refill it mid-job.
What is also present in this Highlead machine is the compound feed mechanism that we discussed in the Techsew model above. It's a godsend for professionals like you and me (everyone from our testing team, in fact) because it simplifies the process of sewing through thick materials like suede and boat sail.
Unfortunately, like any other machine, you will have to manually lubricate the legs and needle connection every once in a while. If you are a daily user, we recommend doing this (plus a bit of dusting and cleaning) once a week.
Overall, it has the bells and whistles to help you with all your sewing and quilting tasks. It's easy on the purse and is built like a cannon that will withstand all the wear and tear for years to come.
Highlighted Features
Compound feed system simplifies quilting
Well-built body for longterm usage
#6 – Reliable BARRACUDA 200ZW Portable Upholstery Sewing Machine
The perfect example of Made in America sentiment, US pioneering brand Reliable Corporation (since 1955) is perhaps second only to Juki but it's American and that's all its loyalist care about. Plus, the superbly high quality and suaveness of its products further make it irresistible.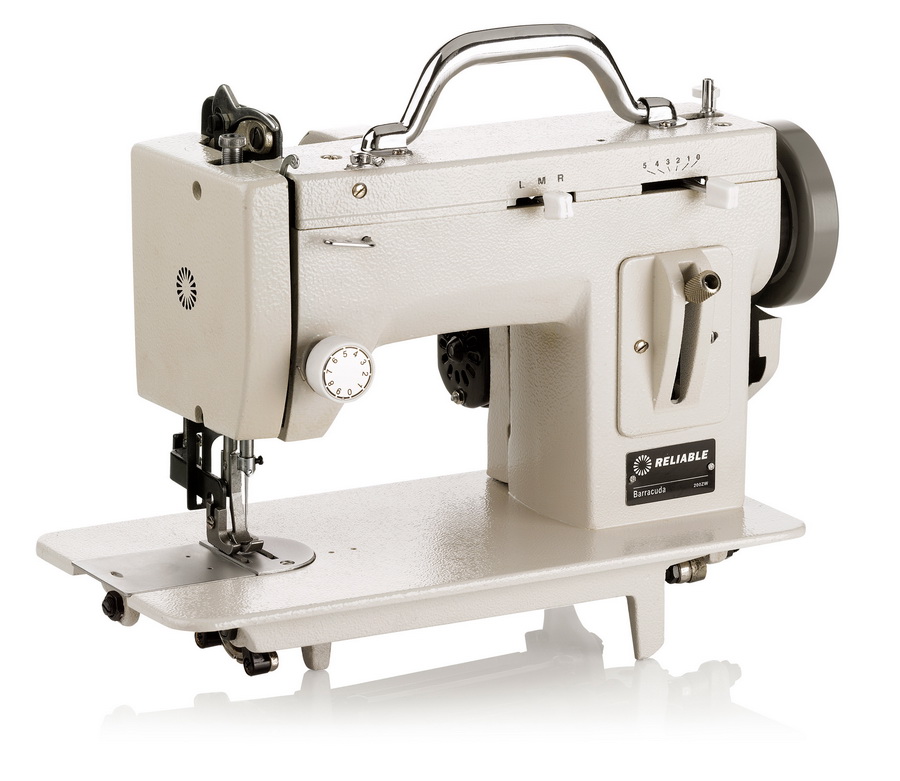 Sewing Machine Review
Just one look at the Barracuda 200ZW and you know that it is a no-nonsense portable upholstery sewing machine. First launched in 2007, over the past decade, it has managed to earn a lot of reputation for two things:
Portability
Value for money
Retailing at half the price of some of the most advanced models on this list, this Reliable industrial sewing machine weighs just 34 pounds. It comes with a full accessory kit, sans the table because you don't need it.
That is where its portability comes from: it is a single-shaped machine that operates through small motors and cog-driven setup. Giving you a modest speed of 800 stitches per minute (up to 4 inches per stitch), it sews with great smoothness and finesse and manages to cut through most hard materials.
We are talking boat upholstery, home décor, and the like. Reliable itself says that the Barracuda has been designed for boat owners, hobbyists, and small businesses. And says it is ideal for medium and heavy-weight sewing jobs.
The single-needle straight, as well as zigzag stitches, come out great in the final output regardless of what fabric you are working on. Its claim of cutting through up to 8 layers of Sunbrella Plus (marine fabric) is true because we tested it.
Along with its good-looking outer body that will remind you of a freight ship (suave, suave, suave) with the off-white color, it has several more enticing features. They are top/bottom feed, a handy reverse level (which works), and a wide workspace of 7 inches.
What more do you ask for in a portable automotive upholstery sewing machine?
Note – It is available in both 120V and 220V. Here are Dropbox links to its specifications and user manual.
Highlighted Features
Top and bottom feeding
Reverse lever mechanism
Well-built and good-looking
#7 – Yamata FY5318 Walking Foot Lockstitch Sewing Machine
Yamata (not to be confused with Yamato) is a local manufacturer that produces all types of sewing machines. This one here is an entry-level model with all basic amenities.

Sewing Machine Review
The FY5318 is essentially an entry-level sewing machine for boat canvas, general upholstery, and leather products like belts and handbags. Its low price is the biggest highlight, and even more so when you start using it and realize that it has all the basic plugs you would want in an industrial sewing machine.
It is built strongly and enclosed on a metal body, giving you maximum control and protection from wobbling. Feed the toughest material possible and this Yamata will deliver.
Together with its reverse lever, big bobbin, and front feeder, it is a great option for home users, hobbyists, and tailors who have more than an occasional requirement.
Although it does look like an unenterprising machine, you will be surprised to know that it has automatic lubrication, possible due to its centrifugal impeller pump system. A good addition to an otherwise basic model that both fits your wallet as well as your house/shop.
Over anything, it stitches well (with different lengths), cuts through most thick materials like leather and awnings, and has a self-maintaining feature. Just good for a small, long-term investment.
Note: This model does not come with a motor or table.
Highlighted Features
Automatic lubrication
Reverse lever
#8 – REX Portable Walking-Foot Sewing Machine
Manufacturing portable canvas sewing machines since 1957, REX is a household name today due to its low-cost products and innovative space-saving design.

Sewing Machine Review
It is definitely not a competition against Reliable's mighty Barracuda (#6 on this list; review above) but REX comes real close with this fantastic walking-foot sewing machine, named RX-607.
First of all, it's a really compact machine and weighs just about 37 pounds in total. You can easily keep it on a side table in your drawing room or bedroom, but make sure you cover it properly. Don't want to allow dust to limit its lifespan. (In fact, a dust cover or case is recommended.)
And apart from the cost, it has some more shines to back up its #8 feature on our list. A reverse pulley that WORKS, a full cast iron metal body that can take a beating for years, and a very branched design so that working on it gives you a sense of total control.
And the latter part is true because you can really be in command with the machine even as you sew through a marine fabric, a piece of an awning, or a leather sheet. Some machines, on the other hand, intimidate you.
In our tests, just like the Barracuda, the Rex 607 was able to cut through 8 layers of a marine awning. And that does not validate our recommendation as the best portable canvas sewing machine, what will?
Note – REX is a widely popular manufacturer in largescale textile factories in India.
Highlighted Features
Full cast iron metal body
Designed for home users, hobbyists, and DIYers
Conclusion
We hope your hunt for the best sewing machine for upholstery ends here and you have managed to find your ideal pick.
We know that giving you eight different options to choose from does not really make it easiest, but each one of the above models is targeted at a specific user.
However, if you are looking for an expert recommendation and want to save time, here are our top two picks:
For Advanced Sewers and Everyday Use
We recommend the Juki 1508NS which has stood the test of time and has served professional sewers like you for years. Its silent motor and full metal body help it stand apart from the crowd.
We also like the Consew and Techsew models if you are looking for a reduction in the cost.
For Beginners and Occasional Use
The Reliable Barracuda 200ZW. Not a chance anything comes closer to this compact industrial sewing machine.
However, if you are not looking for portability, then we recommend the Highlead GC0618. It's durable and will last you longer regardless of usage. A perfect choice for long-term investment when you don't see it using daily.
If you still are in confusion, let us know your thoughts in the comments below and we will respond with expert suggestions. If you a specific query, do reach out to our Support team for assistance.