Finding the perfect sewing machine can be intimidating, especially when there are so many types, brands, and models. Machines that come with zillions of features, attachments, accessories that initially don't make sense.
And it can be slightly more difficult if you are a beginner who just wants to own an entry-level and affordable machine and begin your journey as a creative seamstress.
Top 5 Sewing Machines For Beginners:
We understand your needs and have thus created this brief buying guide to help you find the best sewing machine for beginners.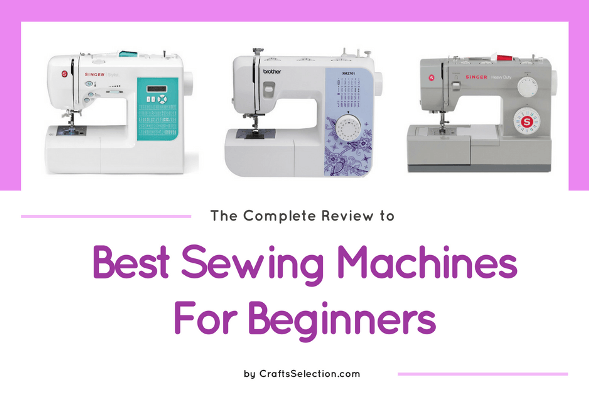 Have a quick look at our top choice with this video:
As experts, we believe that the easiest way to find the best one is to compare sewing machines.
Weighing their pros and cons, understanding their highlights, and most importantly, gauging the overall user experience is how we have compared these models.
If a certain machine seems like a nice deal and is also in your budget, you have probably found your sewlmate.
Once you have taken a look at the table, the brands, and the models, it is time for in-depth sewing machine reviews.
We have added a lot of details, tips, and tricks along that will make you want to take a quiz hypothetically titled "How to buy a sewing machine for a beginner?"
Let's start!
Best Sewing Machines For Beginners Reviews 2023
#1 – Brother XM2701: Best Mechanical Sewing Machine For Beginners

Best For
A machine known for its versatility, it is suitable for both users who are learning to sew (thanks to the instructional DVD) and for those who are in inching closer to the intermediate level.
Feature Highlights
A beginner user is going to have a lot of questions when she/he begins the sewing journey. All sorts of words – bobbin, feet, stitch type, blind hem, etc. – will come your way and fly over your head.
That is why we suggest the Brother XM2701 – a basic sewing machine for mask making that takes care of a beginner sewer like a teacher takes care of a pupil.
Its tutorial DVD and simple user manual are perfect to understand all the basic tasks like setting up a stitch, threading a needle, and using one of those 27 built-in stitches.
The in-built needle threader saves time and effort as you don't have to hunch over the machine and find the eye of the needle before you can start sewing.
The 1-step buttonholer is also a great accessory if you are, say, a mother-to-be who wants to gift her child a cozy sweater with 2-3 buttons. Creating buttonholes otherwise is a tedious task.
Useful Tips
Go through the user manual and then the instructional DVD to understand the operations well
#2 – Janome 2212: Best Janome Sewing Machine For Beginners
Janome is another household brand that has its roots in Japan. We already know that Japan is a leader when it comes to consumer electronics, and Janome's machines are a great testament to that fact.
A good sewing machine is dependable, lasts for years, and is robust. Exactly what Janome's models are.

Best For
People who are looking for a sewing machine that is within the budget, that is easy to use with a detailed manual, and can be used for a variety of purposes should consider the Janome 2212.
Please note that it is a mechanical sewing machine, compared to the computerized one by Singer above.
Feature Highlights
An easy-to-use machine without the extra baggage of large in-built stitches.
This Janome sewing machine for beginners is designed in such a way that a user does not get lost while working on it.
Easy selection of switch aside, it also comes with a free arm for all those tiny projects.
The 4-step buttonhole requires the user to change the dial position between marks (usually A, B, C, and D) to complete the process. This is a meticulous way of stitching a buttonhole as you can easily choose the button size using the scale on the buttonhole.
A mechanical machine can be easily fixed at a low cost whereas a computerized one will need a detailed overhaul and is quite expensive. There is not much difference between these other than the way in which you select modes and stitches.
The Janome 2212 sewing machine is also perfect for young girls and boys who have joined sewing classes and would want to carry it. It's lightweight (around 15 lbs.) and easily portable.
Useful Tips
Buy it from an authorized seller to attain the 25-year limited warranty
#3 – Singer 7258: Best Computerized Sewing Machine For Beginners
Best For
Hobbyists and DIYers who want to make artistic creations are going to fall in love with this machine. Its set of 76 decorative stitches also makes it perfect for a fashion design student.
Feature Highlights
Singer is a crowd favorite because of a variety of reasons. More than the features, it's got traditional value. Most old school sewers preferred Singer over other brands like Brother and Pfaff.
Whether you are just beginning to learn sewing or are a seasoned hobbyist, the Singer 7258 computerized sewing machine is perfect for you.
Apart from the normal set of features for beginners, it has more inbuilt stitches than Brother models reviewed above, has a brighter work area for paying extra attention to details, has computerized controls for easy management, and an instruction manual that is slightly better designed (pictures) than those of Brother's.
Also, the ability to stop the needle up or down will be a lifesaver once you start learning the art.
This Singer sewing machine is arguably the best computerized sewing machine for beginners because even after you become an intermediate sewer, it will still be contemporary to your sewing needs.
Useful Tips
While doing backward stitch, keep in mind that the needle will give one forward stitch before going backward
#4 – Brother HC1850: Best Quilting Sewing Machine For Beginners

Best For
If you are looking for an all-in-one yet basic package that is perfect for sewing, quilting and basic monogramming, then the Brother HC1850 is your best bet.
Feature Highlights
Brother HC1850 is the best sewing machine for quilting. If you are looking for an inexpensive and computerized sewing machine with the added functionality of quilting, then your hunt ends here.
The biggest advantage of having a detachable wide table is that for quilting you need a large space, which is not possible on a regular sewing machine.
Starting up with a quilt stitch function is very easy in this model. You just have to follow the tutorial in the DVD, select the appropriate quilt stitch from the chart, and voila!
Beginners are going to have a field time with this machine as diagrams and steps can be found right on the machine; automatic needle threader and lifter are also present, life-saving 30-minute instructional video perfect for beginners, and powerful LED lamp above the work area.
Since it allows operation using both pedals and hand controls, you can switch to the latter whenever you want to rest your feet.
It's a great benefit for sewers who are running a small business. Since they work continuously for hours, then can give some respite to their feet.
Useful Tips
While using this machine for the first time by referring to the instructional DVD, it is in non-pedal mode. You will have to put it in pedal mode as you start winding the bobbin
All programmed letters and designs are stored in memory. You will have to delete them in order to create new ones
#5 – Brother SE600: Best Embroidery Sewing Machine For Beginners

Best For
Although known for its intelligent embroidering capabilities, the Brother SE600 is also a powerful standalone sewing machine apt for beginner fashion students and hobbyists.
It is highly regarded in the stitching industry and is Brother bestseller. Those looking for an extra dash of embroidery can go with this model.
Feature Highlights
Although the Brother SE600 is capable of sewing, quilting, embroidering, and even appliqueing, we suggest you to first narrow down your requirements before going with this or the previous Brother model.
If you plan to carry out embroidery in the future (say, as a home business person), then this is the best entry-level machine.
It has 103 built-in stitches which are more than necessary for your starter needs. What sets it apart from other models reviewed here is the color LCD touch screen.
Say goodbye to knows and buttons; you can navigate all menu functions from your fingertips which we are sure you are already well-versed in, thanks to your phone.
In addition to the essentials like automatic needle threader and drop-in bobbin system, the Brother SE600 Computerized Sewing and Embroidery Machine also has a series of extra features intended for embroidery that make sewing super easy.
For example, take the automatic thread cutter, which helps you get the finished product without having to look for tools like scissors or cutters.
It also comes with several sewing feet so that all your sewing tasks can be taken care of easily.
A lot of people are going to tell you that Brother SE600 is suited for a future embroiderer.
However, we tend to disagree because, in our research, we found that its features improve the sewing operations, undeniably making it the best sewing and embroidery machine.
Useful Tips
There are a lot of accessories suitable for this model that can further extend its embroidering capabilities
#6 – Brother CS6000i: Best Inexpensive Sewing Machine For Beginners

Best For
Those who are on a budget but are ambitious about their future sewing projects need to get their hands on this low-cost computerized top selling sewing machine.
Think of all the things you would ever want to do with your sewing machine. Then think of a little more. Then buy Brother CS6000i.
Feature Highlights
Have you ever wanted to own an entry-level sewing machine that would just take care of your occasional stitching and hemming needs?
Do you occasionally want this very machine to grow a free arm so that you can finally repair your sleeve?
Let us present to you the best affordable sewing machine for beginners.
You already know the benefits of having a free arm, but what is better in this model is the wide work area.
With enough space to manage your material, the Brother CS6000i makes it easier for beginners to slowly guide and maneuver their fabric as they sew.
What's more?
The variable speed control feature lets you slow down, especially for those meticulous stitches that need extra attention. It's a great feature that makes even experts sewer to fall for this little, lightweight machine.
It comes with a pack full of accessories, all of which are going to excite the artist in you.
There are a lot of possibilities with this model, and when you relate it to the price, you are going to laugh your way to bed tonight.
Useful Tips
Even if you are a seasoned sewer, read the manual before jumping in
#7 – Brother XL2600i: Best Easy-to-Use Sewing Machine For Beginners

Best For
Ideal for people who want to take care of everyday tasks with minimum or no knowledge of sewing.
The free arm makes it easier to sew smaller areas like pant seams and children's clothing. It is the perfect tool to up your stitching game.
Feature Highlights
If you are the type of person who wants to get down to the business of learning sewing as soon as the shipment arrives, then this small sewing machine Brother XL2600i is perfect for you.
It is easy to start with, has simple directions in the user manual, and has in-built stitches that are pretty self-explanatory.
The free arm is meant to provide you with proper setup to sew smaller areas (e.g.: sleeves). Since such parts are circular in nature, the arm can be removed for a better knack.
You may not realize it as you start, but later in your learning curve, you will thank yourself that you opted for a free arm machine because it is pure magic.
The user manual also has instructional charts for you to follow. It has detailed info about the thread, stitch size, tension, and needle that you will require for specific jobs.
Want to stitch a quilt? Check the chart.
Want to quickly work on your tank top? It's easy as ABC.
Useful Tips
The Brother XL2600i has a dial function for stitch selection. Therefore, you will have to select "Stretch Stich" if you want to access the second half of the in-built stitches i.e. from 13 to 25
What Is The Best Beginner Sewing Machine To Buy?
Overall, we think that these are the top seven sewing machine models well-suited for beginners.
Going through the reviews and matching the pros/cons with your requirements can give you a better idea of what to expect and which on to go for.
But, still, if you are unable to make a choice and are in a dilemma, these three are what we would choose:
If budget was the main issue, we'd recommend Brother CS6000i, that takes care of almost everything from a beginner's perspective.
Next, comes the versatile and hugely popular Brother SE600. The biggest advantage of owning this machine is that there are tons of instructional videos about tips and tricks for this model, which will make your projects much easier in the long run.
Lastly, Singer 7258, if you are emotional about American's favorite brand and are looking for a workhorse that won't die on you even after ten years.
How We Picked
As mentioned above, we have created this guide specifically keeping in mind the requirements of a novice user – you.
A beginner sewing machine must ideally possess the following factors:
Ease of use – It has to be user-friendly with a helpful and detailed manual, simple setup, and no complicated processes. It should also have diagrams and steps permanently drawn on the outer side of the machine
Functionality – In addition to basic functions, it must also have features that are automated so that user involvement is minimum. Built-in needle threader is one of the most common features that beginner users look for
Budget – It must be an entry-level machine that is priced reasonably. This means that a lot of advanced features will be traded for a reduction in the cost

All machines reviewed here are priced under $300

Performance – It must be durable, and should not heat up if used more for hours in stretch
Convenience – Good design and convenient functions are all that beginners look for in a sewing machine for home use. Portability can be an added advantage
Pro Tip – A needle threader makes the task of inserting a thread into the eye of the needle easier. You just have to hook the thread in the right spots/hooks (diagrammatic representation available in most manuals).
How This Guide Will Help You Find The Best First Sewing Machine
This guide is tailored (pun unintended) for everyone who has ever thought of buying an easy-to-use, well-designed, and beginner-friendly sewing machine that is not overly complicated.
Sewing in itself is a simple process; why would a machine, which exists to assist humans, intimidate us? We are better than that, aren't we, folks?
This Guide is Suitable for
You want to learn the art of sewing (it's addictive, we are warning you!)
You are a hobbyist who intends to own a sewing machine for all those creative projects
You are a homemaker who has tons of dress materials stashed in the closet waiting to be stitched, re-stitched, altered, etc.

Or you are someone who has been throwing away stuff that could otherwise be easily repaired by a sewing machine

You are a fashion design student who wants to start with the fundamentals before getting into embroidery and advanced tapestry
You are a motivated person who wants to start a side hustle, so why not this artful métier that none of your friends has any idea about?
Everybody else who has ever dreamed of getting a sewing machine.
How to Buy a Sewing Machine For Beginners?
If you have never tried sewing before or are still confused about all the technical terms we have used above, this section will ease you into the magical world of sewing.
A sewing machine is basically a machine that uses mechanical force to drive a threaded needle to join two pieces of cloth together.
It is capable of a variety of actions such as sewing, stitching, altering, quilting, and to some extent even embroidering and appliqueing.
Technology has made modern sewing machines smaller in size and capable of hundreds of tasks.
Versatility, robustness, and intelligence are the biggest features of today's machines, and all the seven models listed above are in some way or other superior to the machines that were in use in the previous century.
Types of Sewing Machines
There are various types of sewing machines, but they can be broadly classified into two:
Mechanical sewing machine – The needle is driven by a mechanical force brought about by electrical power
Computerized sewing machine – The mechanical force is still present, but it can be controlled through a computer interface usually using an LCD touch screen
Other common types –
With a free arm
With additional embroidering features
With additional quilting features
Machines for specially-abled
In addition to these, there is also another type of sewing machine called a serger. It is more of an advanced machine that is used by professionals and fashion designers to create stronger stitches.
Most home businesspersons own a sewing embroidery machine and a serger to take care of everything related to clothes and their stitching.
Anatomy of a Sewing Machine
Learn the basics of how a sewing machine works with these short descriptions about all major components: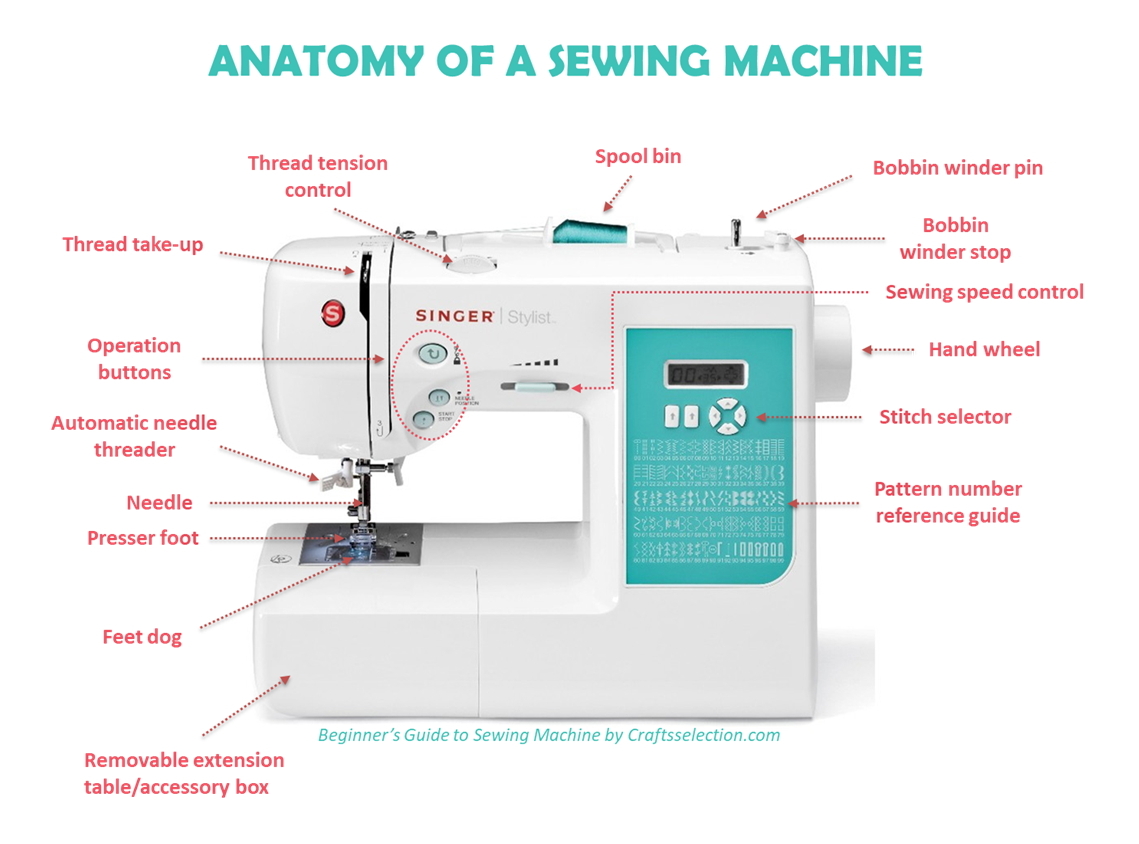 Presser foot – A flat plate-like part that keeps the fabric in place. Users can switch this foot depending upon the type of fabric and job (e.g.: quilting)

A buttonholer is also a type of presser foot
Presser foot lever is also provided to lift and lower the foot whenever required

Needle – It is the tiny pointed tool that stitches the fabric using the fed thread. A needle can be (and must be) changed depending on the thickness and type of the fabric

Needle clamp – Used to tighten the needle around the upper arm
Needle plate – It is a flat plate that feeds the secondary thread from the bobbin below. A needle plate usually has scales in it to guide the sewer about the stitch length

Feed dogs – It guides the fabric between the plate and needle
Thread tension – Usually a slider or a knob that controls the tension of your upper thread. Consider the most difficult operation in a sewing machine, it is used to manage the among of tension on the upper thread that affects the tightness of the final stitch. More loose the tension, more loose the stitches
Needle lever – A handle used to take the needle to the highest point while placing the fabric
Bobbin winder – A peg where the top thread bobbin is placed. One must feed this bobbin using a spool by pushing the pedal before starting the sewing operation
Reverse lever – Used to make the stitching go backward. Most machines go one step forward before taking this backward gait
Stitch Length Selector – The option to set the stitch length, which differs from machine to machine
Stitch Selector – The option to select the stitch type. This can either be a knob, buttons, or LCD touch screen
Hand Wheel – Using this, one can manually lower and lift the needle a la stitching operation
Bobbin – A circular metal or plastic object used to wind thread that is eventually fed to the machine. It can be a top load or front load depending upon the type and model of the machine
Spool Pin – A pin used to hang the spool of thread
These are the major sewing machine parts that are common in all models. It is recommended that users read the manual carefully before operating.
Tips for Choosing The Best First Sewing Machine
Other than the factors mentioned at the start, one must also consider the following options before making the purchase:
Understand your requirements first. Do you want a basic sewing machine or something that also helps in embroidering? What are the primary purposes?
Settle for a budget. A professional sewing machine is going to cost a lot, but if you are a homemaker, you should look for the low-cost options that still do the job
It is best to avoid looking at the number of built-in stitches. You are never going to use all of them. A handful of basic ones will be more than enough

A buttonhole stitch will always come in handy

Go with the best sewing machine brands. The three top brands – Brother, Singer, Janome – are the only ones you need to choose from
The design of the machine i.e. pictorial steps on the machine itself for easy operation
Even if it's a basic sewing machine, you need to check the essential features like automatic needle threader, bobbin winder, adequate work area lighting, and free arm to name a few. Go to the brand's website for a more detailed overview
Look for the attachments. Does it come with a complementary pedal? What are the types of attachments buttonholes, presser feet? What tools are you getting?
We recommend both mechanical and computerized systems because there is hardly any difference. The latter ones have the disadvantage of expensive overhaul if it comes to that
Check the quality of the instructional videos and user manuals, especially if you are a beginner
Overall, it is up to the end user and her/his requirements that will help you make a wise purchase. The most important thing is to understand one's requirements.
Frequently Asked Questions about Sewing Machines
Conclusion
We hope that this brief guide will help you make a wiser decision as you finally own a sewing machine.
It took us over three weeks to thoroughly research the products, gauge user sentiment, and test their usability. Therefore, you can rest assured that the sewing machine reviews you read above are entirely based on our experience.
As industry experts in the field, we have been dealing with such products for several years now. We are constantly updating our buying guides to empower you – the customer – to make better decisions in your life and work.
We hope that you satiate your creative needs with your new best sewing machine for beginners. Sewing is an art and owning a classy machine is a privilege.
Go get yours today!