Every quilter, designer, and decorator knows the importance of owning the best fabric cutting machine.
Best Fabric Cutter Machines of 2023: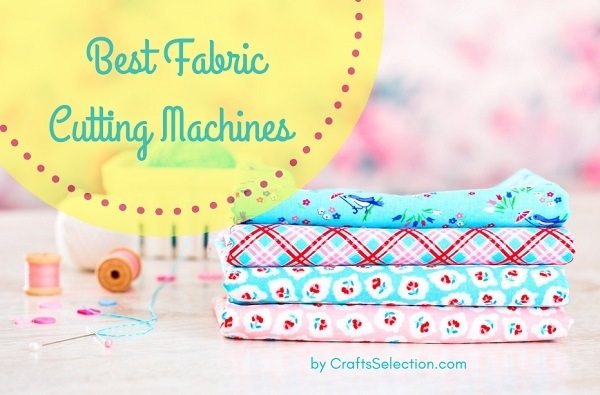 Although some may choose to use scissors, some fabrics are just too tough to be cut this way. As for rotary cutters, it's just way too easy to get injured while using them.
Additionally, there is a precision offered by fabric cutting machines that are not offered by other means of cutting. This kind of precision is especially important when quilting. Eventually, every professional crafter needs a cutting machine for fabric.
Not only will it save you a lot of time but it will also save you from unnecessary injuries.
This quick guide to best cutting machines for fabric will save your time choosing the right machine:
There are several factors to consider when selecting the best fabric cutting machine for quilting or for crafts projects. First of all, you have to decide if you want a manual machine, an electric one or an electronic one.
Each type comes with its advantages and disadvantages.
Here we outline top rated machines from each type of fabric cutting machine, each with its major highlights in below fabric cutting machine reviews.

Best Fabric Cutting Machines 2023
#1 – Cricut Maker

Feature Highlights
The Cricut Maker is the most recent upgrade of the Cricut Explore Air 2. It comes with an expandable suite of tools that adapt to your growing needs. It's known to be the best Cricut machine to date.
While its rotary blade can cut through any type of fabric without the need of backing material, its knife blade easily slices through heavy material. This is due to the rotary blade's gliding and rolling actions and the extra depth of the knife blade.
Still on this machine's tools, I just can't fail to mention the scoring wheel and double scoring wheel. These tools flawlessly deliver deep sharp score lines in a variety of materials.
Moreover, the Cricut Maker comes with hundreds of digital sewing parts that make sewing and quilting considerably simpler.
The fact that it comes with design apps that let you create a design on your computer or phone is yet another reason people love this machine. Alternatively, you can upload your own images and fonts.
Users of the Cricut Maker also appreciate its convenient USB port, washable fabric pen and docking slot. However, this machine's greatest feature is undoubtedly its Adaptive Tool System that matches the direction and the pressure of the blade to the material being cut. This gives the Cricut Maker 10 times more cutting power than previous models.
Drawbacks
In spite of its many highlights, the Cricut Maker does have its drawbacks. The major one is the fact that this machine has limited cutting space.
Learn how to work with fabric on the Cricut Maker machine with this video:
#2 – Silhouette Cameo 4 Plus

Feature Highlights
An absolute workhorse, this Silhouette fabric cutter is known for its power, speed, and improved precision cuts. Featuring a sleek desktop design and a large cutting area that is 3″ wider than the Cricut Maker, the Silhouette Cameo 4 Plus proudly position itself as a top fabric cutting machine for larger patterns.
This Silhouette fabric cutter comes with a dual carriage that allows you to cut fabrics in two distinct ways; it also boasts an additional 1kg more cutting force than the Cricut Maker. This allows it to cut through thick fabrics, including cotton, wool, felt, leather, and other materials like a knife through butter, even without a special stabilizer backing.
The machine can use the blades from previous models via the use of the included tool adapter. It also offers new Kraft and rotary blades that are specifically designed to make craft and fabric cutting easy and fun. However, you have to buy these blades separately.

Another thing worth mentioning is the speed at which it handles both straight and curved cuts as well as the fast and responsive backlit touch panel for easy handling and control. Plus, you get 3 mm clearance to your materials which is better and Silhouette Studio – an easy to use software that provides you with limitless design possibilities.
What's more, is that the tool offers Bluetooth connectivity that allows you to cut out your designs and sewing patterns wirelessly. You also have the freedom to use other design software like Adobe Illustrator or CorelDRAW, so you're not limited to the Silhouette Studio. Also, you'll get a year limited warranty and a 15″ cutting mat when you buy this Silhouette fabric cutter.
Drawbacks
In spite of its loads of exciting and easy to use features, the Cameo 4 Plus does have its drawbacks. The major one is the fact that it does not come with a user manual, and there seems to be no dedicated user's guide for the machine on the internet. This has been the major issue faced by those who are new to the machine when it comes to understanding and operating it.
However, users can download the Cameo 4 user's manual from the internet and follow it to operate the machine as they share similar features and operations.
#3 – Cricut Explore Air 2
Weighing in at only 16 pounds, this Cricut digital cutting machine is known for its enhanced precision cuts. It is programmed to make cuts of the appropriate depth and pressure depending on the type of material being cut.

Feature Highlights
Faux leather, specialty paper, poster board, and adhesive foils are some of them over a hundred materials that can be cut by this Cricut fabric cutter. This cutter also has embedded Bluetooth to facilitate wireless cutting. This is very convenient.
It also gives you access to Cricut's design software called Design Space. This software enables you to make designs from any location.
This cutter also gives you the option of either uploading your own designs or choosing one from its library. The Cricut Explore Air 2 allows you to create designs from your computer, tablet or Android using the Circuit Design App.
It also comes with a dual clamp that holds a blade and another accessory such as a pen. This allows you to multitask effectively. This arrangement allows you to cut and write up to two times faster.
Drawbacks
The major drawback to this machine is that it is not able to cut fabrics of thicker than 12 inches.
#4 – Brother ScanNCut SDX125E Electronic Cutting Machine
This Brother scan and cut machine is lightweight, weighing in at only 12.79 pounds and having measurements of 8.4 by 20.9 by 6.8 inches.
Brother is widely known for its cutting edge technological innovation. Needless to say, this particular product of theirs does not disappoint.

Feature Highlights
Consisting of German blades and a unique Japanese design, this machine is mostly used for cutting shapes for fabrics. It comes with a 5-inch LCD screen. This represents a 30% increase from the screen size of the original version.
This cutter also comes with wireless connectivity and PC adaptability making it very convenient.
This Brother cutting machine requires neither cartridges nor dies. It is a scan and cut machine that allows you to scan any drawings or patterns you want and customize pattern designs for yourself.
It comes with a 600 DPI scanner for specifically for this purpose. This scanning system comes with RGB recognition. There is also a web application to help out with this process.
This digital cutting machine also comes with 682 inbuilt designs and 9 fonts. This removes the need for you to pay for any subscriptions while enabling you to come up with unique personal designs.
Although you can decide to hook this machine to your computer, it can also stand alone without the computer. With this Brother ScanNCut SDX125E cutting machine, you also get saved from the cost of buying new art files, giving you the chance of utilizing the art files you already have.
Drawbacks
Unfortunately, this machine also comes with several drawbacks. One of them is that it can only allow you to cut one strip of fabric at a time.
Additionally, before cutting, you always need to prepare the fabric using starch and paper mats. It is also highly unfortunate that the sticky mats are not sticky enough. They, therefore, don't hold the fabric properly. This forces you to use more than one sticky mat.
The biggest drawback, however, is that it takes time to get the hang of using this fabric shape cutter.
Useful Tips
Make sure you read the manual that comes with the machine. This will help you learn faster and avoid unnecessary mistakes.
#5 – Accuquilt GO! Big Fabric Cutter
The AccuQuilt GO! Big Fabric Cutter is considered by many as the best electric cutting machine for fabric.
It is highly suitable for people who love quilting from the comfort of their homes. This electric fabric cutting machine can be easily stored because it folds easily.

Feature Highlights
It's currently the biggest system that AccuQuilt has ever made, accepting dies of up to 14 inches wide. It comes with a built-in handle for easier movability.
This Accuquilt GO! electric fabric cutter comes with GO! Flying Geese Die, a cutting mat and 6 creative patterns to get you started. It has built-in safety features and coordinates well with GO fabric cutter tote and die bag.
Additionally, you can use two 6 inch dies at the same time when using this machine.
Drawbacks
The major drawback to this cutter is its heaviness. This makes it hard to carry it around.
Another drawback is that it is not suitable for cutting very thin die. When dealing with a thin die the cut will not go completely through the material. This is because the thickness of the die is what helps the machine come up with the necessary pressure to make the cut.
Needless to say, if you need to cut a thin die, you will need to find a way to compensate for the missing thickness.
Useful Tips
This machine does not go on automatically when plugged in. You will need to press the green power button for it to come on.
Check for Accuquilt deals and current offers!
#6 – Reliable 1500FR Octagonal Knife Cloth Cutting Machine
This electric rotary fabric cutter is manufactured by an Ontario based company called Reliable. Reliable was founded in 1955 and is known for applying emerging, cut throat technology to manufacture steamers and sewing machines among other products.
The Reliable 1500FR octagonal knife cloth cutting machine is extremely lightweight, weighing in at only 8.2 pounds and having measurements of 11.3 by 5 by 10 inches. It also has a thin blade plate.

Feature Highlights
Its octagonal blade is 4-inch thick and can cut from a ply of fabric to 1 inch of fabric. This blade gives a better cutting edge and gives you better control of the machine.
This cloth cutting machine has a powerful 110-volt electric motor, and its blade automatically sharpens itself. Additionally, its blade can cut through a variety of materials. Not only does it cut through fabric, but it also cuts through plastics.
It also has a carbide-tipped counter blade. The combination of this carbide-tipped carbide blade, and octagonal blade keeps the fabric steady and prevents it from jamming.
This cloth cutting machine also has front and rear knife guards for safety purposes.
It is most suitable for light to medium weight fabrics. You will be glad to know that this machine comes with a motor brush, stone, grease, blade key and extra blade. It also comes with a one year warranty.
Drawbacks
The main drawback of this Reliable machine is that it is not suitable for heavy fabrics.
Useful Tips
This machine should often be washed to avoid getting lubricant all over the fabric being cut.
#7 – Accuquilt Ready. Set. GO! Ultimate Fabric Cutting System
Unlike some other brands, AccuQuilt cutters are usually made specifically for sewing and quilting.

Feature Highlights
This fabric cutter set is generally a quilter's dream come true. This set usually contains the AccuQuilt GO! Fabric Cutter, GO! Qube 8″ Mix & Match Block, GO! Strip Cutter-2 1/2″ (2″ Finished), a cutting mat, a pattern book, fabric and thread and a quick start guide.
It also has an easy-to-use design that reduces arm and hand strain. Additionally, this AccuQuilt GO! Fabric Cutter has a built-in carrying case and cuts fabrics 90% faster than scissors or rotary tools.
The icing on the cake, however, is that it can cut up to 6 layers of fabric at a time making it extremely efficient. This kind of accuracy is remarkable.
Don't forget to check for Accuquilt deals and current offers!
Drawbacks
The major drawback to this product is that it only comes with two Go Die. This forces you to buy other dies separately.
#8 – Sizzix 660550 Big Shot Pro Cutting/Embossing Machine
This Sizzix fabric cutter is a classic manual die cutting machine. Every quilter I know has used a Sizzix machine at least once in their craft.
This cutter is especially suited to quilting. It weighs 40.5 pounds and has measurements of 24 by 21.6 by 8 inches.

Feature Highlights
This fabric die cutter is heavy set than most. This is because it is made from industrial materials. It has a 13 inches opening and accepts all types of materials ranging from foam to cardstock.
It comes with 0.10 mm mylar shims, a cutting pad, a crease pad and an adapter pad. It has a 3-year warranty.
The Sizziz Big Shot Pro cutting/embossing machine is adaptable in that it can use a large variety of dies including AccuQuilt Studio dies. Custom dies are also available for this machine.
This cutter is also highly accurate and can cut up to 8 layers of fabric at a time. This helps you save time that you could use to come up with new designs. The Sizzix Cutting Machine is known for its precise and sharp cuts.
Drawbacks
The only plausible drawback to this cutter is its heavy nature which makes it difficult to carry from place to place.
Learn to use the Sizzix Big Shot Pro to cut fabric with this video:
Types Of Fabric Cutting Machine For Quilting
Manual Fabric Cutting Machines
Here are two of the best manual fabric cutting machines.
#1 – Accuquilt Ready. Set. GO!
#2 – Sizzix Big Shot Pro
As the name suggests, these fabric cutting machines are completely manual. The main advantage of these machines is that you don't need any electricity or even batteries to use them. This makes them highly suitable for people who don't want to incur extra electrical costs.

They also have lower purchase prices as compared to their electric and electronic counterparts.
The main disadvantage would be that using this type of machine may deem strenuous since you will constantly be using your hands.
They may also be slower than their electric and electronic counterparts. However, if you don't mind the extra work that comes with them, they are very efficient fabric cutting machines.
Electric Fabric Cutting Machines
Although there are many types of electric fabric cutters, here are a couple of the best electric fabric cutting machines.
These cutting machines use electricity which makes them less strenuous to use than manual ones. Although electric fabric cutting machines are more expensive than manual ones, they tend to be faster and generally more efficient.
Their major disadvantage is that they cannot be used in places which experience frequent power outages.
Also, they are not as durable as the manual one. This is because it is easier for an electric fabric cutter to burn out than for a manual cutter to get spoilt.
Electronic Fabric Cutting Machines
Here are some of the best electronic fabric cutting machines:
Electronic or digital cutting machines not only use electricity but also come with user-friendly digital features like wireless connection, touch screen monitors, scanning systems and built-in designs.
Their main advantage is that they simplify operations like creating and customizing of designs. However, they are usually more expensive than manual ones.
Conclusion
In this review, there is a cutting machine for everyone. For instance, if you are looking for a versatile fabric cutting machine, you can't do better than the Cricut Maker. Its ability to perform a variety of functions and work on a variety of fabrics is something many crafters admire.
On the other hand, those that want to easily create unique patterns are better off with the Brother ScanNCut SDX125E. There are very many reasons to love this machine. For one, the cutting edge technology will simply blow your mind. Secondly, the precision and accuracy are worth dying for. This machine can cut the most intricate patterns with minimal effort.
However, not everyone can afford this machine. That is where the Sizzix Big Shot Pro comes in. It is the best cheap fabric cutting machine on the market right now. Ultimately, you should go for a machine that satisfies your needs and is within your budget.
How about you? Which machine do you think is the best fabric cutting machine?