Whether you are a sewing expert or just starting to sew, having a suitable table in your sewing room brings a lot of benefits.
Even though it seems that any normal table could do, the reality is that they are not comfortable for working. Specialized sewing cabinets and tables help you organize your materials and have a dedicated space for your sewing projects.
Best Sewing Tables and Cabinets:

It is important to do some research before buying a new table for your sewing room. But don't worry! We have done all the work and reviewed them for you.
Follow this thorough guide and choose the best sewing table for your sewing room!
Best Sewing Tables and Cabinets
Best Sewing Table and Cabinet Reviews 2023
Best Sewing Tables For Small Spaces
Below are the top 4 compact sewing tables for small spaces.
1 – Arrow Gidget II Portable Sewing Table
Top Pick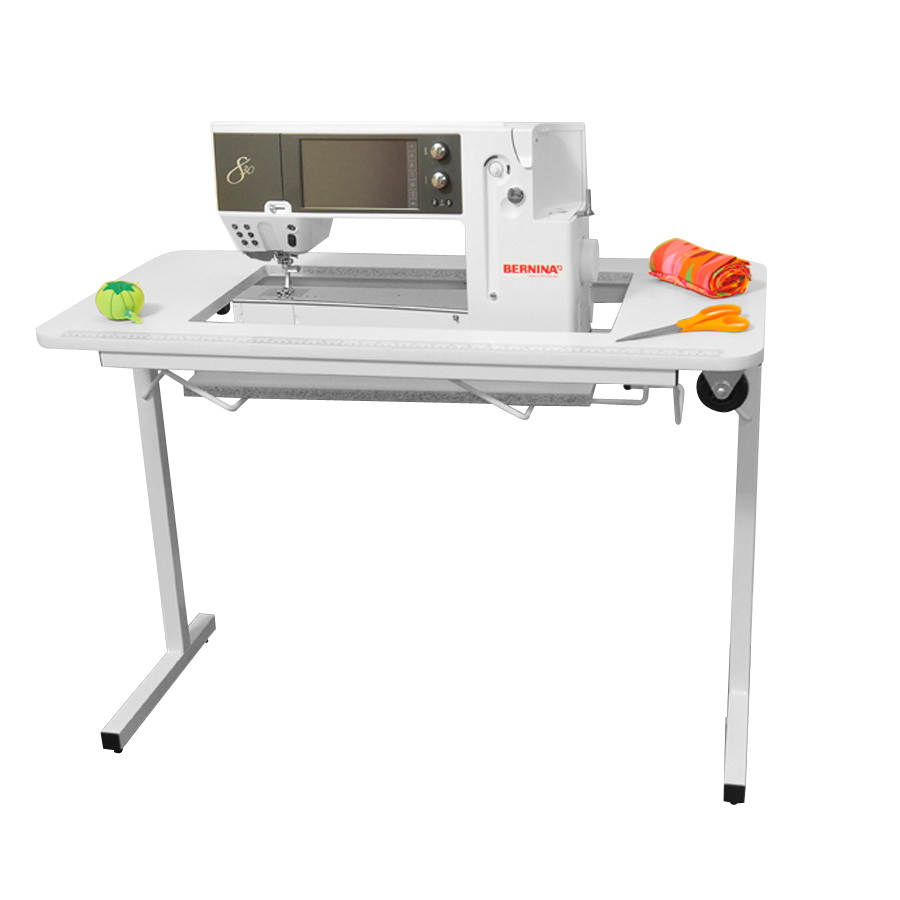 Arrow Gidget II Sewing, Craft & Hobby Table
Best Portable Sewing Machine Table
The Gidget II is by far the best portable sewing table in the market. It is so sturdy that you won't remember it is actually a folding sewing table when you are using it.
You can adjust the machine platform for different heights of sewing machines, or leave it flat to use it as a cutting table. The surface of the table has a measuring tape printed on it, so you can easily take measures while you work on your machine.
This folding sewing table comes with a Velcro strip which helps secure the legs of the table in place and 2 wheels on its side to make it easy to transport and pack with you and take it to sewing classes.
Pros
Portable and easy to maneuver
Sturdy and secure to work on
Easy to adjust platform
Cons
Some sewing machines won't fit on its platform
Features Recap
Open dimension: 40-1/4″ (W) x 19-3/4″ (D) x 28-1/2″ (H)
Dimensions with Legs Folded: 40-1/4″ (W) x 19-3/4″ (D) x 4-1/2″ (H)
Material: Melamine/MDF with Steel Legs
Adjustable platform for different heights of machines
Support 45-pound sewing machine
Verdict
The Gidget II collapsible sewing table is perfect for those who are learning to sew on a small machine and people who have reduced space at home.
2 – Sew Ready Comet Sewing Machine Table

If you are looking for the best cheap sewing table for home, you might want to take a look at the Sew Ready Comet. This stylish table is lightweight and has a folding top, which provides extra space while you work.
It also comes with floor levelers, making it quite stable to work on and a height-adjustable platform for the sewing machine.
Its bottom shelf has enough space to hold some boxes and its collapsible extension makes it extremely versatile. This sturdy sewing table is a great option for those who are looking for quality while being on a budget.
Pros
Collapsible top provides more space in the room when not in use
Adjustable height platform allows for different uses
Super affordable
Cons
Does not provide much space for storage
Features Recap
Overall dimensions: 45.5″ (W) x 23.5″ (D) x 30″ (H)
Top dimensions: 36″ (W) x 23.5″ (D)
Material: steel construction
Adjustable platform for different heights of machines 23″ (W) x 10.75″ (D)
Comes with folding tabletop and open storage shelf
Verdict
The Sew Ready Comet is great for those people who work on small projects and need a table that is versatile and can be used as more than just a sewing table. A great option for those who live in a small apartment!
3 – Sauder Easy Rolling Sewing and Craft Table/Cart

The Sauder sewing and craft table stands out as one of the most gorgeous and productive sewing tables available nowadays. Its Cinnamon Cherry finish is stunning and the design is amazing.
It has many drawers and racks where you can store all your tools and have them really handy. When extended, the table provides a lot of room to work on and it is very comfortable.
It is definitely the best sewing cabinet for small spaces since it offers a lot of room for storage. The Sauder table comes with a 5-year warranty and its top surface is heat, stain and scratch-resistant!
Pros
Elegant design
Can be closed to save space
Great value
Cons
Somewhat hard to assemble
Features Recap
Dimensions: 19.45″ (W) x 40.08″ (D) x 28.50″ (H)
Material: e

ngineered wood construction

Comes with drop leaves, storage bins and easy roll casters
Verdict
The Sauder sewing and craft table is suitable for every type of project, from sewing to quilting, and more. Its beautiful design makes it a great choice for those who want a sewing cabinet that is not only functional but also pleasing to the eye.
4 – Southern Enterprises Expandable Rolling Sewing Table

If sewing is your hobby but you are worried that it takes up too much space, this compact sewing table is what you need.
The Eaton Rolling Craft Station is a small sewing table, but it has great potential. It offers a large work surface which folds down and shelf space to store your sewing machine while it is not in use and your other sewing tools.
This white sewing machine table is compact and can be moved easily since it has 4 wheels. Stability is not a problem, as the casters are lockable and the table doesn't move or shake once the wheels are locked.
Pros
Great work surface
Easy to assemble
Good price
Cons
Not much storage capability
Features Recap
Dimension: 31.5″ (W) x 19″ (D) x 29.5″ (H)
Material: MDF and melamine paper
Supports 30 lb. (top), 20 lb. (folding top), 15 lb. (each shelf)
Space-saving fold down leaf
Verdict
This small sewing machine table is appropriate for those who are starting to sew or are working on small projects. Perfect for those do not have much space or a sewing room of their own.
Best Sewing Tables For Large Sewing and Quilting Projects
5 – Martelli Advantage & Martelli Elite Workstation Kit

The Martelli Workstation is undoubtedly the best sewing table for quilting in the market. Its heavy-duty aluminum reinforced frame makes it one of the sturdiest tables you will ever get.
Working on this table is really comfortable, thanks to its ergonomic design. This adjustable height sewing table comes with electric motorized leg-lifts which operate effortlessly and silently.
The workstation comes in two models: Advantage and Elite. The Elite version is longer and wider, providing a larger working surface, on which you can cut, sew, iron and much more.
These tables are made in the USA and their quality is exceptional.
Pros
Large working surface
Motorized adjustable height
Good value accessories package
Cons
Heaviest tables on this list
Features Recap
Dimension: 28″ x 55″ table top (Advantage) & 35″ x 72″ table top (Elite)
Material: Aluminum and polyethylene
Adjustable height of 30″ to 46″
Electric motorized leg-lifts
Verdict
The Martelli workstation is perfect for professionals and hobbyists alike. It is suitable for very large projects and a moderately big sewing room.
6 – Kangaroo Kabinets K8605 Aussie Large Sewing Cabinet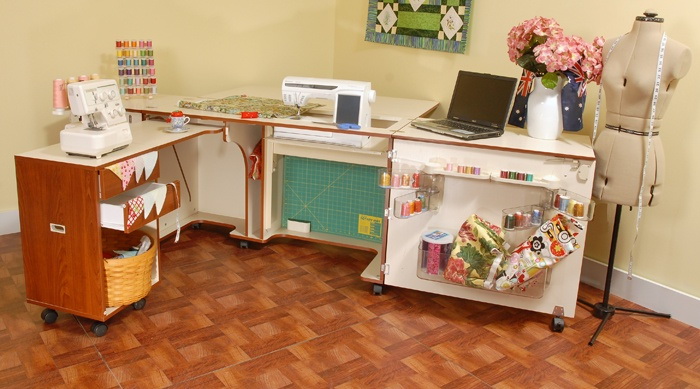 If you need a high-quality large sewing table and cabinet that is easy to move, Kangaroo Kabinets is what you are looking for.
These wheeled cabinets offer very spacious storage to stock all the tools, fabrics and materials you need to do your quilting and sewing projects.
The Kangaroo sewing cabinet is extremely versatile and can be used as a table and as a cabinet for different types of projects.
It has a quilt leaf foldable extension which can be used to expand your work area when you are quilting and so it prevents bulky quilts from falling or sliding to the floor.
Pros
Easy to move around
Lots of storage room
High-quality material
Cons
Assembly instructions are hard to understand
Features Recap
Open dimensions: 99.5″ x 45.5″ x 29″
Closed dimensions: 49.75″ x 22″ x 30″
Material: composite and wood grain melamine laminates
EZ-Lift gas strut mechanism
Supports 51 lb. machine
Verdict
If you are looking for a cabinet that folds up small but has plenty of workspace then this Kangaroo sewing cabinet is your best bet. Its huge work surface is ideal for quilts or large sewing projects.
7 – Arrow 98701 Bertha Sewing Cabinet For Large Machines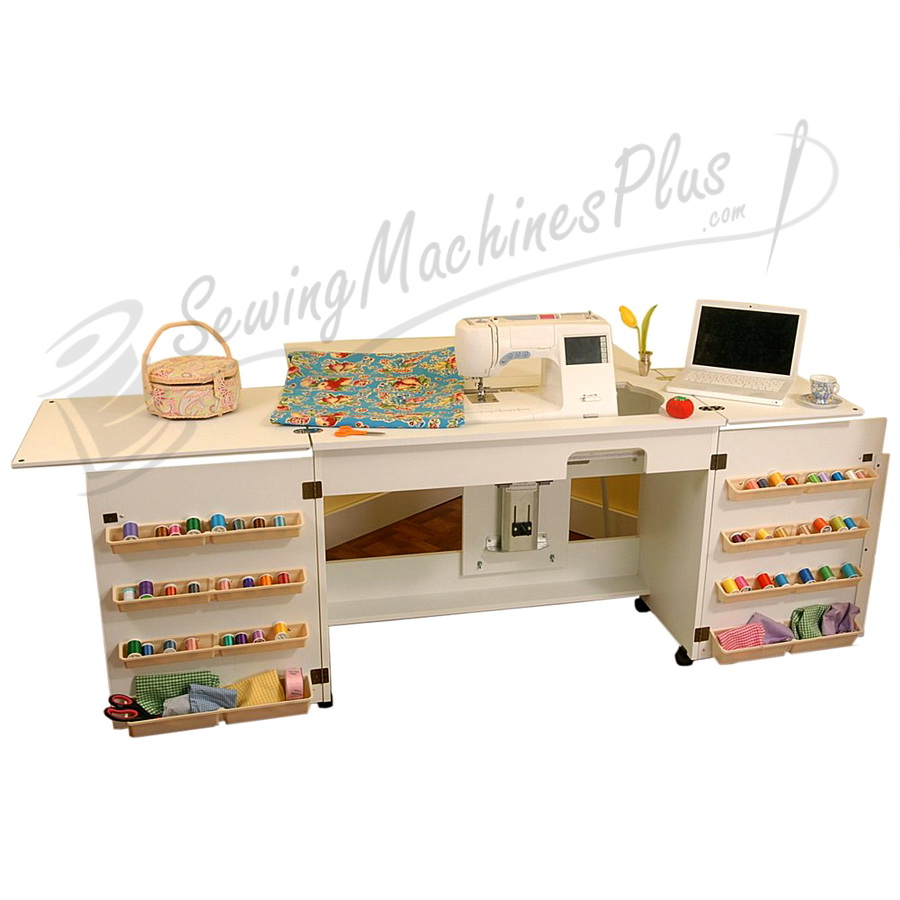 Without a doubt, Bertha is the best sewing cabinet for quilters. It has an air lift mechanism and a massive working space for you to work on your quilted bed spreads or wall hangings.
This cabinet is wide and able to hold a 60-pound sewing machine. It has a lot of leaves which make the working surface even bigger.
The Bertha offers plenty of room not only for quilting but also for sewing and ironing as well as for other crafts. The storage space is also huge, so you can have all your quilting and sewing materials in your cabinet!
Pros
Lots of space!
Air lift mechanism for easy height adjustment
Heavy-duty, well-built
Cons
The instructions are not clear
Features Recap
Open dimensions: 84-3/16″ (W) x 39-3/4″ (D) x 30-1/2″ (H)
Closed dimensions: 43-1/2″ (W) x 23″ (D) x 31″ (H)
Material: Vinyl laminate/MDF/Composite
Air lift mechanism
Supports 50 lb. machine
Verdict
This Bertha Arrow sewing cabinet is perfect for people who are into quilting. It is definitely a wonderful addition to any quliter's sewing room!
8 – South Shore Crea Sewing Craft Table on Wheel

If you are looking for an eco-friendly and affordable sewing table on wheels, Crea Craft Table is your answer!
The Crea Craft Table is made in North America and meets all US quality standards. It offers a large top surface area, two sliding shelves and three large drawers for storage.
This craft table with storage has a sturdy water-resistant working surface and is easy to maneuver: it rests on four wheels and it can be moved around effortlessly.
It can also be used as a computer desk or as a table for doing other crafts such as scrapbooking or jewelry making.
Pros
Massive storage options
Durable and sturdy
Affordable price
5-year warranty
Features Recap
Dimensions: 58″ (W) x 23.5″ (D) x 29.5″ (H)
Material: non-toxic laminated particleboard
Scratch proof and water-resistant surface
Verdict
Perfect for anyone with a great sense of style who works on crafting or sewing projects and is looking for a reasonably priced option.
How to Choose a Sewing Table or Sewing Cabinet
The size
The dimensions of your sewing table should adapt to the place that you have available, but also to the needs of the sewing work that you usually do.
It is important to consider this aspect to carry out your work with comfort and efficiency, since you need a comfortable space, and in that sense, size does matter.
Just a table or also cabinets?
Generally, sewing tables have enough space to house all the instruments you need while you are sewing. However, a sewing cabinet with a table offers a greater number of drawers that allow you to systematically organize all the tools that you require for the sewing process.

Mobility and weight
Most sewing tables are designed to remain fixed in one place, but if yours would need to be moved from one place to another, you should opt for a compact and light-weight table with integrated wheels to make it easy to maneuver.
On the other hand, if you have plenty of space or even a dedicated sewing room, a big sturdy table would be the best option for you.
Quality and aesthetics
It is necessary to remember that sewing tables are working tools and, as such, the materials with which they are manufactured must be of very high quality. This does not have to be at odds with their appearance.
A table or cabinet which adapts to the decoration of your sewing room is also important.
The height
If you are new to sewing, you might be wondering what the best height for a sewing table is. There is no standard measurement.
The perfect height for your sewing table depends on your own height. Your table has to be high enough so that you don't crouch on it to work, but not so high that your arms get sore.
It could be a smart move to buy a height-adjustable sewing table like the Martelli Quilting, Sewing and Crafting Table, so that you can try the different positions and decide which height works better for you.
How to Maintain a Sewing Table?
So as to guarantee that your sewing table lives a long and prosperous life, you should give it the care it deserves.
Keep these maintenance tips in mind, so that your sewing table is always in top condition!
DO…
Use a damp cloth to remove smudges
Many sewing machines require oil to work properly. In some cases, this oil might spill, leaving stains or smudges on your table. You can use a wet piece of cloth to clean those stains.
Use a vacuum to deep-clean it
Every now and then, vacuum your sewing table to make sure that there is no dust around. Many vacuums come with accessories such as brushes or extensions that will help you reach those difficult areas. This is the best method to remove any dust or dirt from your table.
Use a microfiber cloth to give it the final touches

DON'T…
Eat food or leave liquids on your sewing table.
No matter how good the quality of your table is, eating on it is never a good idea. Spilled liquids can damage your table and its mechanisms, and food stains may ruin your work.
Put more weight than it can handle on the table
Some mechanisms are really delicate and putting too much weight on your sewing table may damage it. Be especially careful with collapsible extension tables and similar surfaces.
Conclusion
Finding the best sewing table or best sewing cabinet can sometimes become an overwhelming task, especially if you are new at sewing. There are many options in the market and it is hard to see which type of table fits our needs better.
Once we ask ourselves what our needs are, it is much easier to choose an option. We hope that this guide has helped you identify your needs and choose your new table for your sewing room accordingly. Happy sewing!