This year, Mother's Day falls on Sunday, May 14, 2023. A fact that already has people running about trying to figure out what to get their beloved mothers.
While each woman is different, crafting machines are still one of the best Mother's day gifts. They are also great for birthdays and anniversaries.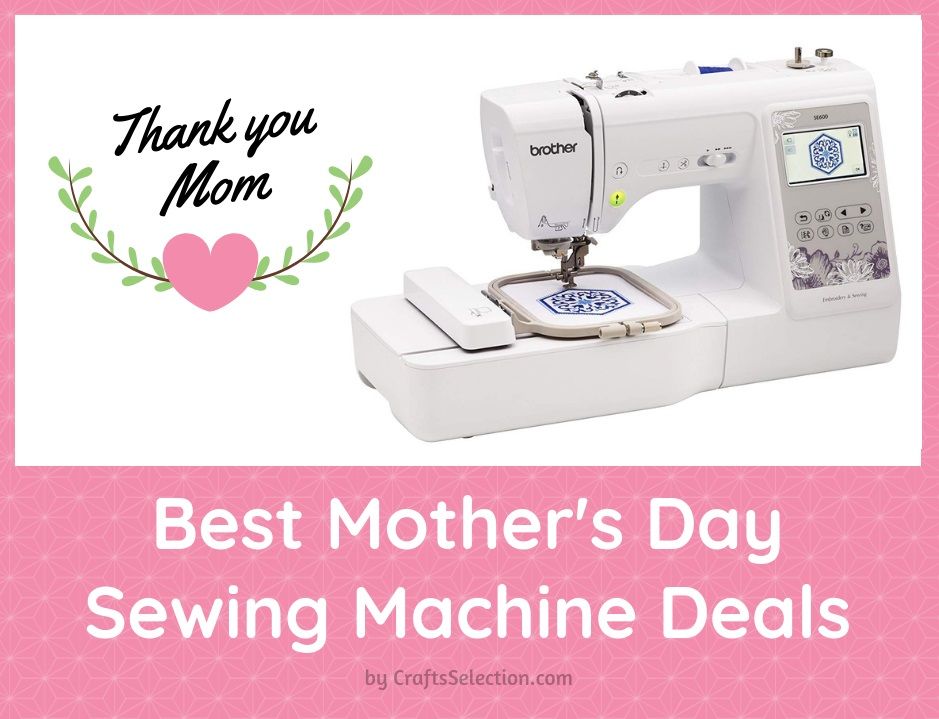 It is therefore not surprising that there are usually a lot of Mother's Day special offers on them, especially for sewing machines. So if you have been wondering what to get Mom for Mother's Day and you know she is into crafting, you have come to the right place.
In this review, we have featured the best Mother's Day sewing machine deals available. Enough said, let's just get to it already!
Best Mother's Day Sewing Machine Deals
It goes without saying that sewing machines are the most popular crafting machines. With so many of these machines already in the market, you can only imagine the number of different Mother's Day special offers going around right now.
However, after sifting through them, we found our featured machines to be the ones any mom would want to have. What can we say, prepare to be wowed!
Best Fabric Cutter Mother's Day Deals
Any crafter can tell you the importance of having a good fabric cutter. This commonly underestimated tool has a large role to play in the success of your projects. As such, this is one of the best Mother's Day gifts for craft-loving moms.
The good news for you is that we have relieved you of the hassle of going to research which are the best fabric cutter deals.
Below, we have highlighted the major ones you need to know about.
Which Sewing Machine to Buy on Mother's Day?
Here are some of the top-rated sewing machines which come with a huge discount of up to 50% on Mother's Day.
SINGER Start 1304 Sewing Machine

Like the other Singer machines in this review, the Start 1304 has a stable metal frame that makes it stable and durable.
Moreover, it has a stainless steel bedplate that ensures even sewing. The fact that this machine comes with preset stitch lengths and widths also makes it very attractive to many consumers.
Other things that make the Singer Start 1304 attractive include:
It is great for beginners
It is small, light and portable
It offers quick and easy threading
Janome 3160QDC Computerized Sewing Machine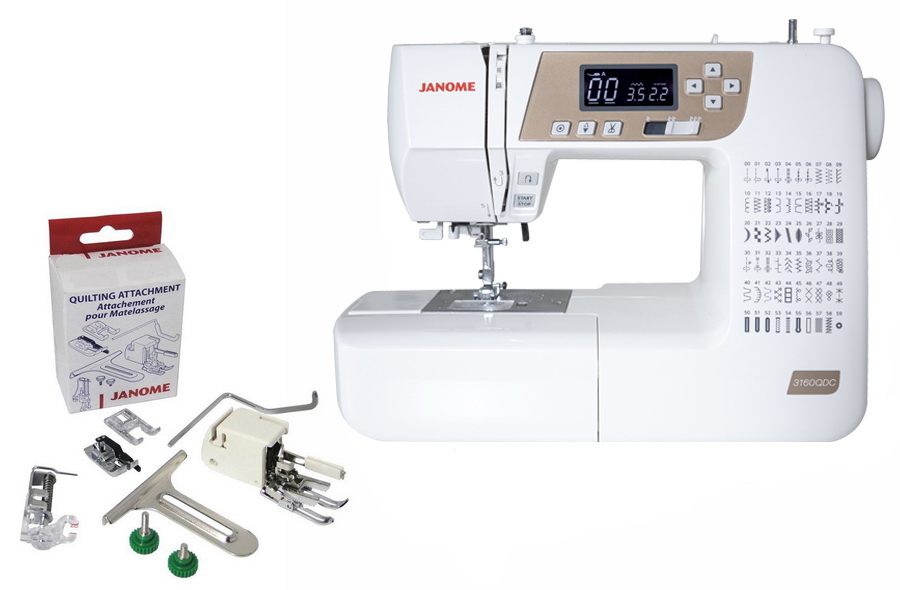 With 60 built-in stitches and a variety of function buttons, the Janome 3160QDC is every beginner's dream machine. If that is not enough, it boasts of a modern teal design that leaves most people wowed.
Due to its modern nature, the Janome 3160QDC is currently one of the best Mother's Day gifts for daughters. Some of the advantages of this machine include:
It comes with a convenient LCD screen
It is great for beginners
It is easy to use
SINGER 7258 Computerized Sewing Machine

As Mother's Day sewing machine sales continue to soar, one of the machines that have become highly popular is the Singer 7258.
With its cute design and its convenient push-button stitch selection functionality, it is no wonder that this machine is a hit with women of ages.
Some of the advantages of this computerized machine include:
It comes with 100 built-in stitches
It allows for the adjusting of stitch length and width
Easy to use
SINGER Legacy C440 Portable Computerized Sewing Machine

What can we say, modern sewing has never looked so sleek. Even at first glance, it is easy to see that the Singer Legacy C440 was designed for a classy woman. With its large LCD screen and automated features, this machine is a fan favorite.
Moreover, it boasts of the following pros:
It comes with 200 built-in stitches
It is strong and durable
It comes with a removable storage tray
Janome HD3000 Heavy Duty Sewing Machine

If your mom is old-fashioned, she will definitely love the Janome HD3000. The fact that this sewing machine is not computerized makes it extremely easy to use. It comes with easy stitch selection functionality and a host of accessories that make using it an utter joy.
Some of the advantages of this machine include:
It comes with 21 built-in stitches
Its metal frame makes it durable and stable
It can easily sew through thick materials
Brother XR3774 Full-Featured Quilting Machine

Specifically designed with quilters in mind, Brother XR3774 comes with a wide table that allows your mom to make all her cozy quilts with no problem at all. While this machine is more expensive than the XM2701, it more than makes up for it through its versatility and ease of use.
It is able to cater to these needs by having the following functionalities:
37 built-in stitches
LED lit work area
Convenience features such as a built-in threader and a jam-resistant bobbin
Brother Sewing Machine XM2701

Like all Brother sewing machines, the XM2701 does not disappoint. Even from its appearance alone, it is easy to understand why mothers would like it.
Its white and purple design is cute, to say the least. It is also light, portable and easy to use. Major things to note about the Brother XM2701 are:
Its workspace is illuminated by LED lights
It features 27 built-in stitches and a bobbin winder
It is best for beginners
Brother SE600 Computerized Sewing and Embroidery Machine

In this world where most moms are impeccable multi-taskers, it would not be surprising if yours was one of those that sews, embroidery, and does God knows what else. If this is the case, the Brother SE600 is the machine for her. It is therefore not surprising that it clinched the 2018 Women's Choice Awards.
Some of this machine's highlights include:
Large touchscreen display
4" by 4" embroidery field and hoop
103 built-in sewing stitches
SINGER Heavy Duty 4411 Sewing Machine

The fact that Singer 4411 features a heavy-duty metal frame and strong motor makes it popular among those mothers that constantly have to deal with high volumes of heavy fabrics.
Coupled with the fact that it can sew at speeds of 1,100 stitches per minute, this is probably the best gift for Mother's Day. If you are thinking of getting the Singer 4411, you have to know:
It comes with 11 built-in stitches, 6 basic stitches, and 4 decorative ones
It can be used on a variety of different fabrics
It produces high-quality stitches
Mother's Day Serger & Coverstitch Machine Deals
Apart from common sewing machines, other popular crafting machines include serger and coverstitch machines.
If your mom is obsessed with these kinds of specialized machines, you will be happy to know that there are a multitude of Mother's Day special offers that you can leverage, the best of which are featured below.
SINGER Finishing Touch 14SH6540 Differential-Feed Serger Sewing Machine

Honestly, serging has never come in a more sophisticated package than the Singer 14SH6540. However, don't let this machine's sleek exterior fool you, it is excellent at what it does. With the ability to work at speeds of 1,300 stitches per minute, this machine is known for producing high-quality finishings.
Other positive attributes it is known for include:
Its stitch length dial allows you to easily choose your preferred stitch length
It comes with a host of convenient accessories such as a screwdriver, tweezers, and a sewing set
Its heavy-duty frame makes it extremely stable and durable
Brother Serger, 1034DX, 3/4 Thread Serger

If you or your mom just love cute girly things, then the Brother 1034DX is right up your alley. Everything from its color and design to its shape screams femininity.
It also helps that it has 3 or 4 thread capability and cute color-coded threading guides that let you know exactly where to place your thread.
Moreover, it boasts of:
Sewing speeds of 1,300 stitches per minute
Highly convenient stitch width control
Feed dog control functionality
SINGER ProFinish Serger Overlock Machine

While the Singer ProFinish lacks some of the features present in its high-end counterparts, it offers a lot for its affordable price.
For instance, it has sewing speeds of 1,300 stitches per minute and even a color-coded threading system that makes dealing with thread extremely easy.
Other high points of this machine include:
It comes with an instructional video that makes it easy for beginners to set up and use it
It features a free arm that makes it easy to sew cuffs and sleeves
It comes with a 25-year limited warranty
Brother CV3440 Advanced Cover Stitch Machine White

When it comes to advanced coverstitch machines, nothing beats the Brother CV3440. Not only can this machine produce a variety of cover stitches but it also has a large 6.1" by 3.9" workspace.
Yet these are not the only attractive features of this machine. Others include:
A free arm that makes it easy to sew cuffs, sleeves, and necklines
An LED light that illuminates the workspace
A convenient thread cutter for increased efficiency
Best Fabric Cutter Mother's Day Deals
Cricut Explore Air 2 Mint

If you have one of those super modern moms who are really into technology and smart machines, the Cricut Explore Air 2 Mint is just what you guys need.
This smart cutting machine allows you to comfortably undertake several kinds of DIY projects ranging from creating gift cards to creating custom vinyl stickers.
Other features of the Cricut Explore Air 2 Mint include:
The ability to cut over 100 different types of materials
Embedded Bluetooth that allows for wireless cutting
Design Space; software that allows you to create designs on your computer, tablet or phone
AccuQuilt GO Fabric Cutter

Beloved by quilters everywhere, the AccuQuilt Go fabric cutter is known for its fast and precise cutting. Beyond this, the AccuQuilt GO is very sturdy and comes with a variety of cutting dies.
Other highlights of this machine include:
Light yet sturdy
Easy to turn and use
Comes with directions on how to use the dies
Tips To Find The Best Mother's Day Deals On Amazon
When looking for the best deals on Amazon, there are several tips that can help you out. For instance, you can use Amazon Outlet. This is where Amazon features a lot of its discounted products.
Another thing you can look into is getting Amazon coupons. These give you discounts on a lot of products, some of which would make the best Mother's Day gifts.
Ultimately, these are just a few and not all tips on how to find the best deals. If you truly want to be constantly informed on the best deals, feel free to regularly check this page for. We are sure to make your life super easy.
Happy Mother's Day!