Researching and selecting the best embroidery machine for home business is a grueling task.
There are so many opinions out there that make us uncertain as to which one to trust and what embroidery machine to go for.
Best Embroidery Machines For Home Business:

We understand your pain and are aware that you have a lot of interesting home business ideas ready to burst into your mind. And the only thing that's stopping you is an embroidery machine that suits your professional needs and still is within your budget.
Let us present you a list of the top five embroidery machines for small business in the retail market right now.
You can go through the reviews and select the best embroidery machine to start a small business that you think is ideal.
Each one is better than the other and a quick glance at the pros and cons will help you choose your workhorse.
How We Picked
We have categorized the seven models into two sections:
Top 5 picks that are superior in their feature and price ranges
Two affordable models for those who want to start out slow i.e. on a budget
Be rest assured that all machines have been tested and analyzed, and are the best in their lot.
They all cater to the diverse needs of experienced embroiders like you who need advanced features, simple usability, and lots of power.
Running a home-based embroidery business means creating a variety of designs and focusing on the minute details that your clients demand.
Getting one of these embroidery monogramming machines will ensure that your clients stay happy but more than that your Instagram followers and sales numbers stay on the rise. Good luck!
Best Embroidery Machine For Home Business in 2023
1 – Janome Memory Craft 14000 Sewing and Embroidery Machine
An absolute workhorse, this Janome sewing embroidery machine is like a dream come true.
Made for people who like to take total control of their creations, it is packed with cutting-edge features and a heavy-duty motor for seamless operation.
Best Feature
Real-time PC connectivity (and USB compatibility) for advanced designing and embroidery
Feature Highlights
The Memory Craft 14000 has so many features that it will take weeks for a true embroidery enthusiast to fully grasp its potential. Which is definitely not a bad thing, you know.
The maximum speed of 1000 stitches per minute (spm) with the facility of automatic needle threading and tension control will help you wrap up your projects faster.
Although the LCD screen will feel a bit complex to operate at start, the instructional DVD and manual will ease you into all the functions and controls.

What makes this monogramming machine for small business even more capable is the 11 fonts with support for European characters.
No more fretting when your teen daughter asks you to embroider the words "slightly risqué" in her handkerchief. "All right, my doll!"
It has 400 built-in stitches and 13 one-step buttonholes that will help you cover all types of sewing and quilting.
It also has a free arm and an extra-long hoop size to work on larger projects, and which make this the best embroidery machine for small business.
The automatic feed is another great feature that does not require you to forever hunch over the machine.
2 – Janome MB-7 Embroidery Machine
Janome MB-7, an ultimate commercial sewing machine for home-based businesses. It comes with an optional remote computer screen to explore the vivid features of this machine.
Best Feature
Optional remote computer screen for quick monitoring of the design features of the machine
Feature Highlights
The Janome MB-7 is a multi-needle embroidery machine, suitable enough for home-based business for its exceptional features.
It has got the maximum embroidery size of 9.4 x 7.9 inches which is suitable enough to give luxurious space required for versatile embroidery.
What makes this machine more interesting is the 10 fonts for monograms and it also allows 2 – 3 letters monogramming. You can also do embroidery on hats and caps which will open a new work sector for you people.
Then there are 50 built-in designs, all one-of-a-kind and comes with a USB port compatibility for you to be able to upload more designs as you need.
The extra-large bobbin and dedicated bobbin winding motor help in easy usability. Furthermore, the auto thread-cutter and manual thread tension control make the operation super quick and simple.
There is a well-lit needle area to see the needles in operation. Also, this model works on a splendid speed of 800 SPM.
The product is flooded with intelligent features that make it worth every penny spent. I highly recommend this embroidery machine for a home-based business.
3 – Janome MB-4S Commercial 4 Needle Embroidery Machine
There's an inexpressible charm to industrial-grade machines that work as an assembly line. You just set it up and the line takes care of it. This Janome 4-needle embroidery machine is just that.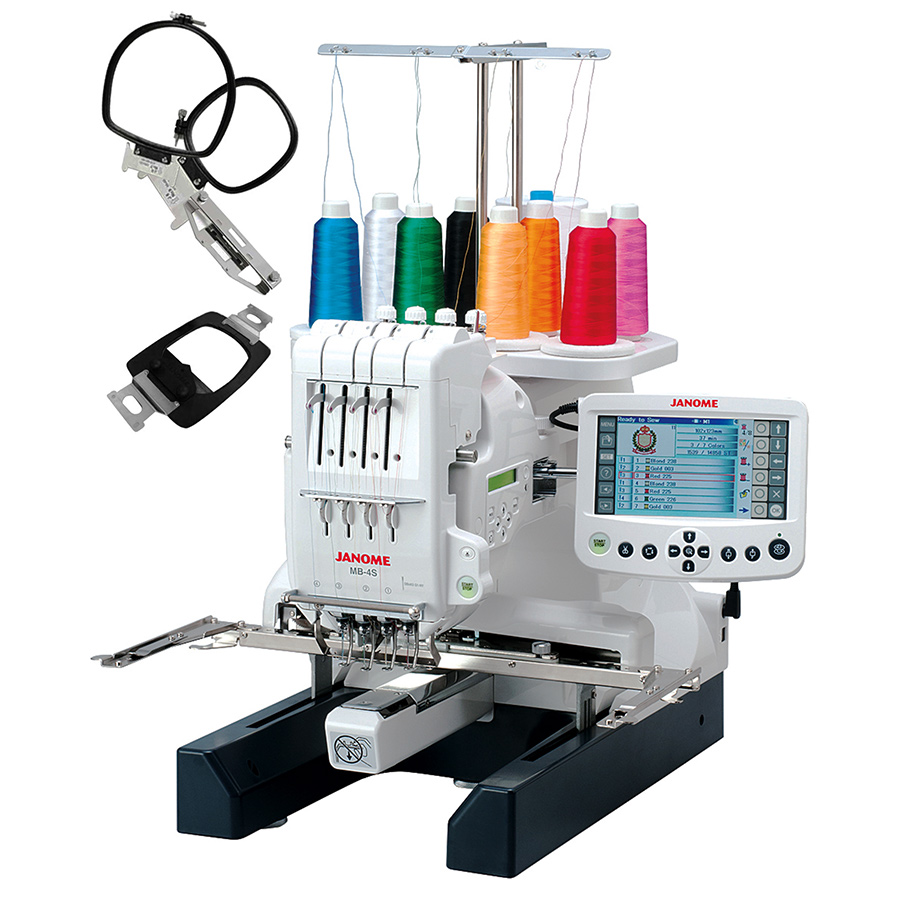 Best Feature
Four needles on a single head, expandable hoop
Feature Highlights
This multi-needle embroidery machine is more than professional equipment that is specifically designed to appease a home business owner.
Janome understands your specific needs and has therefore focused on automation. It has a dedicated bobbin winder, automatic needle threader and tension control, and a wide work area.

The versatility of editing your designs is path-breaking, as you can use the Remote Computer Screen (RCS) to not only snip and snap your designs but also combine and experiment.
Owning a home business means getting weird requirements from clients, and with this, they are never a problem.
This is the perfect embroidery machine for hats and shirts and tote bags and every other creative product in your business inventory.
With the Janome MB-4S which has a maximum speed of 800 SPM, it's like owning a factory right inside your house.
4 – Janome Horizon Memory Craft 9900 Sewing and Embroidery Machine
Running a home business means getting creative with your work to increase your clientele and sales. What better way than to diversify and explore products that are not just wearables?

Best Feature
Feature-packed machine for business owners who embroider products for home décor, crafts, and decoration. It supports embroidery, quilting, and general sewing
Feature Highlights
The Janome Memory Craft 9900 is suitable for those who have a wide range of products in their kitty.
A less-advanced version of the Memory Craft 14000, this one boasts of complete editing functions (like a sewist version of Photoshop), a memory capacity of 3 MB so that you can store your bestseller designs, and a robust and powerful sewing system that can stitch through multiple layers of fabric.
When you are working with different fabrics, the one feature that comes handy is speed control. With the Janome 9900, you can vary the speed between 400 and 800 spm depending upon your project.
200 built-in stitches, 175 embroidery designs, and 6 one-step buttonholes are like icing on the top.
Note
One of the primary reasons why all the three models above are from Janome is because they have excellent customer support.
Just visit their website and use the most suitable medium to get in touch with them. A solution is guaranteed.
5 – Axis Single Needle Chain Stitch Embroidery Machine
If you need the best chain stitch embroidery machine for home business then this model concludes your research with its incredibly simple and resourceful functions.

Best Feature
The free-hand sewing could be a little tedious feature of this machine but it helps in achieving the finest results and suitable for handling intricate designs.
Feature Highlights
This embroidery machine is only suitable for home business owners that work craving out the names and specializes in chain stitching.
The hand-free machine comes with a single needle that gives you the power to try more intricate designs on the confined areas like sleeves and cuffs.
It is compatible with a variety of materials. Leather is one of its specialties. The machine is also brilliant in carving out names and other simple chain-like designs on the handkerchiefs.
The working speed varies between 200 to 800 RPM so that you can get full control over the designs. Also, the machine has got a universal feed design.
6 – Janome Memory Craft 500E Embroidery Machine
Memory Craft 500E is an upgraded and versatile version of 350E with a large full-color touch screen and easy to place and remove embroidery hoops.

Best Feature
This machine comes with 4 differently sized hoops which makes it exceptionally versatile for home business.
Feature Highlights
The Janome Memory Craft 500E is an absolutely suitable product as it brings a lot of versatility in the picture with the multiple hoops.
The large hoop embroidery machine makes it easy to handle bigger projects. This comes in the sewing area of 7.9 x 11 inches and the 160 built-in designs make stitching more fun than ever. You also get to work with 6 monogramming fonts and 2 and 3 letters as well.
One of the features that I absolutely love about this machine is the on-screen editing which makes your work incredibly simple. You can rotate, flip, arc, combine, drag & drop, group or use various related features in this machine touch panel controls.
There is an advanced bobbin threader and needle threader and a programmable stitch skip function. There is also a feature of auto return post thread break which helps in immensely in the overall process.
You can also edit the design on the computer and share it using USB for stitching. Plus, its ability to combine the designs and formats make room for great inventions.
It automatically ties off and cut the thread before starting another design. You can convert any multi-color embroidery to a single color without any hassle.
This monogramming machine gives you exceptional control and power. Given its versatility, it is a highly suitable machine for home businesses.
7 – Brother SE1900 Sewing and Embroidery Machine
Ready to be used as soon as it ships to your house, this affordable combo machine is the perfect package for a hobbyist who has plans to start an embroidery business.
Best Feature
A hobbyist's wonder equipment with lots of built-in options and ability to import designs through USB
Feature Highlights
The Brother SE1900 is one of the bestselling models in this range for a couple of reasons.
The ability to import premium designs from the internet is arguably its best feature. It can positively impact your inventory as you can play with different designs for your clients.
The work field is wide enough and moderately lit for large projects. The large 5×7 inch embroidery hoop is a godsend because we've found that it reduces the work time by half or more. You can attach the material to the hoop in the best suitable position and feed it.
The 22-lbs machine is light enough for easy portability, and also comes with a sturdy protective carrying case.
8 – SINGER XL-580 Futura Embroidery and Sewing Machine
This is a very good embroidery machine with large hoop for home business especially because it has a string of peculiar features that you won't find in any other models on this list.

Best Feature
The large Endless Embroidery Hoop (6.75" x 4") is great to work on borders that is not possible with traditional machines
Feature Highlights
While the Singer Futura XL-580 is slightly more advanced than the above model, the cost is what makes it a steal.
A plethora of high-tech features like multi-hooping capability for larger projects, knee lifter, and speed control makes it a competitive machine.
The endless hoop is perhaps its greatest feature because now you can easily work on the borders of your creations and never let them go blank.
With 6 LED lights located at the right places, you can be sure that the end design is as similar as you thought.
It also boasts of 250 designs, 215 stitches, 3 extra hoops, 20 fonts that are expandable, 6 one-step buttonholes, and a variety of accessories.
All of this at such a great price makes it a good embroidery machine for home business.
Best Embroidery Machines For Home Business Comparison
Before you go through the conclusion, have a quick look at this list of the top embroidery machines for small, home-based businesses.
Our all-time favorite brands Janome, Brother, and Singer make an appearance because those are the ones that innovate when it comes to professional embroidery machines and sewing instruments.
See more detailed comparison table here
If any of these embroidery machines fancies you, just check out their review below, order it, and start a countdown before you make your dream come true!
Which Embroidery Machine For Home Business to Buy?
Best Quality Embroidery Machines For Home Business
Top 5 best quality embroidery machines for small business and professionals:
These models are handpicked from the online retail market and are known for their top features like advanced monogramming and multiple needles, extra durability so that you can work on it for hours without stopping, and longevity which ensures it is a one-time investment.
A perfect combination of all the parameters required to kickstart and maintain your home embroidery business.
Best Affordable Embroidery Machines For Small Business
The following are the best affordable embroidery machines for home business:
You are a hobbyist and you are just starting up. Of course, you don't need all these advanced features that you will never use.
So, why not trade them for a reduced price but still retain all the power of a professional embroidery machine? The above affordable embroidery machines are the ones you should go for.
Conclusion
We hope that these best embroidery machine for small business reviews of the top 7 models will help you make a wise purchase.
Starting an online embroidery business can be very lucrative and interesting, but before you get on with it, you should sort out one thing. And that is to get a machine that is reliable, versatile, and ahead of its time. We have ensured that all the seven models above check all those three adjectives.
Let us know your pick in the comments below.