As a consumer, finding the best embroidery machine for beginners that suits your needs can be difficult in today's competitive and choice-spoiled market.
So, to make your task easier, I have created this comprehensive guide containing some best beginner embroidery machine reviews.
Best Embroidery Machines For Beginners:
Whether you are looking for a basic embroidery machine for beginners or an affordable embroidery machine for home use, this guide will help you make a wiser decision.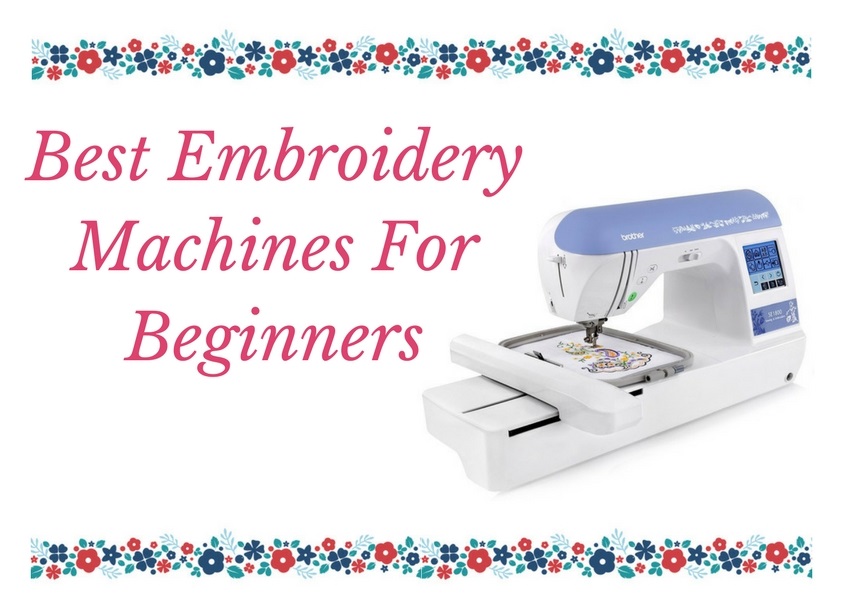 For now, let's do a quick comparison of the best embroidery machines for beginners.
To put you at ease, here's an embroidery machine comparison chart for you to quickly skim through before diving into detailed reviews.
Best Embroidery Machines For Beginners 2023
There are so many different types of machines out there in the market that it can put you in a quandary while selecting the best and the most beginner-friendly model.
Don't get intimidated with all the types, features, and brands if you are new to this. I have explained most factors and terms related to embroidery in detail in the latter part of this guide.
Best Embroidery Machine For Beginners Reviews 2023
#1 – Brother PE800 – Best Embroidery Machine For Beginners

Best For
Our top choice for beginners and home users, this embroidery-only best-seller from Brother should be on your list if you are new to the art and lack the skills of a pro.
Pros
Home embroidery machine with the largest hoop 5" x 7"
Best automatic needle threader (among Brother models)
Inbuilt memory
USB compatibility (or can be directly connected to a computer)
Designs can be edited
Cons
Does not come with a 4x4 hoop (which is what most designs are)
May require additional accessories to take full advantage of the machine
No complementary stabilizer
Brother PE800 - Top Embroidery Machine For Starters to Buy
With 138 gorgeous designs, 120 frame pattern combinations, and 11 lettering font typefaces, the PE800 is arguably the best Brother embroidery machine.
Suited for beginners who want to explore the possibilities in the field of embroidery, this model further boasts of many useful features like a design editing, large 5×7-inch hoop size with positioning options, new color LCD touchscreen, USB port, automatic needle threader, and inbuilt memory so that you can save your edited designs for future use.
It works at a speed of 650 stitches per minute (average: 450), completing an average job in less than 15 minutes.
Probably the best thing about the Brother PE800 embroidery machine is that it has the trademarked Quick-Set drop-in top bobbin, which makes it easier for you to thread the slot.
Features that you will usually find in expensive machines are also present; design rotation, an expandable frame, stitch count position, thread tension adjustment through LCD, and preview option are some of the advanced features.
Useful Tips
If you are getting strange stitches, a minor tweak in the lower or upper thread adjustment would correct it
Brother's own website of design catalogs can be browsed for many interesting designs
Not a demerit, but we advise you to use a USB thumb drive with storage less than 16 gigabytes (GB) because anything above that causes the system to lag/malfunction
Verdict
If are a newbie and want to own a computerized embroidery machine which you can start using right away, the Brother PE800 is the model you should go for.
#2 – Brother SE600 – Best Sewing Embroidery Machine For Beginners

Best For
The Brother SE600 is perfect for the hobbyist who is looking for the best affordable embroidery sewing machine. Brother is a leader in this market and has a lot of legendary models.
This is one such model, used and enjoyed by thousands of people in the State and elsewhere in the world.
Pros
4x4-inch embroidery area
80 designs, 103 unique stitches, 6 lettering fonts
Automatic thread needle and cutter
Computer connectivity (via USB), inbuilt tutorials, LCD touch screen
Cons
The embroidery area can restrict your creativity
Computer connectivity issues if you have an Apple Mac
Brother SE600 - Best Value Sewing Embroidery Machine For Beginners
If you go through other sewing and embroidery machine reviews online, you will always find SE600 mentioned in almost all lists. That is the power of this model, which is popular because of its wide range of intelligent features.
Marketed as one of the most versatile machines out there, the Brother SE600 can be used for: embroidery purposes, quilting and traditional sewing, and even ruffling so that you can transform that golden top to look like the one Kendal Jenner was wearing in one of her Snapchats.
Frills are back in vogue right now if you ask me (look at them millennials!), and this one right here ensures that you expand your creativity.
Less expensive than the first two models featured here, this is often considered the best embroidery machine for home business because of its default 4×4 embroidery area, 80 awesome designs, computer connectivity, and 7-point feed dogs that are important from a sewer's point of view.
There is a lot to love in this light model that is also capable of monogramming (with embroidery monogram fonts), button fitting, and overcasting.
If there is one machine that DIY vloggers on YouTube agree with, then it has got to be this Brother computerized sewing embroidery machine.
Useful Tips
Additional accessories like bobbins, stabilizers, and a fresh set of branded needles are recommended
In case you get confused with this model, there is free phone support available from Brother's customer care.
Verdict
If you are looking for an economical combo machine that takes care of both embroidery and sewing, there's only one best option: Brother SE600
#3 – Brother PE535 – Best Cheap Embroidery Machine For Beginners

Best For
Beginners who are looking for an inexpensive embroidery machine with all qualities of an entry-level model must keep this on the top of their mind during the purchase cycle.
Pros
Simple to use, and designed for beginners
80 designs, 9 font styles, and 10 frame patterns
Convenient color touch LCD display
Inbuilt memory and computer connectivity for design download and firmware update
Cons
The work area is limited to 4x4 inch
Brother PE535 - Good Cheap Embroidery Machine For Beginners
A fairly new model by Brother, it is an immediate successor to the PE525.
A 4×4 embroidery area is enough for most design projects, while the 80 inbuilt decorative designs should take care of your basic needs.
You can also connect it to a computer where you can import countless designs from iBroidery.com and even update the firmware regularly.
As is common in all latest Brother models, this single head embroidery machine Brother PE535 is equipped with Quick-set drop-in top bobbin and advanced automatic needle threading system.
Top-notch stitch quality and inventive design editing options are another two great features of this embroidery-only machine.
Useful Tips
In case of thread breaks, it is better to edit the design (while omitting the completed part) and then restarting the sewing.
Verdict
A great small embroidery machine, the Brother PE535 is popular in the community for its design editing skills. Of course, you will need software (on your computer) to create designs, but if editing is your main criteria, then there's no need to proceed with this guide. Just buy!
#4 – Brother SE1900 – Best Embroidery Sewing Machine For Start Up

Best For
If you were a beginner while your interest in embroidery began to bloom and now consider yourself somewhere between intermediate hobbyist and a professional seamstress who hopes to earn some good dollars on the side, then let us present to you Brother SE1900, the best embroidery machine for small business.
Pros
138 designs, 240 inbuilt stitches, 10 buttonhole styles, and 11 font styles
Large 5x7-inch embroidery area
Inbuilt memory and custom sewing stitch designer called "My Customer Stitch"
Detailed user manual suited for beginners
Cons
Frequent tension adjustment can be a hassle
Brother SE1900 - A Long-term Investment For Beginners
This Brother sewing embroidery machine is the ultimate choice for the business woman in you. It supports sewing, tapestry, frilling, ruffling, quilting – you name it.
With an extensive range of 138 designs, 10 buttonhole styles, and 11 fonts, you are never going to run out of ideas.
Your girls are going to notice the variation in buttonhole styles in all your pajamas and you are going to show them how the master does it.
What makes this Brother SE1900 sewing and embroidery machine the better choice for both beginner and advanced users is its large embroidery area (5×7 inches).
We all know that the latter is something to die for, and exclusively available only on this model.
If you are running a business or thinking of starting one, you must invest in an advanced system that not only takes care of creative needlework but also manages to do all the menial tasks that are expected from a responsible seamstress.
You should know the art of quilting with an embroidery machine and how to replicate a design shown by a potential customer.
Selling your work on Etsy can come later, but first, you need to do the essential: purchase Brother SE1900, arguably the best sewing embroidery machine combo we have used.
Useful Tips
We recommend you purchase a cap hoop that goes with the larger one on this model for added convenience. Brother sells it on their website.
Verdict
We have talked to a lot of seamstresses who have started their own embroidery business and earn a great secondary income through this side gig.
It must not be a coincidence that they all own the mighty and powerful Brother SE1900. Or is it?
Useful Tips
With the Project Runway (where you can also grab the Grand Slam package) you will just need to get an extra set of stabilizers depending upon your requirement for advanced embroidery
Read full Brother LB-6800PRW review
Verdict
One of the top-rated sewing and embroidery machines in the market right now, the Brother LB-6800PRW is easy to use even if you have a scope of complex tasks in line, highly customizable, and pocket-friendly.
Buy this one and the seamstress in you will never be disappointed.
Now that you have read the reviews of the top six embroidery machines for beginners, it is time to brush up on the basics.
How We Picked
Want to know how my team picked these specific models?
Below is a brief overview of the factors that we considered while selecting the best starter embroidery machines.
Tailored for Beginner Embroiders
This guide is apt for people who are looking for an embroidery machine as a means to learn creative sewing or needlework or even plain old tatting.
You may be an inquisitive DIYer who just saw your favorite vlogger turning an old piece of cloth into a charming top.
Or a home keeper who has decided to start an embroidery business because you already know the ABCs of the art.
Or you may be a fashion design student who wants to get hold of a multi-dimensional machine to take care of your art projects.
Or you are a hobbyist who is convinced that embroidery is a fun and creative pastime that can actually become a part-time business.
No matter what your aspirations are, these embroidery machine reviews will assist you in your purchase.
We have particularly focused on machines that are simple, easy to use, have all the latest and necessary features, and are worth every penny so that your investment is safe and sound as you continue creating awesome designs for years and years to come.
If you are looking for a professional embroidery machine, click here for the reviews.
A Brief Overview of Embroidery Machines
Embroidery is the art of creating patterns on a piece of fabric.
What started as part of handloom and handicraft in the old days to a pastime for housewives and bored spinsters (probably out of a Jane Austen novel) who would use tapestry hoops to carve their initials on napkins to now being creative hobbies and a field of business.
The advent of advanced machines has fueled the embroidery industry.
Today, both men and women use embroidery machines primarily for fashion designing purpose, but the possibilities are endless as we just saw in the reviews above.
The humble tapestry hoop (or embroidery frame, if I may) made of wood has been pushed into oblivion by the all-powerful embroidery machine.
While we have seen the best entry level embroidery machines for beginners, it is wiser to know the basic types. The art of embroidery is not just limited to the actual needlework.
As a seamstress, you must have general information about this niche field, also so that you can share these tidbits later with your girlfriends when they come to see your old clothes metamorphosing into products better than Zara and H&M's through the magic of your hard-working hands. (I know I have had my fair share of such experiences.)
Why Should You Buy An Embroidery Machine?
The sheer pleasure of doing minute needlework on your favorite floral jumpsuit using your personal home embroidery machine is a great feeling.
And when you show your creation to your girls on Instagram? That moment of joy is priceless.
Owning a beginner embroidery machine can be a rewarding experience especially if you are new to it. There are so many features to try and get creative with.
You don't have to throw away your old clothes because every person on Earth has seen them. With a personal machine, you can just add a frill here or a ruffle there and make them look as brand new.
Types of Embroidery Machine
Without much ado, here is a short take on the different types of embroidery machines available in the market today:
Free-motion Embroidery Machine
Something that is not at all recommended in 2017, free-motion machines require to be manually operated.
It is basically a distant cousin of tailoring machine that demands the operator to have advanced skills.
Computerized Embroidery Machine
Most of the models featured on our list are computerized, which means the embroidering operation is controlled digitally through a computer.
Microprocessors and controllers are employed to make the process as automated as possible. Most computerized machines have inbuilt memory.
An embroidery machine with USB port allows you expand your design catalog.
All you have to do is download designs (specific file extensions such as *.PES and *.PEN) from the internet, copy them into a thumb drive (recommended size is 4 gigabytes (GB)), and then feed it into the machine.
Another type is the embroidery machine with computer connectivity.
It allows you to connect your machine to your computer (a Windows desktop is recommended) through a USB cable and directly feed downloaded designs onto the machine.
This feature can also help you update your machine's firmware.
Embroidery-Only Machine

To provide answers to demands made by hobbyists and DIYers, brands have designed special embroider-only machines where all you can do is choose a design and carry out embroidery work.
You won't be able to do traditional sewing using such a machine.
Embroider-Sewing Combo Machine
If you are an advanced user or if you desire to make your embroidering hobby into a full-fledged business, you must think of investing in an all-in-one machine.
A combination sewing embroidery machine gives you the freedom to do whatever suits your fancy. Need to quilt? Go right ahead!
(I personally own such a machine plus a serger, and I never have to worry about anything when it comes to fashion design sewing. The works!)
Needle-Specific Embroider Machine
The difference between a multi needle and single needle embroidery machine, as the nomenclature suggests, is the number of needles that actually do the sewing work.
As you can guess, a multi needle embroidery machine has multiple needles (two or more, and even up to twelve) and can use multiple colors to sew at the same time.
There are many more types, makes, and models that embroidery machines come in.
The industry has grown wildly over the past few years, thanks to a boom in the fashion industry (thanks to us female consumers who aren't afraid of buying and wearing more clothes as we wish).
Brands are finding more features to add to their products, making it all the more difficult for a beginner to make up her mind.
I hope that the reviews and this guide overall have made you smarter in the field of embroidery.
Moving forward, a few more factors to help you purchase the right machine.
How to Choose the Best Embroidery Machine For Beginners?
"What is the best embroidery machine?" you may ask.
I could possibly write an essay on that topic, but since we are both running out of time (because we have got old clothes to embroider, people), here's a short answer.
When looking for the best machine, there are basically two things that matter the most –
All other parameters, as one of my designer friend says, are rather fluffy. These are the two most essential things to take care of first, and then you can go into the nitty-gritty.
The speed of a machine deals with how many stitches it can stitch in a minute. While the average is around 450, one must always look for a machine that at least have 600. The higher the number the better, but let's not bludgeon our pockets here, shall we?
The hoop size will determine the maximum embroidery area supported by a machine. A 4×4-inch area is most common, and you must raise questions if it's anything lower than that.
Don't worry about the hoop that comes with your machine, because as you grow more skilled, you will automatically order a new, better one from Amazon. I guarantee it.
Factors Considered When Buying An Embroidery Machine
Speed – The faster the machine the better. Most models have average speed, make no-to-less noise, and do not heat up
Hoop Size – This is the area where you actually do the embroidery work. This has to be as wide as possible
Skill-level – Broadly speaking, embroidery machines are categorized depending upon the skill level of the user. Since this guide is intended for beginner users, we have principally selected only those six models from the online market that are perfect for beginners and are bang-on for their price

However, this does not mean that these models are not suitable for advanced users. The chief difference between new and advanced users is that the latter are more comfortable working on different features.
On the other hand, a new user would ideally want to start with simple features to carry out the most basic of tasks like monogramming using pre-loaded designs.

Designs – One of the most important characteristics of an embroidery machine is the versatility with regards to designs and patterns. Does it only support inbuilt patterns? Can it connect to the internet directly and download beautiful designs? Answers to all these questions are going to be crucial in your quest to own the best basic embroidery machine.
USB Compatibility – Can you connect a USB thumb drive and load designs you bought and downloaded from the internet?
Computer Connectivity – The ability to connect the embroidery machine directly to your computer and download designs and patterns. It also deals with firmware updating
Inbuilt Memory – A solid feature that can come really handy if you want to save your designs in the machine for future use
Needle Auto Threading – An automatic threader ensures that you don't have to squint your eye and insert the thread into the eye of the needle. You just pull a level beside the needle, hook the thread, and release it – bingo!

During our guide prep session, we surveyed a small bunch of folks interested in embroidery and found that the biggest issue they had as they started out was the threading.
"Manual threading is the worst", quipped one person, who is well-versed with the traditional tapestry frame (embroidery hoop) and now has started experimenting with a computerized model

Automatic Thread Tension – Although a lot of popular automatic embroidery machine models boast of convenience and ease, you have to make sure what type of system they use before purchasing.

There are many types like metered top threading, numerical, dial-based, and mechanical. Most of the models featured in the embroidery machine reviews below have truly automatic thread tension systems

Versatility – Most simple embroidery machines are embroidery-only with a handful of inbuilt stitch patterns. You may or may not be able to carry out monogramming in such models. So, it is important to check the overall ability of your selection before hitting the "Buy" button.

Our list mostly features embroidery-only and embroidery and stitching combo machines, which is enough to take care of your needs as you start up

Embroidery Frame – This is the actual frame where you will attach the piece(s) of cloth to be embroidered. This has to be detachable and of at least a minimum size of 4×4 inches. So that you can embroider even large sizes of clothes in a single frame.

Note: If you want a broader size, you can always do the stitching in parts and then join them, thanks to modern technology

Design Editing – This is a nice little feature to have if you want to edit your designs according to your taste and the type of cloth you are embroidering on. Intended for creative DIYers (just like you) and fashion designers (like me), this feature is optional
Warranty
These are the primary factors that we considered while selecting our picks of best affordable embroidery machines for beginners. Other secondary features are:
Automatic Jump Stitch Cut – The ability of a machine to automatically cut/trim jump stitches is essential because after all embroidery is a work related to aesthetics. You don't want shreds of thread poking out of your jumpsuit, especially when you are showing it to your friends (OMG, I can't even.)
Weight – If portability is not really an issue, this shouldn't be either
Cost – For beginners, this should be an important parameter. Just compare the prices of the models we have mentioned and go with what works best for you in terms of cost. Keep in mind that machines with only inbuilt designs cost about 30% less
Design File Extension – A lot of machines only support *.PES files, which is more than enough. But, there are much more extensions if you are an advanced user
That's about it when it comes to factors.
Just check these factors when choosing the best commercial embroidery machine – whether it is for personal home use or for business purpose.
Once you become more acquainted with your machine, you will be a better judge of what changes/tweaks you want to make and what accessories you want to purchase (the perfect time to spend those dollars we talked about earlier).
However, as a beginner, before you start experimenting with your newly acquired self-gift, these are few useful tips that will come in handy.
How to Use an Embroidery Machine?
Basics steps to get you started –
Keep a piece of fabric (cloth) handy and have a simple design in mind
Hook this fabric with a stabilizer (a slim sheet that prevents thread slips and thread jumps on bottom area) into a hoop. You must ensure that the fabric and stabilizer are tightly fit so that you don't create any puckers. There are many types and qualities of stabilizers. For your first job, you can use a medium-quality one
Now keep the hoop in the embroidery area (ensure it fits snugly)
Put embroidery thread on the top and standard bobbin thread in the bottom (you can refer online videos on YouTube for steps on how to do this)
Select one of the inbuilt patterns (size, shapes, etc.)
Drop the presser foot so that the machine is in active mode. Then press the button to let it take charge and do what it does best
Depending upon the speed (or chosen speed) of your machine, the job will be done in the stipulated time
This is the basic method to carry out a simple job on an embroidery machine. There are several settings and features even on an entry-level home embroidery machine.
Make sure you have enough time in the following months.
Useful Tips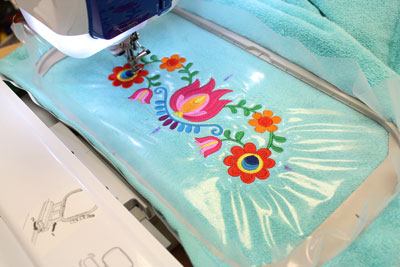 Hooping your fabric firmly on a stabilizer is important or else you will end up with an ugly output
Choose the right needle for the job that goes through your fabric easily and does not get stressed. A needle size of 70-80 should be enough for basic jobs

The size of your needle should depend upon the thickness of the fabric

Use a pointed needle for closely woven fabric; a blunt one for denim
Want to learn the basics from forums? Check these out:
Frequently Asked Questions (FAQs)
Does the operating system of my computer matter? I have an Apple Mac.
It depends on what you are trying to do. If your embroidery machine has direct computer connectivity, you may want to check the machine's manual if it supports Mac.
You just have to connect the machine to your Mac through a USB cable. Ideally, you should see a folder/drive named "No Name" in your explorer. Just copy-paste the designs into this folder/drive.
Some models do not support Mac.
On the other hand, if you are using a USB drive, the operating system shouldn't matter, as you can directly copy the design files onto the USB drive from your Mac and then feed it to the machine.
What are different types of stabilizers?
What is the largest hoop size?
12x12 inches is the maximum size of hoops available in the mainstream market.
What is a throat space or throat plate?
It is the part between the bottom of the presser foot and bobbin. Look for waste threads here and keep it clean always.
What is the Difference Between USB Support and USB Connectivity?
By USB support, the company means that the user can use a USB thumb (flash) drive to feed designs onto the machine.
On the other hand, USB connectivity means the machine can be connected to a computer or a laptop through USB cable.
The best way to ensure the former is to look for a USB 2.0 female port in the machine.
If there is no USB 2.0 female port but instead has a mini-USB port, then understand that the machine has USB connectivity. None of this has to do with the operating system of your computer.
Can you create designs in an embroidery machine (like in Photoshop)?
What are the popular design format extensions?
There are mainly three types: *.PES, *.PEN, and *.DST files. Most embroidery machines (that have USB drive compatibility) support *.PES files.
What is digitizing software?
It is a computer application that can convert images (*.JPEG, for example) into graphic designs that are compatible with embroidery machines.
Can I applique on embroidery machines?
Yes. Most models featured here have support for this ornamental type of embroidery.
What are some software applications that I can use for embroidery?
Conclusion
Coming to the end of our guide, I believe I have touched upon all important points to help you purchase the perfect fit for you.
Even though we have only targeted Brother models, understand that these are best embroidery machines for beginners available that are worth the money.
Brands like Janome and Singer also have a nice range of efficient models, but there is a reason why we recommended Brother.
It has been a pioneer in embroidery machinery and has truly braved the test of time. Its revolutionary products with cutting-edge technology have millions of users – both beginners and advanced – around the world.
I hope that these beginner embroidery machine reviews will help you make a wiser purchase. The key is to narrow down your requirements, look at the important factors, and make your decision.
Let me assure you, Brother will not disappoint you. Here's to a fantastic embroidery journey!