Black Friday is over but the good news is Cricut deals are still alive.
A few days ago, we shared with you some of the best Cricut Black Friday deals as well as the best Cyber Monday Cricut deals and showed you where and when to hunt for some jaw-dropping discounts.
We also shared you the best Cricut deals for Christmas – 12 Days of Cricut Sale!
Now, it's time for Winter Solstice Sale with 30% off Clearance, and 50% off Materials & Accessories!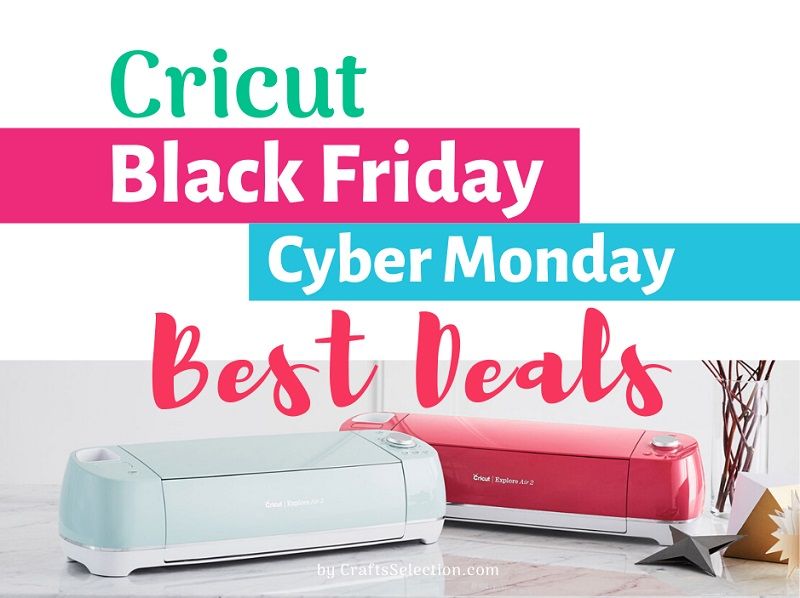 We are also listing sales on Cricut accessories. If you want the best deals on Cricut tools, vinyl, cutting mat, and more, you'll also find them all here!
Today's Best Deal: Marvel Digital Mystery Box
For a limited-time only, Cricut is launching the Marvel Digital Mystery Box! In addition to the Mystery Box, Cricut is featuring excellent deals such as the Winter Solstice Sale with 30% off Clearance, and 50% off Materials & Accessories.
Additional deals including Maker Machines starting at $349, Cricut Maker bundles starting at $425, Cricut Explore Air 2 bundles starting at $229, Cricut EasyPress starting at $49.
Cricut.com is offering Free Economy Shipping on orders $50+ & Free Economy Shipping, no minimum for Cricut Access subscribers
Make sure to check out my post on best Cricut machine and find out which is the most suitable Cricut machine for your needs.
More Cricut Christmas deals are revealed below. Read on!
Best Cricut Deals – Winter Solstice Sale!
Here are the current deals at Cricut.com
More deals will be revealed soon. Be sure to check back frequently for the updates.
Read on to find more deals on Cricut tools, accessories and materials.
Best Cricut Black Friday Deals 2019
Following are the best Black Friday and Cyber Monday deals on Cricut machines and accessories you can find at Amazon. Some of these deals are still available until now.
Best Black Friday Cricut Deals 2019
Cricut Maker Black Friday Deals 2019
Presently, you can get the machine for the lowest Black Friday price starting at $349 at Amazon and as low as $349.99 at Cricut.com.
Cricut also offer awesome deals on Cricut Maker bundles where you can save up to $200 only for this Black Friday sales event. Superb!

The Cricut Maker is the fastest, smartest, and most powerful cutting machine from Cricut. The machine comes in a sleek, convenient, and ready to use design and can cut 300 and more materials with astounding agility and precision.
It handles tough stuff like balsa wood, leather, and matboard as well as delicate materials like paper, vinyl, sewing patterns, and fabrics with effortless precision, thereby placing more creative power and DIY possibilities than ever at its user's fingertips.
The machine's power, precision, range of tools, ease of use, and its Adaptive Tool System that automatically controls the blade's pressure and direction make it one of the best cutting machines on the market. With Black Friday Cricut deals, you can get the Cricut Maker at the best price.
Quick Tip
Black Friday deals are limited time deals. Check out Amazon Black Friday deals page for thousands of deals on a wide range of products.
Cricut Explore Air 2 Black Friday Deals 2019
Cricut is offering an awesome deal on the Explore Air 2 bundle directly on its website. You can get this offer, which is over $400 value for just $239, and this includes the machine along with a variety of tools and more.
Amazon also has a great deal on Cricut Explore Air 2 with the price only $199 but for limited time only! Be hurry when supplies last.

The Cricut Explore Air 2 is a new generation plotter and cutter with lots of functions and features that make crafting easy, fun and satisfying. The machine can cut more than 100 types of materials with great precision, which makes it suitable for hobbyists and professional crafters.
Just like the Cricut Maker, the Explore Air 2 features Bluetooth connectivity, a dedicated app that supports different platforms and an easy to use software that makes crafting as easy as a breeze.
Cricut Easy Press Black Friday Deals 2019
Right now, you can get awesome Cricut EasyPress Black Friday deals on Cricut website starting at $49.99.
The Cricut Easy Press 2 is currently on sale for up to 57% off at Amazon. Grab it now before they disappear.

The Cricut Easy Press is your best bet if you are looking for a fast and reliable way to complete your iron-on projects. Cricut heat press machines come in various sizes, with user-friendly designs for professional-grade performance and precise temperature control settings to provide you with the actual amount of heat you require.
Their maneuverability, portability, ease of use and storage and compatibility with other brands of iron-on materials makes them a must-have tool in any workshop.

For the best heat transfer results, it is essential to purchase a Cricut Easy Press Mat that you'll use along with your Cricut Easy Press machine.
The Easy Press Mat protects your surface area and provides an even and smooth surface for a flawless application of heat transfer materials to create a lot of crafts with your Easy Press machine.
Cricut Bright Pad Black Friday Deals 2019
You can get Cricut Bright Pad Black Friday deal, which is over $79 value on Cricut website for just $49.99.
Also, you can find more Cricut Bright Pad deals at Amazon with the starting price at $53 and select the best deals.

The Bright Pad from Cricut is a wonderful crafting companion that reduces eye strain and makes crafting much easier by illuminating your projects so that you can see the hard-to-see lines in iron-on and vinyl materials.
The pad supports quick and easy weeding, comfortable tracing, quilting and more with the beautiful illumination it provides. With this pad, you can see the detail of your most intricate design and succeed in any crafting project, including needlework, model building, jewelry making, quilting and more.
Cricut Accessories Black Friday Deals 2019
Breathtaking creations begin with the right tools and accessories. Cricut has a large variety of Cricut accessories such as Knife Blade, Scoring Wheel, Cutting Mat, tools, etc. on sales with amazing discounts.
You can get some jaw-dropping Cricut Black Friday deals on Cricut accessories, cutting tools, mats, and new blades on Cricut.com or Amazon.
Cricut Knife Blade Deals
Cricut Cutting Mat Deals
Other Cricut Tool Deals
Hurry up and grab the best deals before they are sold out!

Cricut Vinyl and Material Deals
Cricut also offers amazing Cricut Black Friday deals and Cyber Monday deals on vinyl and cutting materials. Remember, you can get incredible discounts on Cricut Vinyl and Materials at Amazon or Circuit.com, especially when you buy in bundles.
Cricut Black Friday deals happen every year and this year is no exception. Check the list below to see the best deals available on Cricut vinyl and materials.
That's it for now, be sure to check back frequently as we continue to update this post with the latest Cricut deals.
Missed Deals
Some of Cricut deals that are no longer available now but you can expect for the next Black Friday 2020.
Bookmark this page and check back regularly as we update this post based on the availability of new Cricut deals.
More Black Friday & Cyber Monday Deals 2019:
About Cricut
Cricut is a top American brand that specializes in the production and marketing of innovative crafting equipment and accessories. Their line of products includes cutting plotters, heat press, vinyl, infusible ink, and other crafting tools, materials, and accessories that make creating fun and easy.
The brand is not only committed to the production and marketing of amazing products and machines that make DIY projects fun and easy, it is also passionate about providing the best services to its customers. The devotees of Cricut products talk about how they are either making money by turning their hobby into business or saving money by making their own team t-shirts and greeting cards.

If you enjoy crafts, arts, scrapbooking, and garment decoration a lot, you'd be forgiven for wanting to own a Cricut machine. However, if you're considering buying one of Cricut machines or you've just learned about them, their not-so-affordable price tags might shock you. Why should they cost that much?
Well, Cricut machines are very easy to use and are one of the most streamlined, high-end machines on the market, but they don't have to cost an arm and a leg if you shop smart.
With the best Black Friday deals and sales on Cricut machines, materials and Cricut tools in this post, you can easily find yourself the best Cricut machine at the most affordable price.
Tips to Get the Best Cricut Black Friday and Cyber Monday deals
Visit Cricut store
Cricut official store is the best place to buy or find Black Friday sales on Cricut machines. However, you might be able to find lower prices on Amazon.
We've got you covered! Bookmark this page as we update the deals as soon as we find them. However, you need to choose wisely by comparing the prices and considering the package, items, return policy before you make your purchase.
Current deals on Cricut machines:
Set a budget
Sometimes, Cricut offers amazing deals that can be better before Cyber Monday and Black Friday. The deals are not always possible to compare since we do not get lot of prior notification about the specific Cricut prices and Black Friday deals.
To beat this, you can set a budget for what you'd love to pay for Cricut machines and accessories on Cyber Monday or Black Friday. The moment you find a Cricut deal that beats or matches your budget, buy it as soon as you can so you won't have to worry about finding the deal any longer.
Buy accessories and materials on sales
Buy Cricut vinyl, tools, accessories, and materials that you need when you find them at jaw-dropping prices, even if you are yet to buy your Cricut machine.
We know that the machine's prices will drop, and there would be amazing Black Friday sales on Cricut machines, and that would be a great chance for you to grab the machine.
Save more with machine bundles
The Black Friday deals, as well as the Cyber Monday deals on Cricut machines, tools, accessories, vinyl and other Cricut materials, might not last. Take advantage of the great prices when you see them before they are out of stock.
Remember, buying in a bundle is beneficial, you stand the chance of buying at a more discounted rate with lower shipping cost.
Get early access to deals with Amazon Prime
Sign up for Amazon Prime Membership if you haven't already. This membership program offers exclusive benefits such as unlimited FREE 2-day shipping, early access to deals and sales, access to kindle books, and access to thousands of movies and TV episodes for just $99 per year. However, you can sign up for sales for a 30-day free trial and cancel the subscription after.
For extra discount or cashback on Amazon deals, grab one of Amazon's credit cards. For instance, the Amazon Store Card offers 5% cashback on Amazon, while the Amazon Prime Rewards Visa Signature Card offers 5% cashback on Amazon with a massive $70 welcome gift card.
Some deals may happen before Black Friday or Cyber Monday. But don't despair, we have got you all covered! We will find and post any amazing Cricut deal available as soon as we find them.