Thanksgiving in the United States is just a few weeks away, and that means that shoppers all over the world are preparing to find some great deals for their annual Black Friday sale event.
Not only is this great for finding those perfect gifts, but it's also an ideal time for crafters and DIY-ers to pick up supplies on sale, and even that new embroidery machine you've been wanting.
There is no doubt that there will have many Black Friday embroidery machine deals, so it's a good idea to start thinking about which models to look out for.
Which machine are you hoping to see be a part of this big sale?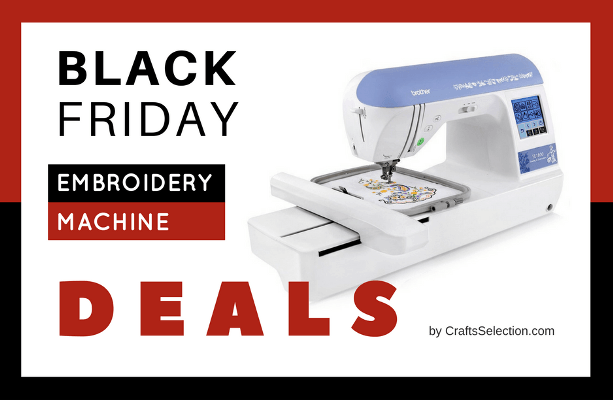 When is Black Friday 2017?
As you know, Black Friday happens on the day after Thanksgiving every year. This year, Black Friday takes place on the Friday 24th November 2017.
However, the good news is that Amazon's Black Friday event doesn't last just one day. It takes place over several days and has lots of new and exciting deals released every few minutes.
Where To Find The Best Black Friday Deals Online?
How many times have you gone out during the early hours of Black Friday to try and snag a hot ticket item?
Thankfully, we have the internet these days and this allows us to shop for all the great deals from the comfort of our couch.
The Best Online Store is…
One of the best places, hands down, to hunt down these amazing prices is on Amazon, where thousands of items go for sale throughout the entire weekend of Black Friday.
Every hour or so, new products are revealed during their lightning deals and are only available in limited quantities. However, unlike being at the store in person, there are no crazy lines to wait in as everything can be bought with the click of a button.
In fact, you can even categorize how you purchase things on Amazon, which means that all the crafting supply and machine deals can be grouped together with ease.
The Amazon Black Friday deals 2017 are going to be some of the best yet, are you ready?
Aside from Amazon, many other stores have online sites that are more than likely going to have some fantastic Black Friday sales this fall.
Here are a few of the top contenders:
Walmart.com – Walmart is known as one of today's retail giants, but they also have a great online presence. There is no doubt that there will be crafting supplies for sale at Walmart this year, and they are even likely to have deals exclusive to online shoppers.
Michaels.com – Michaels is one of the most popular stores to buy any and all crafting supplies that you may need. They specialize in art items and have great deals every year on many of their products.
Joann.com – Joann's Fabric and Crafting store is another retailer that is both local to many cities as well as selling online. They specialize in arts and crafts supplies and are a favorite among customers looking for these sorts of materials.
Embroidery Machine Black Friday Deals 2017 Predictions
When it comes to all the sales this fall, we really want to help you get the best embroidery machine deals.
There are going to be so many different things out there that people are going to hunt for, and we want to ensure that you know ahead of time what the embroidery machine Black Friday sales are going to be.
Below are our predictions for which models are going to be hot during the sale event, so take note and check back regularly for updates.
Brother SE1800 Sewing and Embroidery Machine
This Brother sewing and embroidery machine is thought to be one of the best upcoming Black Friday deals for this coming season.
This highly rated machine has a built-in USB flash drive port, an automatic needle threader, and comes with a hard protective carrying case.
In addition to that, it's an extremely versatile crafting device given that it comes with 136 built-in embroidery designs and 184 built-in sewing stitches with 10 buttonhole styles.
This embroidery sewing machine is the perfect choice for someone who has a lot of different projects on deck and enjoys using a variety of different stitches.
Brother LB6800PRW Project Runway Computerized Embroidery and Sewing Machine

Computerized embroidery machines are the way of the future! This particular model is very popular with crafters as it has some of the top of the line features without breaking your wallet, either.
It comes with a full range of 67 different sewing stitches, comprehensive sewing functions, and even 4-inches by 4-inches embroidery design.
The LCD display is a touch screen and easy to read when accessing your selected designs. There are also 70 built-in embroidery designs with 120 frame combinations to give you endless creative freedom in your projects.
This reliable Brother machine is one to keep your tabs on this Black Friday!
Brother Designio Series DZ820E Embroidery Machine
If you're looking to buy an embroidery machine online, don't forget to look out for this Brother Designio Series model during Black Friday this year.
Not only does it come with 136 built-in embroidery designs, six lettering fonts, and 120 frame pattern combinations, but it is packaged with a CD that has 200 additional designs!
The value on this embroidery machine is incredible and will be able to give you endless ideas for those projects that you've been dreaming up.
The touchscreen LCD display is one that is super easy to use, and users love how simple it is to set up the machine for its next job.
Bernina Bernette Chicago 7 Computerized Sewing & Embroidery Machine
This computerized sewing and embroidery machine is another fan favorite that's available on Amazon and predicted to be on sale this November.
It has 80 different stitches and features a needle up/down, needle threader, automatic buttonholes, 7.0mm stitch width and a start/stop button that allows sewing without using foot control.
It is incredibly lightweight which makes it easy to travel with and is easy enough to use that it's perfect for novice sewers, embroiderers, and crafters.
This machine comes with a 10-year warranty, so you don't need to worry about wearing it out in the next decade, even if you give it some heavy use. Customers love this model due to how reliable it is and all the accessories that come with it.
5 Tips to Get the Best Black Friday Deals Online
Here are some tips for online shopping and how to get the best craft supplies online:
#1: Being an Amazon Prime Member
Signing up for Amazon Prime's free 30-day trial is a great way to get started for this year's Black Friday deals.
If you time things right, you can have unlimited free two-day shipping for everything you buy on Amazon during the sale.
Normally, you would need to have at least $35 for your purchase before free shipping is offered.
#2: Follow Black Friday Ads
Lots of crafting supplies can typically be found during Black Friday sales, so it's a great time of year to stock up your inventory for the next few months.
A smart way to know which types of materials will be on sale is to follow advertisements for craft stores online, as many of them will announce what to look for during the Black Friday event.
#3: Hunt Deals More Quickly With Category Filter Function
On Amazon, there is a way to filter their deals by category. Keep this in mind while looking for crafting, embroidery, or sewing supplies, as you will be able to make your hunt much easier at the click of a button.
Filters take a lot of the searching out of the questions and allow you to see all the crafting deals at once.
#4: Subscribe For Deals Notifications
Another tip for shopping Amazon this Black Friday is to find items that you want to keep your eye on before they go on sale and select to receive notifications for when they are listed.
Prime members get access to many deals before non-members, which is why it might be a good idea to give their service a try prior to Black Friday.
#5: Visit Online Stores Before Black Friday
A day or two before Black Friday, visit your favorite crafting store's websites to see if they mention any big sales that they will be having.
Many places like to make you wonder, but they will often give a clue short notice as to what kind of items will be included in their Black Friday sales.
Final Thoughts
The holidays are just around the corner, and that means so is the best shopping event of the year, Black Friday. Crafters everywhere are excited to see what this year's hot deals will be and they are preparing to go on some real bargain hunting.
There will be some Black Friday embroidery machine deals out there as well, so don't forget to frequently check out our page to see what our latest and updated predictions are.