There are two types of people in the world. One who uses a serger and one who hasn't heard about it yet.
This guide which helps you find the best serger sewing machine is for both types.
Top 5 Best Serger Machines: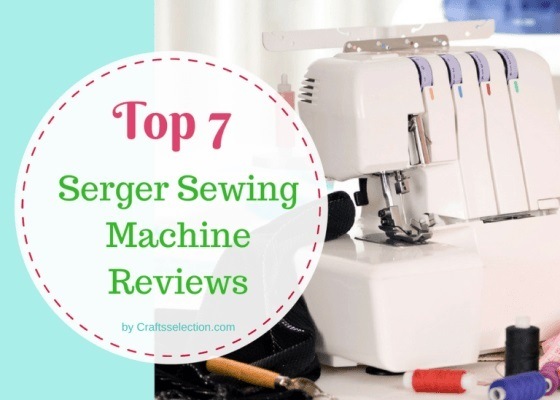 We have spent weeks testing different models and accessories, collating information, doing research both online and offline, and talking to other experts and fashion designers to come up with these serger reviews.
It is best to assume that these serger reviews will give you a general idea about the model being talked about. As always, we tend to have a soft corner for beginner users.
You will have more clarity once you go through the serger machine reviews below.
Best Serger Sewing Machine Reviews 2023
#1 – Best Serger For Beginners: Brother 1034D 3/4 Thread Serger
Best For
First-time users who want to explore the various possibilities with a serger.
The differential feed and adjustable presser feet are going to aid you as you get more creative with your sewing projects.
Feature Highlights
Whether it's just polishing off the edges with an overlock seam or working on thin fabrics or even decorating knitted clothing, the Brother 1034D takes care of everything a beginner serger user would think of.
Firstly, it is very easy to thread, thanks to the color-coded threading guide with pictures.
The differential feed is a feature to die for as it makes sewing on fragile materials like organza and satin easier thus giving your work that professional finish.
It also comes with several in-built stitches and interchangeable presser feet that enable you to sew narrow, rolled, and even blind hems and flatlock stitches among other major types.
The removable arm is great if you stitch kids' clothing where you want to work on shorter sleeves.
A bestseller in its category, the Brother 1034D serges like a dream. It makes little-to-no noise, uses regular sewing machine needles (two), and also allows speed control with the foot pedal.
In case you missed it, it is pretty fast at a maximum speed of 1300 stitches per minute.
Low Points
Unlike other sewing instruments, this one needs mandatory oiling during the initial setup process. This can confuse beginner users.
Useful Tips
Brother recommends that you oil the machine before using it the first time. The steps are listed towards the end of the manual
In general, oil your serger once every month if you use it on an everyday basis.
#2 – Best Budget: SINGER 14CG754 ProFinish Serger

Best For
Lovers of the Singer brand that are looking for a production-level serger.
Feature Highlights
Slightly less priced than the Brother model above and with features similar to it, the Singer ProFinish 14CG754 is another great machine for beginners.
Sergers are usually perceived as objects in which threading is considered impossible for a novice, but not with this model. Just follow the instructions in the DVD or the bilingual manual and get started.
The four hem stitches are perfect for design students and creative homemakers who want to try their hands at a little decorative work. The free arm and differential feed are lifesavers.
Overall, Singer ProFinish is a smooth and portable serger that will give a run for your money, considering that it is cheaper than the Brother model and comes with more accessories.
Low Points
Parts replacement can be a hassle with Singer. However, it makes sense to just replace the entire unit if at all it malfunctions.
Useful Tips
This Singer serger uses a serger needle unlike the Brother one; therefore, it is better to invest in an extra pair if you are an everyday user
This model usually comes threaded
#3 – Easy to Use: Janome 8002D Serger Sewing Machine

Best For
Beginners and hobbyists who want a bit sturdier and heavier machine that sews, cuts, and hems at a smooth and fast pace.
Feature Highlights
For everyone who believes more in Janome than Brother and Singer, this model is going to be the new bad boy.
It is such an easy machine that you can start working on a project as soon as you receive it. Just feed the spools, guide the threads, and start sewing.
The color-coded threading guide definitely helps if you want to experiment with the pre-setup. Once you start using it, it will soon become clear what the extra dollars have been used for.
It is a real workhorse that can work for hours without making noise.
The instructional DVD is designed in a way that both beginners and advanced users can use it to utilize the Janome 8002D's capabilities.
Janome is a customer-friendly brand which always puts its users first. No wonder why this easy to use serger is also recommended for children (young learners) and people with low eyesight, arthritis, or impaired motor skills.
A person who has never used a serger before can effortlessly manage to do a variety of projects that require different types of stitches.
Low Points
The lack of free arm may hinder homemakers and people who work with kids' clothes, but a sensible trade would be that Janome can even manage denim materials.
It is not easily portable like the Singer model.
Useful Tips
Threading the lower looper can get a bit difficult initially, but just follow the user manual, and you will be alright.
#4 – Best Serger with Coverstitch: Juki MO-735 5-Thread Serger

Best For
Home business owners who are looking for specialty stitches like coverstitch, 5-thread safety stitch, and chain stitch.
Support for all types of light- and heavy-weight fabrics.
Feature Highlights
A heavy-duty serger for home business owners and fashion design students, the Juki MO-735 is known for its exceptional coverstitching capability; careful, high-quality stitches that stay for years and years, and knit sewing.
Once you manage to get around with the threading, this serger will serve as a multi-purpose utility for your home-based business.
It can sew on all types of fabric materials, has abundant stitch styles, and comes with added features that will make even the most advanced user jump in joy.
For example, the serging precision is so impressive that you get accurate seam allowances even if you don't pay any attention.
This may amp up people who are in the sewing industry who would compare it with industry-grade machines (Juki MF-78, for example) and then rant that this one here is not as heavy-duty as the ones they use in warehouses.
The opposite is true – this is the best Juki serger at this price that is also powerful, fast, and very durable – as you will find out within minutes of owning it.
Low Points
Although this Juki 5 thread serger can be a bit difficult to thread, once you figure it out (which as an advanced user you should), it's the best thing you will own as a professional sewer.
Useful Tips
A lot of potential buyers debate between a high-end serger (like this) and a dedicated coverstitch machine. The former is an all-in-one package that gives great value for money
We recommend watching YouTube videos where you will find a lot of helpful guide for using this serger
#5 – Best Value: SINGER 14T968DC Professional 5-Thread Serger Overlock

Best For
Professional craftspeople who really know their way around 5-thread, versatile sergers.
Feature Highlights
With a price that is less than half of what the Juki MO-735 costs, this Singer 14T968DC model is one of the top rated sergers in the heavy-duty, professional category.
Not recommended for beginners at all, this sturdy instrument is how far technology can go in an industrial serger sewing machine (remember we mentioned something about industry-grade in the previous review?).
The features are similar to what we saw with the Juki model but complexity is what makes this a real sweetheart for experienced serger users.
Once you have completely read the workbook (can be downloaded from the internet or on Singer's website) and the user manual, you will start understanding why it is one of the best sergers with coverstitch capability.
Because it uses top-grade serger needles and serger threads, the finished seams will look like they were sewed by the almighty Himself. Even our own tester took 2 days to completely understand the machine before he gave us the points to write about.
Almost all types of stitches are possible with this model, which you can pull off in any type of fabric.
Don't ignore the free accessories kit as it can be a goldmine of stuff that usually doesn't come cheap.
Low Points
The only drawback is that it does not have a free arm, which would have made it the ultimate serger machine in the world.
We personally love this serger Singer 14T968DC a lot because we tend to ignore the point about the threading being difficult.
Threading in sergers are supposed to be a complicated process; a magician needs a lot of practice and prep before he can show us the tricks.
Useful Tips
Considering its industry-grade, standard household needles are useless in front of this model. You will have to invest in an extra pair of sturdy, nickel-plated needles.
Downloading the workbook is essential if you want to handle the Singer 14T968DC properly
#6 – Juki Pearl Line MO-654DE Serger with Bonus Package

Best For
Users looking for a heavy-duty serger that is affordable yet versatile in its operation.
Feature Highlights
A lighter version of the Juki MO-735 reviewed above, this Juki MO-654DE here is a 2/3/4 thread serger that comes pre-threaded with top-grade threads and which can be put to work almost immediately.
Having said that, it is not as complex as the above two when it comes to setting up. Everything is color-coded here, which does not leave any room for error.
The serger machine adjusts itself as you operate on it, with the accessories (part of the "I want it all" package) finally making sense.
It is important to keep the manual always handy so that you don't lose your way as you get engrossed in it.
Perhaps the only serger in this list to have a very bright work area, this is suitable even for those weak in the eye.
Low Points
The tension setting can take longer, but once you get a knack of how it works for this specific model, it won't be an issue.
Useful Tips
Never use cheap threads on Juki sergers. Go with high-quality, branded ones instead
We recommend you to take some time to get to know the machine before working on it. Knowing what the features do and how they do it can go a long way in ensuring that you put this Juki serger to optimal use
#7 – Best Self Threading Serger: Juki MO-1000 Serger

Best For
Beginners and advanced users who struggle with threading. This is arguably the best technology in modern sergers.
Feature Highlights
The air-controlled threading system of Juki MO-1000 Serger is so easy that it can be carried out by even a three-year old.
You just have to guide the thread to the looper holes in the threading panel and push a button – threading happens in a jiffy.
Therefore, it is the perfect self-threading serger to gift your daughter so that she can mimic her mother's Instagram feed.
On the serious note, other than the self-threading system, the stitches come out really nice and will hence give your projects the professional look that you desire.
The automatic rolled hemming is another nifty feature that will save you a lot of time doing decorative stitches and embellishments.
The Juki MO-1000 Serger is a workhorse automatic threading serger which has a name for itself because of its effortless threading system.
In a digital age where everything is automated, it is tools like this that take the pie.
Low Points
It does not support manual threading, which cannot really be considered a con.
Useful Tips
This is the fastest serger on this list. Users are advised to exercise caution
Which Is The Best Serger Sewing Machine To Buy?
Best Sergers For Beginners
After analyzing our research data to find the best serger for beginners, we came up with the following three models.
Why we picked these machines:
They are a perfect upgrade for beginners and home users who intend to use them occasionally
They are easy to use and come with most of the basic features mentioned above. Based on your average requirements, choosing one of these will be sufficient for your preliminary needs
3/4-thread convertibles
All are under $300
If these three highlights cover all that you are looking for in a serger, then it's time to select the one that suits you best.
Best Sergers with Coverstitch For Professionals
If the above three models (that also feature the top three serger brands in the US) do not suit your needs, then we need to ante up.
Here are the top serger sewing machines for advanced users:
The above three models are equipped with
Added functionalities like cover stitch, chain stitch
Automatic tension control, automatic threading system
Speciality 5-thread stitching system
These professional sergers are capable of a lot more than entry-level models. You can work with any type of fabric material, use up to five threads of different colors, and create hybrid stitches of your liking.
With one of these, you can run a home-based sewing business and satiate your creativity needs.
Trivia – Juki is often considered the best sewer brand that you have never heard of.
Best Self-Threading Serger
Self-threading sergers have already taken the sewing scene by storm. The media may get one more thing to add to the list of things millennials killed (the manual threading), but who cares when it the job gets done in seconds flat?
Here is our top choice of the best self-threading serger: Juki MO-1000 Serger
How To Choose The Best Serger Sewing Machine?
You have never used a serger before but now want to upgrade your sewing skills with a good serger?
Our advice is, to learn about basic features of a serger and determine which type of serger is most suitable for your need before making decisions.
Here in this article, we have shared some tips for buying the best serger machine, including:
Top reasons why you should buy a serger
Basic features of a serger that you should know
Useful tips for buying a serger
If you are a beginner, I would recommend you read through the guide and then come back with the above serger reviews for more informed choice.
Conclusion
There are many great serger sewing machines out there which have equally appealing features and robust mechanisms, but the reason why we picked this handful is that we understand your requirements.
Our testers took their own time to evaluate and compare sergers to come up with these models.
Brother 1034D and Janome 8002D are both perfect for beginners.
Each has its own set of features that will take care of your basic serging needs as you explore possibilities that are not possible by your humble sewing machine.
If you are looking for an upgrade or are a professional serger use, then we recommend Juki MO-735, the best serger in the heavy-duty category at a reasonable price.
There is nothing that this workhorse of a machine can't do and coverstitch is just its starting feature.
However, if threading is a concern for you, then get Juki MO-1000. Its air-controlled threading system can even be controlled by a three-year-old.
While all the seven models featured here are the best in their game, we request you to go through the serger machine reviews above purchasing.
Remember that investing in a serger is a one-time investment; we just ensured that you do it right.