Whether they are used for cutting, stamping or even 3D printing, all Silhouette machines have one thing in common; they are highly efficient.
Best Silhouette Machines:
These machines come with cutting edge software and a bunch of features that make using them a breeze. Needless to say, Silhouette machines are loved by crafters and DIYers everywhere.

Currently, Silhouette has a variety of cutting machines, stamping machines and 3D printing machines. Due to this variety, a common question that comes up is, "What is the best Silhouette machine?". As such, we decided to come up with this informative review that seeks to compare Silhouette machines.
In this review, you will find deep insights into each of these machines. Unlike popular Silhouette machine reviews, ours goes a step farther and compares these machines individually. So get ready to be thoroughly informed.
The Newest Silhouette Machines in 2023
Just before we get into the details of each of the newest Silhouette machines, here is a summary of what these machines offer. By simply going through this summary, you can get an overview of the suitability of each machine to your situation.
Best Silhouette Machine Reviews 2023
Finally, we have come to the section with all the juicy details. This section has all the ins and outs of our top picks. Whatever details you need to make an informed decision are found here.
So get ready to read the most informative Silhouette machine reviews you have ever seen.
#1 – Best Overall: Silhouette Cameo 4 with Bluetooth
Overview
CAMEO 4 is the best thing to happen to advanced crafters. This 12-inch wide desktop cutting machine has 20 times more force than the former models to give efficient cuts on vinyl, fabric, cardstock, wood, metal, leather and more.
It not only works impeccably in cutting straight lines but is also twice as fast in handling the curve cuts. Plus, you get 3 mm clearance to the materials which is also better than its sibling CAMEO 3.
The built-in crosscutter is very effective in trimming vinyl or transferring heat from the roll.

Not to forget the backlit touch panel which makes accessing the machine's feature exceptionally simple.
I must say that a lot has been improved in this model, including the dual carriage with which you can use tools like deep-cut crafting blade and a rotary blade.
Being a Silhouette user myself, I can say that cutting rate, quality, and power has definitely gone up with this model. And of course, you also get 12 inches cutting mat with every purchase made with Silhouette.
#2 – Largest Machine: Silhouette Cameo 4 PLUS
Overview
The Cameo 4 PLUS is undoubtedly the best option for anyone who needs a Silhouette machine for larger projects or craft businesses. This 15″ wide desktop cutter is a broader version of Cameo 4 with 20 times more cutting force than Cameo 3 for more accurate and efficient cuts on wider pieces of materials like fabric, vinyl, leather, wood, and more.
Users love its bigger cutting area and the 3 mm clearance that allows it to cut thicker materials as well as the wide 15″ in-built roll feeder that makes loading and cutting rolled materials as easy as a breeze.
The machine also features a 15″ wide in-built cross cutter that allows its users to trim heat transfer or vinyl right from the roll smoothly and easily.

The Cameo 4 PLUS new dual-motor system allows you to make a clean and intricate cut in two distinct ways. The carriage one and the solenoid motor give it the ability to make a smooth and accurate cut or sketches irrespective of the intricacy of your design and at a speed that is three times faster than its predecessor.
Apart from its amazing cutting power and speeds while handling both straight and curved cuts, its ultra-smart system automatically detects tool type and adjust cut setting based on your material. This feature also helps to achieve a fast, clean, and accurate cut performance.
We also can't fail to mention its easy to use software, responsive touch interface, Bluetooth connectivity, print, and cut capability and the true mat-less cutting ability for cutting paper, cardstock, and other materials without a cutting mat.
#3 – Great Quality: Silhouette Cameo 3 Cutting Machine
Overview
Beloved by crafters and DIY enthusiasts everywhere, the Silhouette Cameo 3 can cut over 100 materials including fabric, vinyl and paper.
Technology-wise, it features Bluetooth and Silhouette Studio design software. These allow for wireless cutting and ease of design creation. This Cameo cutting machine is also compatible with PixScan and Print & Cut technology.
Users also love that it has a 2mm clearance that makes it possible for it to cut thick materials. This clearance is significantly bigger than that of previous versions of this machine.
The fact that it is compatible with the self-adjusting Autoblade is yet another thing that makes it attractive. When you have the Autoblade, your machine automatically adjusts your ratchet setting for you.
We also can't fail to mention this machine's LCD screen that allows you to flawlessly choose a language, color scheme, or even a sleep time.
Moreover, the Silhouette Cameo 3 comes with a variety of accessories such as a USB cable, a power cable, and a 12-inch cutting mat.
Take a closer look at the features and functions of the Silhouette Cameo 3 in this video:
#4 – Best Compact: Silhouette Portrait 2
Check the latest version Silhouette Portrait 3 with better upgrades from Portrait 2.

Overview
Weighing in at a meager 3.5 pounds, the Silhouette Portrait 2 is often referred to as the little brother of the Cameo 3.
While it is still as powerful as the Cameo 3, it is significantly smaller and lighter than it. This makes it perfect for small projects. As such, it is a favorite among beginners.
To enable wireless cutting, this Silhouette Portrait cutting machine features Bluetooth technology. Users of this machine also appreciate its PixScan technology that allows you to make designs from pictures. Alternatively, you can easily make designs using the Silhouette Studio Designer software.
It is also worth mentioning that this machine comes with 50 exclusive digital designs. Some of the materials that the Silhouette Portrait 2 can cut include vinyl, paper, cardstock, fabric, craft foam, rhinestone, balsawood, and leather.
Check out this video for an overview of Silhouette Portrait 2:
#5 – Most Versatile: Silhouette Curio Crafting Machine

Overview
At first glance, the first thing you will probably notice about the Silhouette Curio machine is its boxy shape. This machine seems so out of place in the Silhouette collection but yet is still as efficient as the other machines in this collection.
Apart from scoring, drawing and cutting, this machine can also stipple, etch, emboss, and deboss.
Interestingly the Curio is more specialized for embossing than even cutting. It comes with two embossing tools; a wide tip and fine tip. These are used for gentle and strong indents respectively. Whatever design you can come up with in Silhouette Studio, you can emboss with this machine.
This Silhouette embossing machine also features dual carriage functionality that makes it possible to do a combination of functions at once. No longer do you have to score separately first before you can emboss. You can now carry out these functions simultaneously.
As if this isn't enough, the Silhouette Curio has a clearance of 5mm; the largest one among Silhouette machines, allows the machine to cut thicker materials such as wood, metal and chipboard.
Like other Silhouette machines, the Curio has a weak cutting force of 210 grams and can cut over a hundred materials. These include paper, vinyl, fabric, cardstock, stencil material, and craft foam.
Read Silhouette Curio review here.
#6 – Silhouette Custom Stamp Maker: Silhouette Mint

Overview
As its name suggests, this machine comes with Silhouette's Mint Studio software. This amazing software allows you to create your own designs and even import an image that you can use to make a custom stamp.
This custom stamp maker allows you to make stamps in a matter of minutes. When it comes to creating a stamp, there are several steps that the Silhouette Mint custom stamp maker performs before it comes up with a final product. These include designing the stamp, minting it, and inking it before you can finally use it.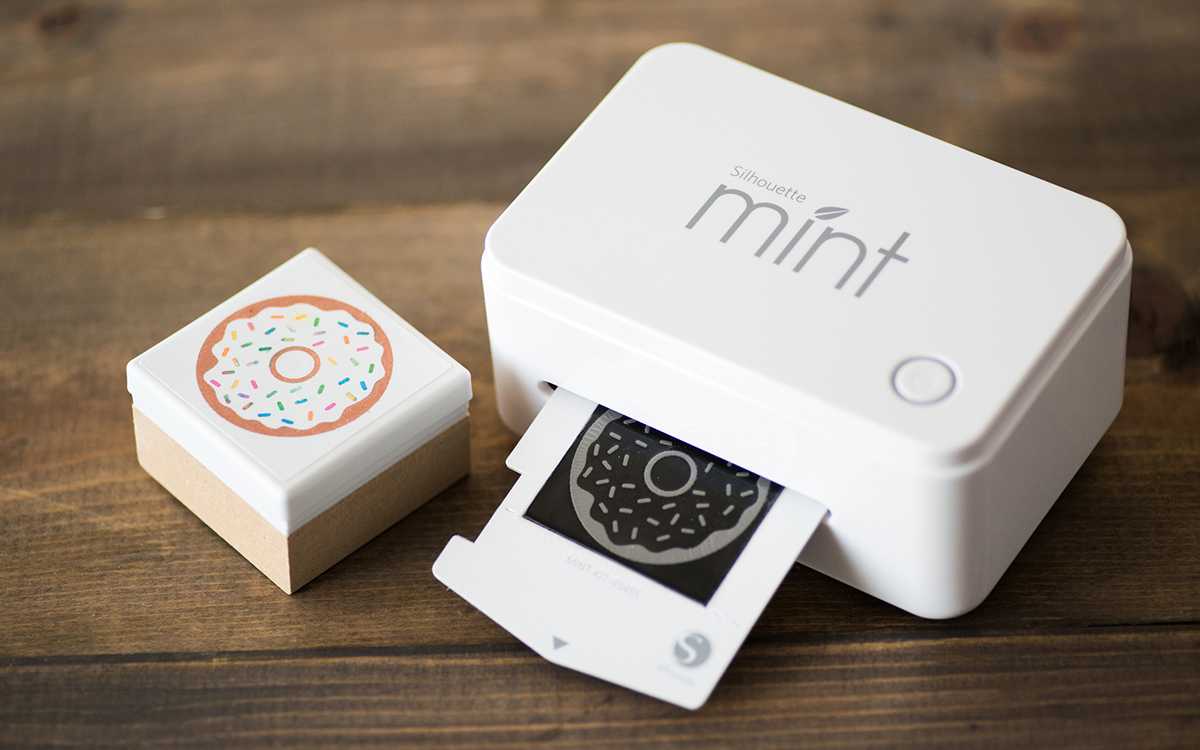 Due to the way in which ink is applied to this stamp, you are able to stamp up to 50 times until you have to reapply the ink.
Ultimately, this Silhouette stamp maker is really good at what it does. It is worth noting that it comes with 4 ink bottles and 2 stamp blanks.
#7 – Silhouette Alta 3D Printer

Overview
The Silhouette Alta is a 3D printing machine that will allow you to print designs from the bottom up. Interestingly, this is the kind of amazing machines we have come to expect from Silhouette.
This machine comes with access to the design software Silhouette 3D. This software helps you create designs that you can then print.
Another cool thing to note about this Silhouette 3D printer is that it can print at both high and low speeds. Additionally, it can print at low and high temperatures.
We also love that it can print objects of up to 116 mm wide and 120 mm tall. The Silhouette 3D printer takes approximately 20 to 40 minutes to print.
Users are thrilled that this machine comes with 25 bonus 3D designs, 2 Hex keys, an Allen wrench and a 10 pack Build Plate Tape. The fact that it is pre-calibrated and preassembled is an added bonus.
Watch this video to learn how to use the Silhouette Alta to create unique designs:
Silhouette Cutting Machines Comparison
If you are constantly wondering which is the best Silhouette cutter, this section is for you. Here, we seek to compare Silhouette craft cutters to find out their differences and commonalities. This makes it easier to decide which is best for which situation.
Overall About Silhouette Machines
At the end of the day, all Silhouette cutting machines have some common features. These include the fact that they have the same cutting force of 210 grams.
More importantly, all these machines come with the amazing Silhouette Studio software that helps you create designs from anywhere.
Another Silhouette cutter signature is the ability to cut over 100 materials including vinyl, paper, and fabric.
You can download machine comparison chart here.
Silhouette CAMEO 4 versus CAMEO 4 PLUS
Like we said earlier, the Silhouette Cameo 4 Plus is a larger version of Cameo 4. It has all the great perks of the Silhouette Cameo 4, but it is 3″ wider.

While the Cameo 4 can only accommodate rolls up to 12″ wide, the Silhouette Cameo 4 Plus accepts rolls of materials up to 15″ wide. That means that the Silhouette Cameo 4 Plus can cut or create larger designs which can help to improve your productivity.
Apart from that, the Cameo 4 Plus comes with a true-matless cutting feature which means that it can cut fabrics without a stabilizer backing as well as paper, cardstock, and other materials without a cutting mat.
Who should buy the Cameo 4 Plus?
Choosing between the Silhouette Cameo 4 and the Cameo 4 Plus can be a major decision since they both share similar features and are high-quality machines from Silhouette America.
However, we recommend the Cameo 4 for smaller projects and the Cameo 4 Plus for people who want to cut larger patterns, start up a T-shirt business, or handle vinyl and heat transfer projects.
Silhouette CAMEO 4 versus CAMEO 3
I would like to show the contrast in an easy-to-compare table:
So, these are all the major differences between both models. Of course, the price of CAMEO 4 is also more than CAMEO 3 but the increased cost is worth every penny spent.
Footnote
You don't necessarily have to upgrade the machine i.e. replacing CAMEO 3 with 4 but if you are planning to buy a new cutter then this is an ultimate purchase to make.
Silhouette Cameo versus Portrait
As much as these machines have a lot in common, we can't fail to mention that they have some significant differences. The most obvious one is the difference in size.
The Silhouette Cameo is significantly larger than the Portrait. While that means it occupies a lot of space, it also means that the Cameo has a bigger cutting width.
Another major difference between these two machines is that the Cameo has an LCD screen, barcode scanning, and an SD card reader while the Portrait does not.

Another thing to note is that unlike the Cameo, the Silhouette Portrait does not support matless cutting.
Due to these differences, the Cameo is usually best for professional crafters while the Portrait is best for beginners.
Silhouette Cameo/Portrait versus Curio
Anyone who has used all three of these Silhouette cutting machines will tell you that there are several ways in which the Silhouette Curio stands out from the rest.

First of all, this is the only one of these cutters that doesn't come with Bluetooth connectivity. This makes it unsuitable for wireless cutting. Secondly, it lacks Autoblade compatibility; a feature present in its counterparts.
However, not every difference between these machines is negative. On the plus side, the Curio is the only Silhouette cutting machine that can emboss and deboss.
What Is The Best Silhouette Machine To Buy?
Ultimately, the best Silhouette machine for you depends on your needs and expertise.
If you are an experienced crafter who has been using Silhouette machines for a long time, CAMEO 4 is the right upgrade for you. Its advanced features and latest technology enable it to satisfy all your crafting needs.
On the other hand, beginners and those looking for a smaller cheaper machine are better off with the Silhouette Portrait 3. It is a little less advanced and cheaper than Cameo 3.
With the ability to emboss and deboss, the Silhouette Curio is on a league of its own and is suitable for those looking for an embossing machine.
While hobbyists who love making custom stamps will obviously only be satisfied with the Mint, crafting beginners who are looking into 3D printing will prefer the Alta Plus.