Whether you're an avid DIYer, crafter, hobbyist, professional or beginner in the heat transfer printing world, you need the best heat press machine to plunge yourself into the endless possibilities of heat transfer printing.
In this post, we will provide reviews on affordable, good quality heat press for beginners, hobbyists, home users, crafters, and professionals.
Top 5 Picks for Best Heat Press Machines:
We will explore the T-shirt press machines as well as heat press machines for hats and mugs to help you decide which heat press machine is best for your needs.
If you're looking for a more advanced heat press for small business, check out our guide on best heat press machine for small business.
Top 10 Best Heat Press Machine Reviews 2023
If you're a professional who needs a commercial heat press to increase your output and create first-rate products for your customers or you're a beginner or hobbyist who is looking for a small craft heat press for personal use, the heat press reviews below have got you covered!
In this heat press machine review, we will analyze the top 10 best heat press machines that are available on the market to provide you with all the facts you need to choose the best heat press for your unique needs.
Now, let's get down to business.
1 – Best Overall: Siser Digital Clam Heat Press
If you're looking for the best heat press for beginners, hobbyists, crafters, small business owners as well as a high-quality heat press machine for home use, then the Siser Digital clam heat press might be perfect for you.
This digital clam heat press is a full on-demand heat printing and customization machine. It is made in the USA with industrial-grade steel materials that make it sturdy and durable.
The Siser Digital Clam Heat Press machine comes with a 15 x 15 Inch Heat platen plus a live digital time and temperature control to adjust your transfer temperature up to 430 degrees Fahrenheit.
Its control mechanism enables you to press your items without scorching, damaging, or wasting your materials.
The heat platen maintains a steady temperature throughout the heat transfer period and opens wide for easy layout of the materials you are pressing.

Its interchangeable lower platen allows you to print different types of items like caps, hats, and apply labels in shirts, shorts, and bags without a hassle.
The upper heating element has a non-stick coating on it, making it easy to produce your items without any defects. The integrated 2″ cast-in tubular heating elements help to keep your items free from spots during the heat transfer process.
This machine is useful in the shop, or as a travel press for live events like dance competitions, cheer games, car shows, and as an extra press for home use.
You can even increase this heat press's printing value by using the machine with a heat transfer pillow.
The machine is approved by CE/NRTLCO and UL/ULC/CE/RoHS and comes with a 1 Year Manufacturer Warranty for quality assurance.
However, from our survey of the product, a user report claims the backbone of the machine is not durable enough as he was able to break his.
This negative feedback is an isolated report, as many users who own the machine confirmed that it performs satisfactorily.
Highlighted Features:
Live Digital Time, Temperature control
Over-the-Center Pressure Adjustment
HRPO tough steel framework
Function as a second press or travel press
The upper heating part has a non-stick coating surface
The machine's heating parts is Cast-In Tubular Heating Element every 2″ eliminates cold spots
Opens wide for easy layout
Available in 3 sizes: 11″ x 15″, 15″ x 15″, 16″ x 20″
2 – Best Quality: Geo Knight JetPress 12″x14″ Heat Press

Geo Knight Jet Press is an excellent commercial heat press machine. This affordable professional swing away heat press machine is not only durable but also easy to use and helps to avoid hurting its users with its swing-away design.
Geo Knight JetPress comes with adjustable temperature control and a digital countdown timer with an alarm for accurate temperature gauge for easy and accurate application.
You can adjust the height of items that are over 1-inch thick in the 12″ x 14″ heat platen that provides a flat and even surface for the job.
Its heating indicator light shows you that the machine is warm so that you do not burn your hands by mistake.

This good quality heat press machine is portable and suitable for light usage, and you will get professional results yet, pay less for the cost of a commercial heat press machine.
You can use its industrial style clamp with little effort as it smoothly applies tons of pounds of clamping force or locking pressure on your item to produce the result you need.
What's more, the press is usable with inkjet LaserJet and copier and sublimation iron-on transfer that will output photo-quality results.
The JetPress machine has a solid (industrial grade) steel welded frame and comes with a one-year warranty on parts as well as free lifetime technical support.
That said, we know from careful observation that the Geo Knight heat press, like any other machine built in America, follows strict set manufacturing standards, and must pass the regulators test and certification before they release it to the public.
Highlighted Features:
12″ x 14″ Heat Platen
Digital Countdown Timer with alarm
Adjustable height for items over 1″ thick
Adjustable Temperature control
Smooth swing away action
Precise Temperature gauge
Industrial style clamping and locking pressure with little user's effort
3 – Hotronix Pink Craft Heat Press for Beginners

Hotronix made the Hotronix Pink Craft Heat Press with crafters, hobbyists, and home-based business owners in mind. The device comes with several easy to use features that make it the best heat press machine for beginners.
The machine is compact, lightweight, and affordable, and can print on cotton fabrics, as well as poly and cotton blend, polyester, and canvas. With this press, you can work on HTV, iron-on vinyl, iron-on transfers, rhinestones, and so on.
The machine is portable so you can use it on car shows, for outdoor productions, and on-site production in a shop. Also, the Pink Craft Heat Press comes in a box ready for use subject to adjustment to your personal needs.

Although the Pink Craft is a high-quality heat press machine, it is not for massive productions, so you'll have to look elsewhere if you want a machine for large scale production.
The machine's power-saving mode trigger mechanism automatically shuts it down if not in use for a specific period for safety and to avoid unnecessary power consumption.
Also, its digital timer and temperature readout let you manage the press efficiently to save time and produce the best result.
This Hotronix heat press comes with a 9-inch by 12-inch platen coated with a non-stick element to save your items from any defects during the heat transfer operation. It comes with over the center pressure adjustment to guarantee even edge to edge heat transfer, thus ensuring a quality print.
Hotronix press is a certified USA brand, and you have the manufacturer's assurance of the strength of its quality by its 1-year warranty and manufacturer's support.
Highlighted Features:
Clamshell style saves space
Over-the-Center Pressure Adjustment for even, edge-to-edge heat and pressure
Digital time and temperature readout
Non-stick coated heating platen
4 – HIX Hobby Lite Swing-Away Heat Press

The HIX Hobby Lite Swing-Away Heat Press machine is specifically made for small shops, hobbyists, artists, schools, social organizations, and any person who is looking for an affordable and lightweight heat press.
This device is one of the top heat press machines, which provides high-quality features and performance like other notable professional equipment.
The HIX Hobby Lite press features a compact and lightweight design, weighing a mere 19 pounds, which means that you can move around with it for more business opportunities.
The press is ideal for mobile retail needs and useful in flea markets, craft fairs, and other special events where there is less space.
This machine has a swing-away heat platen measuring 9 x 12 inches that lets you swing the platen away to avoid hurting yourself as well as safely and accurately placing transfers on your substrates before heat pressing.
There is a stop that prevents the machine from over swinging in its boundary to avoid possible damage. You can also print items of up to 1.75 thick and operate the machine at a maximum temperature of 400°F.
The heat indicating light on this heat press means that you do not need a temperature gauge before you heat press designs to substrates.
Just dial the temperature you want and turn on the machine. When the light indicator goes off, the heat press is ready for your use.
There is a 1-year warranty coverage that provides peace of mind knowing that you're going for a quality press. Its economy price and size make it the best swing-away heat press for hobbyists.
Highlighted Features:
Full temperature controls of up to 400°F
Distinct digital timer
Sturdy steel design, yet lightweight
Transfers to items of up to 1-1/2″ thick
Heat indicating light
Full-range pressure control
Easy-to-use pressure lever

5 – VEVOR 5 in 1 Heat Press Machine

Vevor is popular in the heat press industry, offering a diverse range of products with different styles and sizes, each having unique functions.
The VEVOR 5 in 1 Heat Press Machine is one of the most versatile heat press machines in its range of products.
So, if you're looking for a swing-away professional size, multifunctional heat press machine at an affordable price then, the Vevor 5 in 1 might be perfect for you.
This upgraded Vevor heat press machine has a polished appearance, comes completely assembled, and performs efficiently. It has a simple digital display with a piece counting function with buttons for your convenience.
The necessary multifunctional accessories come with the machine to ensure you have the most beautiful graphics on T-shirts, hats, plates, cups (mugs), and caps.
It comes with the modern double-tube heating technology and four-layer insulation technology, to improve the transfer performance on your items. And if you accidentally touch the surface of the heat press, it will not burn your hands.
This best multifunction heat press machine has a reliable dual motherboard and accurate temperature control device, with improved stability.
The Vevor heat press machine is more lightweight, and you can carry it with ease; as a result, it is more convenient for you if you want to be self-employed.
Also, the machine saves cost and reduces the printing process due to its versatility. It can handle different substrates so you don't have to get a separate press for each substrate.
Highlighted Features:
Delicate Design with silicone button, suction foot, aluminum alloy plate, main aluminum beam, and flashing light display.
Simple Digital Display – a one-piece design with an intuitive button near the dashboard
Safety Anti-scalding four-layer insulation technology; the working temperature at 210℃ and surface temperature at about 40℃
Double Tube Heating for smooth and better transfer quality
Ships with Multifunctional Accessories – including one platen press, one hat/cap press, one mug press, and two plate presses.
Powerful Motherboard for strong and weak electrical separation
6 – FancierStudio Digital Heat Press

This new model digital heat press by FancierStudio is an industrial-quality digital heat press better than the former model.
This new model opens upward to save space, and it is compact. And due to its performance and affordability, it is safe to call it the best T-shirt press machine for the money as of now.
The machine features an industrial-grade component that makes it durable enough to withstand continuous use and ready to tackle any project you throw at it.
Its heating size is 15-in x 15-in plate, which is large enough for different types of print designs, but your materials must be strong enough to withstand the heat of transfer.
The machine ships with a silicon pad to make your work stable and more comfortable. The Teflon coating on the heat platen gives you smooth heat transfer on your items, and you can control the temperature easily by using the control dashboard.
This machine comes with great features that make it the best heat press under $200. It has adjustable pressure and wide-ranging temperature settings of 0 – 699°F that show on the LCD on the side of the machine. This adjustable pressure and temperature features let you work on various materials.
Also, there is an adjustable timer that you can set to turn the device off automatically and an alarm that triggers to alert you each time the heat transfer finishes.
Highlighted Features:
LCDs settings, electronic time, and heat control; precise time set-up
A 15-by-15-inch heat press sheet
Heat transfer completion alarm
Control temperature of 0-699°F, and set time Range of 0 seconds to 999 seconds
Silicone-gel baseboard glued down; Pressure adjustable.
Teflon coating on the heat platen
The maker constructed the body of heavy-duty steel for stability and durability.
7 – USCutter 15″x15″ Digital Heat Press Machine

USCutter is a reputed and trusted brand that produces long-lasting and functional craft machines. This 15″ x 15″ Digital heat press machine from USCutter meets the company's strict design quality like all its other products.
The machine features a clamshell design that saves you working space compared to the standard swing arm type. It arrives completely assembled and prepared for use right out of the box.
It is made from industrial-grade materials and comes with some easy to use features that make it one of the best heat press machines for T-shirts. It is also versatile and can apply designs to any flat surface, including fabric, metal, wood, ceramic, and glass.
The heat press comes with a 15″ by 15″ heat platen that provides a large area for heat transfer on a t-shirt and fabrics.
The Large Digital LCD Display enables you to preset the machine as you want and to set the temperature and time for accurate operation.

The high-density heating board is constructed with a non-stick surface to prevent scorching. You can even adjust the pressure of the machine with its full-range pressure-adjustment knob to match the thickness of your transfer material.
This heavy-duty industrial grade heat press is stable and supported by a solid steel frame that is built to last. Moreover, you have a 1 Year Warranty and full customer service support, so you have nothing to fear.
To prepare for all your heat press needs, the machine offers optional accessories like USCutter Digital Heat Press, 2 T-shirts, 5 Sheets Siser EasyWeed Vinyl, and Non-stick Sheet. What more could you ask for?
With all these features created for your ease, the US Cutter has become the most affordable heat press machine to beat.
Highlighted Features:
Large Digital LCD Display, letting you preset your desired time of transfer between 0-999secs and temperature control of up to 0-399°F, with automatic alarm for precise operation.
Arrives assembled fully and ready for use right out of the box, and backed by full USCutter support team
Versatile and you can apply designs to any flat surface, such as fabric, metal, wood, ceramic, glass, and so on.
Full-range pressure adjustment knob -for quickly adjusting the pressure according to the thickness of your transfer material
High-density heating board with a non-stick surface to prevent scorching.
Heavy duty heat press, stable and supported by a firm steel frame that will last long
The maker built the entire body from thick aluminum sheet
8 – Siser Digital Cap Press For Hat Printing

Are you looking to start a cap printing business?
If yes, then you should consider buying the Siser Digital Cap Press as it has all features to help you succeed and take your cap printing business to a greater height.
Apart from its easy to use features and strong build quality that makes it the best heat press machine for hats, it is inexpensive, and you can work with it at home, in the shop, or on the go at events for on-demand printing and personalization.
This heat press is ideal for you if you want to test the heat printed cap business, or if you want to use it as a second press for shop or home use or as a smaller press for adding tags and labels to shirts and shorts.
With this Siser Digital Cap Press, you can perform sublimation or inkjet transfers, or heat transfer vinyl (HTV) transfers onto caps and hats.

Moreover, you can operate this hat heat press machine efficiently, as it comes with digital time and temperature readout and cap lockdown lever that helps to achieve the best result.
The over-the-center pressure adjustment gives you even heat distribution on the caps and hats you press.
The machine has interchangeable platens for various size hats and features a 7 x 3 ¾ inch heat platen that opens wide for easy layout of your items.
The upper platen features a non-stick coating that helps to avoid scorching, and the cast tubular heating element at every 2 inches to provide even heat distribution and avoid cold spots.
It is sturdily built, and as an industrial-grade machine, it can withstand the task of non-stop production cycles.
Also, it comes with a 1-year manufacturer warranty, and you can get different size attachments for this press, and they are easy to install.
Highlighted Features:
Over-the-Center Pressure Adjustment for even heat distribution
Its 7 x 3 ¾ platen opens wide for easy layout of your items
Additional platens for various size hats sold separately
Live Digital Time and Temperature control and readout accuracy +-2°F – can display temperature in °C or °F
UL/ULC/CE/RoHS and CE/NRTLCO Approved
1 Year Manufacturer Warranty, and energy-saving auto shut off device
9 – PlanetFlame Mug Heat Press

If you're looking for the best heat press machine for mugs, look no further than the PlanetFlame mug heat press. Why we make this bold claim is because of the numerous features that we will talk about shortly.
First, it is simple to use and shipped to you fully assembled and ready to use out of the box. It is built sturdily with industrial-grade material, which makes it withstand any job you throw at it.
The machine can heat print custom designs onto mugs, cups, and bottles without failing.
This mug/cup heat press machine has integrated sublimation printing capability that makes it one of the best tools for transferring designs on your mugs and coffee cups without errors. You can heat print your custom designs unto 6 – 11oz size mugs for sale, or used for marketing, or as gifts.
This machine's heat platen guarantees smooth and even temperature for your items, due to its unique design.
During the operation of the machine, the individual safety control chip keeps you safe, and the temperature control knob lets you regulate the temperature digitally from 0°F to a maximum of 750°F.
The PlanetFlame mug printing machine comes with an in-depth manual and videos to enable you to learn how to use it properly.
Above all, the manufacturer provides you with a full one-year warranty on the entire machine – a gesture that signifies the trust the maker has for its product.
Highlighted Features
Best for industrial, small studio, professional, and personal use
Preassembled and ready for use out of the box
Industrial-Quality Machine with Specific Safety Control Chip
Heat print custom designs onto mugs, cups, and bottle s
Intensive manual with QR-Code of many videos
Exceptionally designed heat platen guarantees even temperature
Professional digital display, easy to use
10 – BetterSub 5 in 1 Heat Press Machine

BetterSub 5 in 1 Heat Press Machine is a combo press for shirt, caps, cone size mugs and plates. This inexpensive 5 in 1 heat press for occasional use, is a versatile sublimation machine that is perfect for beginners and avid DIYers alike.
Its exclusive swing-away design lets you rotate the shirt press 360 degrees for convenience, allowing you to layout your items accurately, and avoid burning your hands by turning the heat platen away from you.
The multifunctional heat press comes with an adjustable pressure knob for adjusting the pressure of heat transfer on different fabrics.
The LCD board shows the temperature and time clearly, allowing you to have full digital control over time and temperature.
The machine is built robustly and can endure extended use. You can use this cheap heat press machine continuously for 8 hours daily or almost 5,840 hours; this makes it suitable for family entertainment and small businesses.
Also, you can press T-shirts, caps, ceramic, lettering, plates, ceramic tiles, mugs, coasters, mousepads, jigsaw puzzles, and assorted fabrics and materials.
The 5 in 1 heat press machine comes with all the accessories to press hats, mugs, and two different sized plates.

You can safely place your material on the surface since the heating elements are behind the machine platen, and there are fewer risks of burns.
Moreover, its non-stick surface prevents scorching of transfers. It comes with a solid-state relay, and unique aluminum heat sink for quick heat dissipation to protect the circuits and to avoid a fire in case of high voltage.
To give you a worry-free operation, its heat-resistant silicone pad resists a maximum temperature of 700 Fahrenheit without any distortion, and the Teflon coated surface is easy to clean and stronger than cloth surfaces.
The integrated eight heating tubes reduces temperature error on the heating plate and keeps the heat stable, which means that you will have perfect, smooth transfer and more uniform force on your items, whether small or large.
The machine is very versatile, and your investment in it will repay you the full amount you invested and more in no time.
Highlighted Features:
12×15 heat press for Mug, Hat, Plate, Cap, and T-shirt
Industrial-quality sublimation machine with 360-degree rotation
Adjustable Pressure Knob for better heat transfer in different fabrics
Convenient LCD Board, Full digital control over time and pressure
Solid State Relay for protection of the circuits to avoid fire
Better transfer and more even force on large or small items equally
Heat-Resistant Silicone Pad that resists temperature of up to 700 ℉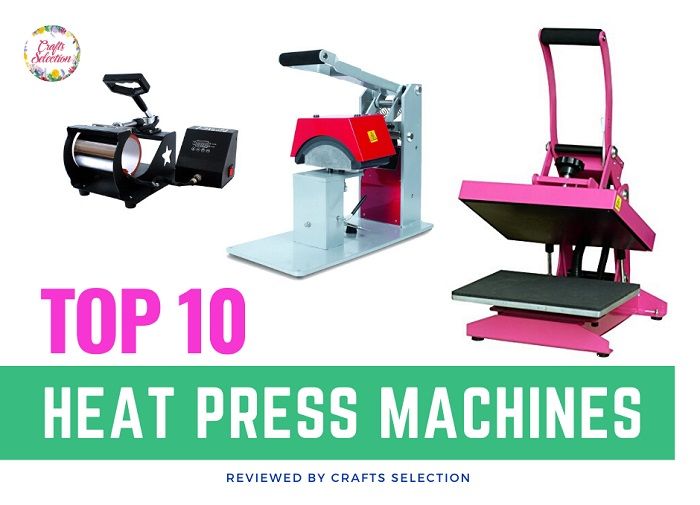 Conclusion
We hope this review has shown you an array of the best heat press machines that are available in the market today.
We recommend the products mentioned above for homeowners, DIYers, crafters, hobbyists, beginners, and professionals because they are robust, easy to use, and are trusted to deliver quality prints.
These products will not only help you personalize your designs and help you make superior prints; it will also improve your home or start-up business and take your crafts to the next level.
You have all the facts so, take your time to assess the machines and your needs to choose the one that meets your demand and falls within your budget.
For more advanced heat press for businesses, check out our guide on heat press machine for home business or contact us if you need more help in making the right heat press choice for mugs, plates, cups, T-shirts, hats, and caps.