You will agree with me that the best mug heat press machine will not only be durable and efficient, but affordable too.
It will also be easy to use for creating spectacular designs on mugs and will be an excellent way to brand your company and earn money for your business.
Top 7 Picks for Best Mug Press Machines:
Whether you're a homeowner, avid DIYer, crafter, hobbyist, beginner, or professional, you would find the best mug press machine that meets your needs in the review below.
The market is bursting with different kinds of brands, and if you are a newbie, finding the right mug printing machine for your needs can be a challenge.
That's why we have researched the market and selected the best mug press machine for you based on their durability, performance, ease of use, and positive users' feedbacks. Read on…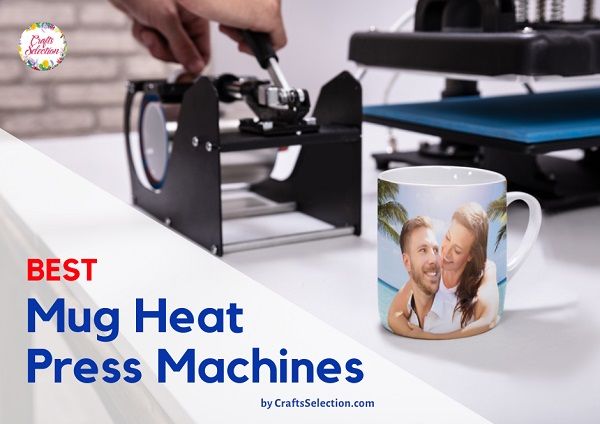 Best Mug Heat Press Machines of 2023
#1 – Geo Knight DK3 Digital Mug Heat Press Machine
Most Durable Mug Press for Start-Ups or Small Business.

Looking for a high-quality heat press machine for mugs, look no further than the DK3 Digital Mug Press from Geo Knight.
This digital mug press is designed exclusively for printing quality and durable designs on mugs with its full wrap-around, handle to handle, top-to-bottom printing mug press.
It is fully digital and adjustable and can press images up to 5″ high, and close up to 1/2″ from the handle, according to the size of the mug. It presses all cylindrical mugs such as 11 oz, 15 oz, 16 oz mugs, steins, and stainless-steel travel loading mugs.
This Geo Knight mug press opens extra-wide, making and unloading of mugs easy for quicker operation. The robust steel framework and die-cast clamp assembly make it rugged and able to withstand rigorous and continuous use.
With DK3, you have consistency and maximized productivity of mug printing because of its rugged nature. It comes with digital temperature, time, and cycle counter plus 70 programmable presets feature giving you safety and ease.
The DK3 starts up in minutes, and unlike other mug presses, it continually runs at the set temperature, thus allowing you to make quality prints.
The SuperCoil-Microwinding™ heater technology gives the platen exceptionally even heat, fast recovery, and quick heat-up times.
Its adjustable clam assembly lets you handle full bleed transfers on problematic mugs while its hi-tech digital control system keeps track of your mugs in the press, with a record 3-year warranty on the heat-control electronics.
This warranty shows Geo Knight trust DK3 to remain reliable in the coming years. DK3 is pricey, but it is the most durable mug printing machine in the market today.
The only downside we can mention is that it does not press tapered latte mugs. Aside from that, it's a great mug press that worth every penny.
Highlighted Features
Complete digital temperature control
Automatic digital timer and 70 programmable presets
Solid steel welded framework
SuperCoil-Microwinding™ heater technology
Soft heater liner for accommodating inconsistent mugs
Temperature readout accuracy -/+2°F
User selectable end-of-cycle alarms and records number of pressing cycles done
#2 – PlanetFlame Mug Heat Press Machine
Best Mug Press Machine for Beginners.

PlanetFlame mug heat press machine is easy to use, comes fully assembled out of the box, and made with industrial-grade material, which makes it the best mug press for beginners.
This professional digital display sublimation printing machine is best for creating error-free heat press on your mugs and coffee cups.
It supports 6 – 11oz size mugs and allow you to heat print your custom designs onto mugs for advertising, gift purposes, and more.
The uniquely designed heat platen guarantees even temperature for your items. You can set the temperature degree digitally between 0 – 750⁰F and control it while the individual safety control chip keeps you safe while operating the heat press.
It comes with an intensive manual and videos so you can learn how to use it efficiently, plus a full one-year warranty on the whole machine. That shows the manufacturer trusts the strength of its product.
Highlighted Features
Easy to use – Industrial-Quality Machine with Individual Safety Control Chip
Let you heat print custom designs onto mugs, cup, and bottle
Intensive manual with QR-Code of many videos
Best for industrial, small studio, professional, and personal use.
Uniquely designed heat platen guarantees even temperature
Professional digital display
Comes preassembled and ready to use
#3 – VEVOR Mug Press 5 in 1 Mug Heat Press Machine
Best Mug Press for Small Business.

If you're looking for the best mug press machine for small businesses, then the VEVOR 5 in 1 Mug Press might be all you need.
This appliance is a heat press sublimation machine for mugs, crafted to enable you to print custom designs on mug cups quickly and efficiently. Your business will no doubt enjoy the speed, enhanced productivity, and help you satisfy large orders with minimal efforts.
This reliable machine is compact with elaborate fittings. It comes with high-temperature resistant silicone mats and magnetic induction switches for the more cost-effective printing process.

The VEVOR Mug Press comes with five heating mats that work simultaneously to save time and a high precision line technology for more accurate printing of your mugs.
This portable coffee mug heat press has a premium quality hot plate that maintains balance and stability of temperature for smooth printing of your items.
Its digital smart control unit gives you accurate digital display for time and temperature. With this mechanism, you can control the heating time and temperature settings to enable you to monitor the five operations in one spot.
You can heat transfer any image you want using the machine; this makes it a great machine for customized mugs, which are especially perfect for gifts, advertising, promotional activities, and many more.
Highlighted Features
Premium quality – the heat platen maintains balance and stability of temperature
Strong practicability – Five heating mat work simultaneously
Five magnetic induction handle switches – to enter heat transfer state as you close handle switches
Digital smart control – digital LCD for time and temperature settings to control heating time and temperature
Durable, portable, and compact design with elaborate fittings
Thermostable silicone mat.
#4 – RiCOMA 5 in 1 Mug Printer Machine
High-Quality Mug Press Machine for Start-ups/Home Business.

Have you been dreaming of starting a heat transfer home business?
If yes, there are opportunities to serve and carve a niche for yourself. But to do that, you will need a durable mug printer machine that is cost-effective and easy to use. That is where the RiCOMA 5 in 1 Mug Printer Machine comes in.
This Ricoma iKonix digital mug heat press prints on five items simultaneously. Since its five heating mats work consistently at the same time, it will save your time and enable you to increase your production effortlessly.
Moreover, it is easy to use, and that is the reason we are recommending it as best for start-ups and home business.
This mug printer machine transfers artistic designs, promotional products, and gifts like mugs, cups, teacups, and water bottles efficiently. Other items on which you can transfer designs onto with the use of this machine are ceramic and metal cups.
Its user interface has a display window integrated for ease of monitoring the timer and temperature controller. The temperature rises fast from 0 to 180℃ in 3 minutes, allowing you to print without wasting time.
Also, you can alter the cup mug wrap to match the sizes of cups you are printing on. Its voltage is 110 V, so that means you can use it at home, and as a commercial mug printing machine.
Like most heat transfer products, the Ricoma 5 in 1 mug is made in the USA, which means that its quality and durability are guaranteed.
Highlighted Features
Fully digital control, easy to adjust the pressure
Reliable performance and slot on the side making it easy to carry
The cup mug wrap can be adjusted to match the sizes of cups
Five heating mats, fast and efficient to make five mugs imprint at one time
Temperature rising 180℃ in 3 minutes, heating time: 2-3 minutes
Mug diameter range between 7.5cm—9cm and the mug is within 11.5cm in height
More comfortable to change the heating element
#5 – BetterSub Mug Sublimation Heat Press Machine
Best Mug Press Machine for Crafters and Hobbyists Under $150.

The BetterSub mug heat transfer machine is another great mug press with strong, reliable, and easy to use features that made it the best mug press machine for crafters and hobbyists.
The Bettersub mug heat-press is suitable for ceramic cups, stainless bottles, glass mugs, and aluminum bottles. You can make a customized and specialized item that you can give as a gift or use for advertisement purposes.
If you want a mug press that shows your appreciation for fashion and expands your mug printing business, you can look the way of Bettersub mug sublimation press.
This heat press is a professional and powerful mug press that is convenient to use and accurate in operation. Its maker designed it with a smart structure and a great fashion sense.
The mug press handle is comfortable to your hands, the machine's Teflon coated elements are of the highest quality. It has a tension screw you can use to adjust pressure, and the transfer mug size shelf is more extensive.
Moreover, you do not need a separate silicone or Teflon sheets as its non-stick surfaces prevent transfers from scorching.

This mug press machine comes with a digital LCD timer and temperature that let you set the preferred time and temperature for accurate heat applications.
The heating element will stop producing heat when it reaches the preset time and temperature, so you won't have to worry about overheating or scorching.
Bettersub mug printing machine has a CE certificate, and you can transfer sublimation of 11oz mug size. Also, you can buy other mug wrap sizes attachment for transfer of 6oz, 9oz, 12oz, 15oz, and 17oz.
The only downside that some users complain of is the strong burning smell coming from the machine. But they have discovered that it comes from the materials around the device, and it fades away after continuous use. Aside from the smell, it is a popular choice because it is easy to use.
Highlighted Features
CE certificate For Mug of 6 – 11oz
LCD control board for automatic baking time control and automatic temperature control
Full mug surface heat transfers print, and the mug press attachment is for cone size mug only
The heat-resistant silicone pad remains stable up to 700 °F and has Temperature correction of -5 ~ to +5 Fahrenheit degree
Adjustable pressure knob
Comfortable Handle, and High Quality, Teflon coated elements
Transfer Mug Size – You can buy mug wraps to transfer other sizes like 6oz, 9oz,12oz, 15oz, 17oz.
#6 – F2C 2 in 1 Mug Coffee Cup Heat Press Machine
Affordable Mug Heat Press Machine For DIYers Under $100.

If you are budget-minded and you are on the lookout for a reliable, sturdy, and affordable mug heat press machine, then the F2C 2 in 1 mug heat press is perfect for you.
The F2C 2 in 1 Mug Coffee Cup Heat Press has CE certification and comes with two mug attachments. One of these attachments is perfect for standard mugs, while the other is suitable for conical mugs.
This mug printing machine comes with digital control that allows you to adjust or set the transfer temperature from 0 to 430 Fahrenheit, and heating time from 0 to 240 seconds.

What's more, you can change from degrees Celsius to degrees Fahrenheit and set appropriate temperature for your transfer and heat press your mug or coffee cup smoothly.
This machine is automatic, which makes it relatively easy to use. It comes with a Latte mug attachment of 3.5″ top diameter x 2.5″ bottom diameter x 4″ height latte mug to transfer custom designs to conical mugs.
Moreover, the machine is a good cheap mug press that many DIYers, crafters, hobbyists, beginners can use to master the mug printing profession.
Highlighted Features:
CE certificate, and temperature correction of -5 ~ +5 Fahrenheit degree
2 x Mug attachments: 3.1″ – 3.5″ diameter (9″ L x 4.5″ H), Latte mug attachment
It offers full-surface heat transfer print on mugs
Smooth pressure heat-resistant material remains stable up to 400 °C
Simple to operate and adjustable pressure, Digital temperature indicator
Automatic baking time control
Digital heat indicator for constant temperature
#7 – Cricut Mug Press: Best Mug Press Machine For Crafters
The Most Easy-to-Use Mug Press For Crafters and DIYers.

This tool by Cricut is perhaps the easiest compact mug press machine on this list. With just one power button and no other customization options, it's a foolproof system that takes care of every aspect of mug printing for you. From heat and pressure settings to room temperature detection to consistent heat transfer.
The Cricut mug press works on the principle of sublimation via heat transfer. It has a cavity on one side where you place a blank mug covered with the design of your choice. Then you toggle the clamp and let the machine work its magic. There is absolutely nothing you have to do and within 6 minutes your mug will be sublimated.
Why it comes highly recommended for crafters and DIYers is that there is no need to adjust settings or worry about smudging or fading. Just use Cricut's recommended materials, cut the desired design, and you are done. The inability to change the settings itself is a boon for us.
In all the other tools we have reviewed above, it's up to you to decide the temperature and the pressure. And in most cases, it's a hit or a miss. Not when you use the Cricut mug press.
Of course, it's not priced competitively, only works with certain sublimation-ready mugs, and requires Cricut's own Infusible Ink sheets. But for the convenience it provides, the price tag is totally worth it. However, we should also mention that to use the mug press you have to buy some more craft tools that can cost you extra.
Highlighted Features:
Zonal heat plate provides consistent heat across the mug's surface
Print lasts forever
Automatically optimizes the heat and pressure settings
Shuts down automatically if it detects 13 minutes of inactivity
Warms up quickly and sublimates in about 6 minutes
No room for human error
#8 – Cricut EasyPress Mini: Mug Press For Small Details
Most Compact Mug Press for Small Images.

Cricut Easy Press Mini is a heat press machine for t-shirts and small HTV vinyl projects, raspberry, and so on. However, it can be used to transfer small custom designs onto mugs.
This Cricut mug press is portable; its compact design allows it to curve with contours, get between buttons, and squeeze into seams easily.
It has three simple heat settings that handle every possible heat-transfer job on different substrates, including permanent infusible ink transfers that fuse with the base material.
Its heat plate comes coated with ceramic for a dry, smooth edge to edge heat transfer, plus an insulated safety base and automatic shut off mechanism that goes off when it is idle.
The additional layer of protection on its ceramic heat plate allows the Cricut EasyPress Mini to hover over unusually shaped surfaces to transfer your design.

This Cricut mug press is lightweight, portable, easy to store, and compatible with key brands of HTV, iron-on, and the whole Infusible Ink family of products. Also, it is an excellent match for any Cricut cutting machine.
Highlighted Features
Compact size and ideal for unusually small or unique heat transfer tasks
Personalize unusual projects like mugs, hats, shoes, or stuffed animals
Ceramic coated heat plate for dry, even, edge to edge heat transfer
Three heat settings for every iron-on and Infusible Ink project
It comes with insulated safety base auto-shutoff feature
Lightweight, portable, easy to store
Readily glides over uneven surfaces
Conclusion
We hope this mug press machine review has opened your eyes to the best heat press machine for mugs that are available in the market today.
We recommend the products mentioned above for homeowners, DIYers, crafters, hobbyists, beginners, and professionals due to their durability, reliability, quality of prints, and ease of use.
These products will not only help you personalize your designs and make quality prints but also help to take your home or start-up business to the next level.
Now, sit back, evaluate your needs, and select the one that suits your needs and falls within your budget. If you need more help in selecting the best heat press machine for mugs, read our mug press buying guide or feel free to contact us.