Did you miss Black Friday? Don't worry, we bring you the best sewing machine Cyber Monday deals here.
For craft lovers, many of our favorite deals on sewing machines, embroidery machines and crafting machines are still live, and will continue through Cyber Monday Deals Week starting from November 26th to December 1st.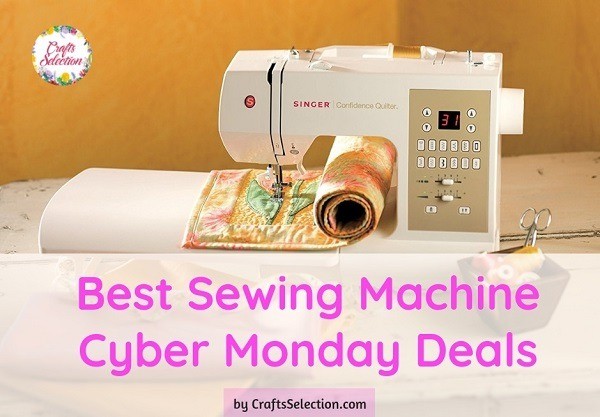 Besides sewing machines and embroidery machines, we have also selected top deals on craft cutting machines so that you can find the best gifts for yourself and your family. Check them out!
Best Cyber Monday Sewing Machine Deals 2018
Here are some of the best Cyber Monday sewing machine deals available on Amazon today. The deals are ending soon, grab the lowest prices while you can.
Best Cyber Monday Sewing Machine Deals 2018

60% OFF

Brother XR3774 Sewing Quilting Machine

Top quilting sewing machine for beginners
37 built-in stitches, 8 sewing feet
Good quality, easy to use and inexpensive

58% OFF

SINGER Quantum Stylist 9960

Best deal for seamtress
600 built-in stitches, fast sewing speed
Versatile, can work on many projects
Comes with great value sewing accessories

56% Off

SINGER Simple 3232

Simple, compact machine for beginners
32 stitches, 1-step buttonhole
Cute design, lightweight

54% Off

SINGER Start 1304

Best sewing machine for kids
6 stitches, pre-set stitch width and length
Super lightweight, low price

54% Off

SINGER Featherweight C240

Relaible, can sew all types of fabric
70 stitches, great Integrated Even Feed System
Sleek, compact design, very lightweight

53% OFF

Singer Modern Quilter 8500Q

Top quality sewing quilting machine
215 built-in stitches, useful auto threader
Bright LED lights, large sewing space

48% OFF

Janome 3160QDC Sewing and Quilting Machine

Suitable for beginners and intermediate quilters
60 built-in stitches, 6 one-step buttonholes, time-saving features
Lightweight, easy to adjust and use

47% OFF

Singer Legacy C440

Beautiful, elegant, portable design
200 built-in stitches, large LCD touchscreen
Can do sewing, quilting and embroidery

47% OFF

Brother 1034D 3/4 Thread Serger

Best serger for beginners, home users
22 built-in stitch functions
Works on wide range of fabrics
Easy to thread and use

45% OFF

Singer Tradition 2277

Lightweight, basic sewing machine
23 built-in stitches, automatic needle threader
Portable and very easy to use

43% OFF

Brother Designio Series DZ1500F

High speed, straight stitch machine for quilting
Convenient automatic thread cutter, dual thread stand
Great value, full set of designer accessories

43% OFF

Janome Arctic Crystal

Fun color, simple machine for starters
15 stitches, 4-step buttonhole
Sturdy, good even stitches

39% OFF

SINGER Heavy Duty 4452

Good quality heavy duty sewing machine
32 built-in stitches, automatic needle threader
Fast sewing and very sturdy, long lasting

35% OFF

Janome JW8100 Sewing Machine

Great value machine for intermediate sewers
100 stitches, 7 auto buttonhole styles
Easy to use, many convenient features

18% Off

Brother Sewing Quilting Machine HC1850

Good cheap sewing quilting machine
130 stitches, 8 presser feet, wide table
Easy threading, quiet operation, lightweight

18% OFF

SINGER Fashion Mate 3333

Simple, compact machine for novice
23 stitches, built-in needle threader
Easy to use, perfect for simple task

17% Off

Eonsix Mini Sewing Machine

Suitable for kids and simple sewing tasks
Easy to use, two speed options
Dual power supplies: battery and electricity
Low price

15% OFF

SINGER Finishing Touch 14SH6540 Serger

4-3 thread capability, affordable choice for beginners
Easy to start up and use immediately
Fast sewing speed, wide selection of stitch options

14% OFF

Janome HD3000 Heavy Duty

Best heavy duty machine for intermediates
18 built-in stitches, max speed 860 spm
High quality, strong motor, smooth operation

11% OFF

Brother Project Runway CS5055PRW

Good choice for novice designers, beginners, quilters
50 built-in stitches, 87 stitch functions
Lightweight, easy to use, low price

7% OFF

Singer ProFinish 14CG754 Serger

2-3-4 thread serger with overlock
Wide selection of stitch options, easy to use
Good quality, affordable price
Be sure to check back frequently for updated deals.
For more sewing machine reviews and buying guides, read the following articles:
Best Cyber Monday Embroidery Machine Deals 2018
Here we've compiled the best deals on embroidery machines. Check them out right now and be hurry because the deepest deals are available only in a few hours!
Best Cyber Monday Embroidery Machine Deals 2018

52% Off

Brother PE770 Embroidery Machine

Best embroidery machine for beginners
5x7-inch hoop, 136 built-in designs, 6 fonts
Good quality, easy to use and editing designs
Affordable price

39% Off

SINGER Futura XL400

Can be used for sewing, embroidery and quilting
30 built-in stitches, 125 embroidery designs
Can work with large design up to 18-1/2 by 11 inches
Portable, bright LED lights, easy to thread

23% Off

Janome MB-4S Four Needle

Multi-needle embroidery machine for home business
50 built-in designs, 10 fonts, large embroidery area
Many advanced embroidery and editing functions
Wide 5.7-inch remote computer screen

17% Off

Brother PE800 Embroidery Machine

Newer model of PE770, more useful functions
5x7-inch hoop, 138 built-in designs, 11 fonts
Beautiful designs, easy to use
Good price

40% Off

Madeira Incredible Threadable Embroidery Box

80 spools of 220yd/200m embroidery thread, 2 spools of 1650yd/1500m bobbin thread
Great selection of color, good quality thread

31% Off

Sinbel Polyester Embroidery Thread

12 spools of 550 yd/500m polyester embroidery thread
Good quality, easy to work with

10% Off

Brother Designio SA650 Polyester Embroidery Thread Set

Beautiful 50 colors, 40-weight, 600 yard double-snap spools
High quality, designed for Brother machines

20% Off

Aurifil A1050-2024 Mako Cotton Thread

1422 yd, good quality cotton thread
For machine embroidery, quilting and serging

32% Off

Sulky Sticky Fabri-Solvy Stabilizer

Best for transferring embroidery patterns
Good quality, wash off easily, low price

28% Off

Sulky America Extremely Soluble Stabilizer

Best for computerized lace embroidery and decorative stitch sewing
Good quality, thick, heavy and strong
If you want to learn more about embroidery machines and embroidery accessories, check the following reviews and guides:
Best Craft Cutting Machine Deals 2018
Here are some of the best craft cutting machines and heat press machines for sale this Cyber Monday. Hurry up because they are available in Limited Time Only!
Best Crafting Machine Deals 2018

35% OFF

Cricut Explore Air 2 Mint

Fast and accurate cutting
Ability to score and cut 100+ materials
USB and Bluetooth capabilities
Beautiful, sleek design

31% OFF

Silhouette Cameo 3 Starter Bundle

Best value craft cutting machine kit
Works with many different materials
Easy to set up and use, lots of tutorials
Bluetooth capabilities

30% OFF

Sizzix 660855 Vagabond 2

Best electrical cutting machine
Strong motor, sharp cut and smooth operation
Works with many different materials and thicknesses
Easy to use, portable

24% OFF

Brother CM350 ScanNCut2

Most convenient machine with ScanNCut feature
Large scanning and cutting area
Clean, accurate cuts and easy to use
Wireless connection capability

20% OFF

Cricut EasyPress

Best heat press machine for home use
Perfect for heat transfer vinyl
Lightweight, portable, easy to use
9x9-in base is ideal for large projects

15% OFF

Cricut Maker Rose Electronic Cutting Machine

10X more power than Cricut Explore models
Knife Blade for thicker materials (sold separately)
Has Rotary Blade for fabrics
Includes 25 sewing patterns

14% OFF

Gemini by Crafter's Companion

Electrical die cut and emboss machine
Compatible with most dies and embossing folders
Works best for intricate dies
Simple operation, easy to use
Read our comprehensive reviews on die cutting machines for your best choice:
Best Sewing Table Deals 2018


More sewing machine Cyber Monday deals will be released soon. Bookmark this page and check back frequently!