Embroidery sewing machines are becoming quite popular these days. This combination makes a craftsman's life a whole lot easier.
This is because it allows you to not only sew your fabric but also to embroider it. This level of multitasking saves both time, energy and money.
This machine is especially useful to someone who wants to turn their hobby into a business. Business owners can easily start mass production with this kind of machine.
Best Embroidery Sewing Machines of 2023:
Embroidery sewing machines come in different sizes, and prices. Anyone who wants to acquire one of these machines should definitely consider their budget.
Due to the rising demand for these machines, we have assembled the best embroidery sewing machines for each price range.
The Best Embroidery Sewing Machines in 2023
It's not easy to choose an embroidery sewing machine. With the many top rated sewing and embroidery machines available in the market, making a decision can be quite frustrating.
The table below will help you quickly compare your options before moving on to our detailed embroidery sewing machine reviews.
Best Embroidery Sewing Machine Reviews 2023
Here are top 10 of the best embroidery sewing machines worth buying today:
#1 – Best Overall: Husqvarna Viking Jade 35 Sewing Embroidery Machine
Hearing the name of the Husqvarna brand instantly exudes a sense of authority and trust. Pioneering in manufacturing (chiefly arms and vehicles) since 1689, and moving to sewing machines in 1872, today the Swedish company is a leader in smart embroider and sewing machines. The Jade 35 is one of its best-selling models.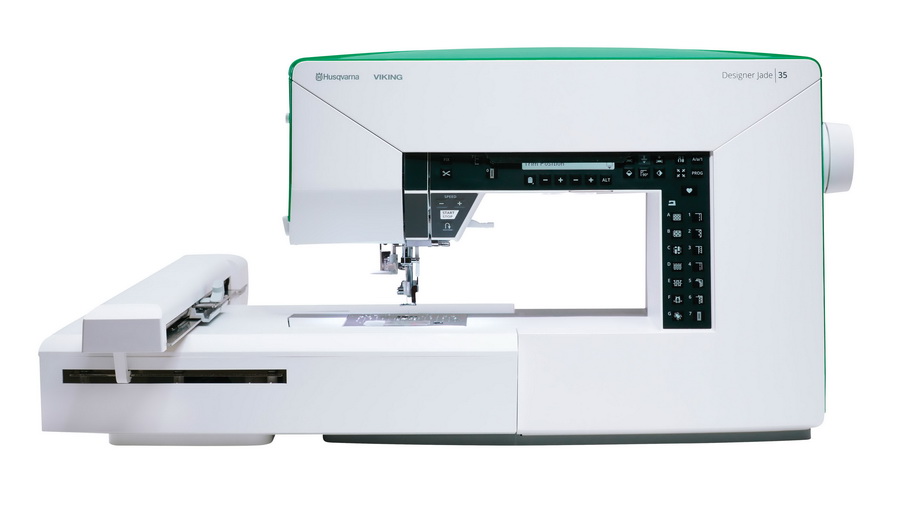 Feature Highlights
The Jade 35 is like a superheroine among modern embroidery machines. With every single bell and whistle that you can imagine in an advanced machine, this workhorse by Husqvarna Viking will act as your perfect embroidery partner. It is fast, user-intuitive, and packed with features to cater to both beginner and advanced users.
Throw any design or stitch or idea at it and the Jade 35 will get it done through its large 9.5×6-inch (240mm) embroidery hoop and proprietary sewing advisor function. It can cover large quilts and garments for your home decor projects.
And if you are a beginner in the field, the machine will set itself up with the best settings. We are talking switch type, length and width, and even thread tension.
While the advisor is clearly targeted at beginner and aspiring DIYers, the complementary and outrageously functional PC software is intended for advanced users like fashion designers. It's like Photoshop for embroidery where you can design, edit, and tweak stuff as per your liking. Need to display a collection next month post the Covid-19 lockdown? The Jade 35 will toil for you.
The essentials are also present: one-step buttonholing, style and design selection via the digital control panel, LED lights for night-time working, collection of stitches and designs, sewing fonts, and automatic thread tension and cutter.
It also has eight presser feet and superior speed control that gives you complete authority over itself as well as your projects.
There is hardly anything that Husqvarna has omitted in what we like to call its best embroidery sewing machine for all users since the 19th-century. For some users, this "too many features" can be a concern. Which is why we don't recommend this for users who are new to embroidery.
Useful Tips
#2 – Best Quality: Janome Memory Craft 14000 Sewing Embroidery Machine
Janome is an industry favorite and its Craft 14000 is perhaps its best embroidery sewing machine for quilting and embroidery.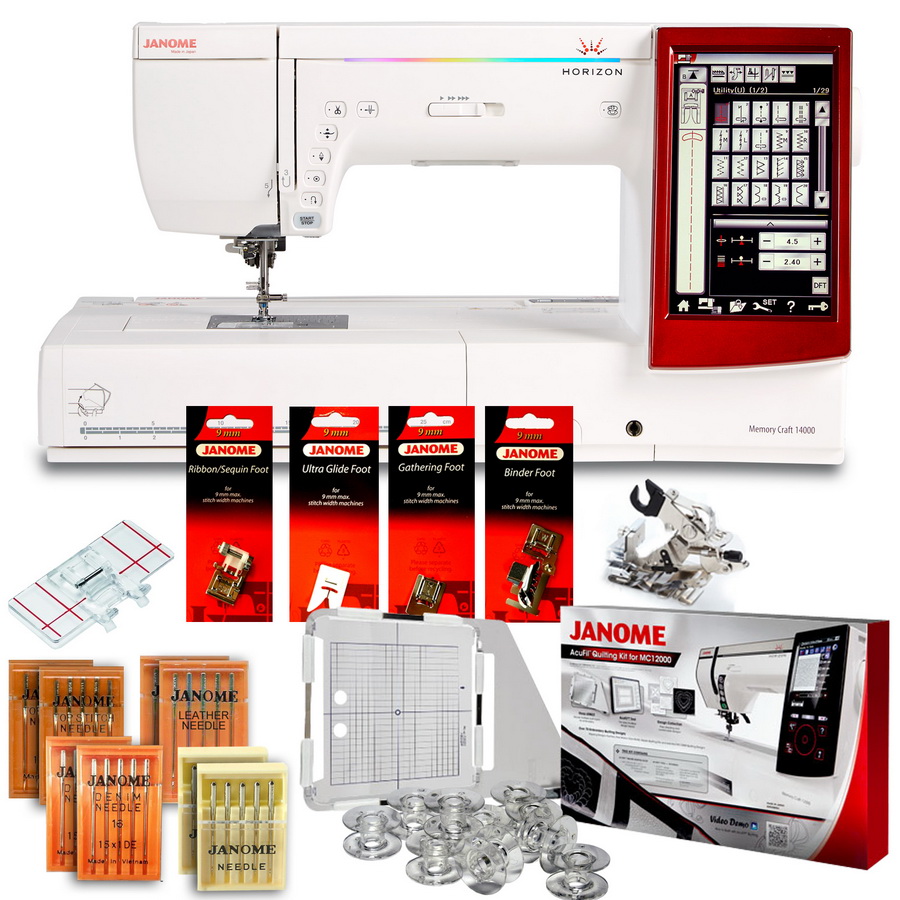 Feature Highlights
Sometimes when you edit an embroidery design on your computer and then flash it on to your machine, it does not come out the way you wanted it to be. Either the size goes wrong or there is an issue with the alignment.
With Janome embroidery sewing machine 14000, you don't have to worry about such situations. Its real-time PC editing function makes customized embroidery a convenient task.
But what really makes this model a perfect embroidery companion is the special bonus bundle where Janome has provided every single possible accessory. What do you need? A high presser foot for better handling? A magnifier to zoom in on minute changes? An adjustable LED work light? The Janome 14000 has everything you can imagine.
We also like the large color display screen (better than the Husqvarna model) that provides important details to you. It has a very high refresh rate which means your actions will be immediately displayed on it, giving you complete control and flow of the operation.
Along with a large embroidery area, a stainless-steel working plate, and adjustable needle holder, this best-quality embroidery qualifies in all the departments that we tested it.
But again, with more features comes higher complexity. Even for advanced users not familiar with Janome's tools, it will take some time to get used to it.
#3 – Best Value: Brother SE1900 Sewing Embroidery Machine
This Brother embroidery sewing machine is considered by many as a worthy upgrade from the SE400.
Even the Brother website promises that this machine guarantees the ultimate sewing and embroidery experience.

Feature Highlights
With its 240 sewing stitches, 138 built-in embroidery designs, 10 buttonhole styles and 11 lettering fonts, it doesn't disappoint. This machine also gives you the unique opportunity to design your own unique sewing stitches.
Additionally, its built-in memory allows you to import purchased embroidery designs. This will definitely inspire your creativity. These designs are transferable using a USB memory stick since this machine has a built-in USB flash drive port.
This Brother SE1900 embroidery sewing machine has a 5" by 7" embroidery field that enables you to create large designs. Its LCD touchscreen and automatic thread make it convenient and easy to use.
The main drawback of this machine is that some of the designs in the CD are outdated. In spite of this minor drawback, the Brother SE1900 is still regarded as the best embroidery machine for home business.
Useful Tips
You will need to get your own thread because the thread provided is not the one on the list of pre-loaded patterns
#4 – EverSewn Sparrow X Sewing and Embroidery Machine
EverSewn is an underdog in this field but don't underestimate it for the American brand is known to manufacture easy and comfortable embroidery machines. Sparrow X is the best example.

Feature Highlights
Best for those looking at a tight budget yet something that allows them to explore their creative side, this embroidery and sewing machine by EverSewn is mixed with easy-to-use essential functions and competitive features.
One of its best features is app-based remote control where you can not only edit and make your own designs but also control/monitor your machine.
Say you have triggered an embroidery design on a pillow cover and it will take 10 minutes for the machine to finish the design. You can move out of the machine desk and take care of other activities while the machine continues with the work. You can monitor its operation via the app which will also give you an estimated time of completion (ETA). How convenient is that? Especially for busy fashion designers and tailors.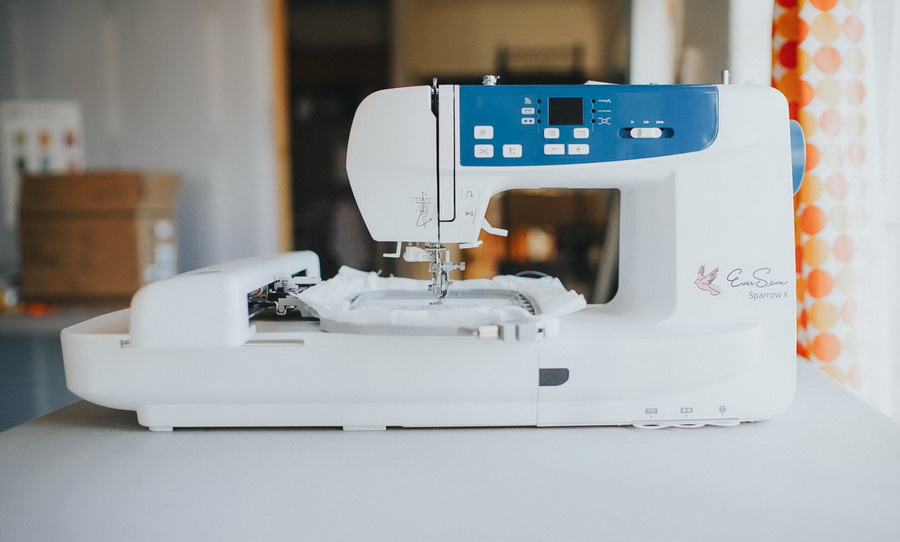 There is no built-in display; rather it makes up with an 8-bit display and thee free EverSewn Pro app that you can access via a smartphone or a tablet. We recommend an iPad or a wide-screen tablet so that you can visualize your work in a better way.
The machine can process most popular design files (EXP, PES, DST) without compromising on the output. You will always get clean, perfect stitches and designs.
The Sparrow X does have its issues, though. The need to set up the tension before every task is a real pain. Compared to the above three models, this is its biggest drawback. But it does make it up with other essentials like sharp thread cutter, speed control, and a good-quality stitch plate.
With 100+ embroidery designs and 120 stitches, it is the best affordable sewing and embroidery machine in the US market right. The EverSewn quality and superior customer support are the other reasons to bring this home.
Useful Tips
The instruction manual is not really helpful. We recommend going through the YouTube and Vimeo video channels of EverSewn for better walkthroughs. They also contain unboxing videos and reviews
EverSewn also has a great repository of fancy accessories. Check them out here.
#5 – Most Compact: Baby Lock Verve Sewing and Embroidery Machine
Another underdog brand on this list, Baby Lock is known for its range of top-rated compact sewing and embroidery machines.

Feature Highlights
The first thing you notice about the Verve embroidery sewing machine is its neat and clean built. It is not clunky and does not look like you'll need to refer the manual for every other move. We think aesthetics has some effect on how we accomplish our sewing and embroidery projects. In that regard, Baby Lock hits the right spot.
For a compact machine, it has a large enough working area for all types of embroidery and sewing projects. You won't be able to work on large quilts and bedsheets, but anything shorter than a full dress can be easily worked upon using the Verve.
Apart from the usual bells and whistles, it has a functional needle threader, 70+ built-in embroidery designs, 191 stitches, and speed control. The embroidery speed of 400 is one of the best we have seen in models in this price range.
The LCD screen is not touch-friendly but gives you critical information while working. All in all, for a home user, this compact, user-friendly embroidery machine will be a boon. It is fast, does not lag (owing to its user-intuitive design), and is easy to navigate. What more do you need in a beginner model?
#6 – Brother LB5000S Star Wars Sewing and Embroidery Machine
By now we all know the authority of the Brother brand in the textile world. With this Star Wars edition, it has really gone out of its way to a galaxy far, far away to bring us an easy-to-use smart 2-in-1 machine.

Feature Highlights
The LB5000S is best known for its color LCD screen and easy control mechanism. Apart from the Star Wars-themed body, the control panel on this embroidery machine is pretty spot-on, giving you a sense of enjoyment while working on it.
Remember we mentioned the role of machine aesthetics in our work? This machine takes it up a notch if you are a Star Wars fan. It has character and logo faceplates to help you embroider Star Wars elements into your fabrics.
Need the iconic Star Wars logo on your bedsheet? Go right now and sew it on your favorite item. The large working area helps you work on longer fabrics, but you should note that the embroidery area is just 4 by 4 in inches. This standard area, however, will be enough for most fabrics.
This is an intermediate embroidery and sewing machine, but it has all the features of an advanced kit. The collection of built-in designs and accessories will help you extend your creativity.
So, this is not just for DIYers and home users, but can also be used for fashion designers and boutique shop owners who want a user-friendly machine to assist them on various tasks: from sewing a torn tank-top to adding frills on a frock to embroidering for home décor. You name it and the Brother brand will deliver.
Useful Tips
You can download more Star Wars-themed designs from ibroidery.com.
#7 – Best Budget: Brother SE600 Sewing and Embroidery Machine
Brother is known for its innovative and stylish machines. It is one of the leading manufacturers of sewing, embroidering and quilting machines.

Feature Highlights
This particular affordable sewing embroidery machine can sew, quilt and embroider.
Versatility is its second name. It comes with a bilingual manual and built-in tutorials. This proves it to be an easy-to-use embroidery machine.
Additionally, it has 103 built-in sewing stitches. It also has 80 built-in embroidery designs, 120 frame pattern combinations and 6 lettering fonts.
Its large color touchscreen LCD and automatic thread cutter make it very convenient.
The Brother SE600 is computer compatible, allowing you to import designs from your PC. It also allows you to import designs downloaded from iBroidery.com and other websites.
If you still need other designs, this machine also comes with an embroidery card slot which you can use with Brother embroidery cards.
This embroidery machine also comes with features that help you to edit and customize designs. These features allow you to rotate, increase the size of and reduce the size of these designs.
To make your sewing easier and more convenient, this machine provides a quick-set drop-in bobbin system. The 25-year limited warranty that comes with Brother SE600 is an added bonus.
Accessories included with this machine include a 4" by 4" embroidery hoop, an embroidery arm, a free arm, an accessory compartment, accessory feet, embroidery bobbin thread, USB cable, power cord and an accessory bag.
This affordable sewing embroidery machine is sure to give your projects a classy, high-end look. The major drawback to this machine is that the 4" by 4" hoop limits the size of projects.
Useful Tips
You will need to buy a side cutter presser foot, stabilizer, additional embroidery threads and extra needles before you start
This machine can be hard to set up if you have never used a Brother machine before. You will need to research on how to set up and use this machine
#8 – SINGER SE300 Legacy Sewing and Embroidery Machine
Singer has been a force to be reckoned with in the sewing machines business for time immemorial. To most people, Singer is synonymous to sewing.
From this established company comes the Singer SE300 Legacy sewing and embroidery machine.

Feature Highlights
The Singer SE300 Legacy has 250 built-in stitches, 200 embroidery designs, and 6 alphabet options. This machine has a very high stitching speed. It sews at 800 stitches per minute and embroiders at 700 stitches per minute. Quite the time-saver, don't you find?
Its LCD touchscreen enables you to adjust the machine settings while its bright LED lights illuminate the stitching surface.
This machine comes with complementary software which is easily updatable. Additionally, it is easy to transfer files to this machine by use of the available USB port.
This Singer sewing and embroidery machine also has an automatic needle threader. This is the ultimate sewing time saver. An upper thread sensor is also incorporated into this embroidery sewing machine. It warns you when the thread is about to run out.
The accessories that come with this machine include a large embroidery hoop, a small embroidery hoop, an all-purpose foot, thread spool net, lint brush and a USB embroidery stick.
Unfortunately, this machine is too complicated for some people forcing them to take a lot of time getting the hang of it.
Take a closer look at the parts and accessories that come with the Singer Legacy machine here:
#9 – Janome Horizon Memory Craft 12000
Whether you sew, quilt or embroider, this Janome embroidery machine is what you are looking for.

Feature Highlights
It is difficult not to notice the large stainless steel workspace. In fact, this machine has more workspace than any other Janome.
You can easily create and edit designs on the machine LCD touch screen or connect it to a computer and use the computer screen. This machine allows for easy design transfer using a direct PC connection or the use of USB.
The Janome 12000 has an internal memory of 4 MB which helps you save all your designs. It also has 425 built-in sewing stitches, an automatic threader and a thread cutter with a memory function.
Embroidering with this machine is made easy and efficient by the 338 built-in embroidery designs, 10 fonts with European characters and speed adaptability. This machine supports several embroidery formats like JEF and JEF+. Janome MC 12000 comes with large hoop size up to 9.1″ x 11.8″
The Janome Memory Craft 12000 comes with a declutch bobbin winder and a Zig Zag feature for free motion quilting. Quilters will be especially thrilled by this. This machine can make high-quality quilts and is quite durable due to its solid and sturdy nature.
It can work with different types of fabrics like knits, natural fibers, leather, suede and even plastics. Accessories that come with this machine include but are not limited to 43 feet, a quilt kit and 4 embroidery hoops.
These embroidery hoops come in different sizes, therefore, allowing you to create designs of a variety of sizes. The sizes of these hoops are 9.1" by 11.8", 9.1" by 9.1", 5.5" by 5.5" and 3.1" by 1.6".
Unfortunately, although this machine comes with a bunch of features that set it apart, it also has drawbacks.
The major one is that its many features can overwhelm beginners. This makes it more difficult for them to learn how to use this machine. However, it comes with a manual and tutorials to help in the learning process.
#10 – Bernina Bernette Chicago 7
**This product is discontinued by its manufacturer.
This sewing and embroidery machine combo is the first Bernette machine that can both sew and embroider. It is undoubtedly one of the top-rated sewing and embroidery machines.

Feature Highlights
The Bernette Chicago 7 comes with several amazing features like a semi-automatic needle threader, automatic buttonholes, 7-mm stitch width and a total of 200 built-in sewing stitches. These features enable accurate stitching while saving time.
This machine is very light and therefore portable. It also comes with 100 built-in embroidery designs and one alphabet. If the designs are not enough, you can import other designs by using its USB port.
Additionally, the machine has a needle thread monitor to ensure the embroidery process stops when the needle breaks or when there is no more thread available.
There is also a bobbin checker which always checks the condition of the bobbin before embroidery begins. Both these features ensure an efficient embroidery process.
This machine stitches at a speed of 800 stitches per minute and has a start button that allows for sewing without the use of your feet. This embroidery sewing machine has a 10-year warranty on its mechanical parts.
Although the Bernina Bernette Chicago 7 provides high stitch quality, it suffers a major setback when it comes to noise reduction. It is noisier than other embroidery sewing machines of its caliber.
Useful Tips
Even if the machine was already previously set to embroidery mode, it has to be reset each time it is switched on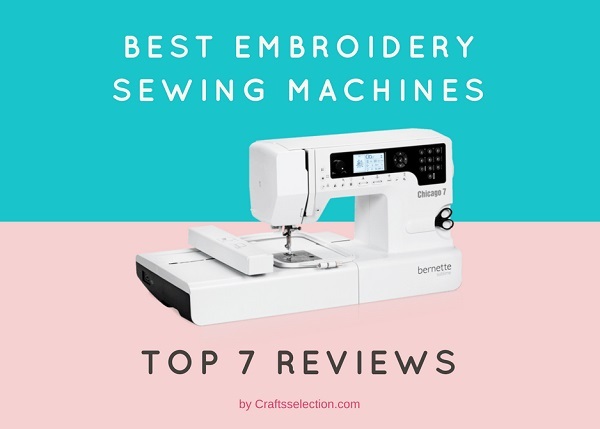 Conclusion
For many advanced users and professionals, the best sewing and embroidery machine is the Janome 14000. This is because it comes with a lot of high-end features and can perform a lot of functions. It can literally perform any task you could think of.
This machine best illustrates how much emerging cutting-edge technology has improved the manufacture of sewing and embroidering machines. With its versatility and high-quality stitches, the Janome Memory Craft 14000 is what every sewing professional needs.
Those with sewing businesses, especially those starting fashion houses, or other mid-sized brands, could benefit from this machine. It may have a high price, but it definitely is worth it.
However, if this machine is too pricey for you, the Brother SE1900 is a good choice too.
For beginners and occasional users, there's no doubt that Brother SE600 is the most favorite embroidery sewing machine.
So, what are you waiting for?!