Anyone who has been crafting for a while knows about the magic that Cricut machines can do. From making the most intricate of cuts to doing the best of iron on work, these machines don't disappoint. In fact, for every crafting purpose, there are several models of Cricut machines to choose from.
Best Cricut Machines For Crafts:
While having a variety to choose from is a good thing, it is not easy to compare Cricut machines and pick one.
On the other hand, going through the hundreds of Cricut machine reviews on e-commerce sites is just too much work.

To make things much easier for you, we decided to come up with our own review of the best Cricut machines.
In this review, you will find different types of Cricut machines that have been highly rated by hundreds of users. These machines are a testament to the fact that Cricut has excelled in creating high quality machines for every type of crafter.
The Newest Cricut Machines to Buy
Before we get to all the nitty-gritties, here is a summary of our the newest Cricut machines and their highlights. This summary is designed to enable you to choose a Cricut machine in little to no time.
Best Cricut Machines 2020
Cricut Spring Has Sprung Sale 2020


Starting today through 4/7, Cricut.com is launching their Spring Has Sprung sale featuring 30% off select iron on materials, mats, and other materials! In addition, snag an Explore Air 2 Machine starting at $229!
Here are current Cricut Sale at Cricut.com
New Cricut Joy is Available Now!
Cricut has launched the new Cricut Joy on March 1st, 2020. Until now, it is the most compact smart cutting and writing machine from Cricut.
Wondering if you should buy the new Cricut Joy?
Check this Cricut Joy review to learn everything about this new Cricut machine.
Best Cricut Machine Reviews 2020
In order for you to make a well-informed decision on which Cricut machine to buy, it is important to understand the ins and outs of our top picks.
In this review, we intend to get into the nitty-gritty details of each of our recommended products. So sit back and get ready to be thoroughly informed.
#1 – Best Overall: Cricut Maker
Top Pick

Cricut Maker
Best Cricut Machine For Craft Cutting
Pros
Powerful blades
Has Bluetooth connectivity
Automatically detects whether you are using the right blade or not
Produces high-quality cuts very quickly
Cons
The knife blade has to be ordered separately
Limited cutting space
Overview
This is currently the best Cricut cutting machine to buy. It comes with a bunch of features that are noticeably absent in other Cricut machines. It gives you the power to create a variety of products ranging from paper crafts to leather projects.
One of the Cricut Maker's most noticeable features is its expandable suite of tools that grow with you as you grow in expertise.
For instance, this machine's rotary blade has both rolling and gliding functions that make it easy for it to cut through any fabric without needing a backing material. Needless to say, it is the best Cricut machine for fabric of any kind.
It also boasts of hundreds of digital sewing patterns and convenience features like a docking slot and a USB port. As if that isn't enough, this machine lets you access it through your smartphone or computer.
Let's take a closer look at the Cricut Maker in this video:
Verdict
Whether you are a beginner or a full-blown crafting professional, you will appreciate what the Cricut Maker can do. It is easy to use yet versatile enough to keep you intrigued as you gather experience.
As much as it is substantially more expensive than the other Cricut machines, the value it offers is worth the price.
#2 – Best Value: Cricut Explore Air 2

Pros
Ample storage space
Precise cutting
Offers good value for money
Cons
It is louder than the previous model (Cricut Explore Air)
Overview
With its cool color and the ability to cut over 100 materials, the Cricut Explore Air 2 is a thing of beauty. Using its embedded Bluetooth technology allows for wireless cutting; only one of its awesome features.
Users particularly love its Smart Set Dial function that sets the appropriate pressure and depth for the material you are cutting. This feature makes the Explore Air 2 the best Cricut machine for vinyl.
Another thing we love about this machine is that it not only gives you access to Cricut's design software but also allows you to upload your own designs to the machine.
Moreover, it lets you design from anywhere using the Cricut Design App for Android and IOS devices.
Check out this video for more features and functions of the Cricut Explore Air 2:
Verdict
If you are looking for a Cricut machine that will give you a lot of value for an affordable price, the Explore Air 2 is the one for you.
It has fewer features than the Cricut Maker but does most of what the Maker can do. This makes it very popular among intermediate crafters.
#3 – Best Cricut Machine For Beginners: Cricut Explore Air

Pros
Can cut and draw simultaneously
Precise cutting
Easy to use
Cons
The app is incompatible with Android devices
Slower than the more advanced Cricut cutting machines
Overview
Yet another impressive Cricut machine is the Explore Air. Being significantly slower, it is a step lower than the Air 2 in complexity. However, that doesn't mean that it isn't an efficient machine. In fact, it is the best choice for beginners.
It comes with helpful features like integrated storage compartments, embedded Bluetooth connectivity and design software.
It also cuts a variety of materials with the utmost precision. Novices will love that it has a smart dial that allows you to choose material settings.
Verdict
The Cricut Explore Air is one of those machines that anyone will be glad to have, especially a beginner. It has all the features you need from a cutting machine and a little extra. Coupled with its affordable price, this machine is a good pick for most.
#4 – Basic Cricut Electronic Cutting Machine: Cricut Explore Air One

Pros
Is compatible with some old cartridges
Easy to use
Comes with all the basic features a beginner needs
Cons
Doesn't have Bluetooth connectivity
Doesn't have a dual carriage
Overview
This is the most basic Cricut electronic cutting machine. It is best used for personal crafting projects as it isn't as powerful as the more advanced Cricut machines.
One of its most noticeable features is the fact that it allows you to design from anywhere by using its free cloud-based apps for Android, Windows and Mac and IOS. Alternatively, you can upload your own designs to cut for free.
This Cricut personal cutter comes with a spatula, a scraper, and a cutting mat.
Verdict
Let's be honest, the Cricut Explore Air One isn't the dream machine for professionals.
However, it is the best for crafting beginners or those that need to do some minimal personal crafting. Say what you may about this machine but it does all that it promises to do.
#5 – Cricut Heat Press Machine: Cricut Easy Press 2

Pros
Light and portable
Compatible with most heat-transfer vinyl brands
Comes in a variety of sizes
Gives professional results
Overview
As we said before, Cricut doesn't only produce cutting machines. It also produces some of the most impressive iron-on machines, one of which is the Cricut Easy Press 2.
This machine has been said to have been as fast as a heat press yet as convenient as an iron. This can be attributed to its amazing features.
One of them is its advanced heat plate design that allows for flawless heating. Users of the Cricut Easy Press 2 also like that it provides good results in a very short period of time.
To ensure safety, this Cricut machine also comes with an insulated safety base with an auto-shutoff feature.
Did we mention that the Cricut Easy Press 2 comes with precise temperature control up to 400 degrees Fahrenheit? Well, it does.
Have a closer look at this amazing Cricut heat press machine with this video:
Verdict
Ultimately, the Cricut Easy Press 2 does a stellar job at being a hybrid between an iron and a heat press. It is safe, efficient and easy to use, a perfect choice for newbies.
It is also worth noting that it is undoubtedly the best Cricut machine for making shirts.
#6 – Cricut Die Cut Machine: Cricut Cuttlebug

Pros
Makes clean crisp cuts
Easy to use
Stable and durable
Light and portable
Cons
It can't do complex cuts
It doesn't come with a C plate
Overview
If you are looking for an amazing yet affordable die cutting and embossing machine, the Cricut Cuttlebug is right up your alley.
It can cut and emboss a large variety of materials ranging from tissue paper to thin leather. As we have grown to expect from Cricut machines, the Cuttlebug produces professional results.
Users will appreciate that it comes with an A2 embossing folder, two metal dies, and an embossing mat.
Moreover, it is suited to the fast-paced always on the go lifestyle of many city dwellers. It has a built-in pop-up handle and a fold-n-store profile that makes it extremely portable.
Verdict
This Cricut Cuttlebug die cut machine is a good option for those on a tight budget but still want to get some crafting done.
As much as it is not as feature-rich as some other Cricut machines, it is a good start. In fact, it is currently the best Cricut machine for embossing.
#7 – Cricut Bright Pad

Pros
Produces even lighting
Comes with five different light settings
Versatile
Cons
Can only run when plugged into a power source
A little bit pricy
Overview
When it comes to weeding, no Cricut machine compares to the Bright Pad. Used for weeding, tracing and quilting, this machine illuminates your projects so as to avoid eye strain. This makes it possible for you to complete all your crafting projects with ease.
It is light, thin and extremely portable. Additionally, it boasts of a non-slip base that makes it easy to use on any table or desk.
We just can't fail to mention that it comes with a USB power cord, a wall power adapter and a warranty.
Verdict
Although the Cricut Bright Pad isn't perfect, it does a great job at protecting you from eye strain, especially during weeding. That is why we truly believe that it is the best Cricut machine for weeding and tracing.
What Are The Differences Between Cricut Machines?
As we said before, Cricut machines come in many shapes and sizes. In this review alone, there are 7 machines, each different from the other.
To help you better understand these differences, we have decided to compare Cricut machines in this section of our review.
Cricut Machine Comparison Table
The following guide focuses on the differences among 4 Cricut electronic cutting machines:
Cricut Maker
Cricut Explore Air 2
Cricut Explore Air
Cricut Explore One
Cricut Maker
Explore Air 2
Explore Air
Explore One
Cutting mat size
12" x 12"
(30.5 cm x 30.5 cm)
12" x 12"
(30.5 cm x 30.5 cm)
12" x 12"
(30.5 cm x 30.5 cm)
12" x 12"
(30.5 cm x 30.5 cm)
Free ready-to-made projects
50, including 25 sewing patterns
50
50
25
Precise cutting, writing, and scoring technology

✓
✓
✓
✓
Cuts 100+ materials
✓
✓
✓
✓
Upload your own images and fonts for free
✓
✓
✓
✓
Easily design on PC, tablet, or smartphone
✓
✓
✓
✓
Dual Carriage
✓
✓
✓
Works wirelessly via Bluetooth
✓
✓
✓
Double tool holder
✓
✓
✓
Up to 2X faster cutting and writing

✓
✓
10X more power to cut hundreds more materials
✓
Rotary Blade for fabrics
✓
Knife Blade for thicker materials
✓
Scoring Wheel tools for razor-sharp folds
✓
See price at Amazon
See price at Amazon
See price at Amazon
See price at Amazon
Cricut Maker vs Cricut Explore Line
The Cricut Maker is a smart cutting machine that can make intricate cuts in just a few clicks. This machine can cut from the most delicate of fabrics to the toughest of them with great precision, accuracy and speed.
It is also worth mentioning that the Cricut Maker comes with hundreds of digital patterns from which you can choose.
Interestingly, the Cricut Explore line of machines is also able to cut a variety of materials. Moreover, it also produces accurate and precise cuts.
This family of machines includes the Cricut Explore Air, the Cricut Explore Air 2, and the Cricut Explore Air One.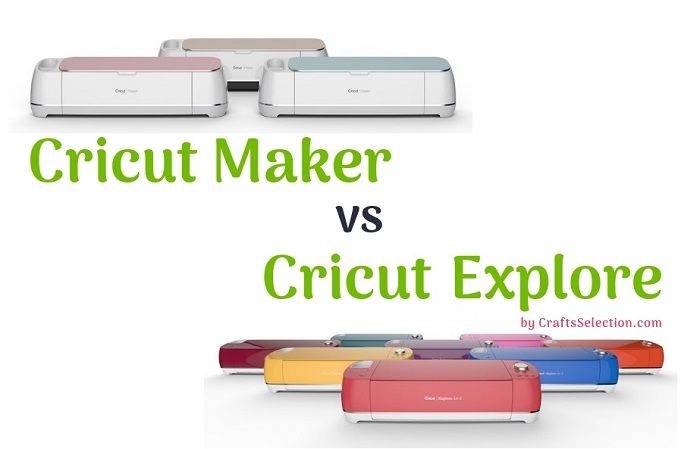 You may be tempted to ask, "So, what is the difference between Cricut Maker and Cricut Explore machines?" Well, there are quite a few. These include:
The Cricut Maker comes with a unique Adaptive Tool System that helps you expand the functionality of your tools
The machines in the Explore family can't apply as much pressure as the Maker. As such, these machines experience difficulty cutting dense materials like leather, basswood and balsa wood.
All tools that work with the Explore family also work with the Maker. However, there are also tools that were designed to specifically work with the Maker. These include the Knife Blade and Rotary Blade.
While the Explore machines have a materials dial, the Maker lets you pick your material at the Design Space on the screen
The Maker comes with a mobile device dock, a USB port and more storage space than machines in the Explore family
The Cricut Maker comes in only three colors (rose, champagne and blue) while the Explore line of machines come in a variety of colors
Cricut Explore Air 2 vs Cricut Explore Air
Like all Cricut machines, the Explore Air can cut a variety of materials. Moreover, this machine is Bluetooth enabled and easy to use. It also features a convenient double tool holder.
On the other hand, the Cricut Explore Air 2 has all these features and so much more. In fact, it is practically an upgrade of the Explore Air.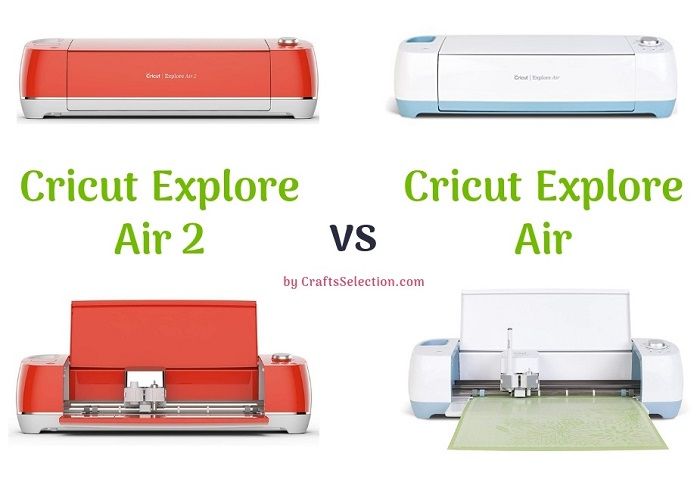 Some of the differences between Cricut Explore Air and Air 2:
The Cricut Explore Air 2 comes with a fast mode that allows it to cut and write up to twice as fast as the Explore Air
The Explore Air 2 is much louder than the Explore Air
Cricut Explore One vs Cricut Explore Air
The Cricut Explore One is the most basic of Cricut cutting machines. It is a good machine for beginners as it is easy to use and cheap. Moreover, it can cut over 100 types of materials.
The Cricut Explore Air is the upgrade to the Explore One. On top of what the Explore One offers, it also comes with a double tool holder and built-in Bluetooth wireless technology. Apart from the extra features, there is truly no difference between the two machines
Other Cricut machines
Apart from cutting machines, Cricut also produces machines used for pressing, die cutting and weeding. These include the Cricut Easy Press, the Cuttlebug and the Bright Pad respectively. Just like the Cricut cutting machines, these ones are also highly efficient and easy to use.
What is the best Cricut machine to buy?
As much as all the Cricut machines in this review are absolutely superb, each has a specialty; a special purpose and a group of crafters for which it is perfect.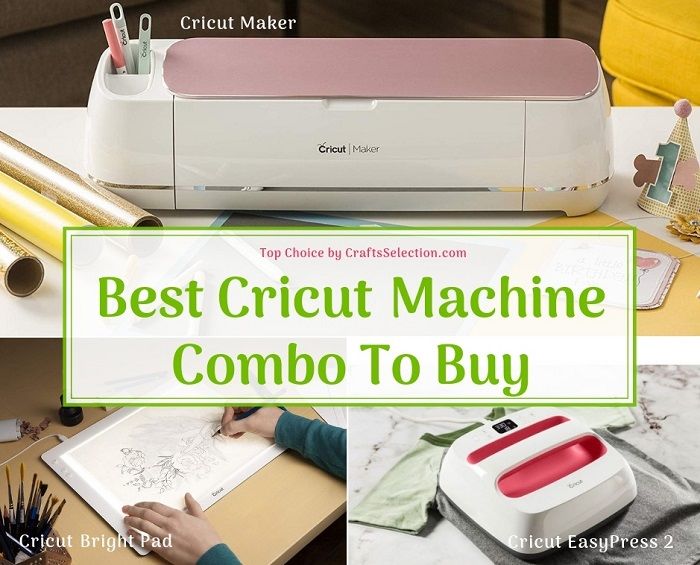 For instance, the Cricut Maker is perfect for those looking for the ultimate electronic crafting machine. This may be business owners, professional sewers or experienced quilters. These are people who are always looking for the latest machine.
Top Pick

Cricut Maker
Best Cricut Machine For Craft Cutting
On the other hand, those who are searching for a machine that offers the best value for money should look into getting the Cricut Explore Air 2.
Beginners on a low budget are better off with either the Explore Air or the Explore One.
If you love scrapbooking and card making, worry not, we have something for you too; the Cricut Cuttlebug.
However, those who do a lot of iron on and weeding are better off with the Easy Press 2 and Bright Pad respectively.
Ultimately, you are not restricted to getting one of these machines. You can always go all-out and get a combination of the ones you love best. In fact, a great move would be to get the Cricut Maker, Easy Press 2, and Bright Pad in one purchase.
So, which Cricut machine do you prefer? Share your thoughts in the comment section below.