**This post contains affiliate links and I will be compensated if you make a purchase after clicking on my links.
Anyone who has been crafting for a while knows about the magic that Cricut machines can do. From making the most intricate of cuts to doing the best of iron on work, these machines don't disappoint. In fact, for every crafting purpose, there are several models of Cricut machines to choose from.
Best Cricut Machines in 2023:
While having a variety to choose from is a good thing, it is not easy to compare Cricut machines and pick one.
On the other hand, going through the hundreds of Cricut machine reviews on e-commerce sites is just too much work.

To make things much easier for you, we decided to come up with our own review of the best Cricut machines.
In this review, you will find different types of Cricut machines that have been highly rated by hundreds of users. These machines are a testament to the fact that Cricut has excelled in creating high quality machines for every type of crafter.
The Newest Cricut Machines to Buy
Before we get to all the nitty-gritties, here is a summary of our the newest Cricut machines and their highlights. This summary is designed to enable you to choose a Cricut machine in little to no time.
Which is The Right Cricut Machine to Buy?
Still don't know which Cricut you should buy? Here are some recommendations for you:
Best Cricut machine for everything: Cricut Maker 3 – The most powerful and functional Cricut machine for pro-level DIYers. Compatible with 12+ tools for cutting, writing, scoring and other pro-level effects.
Best Cricut machine for beginners: Cricut Explore Air 2 – Versatile yet affordable machine for first-time users, DIY-ers, and hobbyists. This is also the most popular Cricut machine.
Best Cricut machine for vinyl and decals: Cricut Maker with Fine-Point Blade for precise, detailed cuts.
Best Cricut machine for fabric: Cricut Maker 3 with Rotary Blade for cutting through any fabric quickly and accurately – without backing material.
Best Cricut for scrapbooking: Cricut Explore Air 2
Best Cricut machine for labels: Cricut Joy – the newest Cricut machine can cut up to 20 feet at one time, perfect for making labels, banners, or custom vinyl decals.
Best Cricut machine for woodworking: Cricut Maker series with Knife Blade – cut thicker materials up to 2.4 mm (3/32").
Best Cricut machine for making T-shirts: Cricut EasyPress 2 – Cricut heat press machine with four distinct sizes to fit a wide variety of applications.
Best Cricut machine for making decals and shirts: Cricut Maker (for cutting) and Cricut EasyPress 2 (for applying heat transfer vinyl) machine combo.
Best Cricut machine for teachers: Cricut Joy – it is lightweight and compact so you can easily bring it to the classes or anywhere.
Best Cricut machine for ball/cap decor: Cricut Joy or any Cricut cutting machine (for cutting heat transfer vinyl patterns) and EasyPress Mini (for applying HTV on ball/cap, especially for curvy areas).
Best Cricut to make greeting cards: Cricut Joy – it works with Card Mat for quick custom cards.
Best Cricut machine for mug printing: Cricut Mug Press – this latest Cricut machine is designed for making mugs in minutes and can be used with lots of different cylinder-shaped items such as tumblers, ceramic mugs, mason jars, and so on as long as they come with sublimation coating.
Where is The Best Place to Buy a Cricut Machine?
Cricut.com: Cricut official online store is where you can find the latest Cricut models, Cricut machine comparison, materials and accessories for Cricut machines, also a Cricut Image Library Cricut Access. Cricut offers discounts and deals almost every week or month, so bookmark this page Cricut.com if you own a Cricut machine, you may find great deals here.
Amazon.com: You can buy Cricut machines at the official Cricut page on Amazon or buy from other sellers on Amazon who may offer a lower price. Be sure to check if the machine is brand-new or used one.
SwingDesign.com claims themselves as the largest Silhouette & Cricut supplier so they offer many Cricut machine bundles and accessories at a very attractive price. With their hand-picked Cricut bundle options, you can find everything you need to get started on the crafting journey.
Best Cricut Machine Reviews 2023
In order for you to make a well-informed decision on which Cricut machine to buy, it is important to understand the ins and outs of our top picks.
In this review, we intend to get into the nitty-gritty details of each of our recommended products. So sit back and get ready to be thoroughly informed.
#1 – Best Overall: Cricut Maker
Check the review of the latest Cricut Maker 3 machine HERE!

Overview
This is currently the best Cricut cutting machine to buy. It comes with a bunch of features that are noticeably absent in other Cricut machines. It gives you the power to create a variety of products ranging from paper crafts to leather projects.
One of Cricut Maker's most noticeable features is its expandable suite of tools that grow with you as you grow in expertise.
For instance, this machine's rotary blade has both rolling and gliding functions that make it easy for it to cut through any fabric without needing a backing material. Needless to say, it is the best Cricut machine for fabric of any kind.
It also boasts of hundreds of digital sewing patterns and convenience features like a docking slot and a USB port. As if that isn't enough, this machine lets you access it through your smartphone or computer.
Let's take a closer look at the Cricut Maker in this video:
#2 – Best Value: Cricut Explore Air 2
Check the review of the latest Cricut Explore Air 3 machine HERE!

Overview
With its cool color and the ability to cut over 100 materials, the Cricut Explore Air 2 is a thing of beauty. Using its embedded Bluetooth technology allows for wireless cutting; only one of its awesome features.
Users particularly love its Smart Set Dial function that sets the appropriate pressure and depth for the material you are cutting. This feature makes Explore Air 2 the best Cricut machine for vinyl.
Another thing we love about this machine is that it not only gives you access to Cricut's design software but also allows you to upload your own designs to the machine.
Moreover, it lets you design from anywhere using the Cricut Design App for Android and IOS devices.
Check out this video for more features and functions of the Cricut Explore Air 2:
#3 – Most Compact: Cricut Joy

Overview
Cricut Joy is the latest and most compact Cricut cutting machine so far.
This machine is significantly smaller than the previous models, Maker and Explore Air 2. It is only 5.5 inches and weighs only 3.9 lbs (1.75 kg) so you can carry it anywhere you go.
Like its predecessors, Cricut Joy allows you to customize your designs using a wide variety of line weights and pen types. The write, doodle and draw functions can achieve any shapes, patterns, letters, numbers, objects and more.
The newest function is that it can work with longer materials and can produce continuous cuts without a cutting mat. The machine can cut a single image that measures up to 4 feet long and 4 inches wide or create repeated cuts up to 20 feet long.
The machine has Bluetooth built-in, so you can design anywhere. This also eliminates the need for extra connections and cables.
#4 – Cricut Heat Press Machine: Cricut Easy Press 2

Overview
As we said before, Cricut doesn't only produce cutting machines. It also produces some of the most impressive iron-on machines, one of which is the Cricut Easy Press 2.
This machine has been said to have been as fast as a heat press yet as convenient as an iron. This can be attributed to its amazing features.
One of them is its advanced heat plate design that allows for flawless heating. Users of the Cricut Easy Press 2 also like that it provides good results in a very short period of time.
To ensure safety, this Cricut machine also comes with an insulated safety base with an auto-shutoff feature.
Did we mention that the Cricut Easy Press 2 comes with precise temperature control up to 400 degrees Fahrenheit? Well, it does.
Have a closer look at this amazing Cricut heat press machine with this video:
#5 – Cricut Mug Press: Best Cricut Machine for Printing on Mugs
The latest heat pressing machine by Cricut is made specifically for creating personalized mugs.

Overview
Imagine a fancy device that huffs and puffs and transforms your mugs into gorgeous looking personalized drinking companions. Remove all the guesswork from the process. Explore thousands of designs and endless creative possibilities. All in a single press machine that will last for years.
What do you get? The Cricut mug press.
It is a single-button, foolproof mug pressing machine that automates the entire process you don't have to worry about any setting. Just cut your favorite design using a Cricut Infusible Ink sheet, wrap it around a blank mug, and let the machine do the magic. It uses automatic temperature detection to optimize the heat and pressure settings required to permanently infuse the ink onto the mug's surface.
And in case you are wondering about longevity, mugs printed by the Cricut mug press will stand the true test of time. The brand claims the designs will last forever, no matter how many times you use the mugs.
It's a great tool for hobbyists, DIYers, and crafters who would want to turn their passion into a small business. Get this latest Cricut machine today and be the talk of the town.
What Are The Differences Between Cricut Machines?
As we said before, Cricut machines come in many shapes and sizes. In this review alone, there are 7 machines, each different from the other.
To help you better understand these differences, we have decided to compare Cricut machines in this section of our review.
Cricut Machine Comparison Table
The following guide focuses on the differences among 4 Cricut electronic cutting machines:
Cricut Maker
Cricut Explore Air 2
Cricut Explore Air
Cricut Explore One
Cricut Maker vs Cricut Explore Line
The Cricut Maker is a smart cutting machine that can make intricate cuts in just a few clicks. This machine can cut from the most delicate of fabrics to the toughest of them with great precision, accuracy and speed.
It is also worth mentioning that the Cricut Maker comes with hundreds of digital patterns from which you can choose.
Interestingly, the Cricut Explore line of machines is also able to cut a variety of materials. Moreover, it also produces accurate and precise cuts.
This family of machines includes the Cricut Explore Air, the Cricut Explore Air 2, and the Cricut Explore Air One.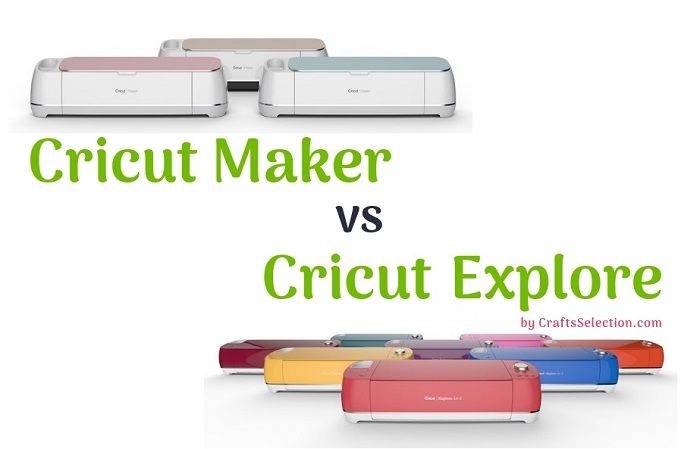 You may be tempted to ask, "So, what is the difference between Cricut Maker and Cricut Explore machines?" Well, there are quite a few. These include:
The Cricut Maker comes with a unique Adaptive Tool System that helps you expand the functionality of your tools
The machines in the Explore family can't apply as much pressure as the Maker. As such, these machines experience difficulty cutting dense materials like leather, basswood and balsa wood.
All tools that work with the Explore family also work with the Maker. However, there are also tools that were designed to specifically work with the Maker. These include the Knife Blade and Rotary Blade.
While the Explore machines have a materials dial, the Maker lets you pick your material at the Design Space on the screen
The Maker comes with a mobile device dock, a USB port and more storage space than machines in the Explore family
The Cricut Maker comes in only three colors (rose, champagne and blue) while the Explore line of machines come in a variety of colors
Cricut Explore Air 2 vs Cricut Explore Air
Like all Cricut machines, the Explore Air can cut a variety of materials. Moreover, this machine is Bluetooth enabled and easy to use. It also features a convenient double tool holder.
On the other hand, the Cricut Explore Air 2 has all these features and so much more. In fact, it is practically an upgrade of the Explore Air.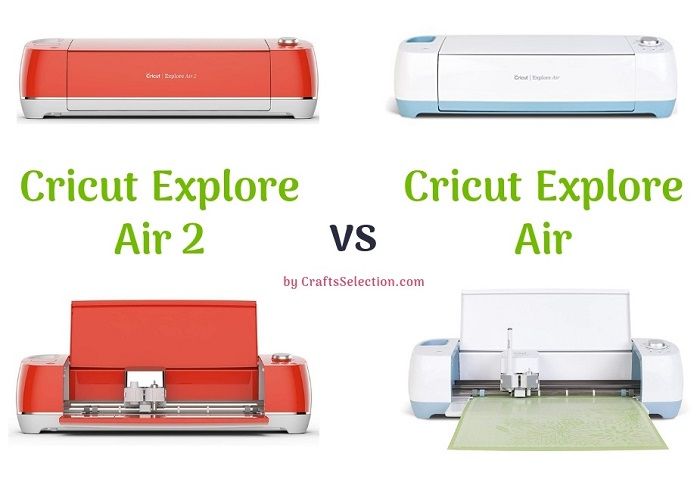 Some of the differences between Cricut Explore Air and Air 2:
The Cricut Explore Air 2 comes with a fast mode that allows it to cut and write up to twice as fast as the Explore Air
The Explore Air 2 is much louder than the Explore Air
Cricut Explore One vs Cricut Explore Air
The Cricut Explore One is the most basic of Cricut cutting machines. It is a good machine for beginners as it is easy to use and cheap. Moreover, it can cut over 100 types of materials.
The Cricut Explore Air is the upgrade to the Explore One. On top of what the Explore One offers, it also comes with a double tool holder and built-in Bluetooth wireless technology. Apart from the extra features, there is truly no difference between the two machines
Other Cricut machines
Apart from cutting machines, Cricut also produces machines used for pressing, die cutting and weeding. These include the Cricut Easy Press, the Cuttlebug and the Bright Pad respectively. Just like the Cricut cutting machines, these ones are also highly efficient and easy to use.
What is the Best Cricut Machine to Buy?
As much as all the Cricut machines in this review are absolutely superb, each has a specialty; a special purpose and a group of crafters for which it is perfect.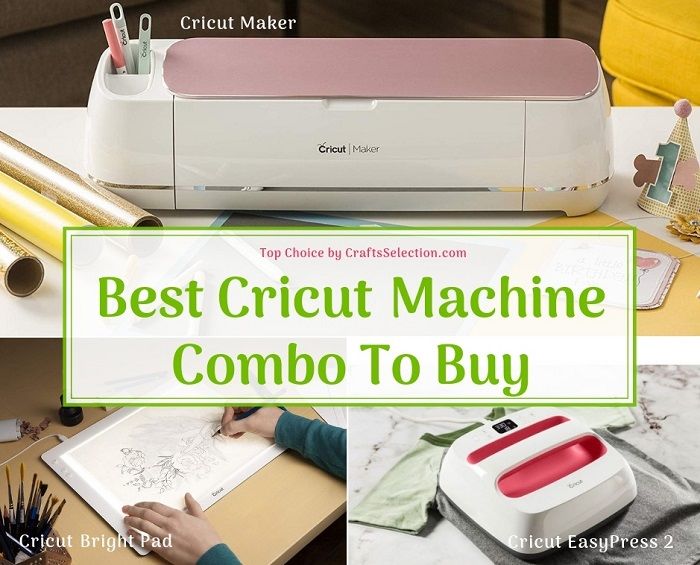 For instance, the Cricut Maker is perfect for those looking for the ultimate electronic crafting machine. This may be business owners, professional sewers or experienced quilters. These are people who are always looking for the latest machine.
On the other hand, those who are searching for a machine that offers the best value for money should look into getting the Cricut Explore Air 2. While the Cricut Joy is a perfect companion to full-size Cricut cutting machines.
However, those who do a lot of iron on and mug printing are better off with the Easy Press 2 and Cricut Mug Press respectively.
Ultimately, you are not restricted to getting one of these machines. You can always go all-out and get a combination of the ones you love best. In fact, a great move would be to get the Cricut Maker, Easy Press 2, and Cricut Mug Press in one purchase.
So, which Cricut machine do you prefer? Share your thoughts in the comment section below.