The key to a strong stitch on a piece of upholstery is the combination of an industrial sewing machine and the right heavy-duty upholstery thread. Just having one of them is not enough.
You need to have the best of both the worlds to create strong stitches, frills, and embellishments on thick materials.
Top 5 Best Threads For Upholstery Sewing:
This guide will help you find the best thread for upholstery. For your consideration, we reviewed some of the best threads in the market and then came up with this final list.
These are the top five upholstery threads that professionals use and depend on for all projects. The best thing is that these threads are capable of sewing through and holding together all types and forms of materials.

We are talking from basic automobile upholstery to marine fabric to military-grade leather and awning. If you have an obstinate material to sew on, we have the right thread for you.
Best Thread For Upholstery Sewing
What Kind of Thread to Use for Upholstery?
Polyester threads are the most common choice for most upholstery projects.
But if you feel that a particular fabric will require a thicker and stronger upholstery thread, then go with bonded nylon thread. It is a great selection when you are working on boat sail and canvas, awning, or thick leather coverings.
Bonded nylon threads are thicker and more durable. They are also abrasion-resistant, making them perfect for outdoor projects.
For example, when working on boat upholstery, you need to take into account the fabric's constant exposure to moisture. This can also give rise to minute fungal growth (called mildew) in them that usually occur near the stitches.

Using a bonded nylon thread will prevent cracks and thereby keep the stitches intact and stronger for a long time.
Such threads have great stretch control. As sewing supplies manufacturer Sailrite points out, "when you sit on a seat, you want the thread to be able to give and rebound under your weight". This makes nylon the perfect choice as a heavy thread for sewing canvas and, home furniture, and automobile seats.
Most threads of this type are three-ply and made of 100% nylon. They are also resistant to weather changes, saltwater, ultraviolet rays (UVR), and needle heat.
Further making them the #1 choice of professionals across automobile upholstery projects.
Check out this handy table for more information:
Application
Recommended Thread Type
Outdoor projects like sail and canvas work
Polyester
Automobile upholstery (car seats, luggage, home décor and furniture)
Nylon

(Note: 'bonded' is a manufacturing process involving pressure and adhesives)

Hidden stitching (wardrobe, belts, handbags)
Monofilament
Lifetime applications (boat covers, awning)
Fluoropolymer
The five products reviewed below are all heavy threads used for sewing canvas and other thick materials.
Best 5 Upholstery Thread Reviews
Detailed reviews of our picks of the best outdoor upholstery threads. If you have a favorite brand or were recommended a certain model by a friend, jump to that review directly.
1 – Coats & Clark Extra Strong Upholstery Thread
Known as the world's leading industrial thread manufacturer, Coats & Clark is based in the UK. It is always the first choice of professionals around the world, so naturally, you cannot go wrong with it.

Thread Review
This is 150 yards of the strongest upholstery threads we have used. It is suitable for any sewing or quilting project that you can think of, thanks to its heavy-duty make. Made of 100% nylon using the 3-ply method, it is resistant to abrasion, mildew, and ultraviolet rays.
Whether it is for carpet work or backpack repair or tufting needlework, this beast will pull together any fabric with effortless ease and for a long time. We even joked that this Coats thread is so strong that it would cut through our fingers rather than breaking.
Highlights
Suited for all types of upholstery work: sail and canvas work, boat and car upholstery stitching, home décor, leather bags, etc.
Color Palette: Single shade; black
Fiber: 100% nylon
Length: 150 yards (137 meters)
Tips
Exercise caution while using this thread if you are a beginner
#18 needle (Schmetz) is recommended
Long stitches are recommended
2 – Gütermann Upholstery Thread
A&E Gütermann is a German brand and has been around for three generations since 1864. It is a master in everything seam and is often the top choice for professionals in the West.

Thread Review
Buying this will be like stocking up for an entire year of projects. No kidding because that is the length of the thread wound in this trademark cone-shaped spool by Gütermann.
It's a great thread for vinyl upholstery that will give a great seam to all your projects regardless of fabric type.
Available in at least 12 different shades, it has this peculiar slick gloss that enhances the stitching experience. If you are into repairing handbags and backpacks, this will make your job easier.
Highlights
Suited for leather, vinyl, denim, canvas, and carpet
Color Palette: Toast; available in 12 shades
Fiber: 100% nylon
Length: 325 yards (297 meters)
Tips
Its official website is a gold mine for sewing ideas
If the slickness comes in your way while hand-sewing, tie a knot at the end
Its rPET line of eco-friendly threads is very good. Check them out here
3 – Mandala Crafts Bonded Nylon Thread for Upholstery
Mandala Crafts is your American local good-deed manufacturer known for advocating creativity. Support it by buying this thread for sewing vinyl and canvas.

Thread Review
If you need a bit longer thread than the Gütermann, then consider this one by Mandala Crafts. Truly long at 1,500 yards in a single spool, you get consistent color and heat resistance – two of the most important features when it comes to sewing denim, hair weaving, and beading.
Its smoothness is the best we have seen in a thread so far, and add to that the strong and shiny effect it has on the output, you are bound to go mad at your own creation.
We tried it on a variety of materials, from marine and sail gears to tents, from awning to leather couches, from rugs to coats and shoes. It works just fine.
Highlights
Suited for all types of industrial sewing (both hand- and machine-sewing)
Color Palette: Airforce Blue
Fiber: 100% bonded nylon
Length: 1,500 yards (1,371 meters)
Tips
We recommend using this only on an industrial sewing machine or doing hand-stitching
Needles #18, 22, and 23 are suitable for this
Check out the DIY section of Mandala Crafts for ideas
4 – Techsew Premium Bonded Nylon Thread For Upholstery
Techsew is already known worldwide for its range of industrial sewing machines. If you own a Techsew machine, then it's recommended you go with a Techsew thread.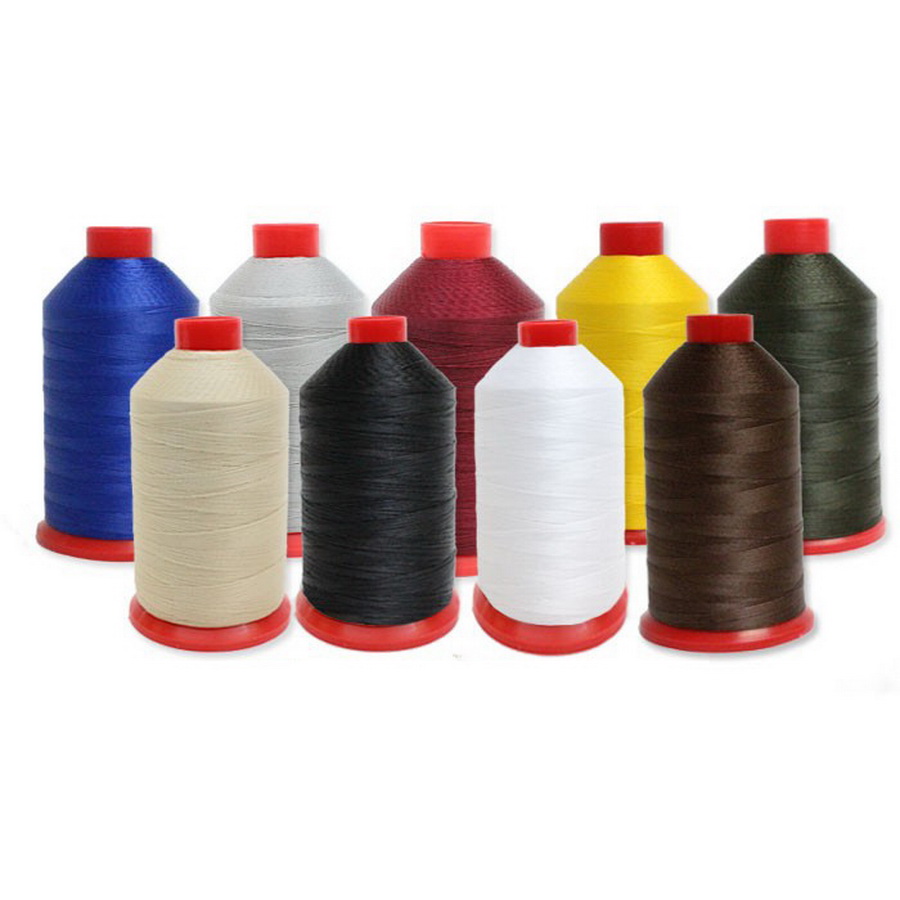 Thread Review
Techsew thread guarantees anti-fray and chemical resistance, which is all you need over the default features (anti-rot, -abrasion, -mildew) found in any upholstery thread. It's super strong and will blend in with any material you tackle it with.
Whether it is a leather sheet or a heavy-duty luggage bag, this one will take care of it. Suitable for both repairs and joints.
Highlights
Suited for leather products, footwear, upholstery, luggage, handbags, bookbinding, technical textiles
Color Palette: 30 shades
Fiber: 100% bonded nylon
Length: 3,000 yards (2,743 meters)
Tip
5 – Coats Outdoor Living Upholstery Thread
Another great outdoor thread from Coats & Clark.

Thread Review
This is 200 yards of pure bliss, suitable for use in both machines and handwork. It blends easily on different upholstery materials, most notably shade cloths and braided rugs.
It is resistant to UVR, abrasion, weather changes, saltwater, and chemicals. This gives you a lifelong solution for all your projects.
A simple thread for everyday stitching and sewing of outdoor materials like canvas, leather, awning, etc. Coats threads last longer than most other brands and this one here is no exception.
Highlights
Suitable for all types of outdoor upholstery projects and repair work
Color Palette: Buff (a type of tan)
Fiber: 100% nylon
Length: 200 yards (182 meters)
Tip
For added strength in longterm projects, latex paint coating is suggested. Applicable to DIYers and home users
Needle and Thread Size for Upholstery Sewing
For most upholstery sewing projects, a #18 needle is recommended. #16 and #20 needles are also good alternatives.
When in doubt about needle size, use one whose eye is 40% larger than the thickness (diameter) of the thread.
Useful Thread Tips

For best results, increase the stitch length
If you want to hide your stitches, go for lighter threads
Thread size is always denoted in numbers without a unit. If a number along with a unit is inscribed anywhere (16 ounces, for example), it refers to the amount of thread on the spool
The thicker thread, the stronger it is
Conclusion
It is now clear that Coats & Clark leads the industry. But if you are looking to explore other brands in your hunt for the absolute best sewing machine thread for upholstery, go with Gütermann, Mandala Crafts, or Techsew. Each one of them is better than the other, giving you quality, strength, stretch quotient, and trust.
Let us know which is your go-to upholstery thread in the comments to start a discussion.