In this era, sturdy industrial sewing machines are available to help sew leather fabrics. Having such a machine will not only help you create distinct leather pieces, but it will also help complete other heavy-duty projects, boost your interest and excitement in sewing.
Top 5 Best Sewing Machines For Leather:
You can find various sewing machines online that claim to sew leather. However, it might be challenging to know the right one for genuine leather.

Therefore, we have compiled some of the best sewing machines for leather, and they are discussed below:
What is The Best Sewing Machine For Leather?
Leather can be a difficult material to work with, especially if you are a beginner. It is thick, resistant, and might be hard to stick the needle into it.
Even so, leather is amongst the most inspiring and fashionable materials used to make unique masterpieces. To achieve this, an industrial strength sewing machine for leather is crucial.
Industrial sewing machines use power to stitch leather as desired. They are generally industrial-strength which allows them to penetrate heavy, thick fabric, and run for many hours without overheating.
They do not affect your stitching pattern, thus, make sewing fun and fast. Proper maintenance of these sewing machines can also give you service for decades. Having the right sewing machine that sews leather help beginners become professionals in this exciting field.
Various kinds of sewing machines are accessible on the market. However, the reviews about "leather sewing machine" can be misleading since most reviews are about "domestic" sewing machines, not the true industrial sewing machine.
The fact is, the presser foot and needle play a vital role while sewing leather. However, domestic sewing machines might not have a rigid and strong needle to pierce the leather. Since their designs can only hold thin fabrics, the foot may not clamp on the leather. Also, the stitches may be too small, and for this reason, can snap the thread.
Keeping that in mind, you may be wondering, what is the best sewing machine for leather?
Do not worry! This post discusses top-rated leather sewing machines for beginners.
We are going to walk you through the review of various industrial walking foot sewing machines that are not only powerful to sew through leather like butter but also budget-friendly for hobby leather workers and beginners to industrial sewing machines.
After going through this review, you will be able to settle on the right leather sewing machine to match your needs.
Best Leather Sewing Machine for Beginners Reviews
1 – JUKI DNU-1541S Industrial Walking Foot Sewing Machine For Leather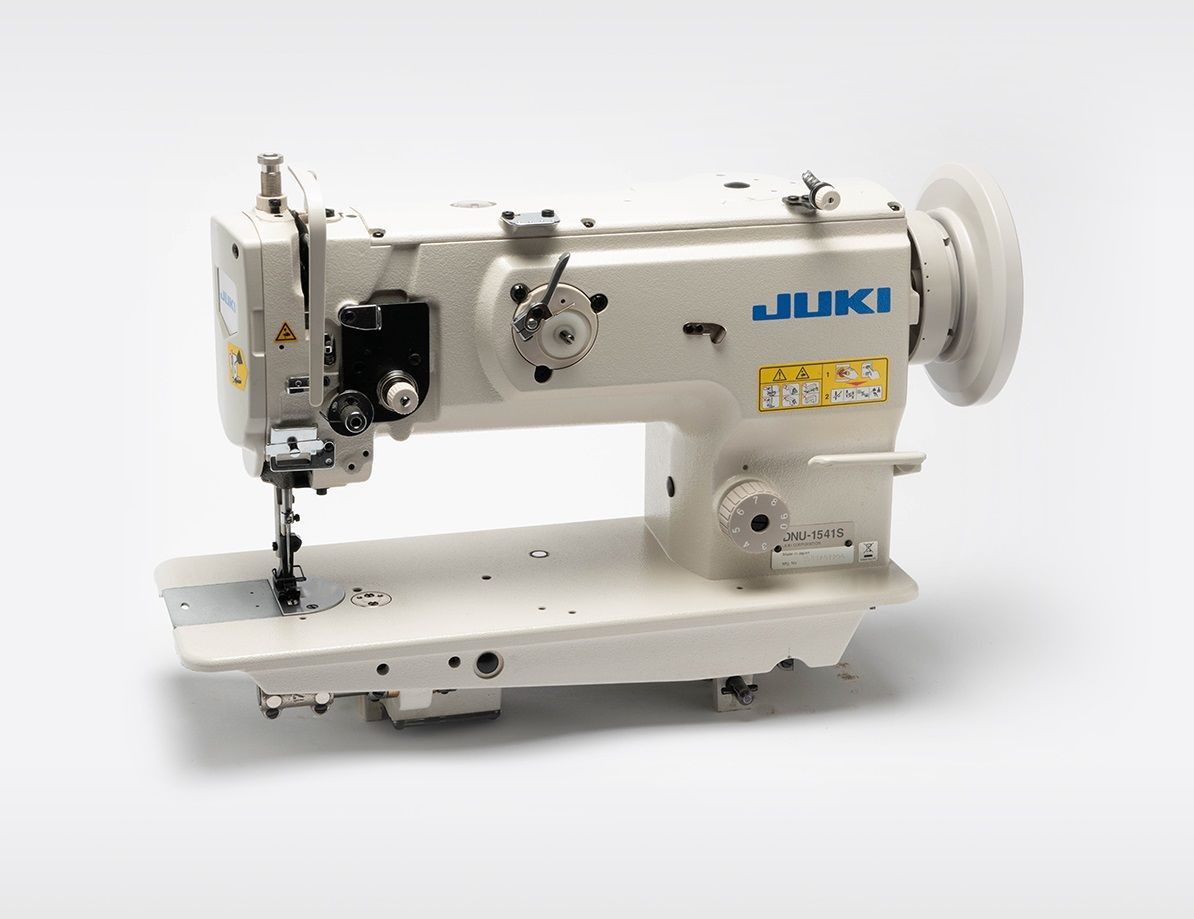 JUKI DNU-1541S is a single-needle, walking foot, straight stitch industrial sewing machine. Its safety clutch mechanism is a great addition as it will automatically engage when you experience a sewing issue like thread in the hook. Thus, it prevents damage to your machine.
Juki, the manufacturer of this industrial leather sewing machine is known to produce quality machines. With its walking foot technology, a higher needle stroke, and rectangular feed, you can sew heavy fabrics like leather with ease.
The ratio of alternating movements of its presser foot and walking foot remain constant even when you use materials with varying thickness. Because of this great feature and its rectangular feed (a method that prevents the needle from wearing out), this machine can help you sew manifold parts of fabric.
With JUKI DNU-1541S Industrial Walking Foot Sewing Machine, you can sew various products including leather goods, wearing apparel, canvas shoes, umbrellas, furniture upholstery, camping equipment, slippers, awnings, and handbags.
The package includes the stand, table, machine head, sewing light, drawer, motor, and other essential gears installed, ready to sew. Thus, you can purchase this sewing machine as a complete unit. In other words, the machine comes already installed for you to use immediately without worry.
2 – Techsew 2750 PRO Cylinder Walking Foot Industrial Sewing Machine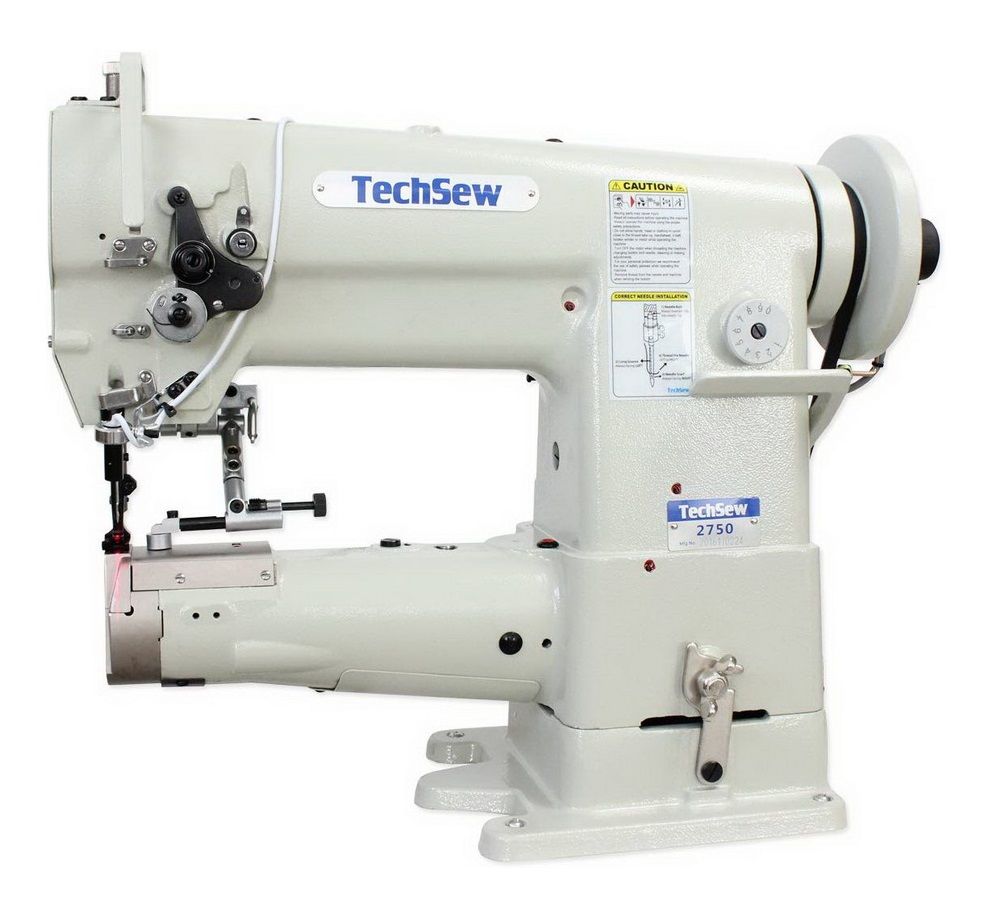 The Techsew 2750 PRO Cylinder Sewing Machine is an industrial machine that can sew a wide range of products within a short period from saddlebags, to boat covers, automobile covers, belts, wallets, chaps, leather bags, vests, and jackets, among others.
Are you planning to go into industrial manufacturing? This cylinder arm leather sewing machine is a great option. With it, you can sew bulky and thick fabrics like leather, denim, canvas, and nylon webbing, among others.
Thus, it allows you to serve a wide range of customers. Expanding customer base is amongst many ways to increase business revenue, and for this reason, your sewing business will thrive.
One of the many problems that you can experience when sewing is needle position. Luckily, Techsew 2750 PRO comes with an automatic needle position motor to save your effort and time when sewing. This helps you sew more products within the required time and meet customer orders or requests. Isn't this amazing?
Experience the amazing roller guide swinging down which is exclusive to this machine alone. It allows easier fabric turning whenever you are using the guide. Moreover, you can still make perfect straight stitches and avoid misalignment by using the laser guide.
Besides its ready to use state, Techsew 2750 PRO Cylinder Industrial Leather Sewing Machine comes with an adjustable speed servo motor, which provides complete control irrespective of your stitching speed.
3 – Consew 206RB-5 Walking Foot Leather Sewing Machine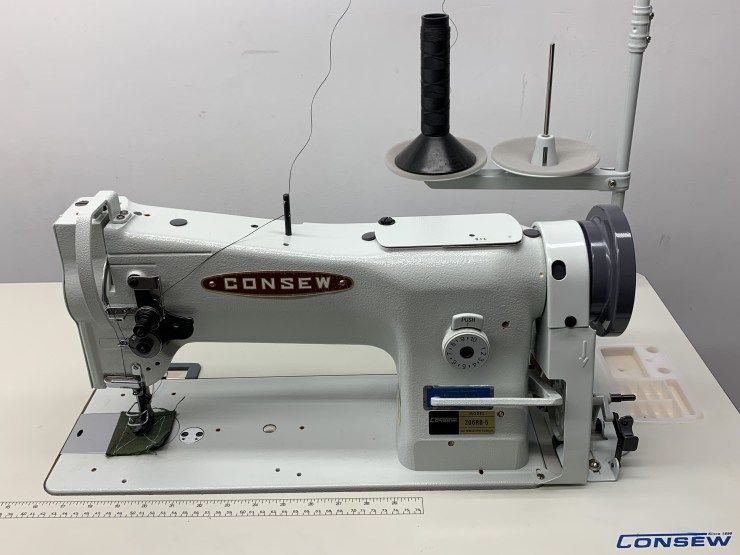 If thinking of convenience in both value and quality sewing work delivered, then the Consew 206RB-5 Leather and Upholstery Sewing Machine is your best option. The machine sews both light and heavy materials, including leather, synthetics, upholstery, vinyl and canvas.
Using the machine, you can produce a variety of products. They include outdoor clothing, sports equipment, tops, bags, handbags, auto, boat and furniture upholstery, sails, tents and canvas shoes.
Regardless of the thickness of the fabric, you can successfully stitch products. You can always make the needed adjustments to the machine's needle plate or foot to accomplish any special sewing needs you have. Besides, it has motor power which increases the machine's sewing speed to help you work faster.
Its arm lubrication feature ensures seamless working by reducing vibrations and does not affect the stitch length when using this great leather sewing machine.
What's more? It is an affordable package that comes with a fully assembled table and a clutch motor.
All the above great features make Consew 206RB-5 one of the best walking foot sewing machines for leather.
4 – Techsew 1660 Walking Foot Leather Industrial Sewing Machine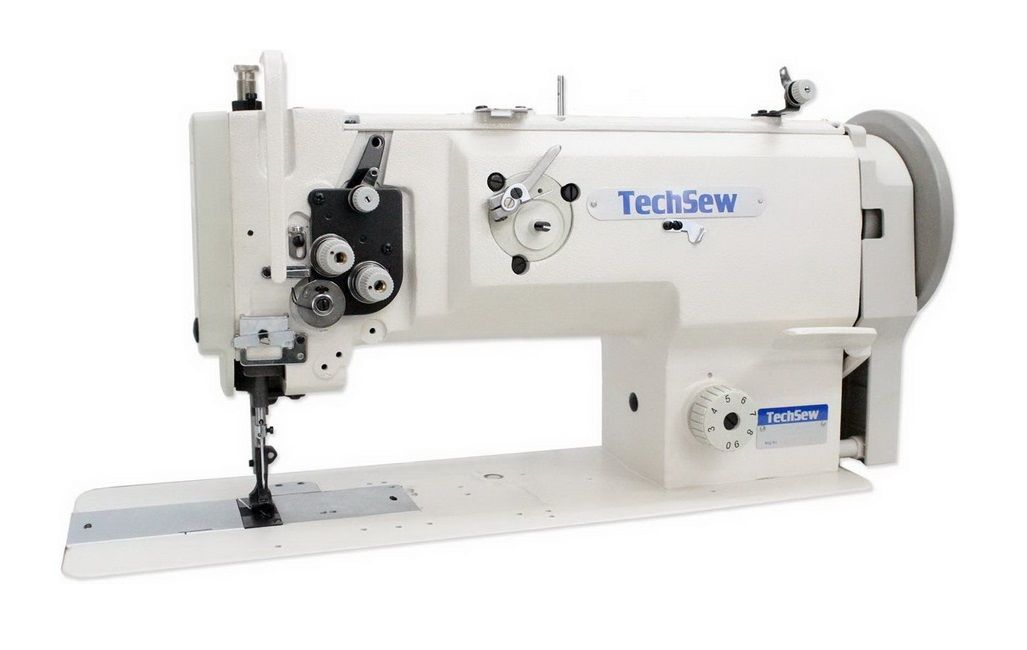 Techsew 1660 Walking Foot Leather Industrial Sewing Machine is one of its kind in this category. It can sew a thickness of 3/8 inches of different fabrics and other materials.
Although it is meant to sew medium and light fabric, this Techsew leather sewing machine is powerful enough to create perfect products just like any heavy-duty sewing machine for leather can produce.
The machine's safety clutch system helps guard its inner components. As well, its easy stitch length adjustment prevents you from messing with your stitching for professional and consistent looking.
The Techsew 1660 sewing machine can be functional for many years since it is made of the most resilient materials. Prior to shipping, the Techsew leather sewing machine is inspected by technicians. This ensures that you receive the machine with all its additions and also minimizes the likelihood of a faulty machine.
Installing the machine can be a challenge for you as an individual. Therefore, the Techsew manufacturer has made it their priority to deliver it already assembled. They ensure the machine undergoes inspection, any essential adjustments and the moving parts undergo oiling for smooth functionality.
5 – Reliable 4000SW Walking Foot Leather Sewing Machine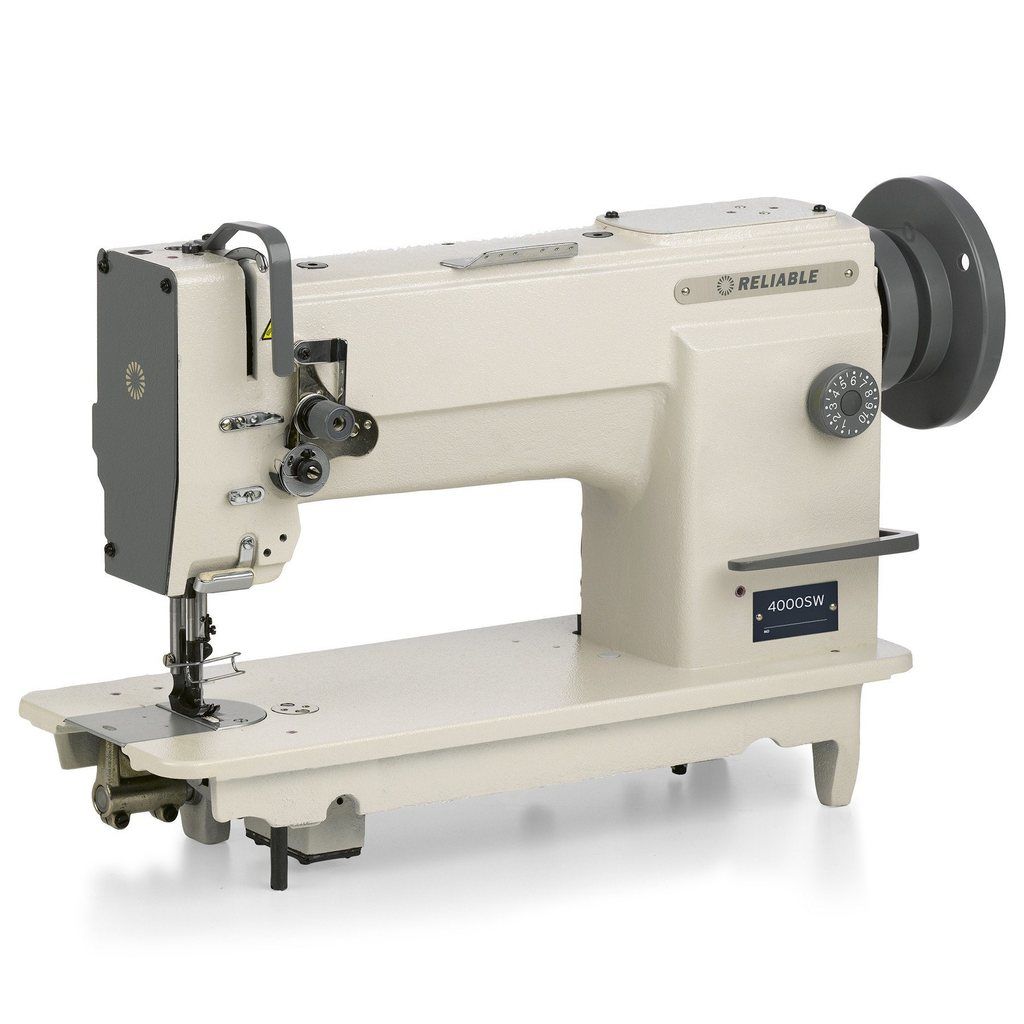 Reliable 4000SW Sewing Machine is a pocket-friendly machine that will deliver straight seams on medium to heavy weight fabrics including leather, upholstery, canvas and synthetic materials. The machine has a powerful feeding system, can do long stitch lengths and the presser foot is quite high. All these work to simplify the work at hand without causing you any kind of fatigue.
The sewing machine utilizes a reverse lever mechanism that simplifies the sewing process for any new user. With simple sewing knowledge, you can make the perfect back tack, and adjust the length of the stitch with a dial regulator. Therefore, it is easier to create the perfect seam leaving your fabric intact and creating an amazing final product.
With 100% plywood tabletop and heavy-duty legs, Reliable 4000SW Walking Foot Sewing Machine does not shake while sewing. Such stability helps you perfect your leather sewing projects.
As if that is not enough, its CSA/UL certified electrical parts, step-by-step stitching, and the capability to plug it in a grounded light directly allow you to sew in a tranquil environment.
It is an inexpensive leather sewing machine. Thus, beginners do not need to invest a lot of money to buy one for their leather, canvas, and synthetic works.
6 – Reliable BARRACUDA 200ZW Portable Leather Sewing Machine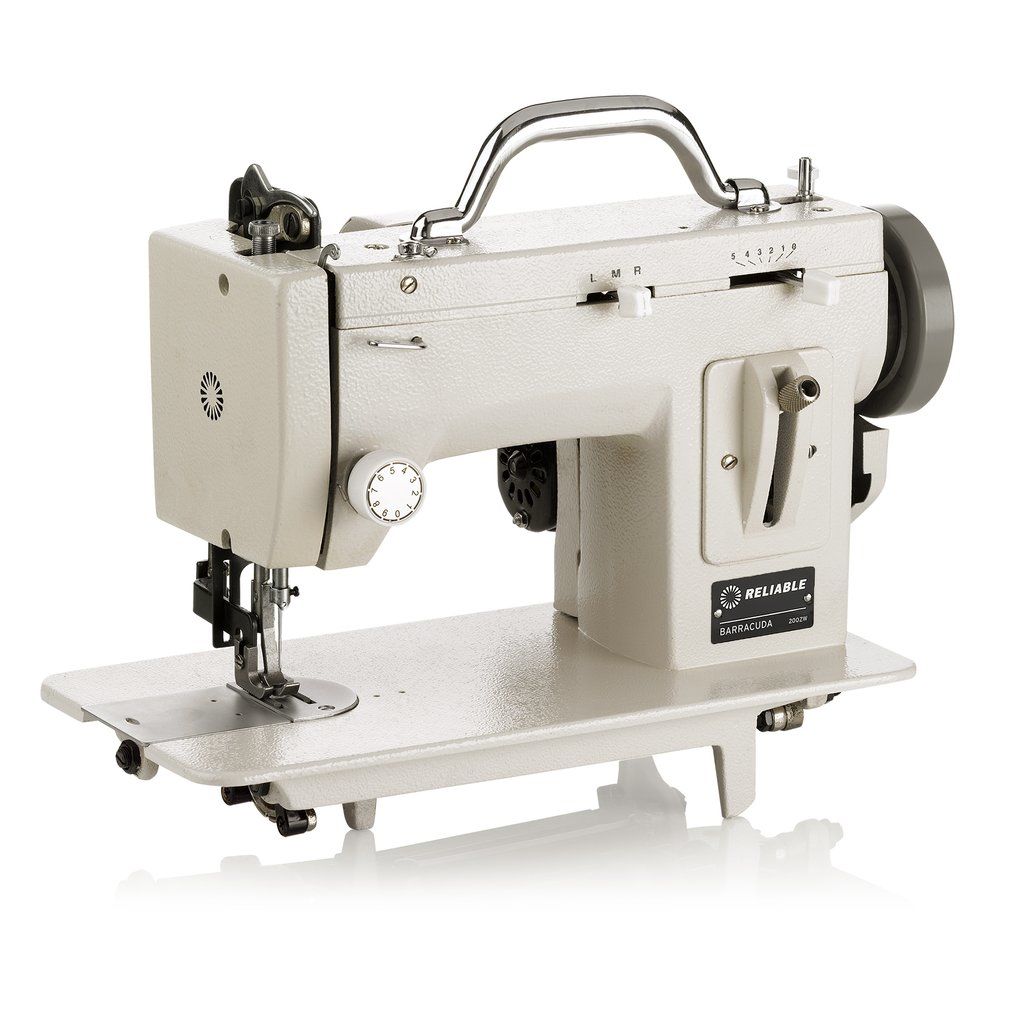 Reliable BARRACUDA 200ZW is one of the special walking foot sewing machines due to its portability feature. You can move it around when sewing and complete either a straight or a zigzag stitch depending on the product you are making.
It is a portable leather sewing machine that is designed for hobbyists, small businesses, and boat owners, who sew heavy duty and medium fabrics. The carrying handle is sturdy and has a firm hold on the machine for easier movement.
Being compact in size, it is a strong, basic sewing machine for vinyl and leather that handles the same job as those of industrial machines.
The reverse lever mechanism of this sewing machine reinforces the seams by pushing down the lever. The bottom and top feeding produce a perfect, consistent stitch, even when working on hard, sticky materials.
Experienced people will tell you that stitches might not look identical at times. Why? Incorrect tension combination both on the upper needle and the bobbin thread is the primary reason.
Luckily, the Barracuda sewing machine ensures the correct tension combination for identical stitching on both sides of your fabric.
Beginners will appreciate the fact that this leather upholstery sewing machine can sew a maximum of 8 layers of Sunbrella Plus layers and more than 10 layers of heavy canvas. The built-in speed reducer ensures that the machine gets through the hardest materials.
The full accessory kit has extra needles, a screwdriver, an instruction book, a thread stand, foot controllers, and bobbins. Thus, you will not buy additions to start sewing.
Every Reliable BARRACUDA 200ZW machine is put through a vigorous 10-point control system to ensure it exceeds the company's exceptional quality assurance standards. Therefore, be sure of receiving a quality product.
7 – REX RX-607 Inexpensive Leather Sewing Machine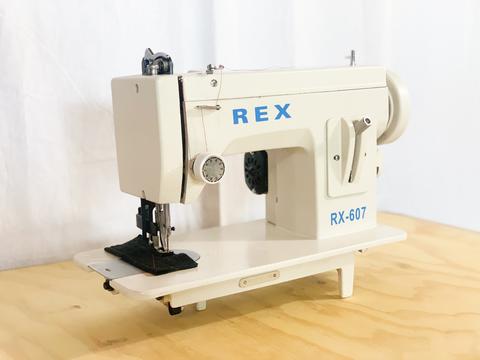 This worthwhile review would be incomplete without REX RX-607 Portable Walking-Foot Sewing Machine. It is a cheap portable walking foot sewing machine that is capable of sewing multiple layers of leather or sail material. Also, it works perfectly with sewing fur and cotton webbing.
The REX Sewing Machine not only preserves your space but also saves you money if all you want is a low-cost alternative to industrial walking-foot sewing machines.
Since the RX-607 is made of full cast iron metal, it will give you service for many years. It is lightweight and can be easily carried onto sailboats or RV's.
The only catch with the sewing machine is that the fast speed of the clutch motor can be overwhelming for inexperienced sewers and can cause damage to the materials if not properly used.
The sewing machine manufacturer simplifies the assembly work for you by installing it prior to arrival. However, before you start on the machine, ensure you check it and adjust the bobbin and upper thread tension for seamless stitches.
Leather Sewing Machine Buyer's Guide
Leather is a tough, slippery fabric that can be difficult to sew. However, with the right type of sewing machine, you'll be able to make leather products with ease. If you are looking for such sewing machine, then this is the right place.
Which Type of Sewing Machine is Best For Sewing Leather?
A true walking foot sewing machine is the right machine that will properly sew leather, rather than a leather-capable household sewing machine.
The reviews about leather-capable heavy-duty sewing machines show that they are made of metal and are powerful with 1.2 or 1.5-amp motors. Some also have gear reduction and ribbed drive belts to prevent slippage while sewing thick fabric.
Although they can sew leather, these domestic sewing machines have several limitations when it comes to layers to sew, # of nylon thread to use, sticky top leather, and consistent feeding of the garment.
To differentiate such sewing machines from an actual walking foot machine, look at any of the following features:
Triple/compound feed
Double feed
Jump feed
Presser foot feed
Snap feed
Triple/compound feed
Triple/compound feed is a configuration where the inside presser foot, needle, and feed dog all move together, in harmony.
It is the most suitable sewing machine in the walking foot classification for vinyl and leather sewing. It prevents slippage of layers of fabrics and it feeds properly to give you the desired stitch length.
Double feed
The double feed system is the second in the line. It is a system where the outer presser foot and feed dog move together in harmony. A sewing machine with this configuration is suitable for use in marine vinyl industry.
Jump feed
In jump feed sewing machine, the needle moves through the fabric as the slotted foot lifts. If works perfectly for harness manufacturers or makers.
Presser foot feed
This type of sewing machine is most appropriate for patching shoes, zippers, handles on bags, boots, and holes in garments. Its teeth found under the foot are moderately aggressive and can make deep marks in bridle and veg-tan leather.
Snap feed
This type of sewing machine is suitable for sewing waxy or slick leather surfaces. It is perfect for feeding well roughed up or soft leather and buffing wheels. However, it might not feed smooth grain leather and therefore be unsuitable for many leather-based projects.
Besides the snap foot system, all of the four walking systems offer a properly feeding system, with sufficient top pressure to permit you to control work while it enters the needle area.
The snap foot system offers a properly feeding system, with sufficient top pressure. You can control your work progress while it enters the needle area.
To wrap up, sewing machines with any of the above features will sew leather. Therefore, your area of interest will help you choose one among them. Also, you can check here for more information about true walking foot sewing machines for leather.
Can I Sew Leather on a Home Sewing Machine?
Wondering if it is possible to sew leather at home without an industrial sewing machine? Yes, a quality home sewing machine can handle leather, though you may need to make some modifications.
Changing the sewing machine foot is amongst such modifications. Sticky fabrics like leather cannot feed consistently unless you significantly reduce the pressure on the machine's presser foot. The uneven feeding of the fabric might lead to skipped stitches or varying stitch length, which can ruin your masterpiece.

To resolve the feeding issues of feeding sticky fabrics, sewing machine manufacturers produce additional presser feet. Thus, you can buy one to help your home sewing machine work on leather fabrics. Alternatively, you can find replacement feet with roller feet or Teflon feet that help feed sticky materials.
Some suppliers offer actual replacement presser foot sets and attachments, which as a group replace the throat cover plate, feed dog, and the foot. Also, 'walking foot' attachment or 'even feed' foot is available as a replacement.
Although this replacement can help evenly feed your fabric, it is not a true walking foot like the one found in true walking foot machines meant for sewing leather.
Nonetheless, these consistent feeding attachments typically minimize the clearance under the feet. What does this mean? You'll not sew thick materials as when using a standard foot. Thus, they compromise the feeding system.
Using the right thread, changing the needle, avoiding pinning, and changing the stitch length are other things you can do to sew leather on your home machine.
Even with such modifications, home sewing machines might ruin your pricey leather. For this reason, an actual walking foot sewing machine is the most appropriate machine to properly sew leather.
Types of Leather Sewing Machines
Leather sewing machines tend to be unique in design and features. However, they still have the ability to sew other types of fabrics and materials.
In this section, we are going to discuss the following types of leather sewing machines:
1. Flatbed Leather Sewing Machine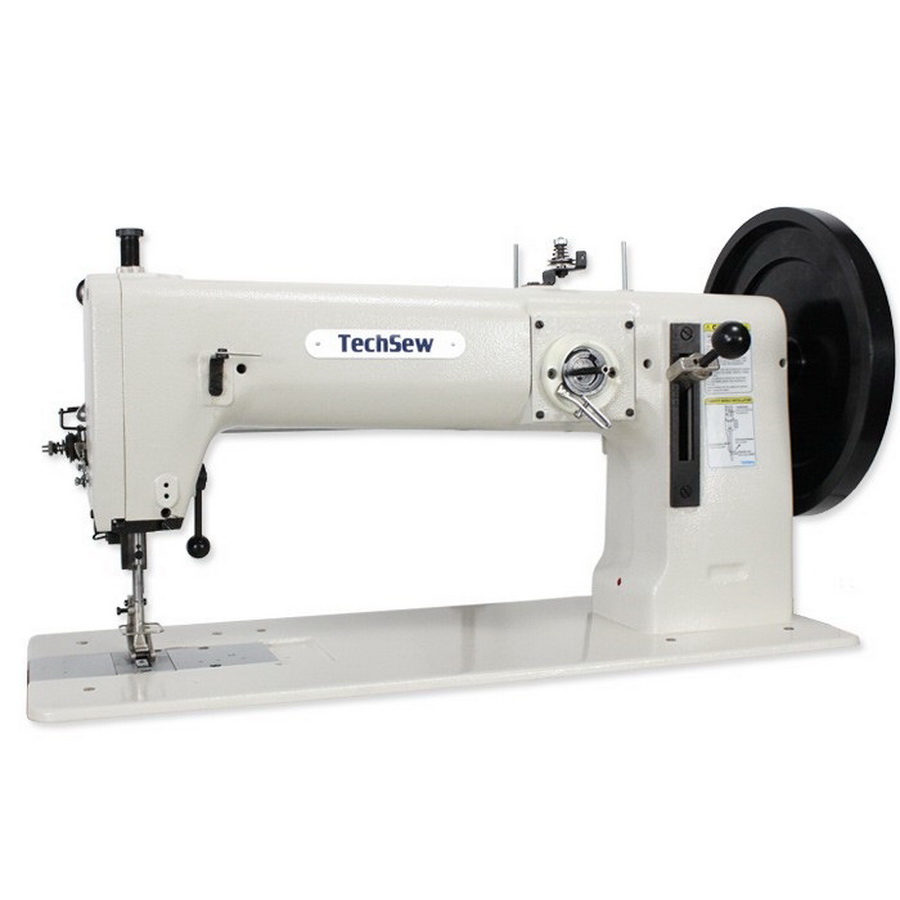 It is one of the most popular leather sewing machines on the market. The Flatbed machine resembles the traditional sewing machines. The needle and arm extend to its flat base. In simple terms, it is a machine built into the table that professional individuals use to sew leather.
The machine is suitable for an extensive array of leather goods. These include clothing, and larger bags.
However, it requires more manipulations as per the type and use of the bag. Constructions of some parts of the bag may be difficult to get into your flatbed machine. Therefore, you need to consider the type of bag you need to create before purchasing a flatbed sewing machine.
2. Cylinder Leather Sewing Machine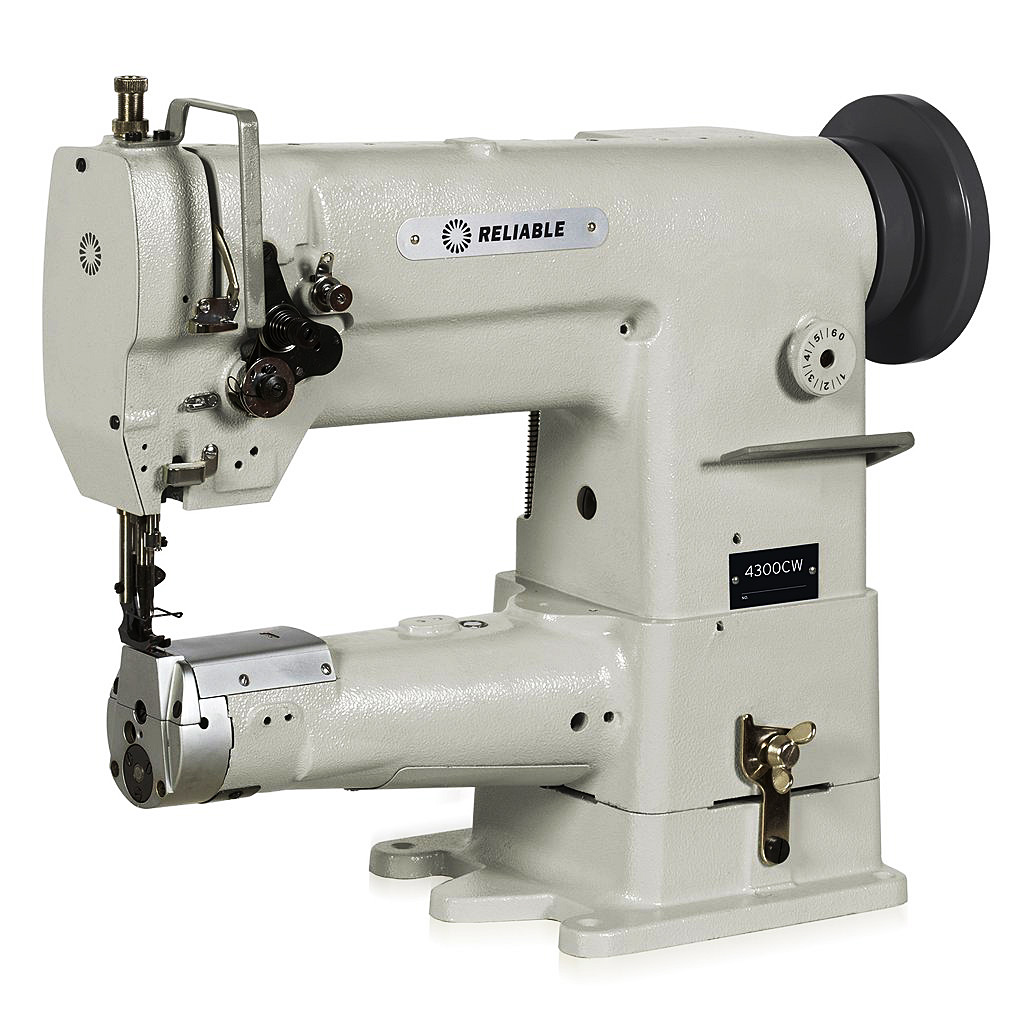 Unlike flatbed machines, cylinder arm leather sewing machine has a narrow, horizontal column. It allows your material to pass both under and around the column.
Because its diameter varies, you need to check this when buying a cylinder leather sewing machine to choose the right diameter to serve your sewing needs.
It utilizes a heavier thread to sew. The cylinder machine has more options on the feet, mainly if it is still new. Many manufacturers add a flat plate attachment that you can fix or detach if you need one.
It is an industrial sewing machine that requires you to position the needle right the arm's end. Many individuals use cylinder sewing machines to handle cylindrical materials like cuffs.
The sufficient space under the horizontal arm makes it easy to create larger handbags as you can manipulate the bag around as you sew. Also, it is possible to sew bulky things like shoes and saddles using this cylinder arm leather sewing machine.
3. Post Bed Sewing Machine

A suitable machine for making wallets, shoes, and bags, among other leather products. From working with leather boots to attaching emblems, post-bed sewing machine can handle even the most challenging items without a problem.
It will get into a very tight corner that you cannot get with a flatbed or cylinder machine to help you sew a perfect bag. As a result, it can decorate any bag or other leather products quite easily.
The name post bed comes from the single arm standing vertical on the sewing machine that stands out like a fence pole. The machine features loopers and feed dogs in different column heights.
The sewing machine is perfect for shoemaking. The small surface allows you to work on a shoe upper surface. You can fit the leather material with the lining without ruining the shape. Also, the machine is popular for decorative stitching including seat covers, seat cushions, sofa covers, luggage, and boot tops.
Leather Sewing Machine Motor Options
Most buyers, especially beginners might not be able to sew the kind of leather they buy using the household sewing machine. It is crucial to note that some home sewing machines available online can sew leather as it claims.
But the problem comes with the thickness of the fabric since some of them sew only thin leather. This becomes a significant hindrance when you need to sew thick belts, holsters, and chaps, among others.
To successfully sew leather, you need to consider the machine's motor power. The turning power of the motor is responsible for the first stitch into the fabric, while the horsepower is responsible for how hard or easy the stitch will be when sewing.
Typically, bigger motors produce higher horsepower ratings and better efficiency levels when sewing. The motor can be an annoying factor sometimes when sewing from home. When it fails, you may need to handwheel the machine to continue sewing.
In the sewing industry, servo and clutch motors are the two types of motors commonly used. Irrespective of the type, a motor is mounted beneath the work table, where your machine rests.
The motors are unique and different in features but offer similar power for the stitching process. For instance, the clutch motor runs continuously when the sewing machine is on or in use. Therefore, you will be able to hear the humming noise of a clutch motor.
On the contrary, the servo motor will not run until you engage the pedal giving you control over the stitching process.
Let's have a look at the two motors
Servo Motor

Servo motor has been developed to make sewing more controllable. It helps decrease the cost of running a sewing machine on 110-volt circuits.
The early developments of this type of motor made a lot of noise when they start and were susceptible to failure. Fortunately, this problem has been eliminated with the new controller technologies.
Clutch Motor

Clutch motor has been used in the sewing industry for many decades. It is a strong and reliable motor that allows the use of sewing machine for a long time. it always runs at full speed. However, it develops its torque when you engage it in the machine.
A floor pedal helps you control the clutch motor when sewing. You can use the adjustable arm extending down from the bottom of the motor and hold onto it using the foot square with a rod. Moving your toe towards the floor on the pedal will start to engage the clutch, thus, the machine will turn.
It will take some time for beginners to know how to control clutch motors therefore, exercise caution when using clutch motors.
How to Choose a Leather Sewing Machine For Beginners?
Beginners might find it challenging to choose the right industrial leather sewing machine. However, with the right guide to sewing machines for leather, you can select the perfect machine within your budget.
Here are some considerations for you to evaluate when purchasing a leather sewing machine.
Speed control
Get a sewing machine with a speed control feature. Controlling speed as a beginner is crucial as it not only keeps you safe but also ensures you do not ruin your fabric in the excitement. Besides, it limits the number of mistakes you make while stitching.
Warranty
Warranty is an important document with any machine. The warranty ensures the product has secure features and is of quality nature. Also, in case it is faulty, you can always return it to the manufacturer with a valid sewing machine warranty.
Power source
Determine the source of power the machine will be using. If it's for intensive use, then you need a strong power source that will not break or surge while working.
Noise level
If working at home, you need sewing machines whose noise level is quite low to avoid disturbances. Therefore, select a sewing machine that is silent or produces little noise.
Budget
Your budget plays a huge role in regard to what you want to purchase. If the sewing machine does not fall to your budget range, find another offering similar features but has a lower price.
Remember, do not go down on your features. You might go for different brands that offer products at different prices but with similar features.
Machine Construction
Look for durability when purchasing a leather sewing machine. Ensure they are not high maintenance and spare parts are easier to access. It will ensure that your machine can undergo repair and receive spare parts before making the final purchase in case of failure.
Conclusion
The detailed discussion above helps expand your knowledge on what makes a good quality leather sewing machine.
For fast identifications of the best leather sewing machine for beginners, consider personal needs and factors, including budget, where you will be working from, and thickness of the fabric, among others. Doing so will ensure you get the right sewing machine that gives you the best outcomes of your sewing efforts.
Also, the type of product you want to sew determines the kind of sewing machine to choose. For instance, caps, shoes and handbags might need a post bed leather sewing machine since it can get into the most difficult areas of the product.
Although leather-capable domestic sewing machines may handle leather fabrics, they might not give you perfect pieces, and at worse, ruin your expensive leather. Thus, look for a true walking foot machine for your leatherwork. Such a sewing machine should have triple/compound feed, double feed, jump feed, or presser foot feed feature.
The thickness of the leather and your preference will help you decide between a servo and clutch motor sewing machine. It is also good news that there are budget-friendly sewing machines on the market. Thus, you can find inexpensive leather sewing machines for your needs.
Make the right choice and seek the best sewing machine for leather from the list that we have discussed above.