Upgrading to an advanced sewing machine can be challenging, as challenging as untangling a spool of thread from a bobbin. It is all the more testing if you have owned your old machine for years.
The prospect of moving to a new one may cause a lot of emotional pain and anxiety if you know we really mean. But, hey, the times are changing, and we need the update our tools, don't we?
Top 5 Picks for Best Sewing Machines: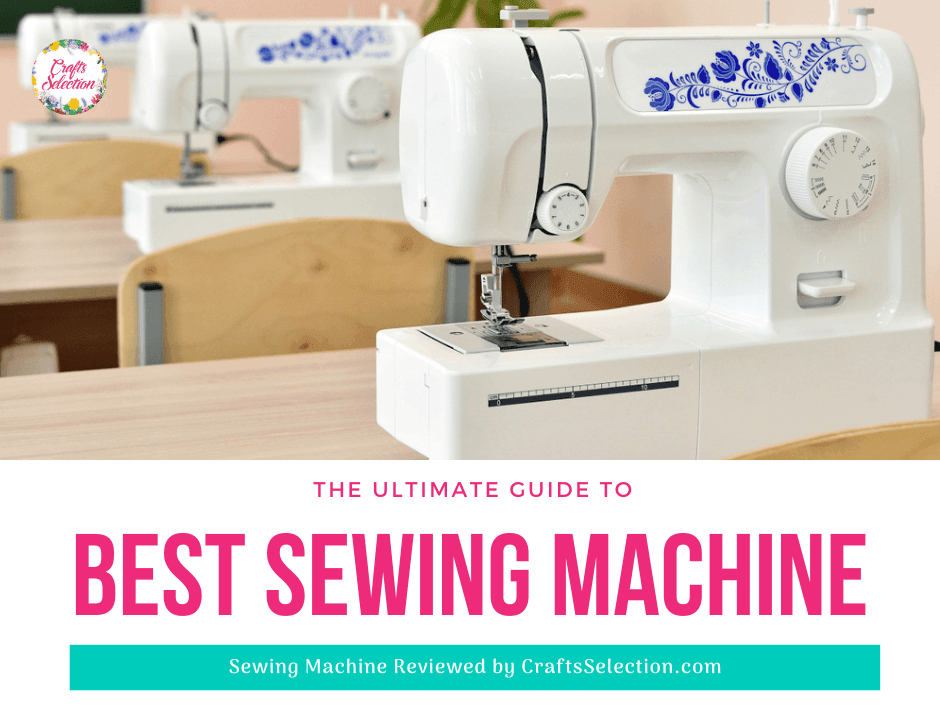 And right here is where you will find the best sewing machines that the world has to offer. For you to say goodbye to your old machine and upgrade with 21st-century technology.
As people who have observed the sewing and quilting industry change rapidly over the past decade, we assure you that these 5 models are the top-rated, followed by 11 alternatives that are best for specific user types (heavy fabrics? No problem.). Crowded by top brands like Singer, Brother, Janome, and Juki.
You could be a professional quilter with a small team working out of a boutique store in Los Angeles or an independent fashion designer in Brooklyn who needs the speed and convenience that is guaranteed with modern sewing machines.
Manufacturers are pushing out features more frequently than ever, features that help you focus less on the actual sewing and more on the designing.
Although the models reviewed here are all advanced sewing machines, we have given special consideration to the price tag. Because upgrading does not always have to be a costly affair.
Now, let's jump right into it: a list of the top-selling models as well as detailed sewing machine reviews. Intended for prolific quilters, fashion designers, professional sewers, and clothing line experts.
Best Sewing Machine Reviews of 2023
Here are detailed reviews of the top sewing machines by our in-house experts.
#1 – SINGER Quantum Stylist 9960 – Best Computerized Sewing Machine
Best For
Advanced and intermediate users who want all the best features.
Feature Highlights
On the top of our list is this Singer 9960 model, all equipped with some of the most charming features we have seen in any modern sewing machine.
The automatic needle threader is, no doubt, a lifesaver for those who have trouble finding the needle eye or inserting the thread into it or untangling/winding the bobbin.
This feature just takes out the difficulty from the process so that you can directly start to unleash your magic.
But that is basic today, so what really got our eye was the autopilot, a godsend for people who work on various projects at a single time and want their machine to get a bit smart.
It's about time that feature was conceptualized and the heavy-duty Singer 9960 is your robot who will sew in preset when you are busy with that new customer who has just dropped into the store.
You can select among the built-in 600 stitches, 5 alphanumeric fonts, and 13 buttonhole designs depending on what you are doing: quilting, home décor, kids' dresses, and fashion sewing.
The back-lit LCD and control panel is easy enough to handle making it feel like you are operating a keypad-based smartphone.
The automatic reverse, spacious extension table, and a bevy of attachments including feet for all major uses come complementary with this best-rated sewing machine.
One major drawback, however, is that the walking foot cannot be with the quilting bar. This is a serious defect for professional quilters. If you are one, we recommend going with our second option, the Juki HZL-LB5100.
Note – This is the advanced version of Curvy 8770, Legacy C440, and Featherweight C240.
#2 – Juki HZL-LB5100 – Powerful Computerized Sewing Machine
Best For
Advanced and intermediate users who need a powerful and portable/travel-friendly machine.

Feature Highlights
When you think of advanced sewing machines, you think of sturdy, heavy-weight models that need to be assigned a place in your house or store never to be moved again.
Not the Juki HZL-LB5100 though. It's sturdy and powerful, yes, but it is also one of the lightest and travel-friendly sewing machines we have reviewed, along with Brother XM1010 (see below).
Known for its "high power in a quiet machine", this Juki industrial sewing machine gets its energy from pioneering Japanese technology that has been around since 1938. Weighing just about 15 pounds, this Juki powerhouse works for you day and night without giving in.
The best part?
There's no hum or vibrations from the motor or any other unwanted noise. It just works in silence based on the settings that you have selected.
It also comes with 100 built-in stitches (this is where the Singer model above excels), automatic needle threader, variable speed override, and one-step buttonhole.
The trait of a high-quality sewing machine lies in how efficient its top features are and our tests have proved that the Juki LB5100 manages everything perfectly.
#3 – Janome JW8100 – Best Sewing Machine For The Money
Best For
Intermediate users who want the most bang for their buck.

Feature Highlights
If you do a lot of research before buying something off the internet or otherwise, then this model by Janome is going to be your friend.
Packed with most advanced features like in-built needle threading, full speed control, reverse lever, and a user-intuitive start-stop mechanism where the machine starts slow and then takes the pace to avoid skipping, the JW8100 is smart enough to carry out most sewing and quilting jobs, regardless of the material.
However, we have observed it skips stitches if the fabric is thicker than something you would use for a quilt. Working on foam and fiber may be difficult, therefore.
Nonetheless, it is a great machine for intermediate users and comes with an economical price tag that makes it affordable for people who already own a functioning sewing machine.
This one can be opted if you want full control over the speed and also want a reliable machine that you can always depend on no matter what.
Janome has always showcased its products as reliable and long-running, and with 25 years of warranty, this one just tops the bill: the best sewing machine for the money you spend on it.
#4 – SINGER 7258 – The Most Easy-to-Use Sewing Machine
Best For
Intermediate and beginner users who want a user-friendly machine that is easy to handle and maintain.

Feature Highlights
Need to gift a simple machine to your daughter? Or want to bulk order a machine that is easy to handle for your sewing class students? Or want to buy a dozen simple machines for your shop tailors?
Look no further and put your hands on the Singer 7258, probably the best beginner's computerized sewing machine it puts the others on the list to shame.
Of course, there are obvious shortcomings like a lack of LCD (it instead has an 8-bit display) and a sturdy motor, but it is definitely going to be an upgrade for those who have been using 10- or 20-year-old machines.
The features that we are talking about are the automatic needle threader, the thread cutter, 100 built-in stitches (76 of which are decorative), a see-through bobbin case so that you can keep an eye on the thread level, and LED light for those late-night creativity-induced stitching streaks.
It's everything you would want a sewing machine to do and it very well is, we confirm. If our test reports go by, this one will be relevant even in the next decade.
If you are a user who needs a snappy tool for working on your clothes, then this will be a great choice. It's economical, comes with basic bells and whistles, and has great power to stitch through most fabrics. Ideal for making clothes look better.
Embellishments on that frock you got from Marks & Spencer in 2014? Hell yeah!
#5 – Brother XR9550PRW – Best Affordable Sewing Machine For Intermediates
Best For
Intermediate and beginner users who want an affordable, budget-friendly machine.

Feature Highlights
They say when you are starting to learn a new skill you should ideally go with the cheapest model. This Brother model here is the best affordable sewing machine in the market that just sits there and does the job that you assign to it. No questions asked.
It is wrong to expect a sturdy built or a noiseless operation from this entry-level model but it still packs a punch as far as regular sewing is concerned.
If this is intended for a young beginner like your daughter, she is going to have a field day with it, as Brother is widely known for its easy-to-use interface and an even easier guide (manual).
It makes sewing easier and systematic. So, make sure you go through the instruction guide and videos in full before putting the machine to work.
It has the usual defaults: automatic needle threader, 8-bit display, simple control panel, hard case with a wide extension table (for those long dresses), and over 100 built-in stitches. This last one will be enough to get any beginner into understanding how a sewing machine works.
Priced just under $200, this is by far the most reliable machine that fits into a starter's budget. Compare it with the Singer model above and select your pick.
If you are looking for something more specific, here are some more alternatives.
What do you do when you want an advanced sewing machine that has been built for home use? Or maybe something that has been made only for mending the stitches of your old clothes? Or for heavy fabrics, something that the above Janome model breaks a sweat to do?
You go through this list of 11 alternative machines that are as good as their best-reviewed counterparts and have a little more mojo. And then get one or two of them home.
Let's check them out one by one.
#6 – Brother XM2701 – Best Sewing Machine For Beginners
Free technical support for the life of the product is something that we dig and the beginner in you will too.

Feature Highlights
If you are a beginner and don't want to splurge on possibly your first machine, let us introduce to you the woman's best friend: the award-winning Brother XM2701.
Arguably the easiest and most simplified mechanical sewing machines in the market right now.
It has the usual bells that you would want: 27 built-in stitches with decorative, blind hem, zigzag, and other designs, 6 different feet for when you want to go beyond the basics, and a brightly-lit LED work area because once you start learning to stitch it turns into a hobby and turns into midnight acts, right?.
That's what they say, don't they?
What we like the best in this Brother entry-level model (that comes at under $100) is how easy it is to use.
If you have a basic idea about machine stitching you won't even need the manual to start; it's that intuitive and works like a charm without giving you any strain.
The jam-resistant bobbin feature is something we love because hey, mistakes happen and there's nothing to be ashamed about. The drop-in bobbin works like a charm.
The XM2701 will make sure "those human errors" do not happen frequently. It just keeps on serving: nice and even stitching for years. And that's how a sewing machine for starters should be.
#7 – Brother CS6000i – Best Sewing Quilting Machine For Home
Built for quilters and those who are starting up in the profession and want to run a small business from the comfort of their home.

Feature Highlights
This is a solid upgrade from the above model in terms of extra features that makes it all the more appealing for quilters.
The XM2701 is not recommended for quilters but this one is because it has a lot more kinks: a wide table and a free arm for those wide fabric and intricate cloth works respectively, 60 built-in stitches, and 7 buttonhole styles all possible with a single step, and slightly higher speed of 850 stitches a minute.
For a few ten dollars more, what you get is also an LCD which makes stitch selection easier (this has buttons compared to the dial in the above model).
The automatic needle threader is a default feature these days and no doubt it makes the CS6000i more than an entry-level model.
As with all models, it comes with 25 years of limited warranty, free technical support, and a very comprehensive user manual.
#8 – Singer 4432 – Best Sewing Machine For Mending
A Singer machine to the rescue for all those alterations and other mending jobs.

Feature Highlights
Why is it so good as a mending machine you ask? Well, for starters, it has a very sturdy built that can handle most types of fabrics.
So, when you try to do alterations – restitch defective areas or increase-decrease sizes – the machine does not run or shake as it will tumble now.
The automatic needle threader and clear view for drop-in bobbin further allow you total control over the fabric that you are mending and the thread feed.
Although we found the threader can sometimes give you extra work as it sometimes fails to wind the bobbin properly.
It also gives the look of an industrial machine that is stable and durable and which will last longer than other basic models on this list. Singer's 25-year limited warranty is just the cherry on the pie.
The built-in reverse lever, 32 built-in stitches, and a stainless-steel sewing plate are other major highlights of this sewing machine made for alterations.
It's fast and sews like a dream, thanks to the Singer technology that has been trusted for decades by American households, sewers like you and me, and factory workers.
#9 – Janome HD3000 – Best Sewing Machine For Heavy Fabrics
Heavy fabrics? No problem.

Feature Highlights
The thing with heavy fabrics is that they take a lot of durability on the part of the needles, the needle clutch, and the body of the sewing machine.
They all have to be strong enough to stitch through fabrics like wool and linen and other quilt materials. This Janome HD3000 is the answer for those cases.
On paper, this model looks like an entry-level sewing machine masquerading as a heavy-duty beast. It is not and here's the proof: we tried out a linen quilt double stitching on this thing and save for a starting trouble it sewed like needles on a slab of butter.
The quick stitching motion that does not give strain to your feet (if you choose the adjustable foot presser, which is recommended for quilting), a reverse stitch lever, and a hard case for protection from dust are other positives: they all just work in tandem like a robotized factory you begin to fall in love just with the view.
As they say, sewing is also an experience to relish, right?
The price tag is on the high side but when you deal with blankets and duvets and quilts and woolen products, a little trade-off is expected. It makes it all look like a walk in the park.
#10 – Brother PQ1500SL – Best Sewing Machine For Quilting
Quilters galore! This is the best sewing machine for quilting large quilts. Everything quilts!

Feature Highlights
The long and wide extension table, the free arm, and the high-speed (1500 stitches per minute!) are what make this a legendary option for quilting.
You don't have to worry about the machine moving either because this one is built like a beast that will stay on the table no matter what type of fabric you throw at it.
Compared to the Janome HD3000, this is extra heavy-duty and is known for its high-speed performance that makes it a favorite among professional quilters who have tons of other work to do while their projects are being worked on without intervention.
The automatic needle threader, and the retractable drop feed dog, and a dozen other handy features will give you complete control over your quilting projects without giving you a hard time.
The thread tension control is especially intuitive and one of the best we have seen so far.
#11 – Brother SE600 – Best Sewing Machine For Embroidery
Are you more into embroidering and embellishments and monogramming? This one's for you.

Feature Highlights
So, you want a sewing machine that also doubles up as an embroidery machine?
The Brother SE600 is the perfect choice both for intermediate users and beginners because it is modestly priced and has about everything you would wish in such a tool.
The 4 by 4-inch embroidery area is sufficient for routine tasks like monogramming, embellishment, frills, and other types of decoration.
The built-in 103 stitches also include embroidery styles that you can use but don't let the pre-set limit your creativity.
If you have your own designs, just feed it (PES files) to the machine through the USB port and preview them on the LCD.
The preview-and-set option is another feather in the cap of this Brother sewing machine that also comes with a hoop, an embroidery arm, and a foot.
Note – Here's a handy guide from Brother on how to transfer embroidery designs (PES files) from your computer to your machine through USB.
#12 – Janome 8200QCP – Best Sewing Machine For Professionals
Now we know that we have already covered the top 5 for advanced professionals above, but here's something that's beyond all of those. A special edition workhorse.
Feature Highlights
It's in the details. And the Janome 8300QCP will help you focus on the details.
A very sharp tool for professionals who live by their machines, this sewing machine for advanced sewers excels in all the departments.
Starting with its 11-inch long arm that can take in all types and lengths of fabrics, followed by 170 built-in stitches that have both decorative and stitch designs along with one-step buttonhole styles for when you want to stitch shirts and coats.
The speed of 1000 stitches per minute isn't that impressive compared to the Brother PQ1500SL but the control that you have on it compensates for it.
Plus, the machine sits like a stone on the table ready to serve you without giving you a strain in the eye (through its threader) or stress on the limbs (its ergonomic built).
Or the mental stress that originates when little things go wrong and which need your attention. With 8200QCP, your attention can go to your business and sales. It is an apt choice for small businesses.
#13 – JUKI MO654DE – Best Serger Sewing Machine
Serger enthusiasts can stop looking and lock this model. Period.

Feature Highlights
Juki sewing machines are powerhouses and so are their sergers. As the MO654DE will prove.
With an option for serging with 2, 3, or 4 threads, you can take care of most projects that require you to decorate with multiple colors.
Although it looks complex for a beginner, the operational manual is easy enough to get you through the basics along with the instructional videos available on Juki's website or its YouTube channel.
The maximum speed of 1500 stitches per minute is impressive, considering there are a lot of things that need to be stabilized if a serger of this potency is to work.
The thread cutter at the back of the presser foot is a fine feature because you don't occasionally get that in most sergers. And it is an important feature.
The work area light is not bright enough but we won't complain because this is a steal considering the price and the features that matter that you get when you buy this.
All in all, the best serger sewing machine with an impressive performance.
#14 – Brother XM1010 – Best Portable Sewing Machine For Travelling
Sometimes you need a sewing machine that you can carry out for projects outside the city or maybe for a demonstration. Who knows? The need can arise at any time.

Feature Highlights
Similar to the XM2701, this model here is the most lightweight sewing machine on this list. Everything is the same between the models save for the weight.
This one weighs about 10 pounds (a few pounds lighter) and still provides full sewing support for beginners as well as advanced users who just want to stitch and demonstrate or do petty jobs while on the go.
Among its highlights are 10 built-in stitches, 4 different feet, an easy-to-use stitch selector dial, automatic bobbin winder, and a jam-resistant drop-in top bobbin. The speed of 750 stitches per minute is enough for most tasks.
When you realize that its biggest unique feature is the portability factor is when you will start loving it. A true companion for both beginners and professionals alike.
#15 – Janome Pink Sorbet – Best Sewing Machine For Children
Whether it's to keep them occupied while you sew on your advanced Singer sewing machine or to teach them the art, getting a machine for your little one is totally worth it.

Feature Highlights
And if you have already decided, why not go with the best one? Janome's Pink Sorbet that is built for young girls interested in stitching a gown, maybe, for their favorite Barbie doll.
Or maybe a small sweater for their younger brother?
Whatever may be their interest, it is always fun to see little ones learn a skill or two. And this easy-to-use sewing machine by Janome fits the bill perfectly.
Equipped with most basic features like built-in stitches, 4-step buttonholer, front-loading bobbins, LED space light, and retractable spool pins, the Pink Sorbet will make for a fine "real toy" for your daughter. Or your son because in this day and age let's not bring gender into the equation.
The best part is the easy-to-understand illustrated user manual and tutorial videos that come complementary with the machine so that you can start from the word go!
#16 – Spiegel SP3201 – Best Cheap Sewing Machine
Looking for the cheapest model that does not break down in the middle of a job? Try Spiegel.

Feature Highlights
While we have listed a couple of sewing machines with affordable price tags, this one by Spiegel just crunches everything under $80.
With 32 utility and decorative stitches, you have a lot of options to choose from; the one-step buttonholer and thread cutter are other two great features for experts to work quickly; adjustable thread tension and control over stitch length and width are other two highlights making it a damn cool addition to your inventory.
The LED light in the work area works fine. The white-purple color combination has a calming effect.
It is a good cheap machine that will do what you tell it to do without complaining. Just don't expect too much from Spiegel and you can have a handy tool for your basic sewing needs.
One for the bedroom perhaps? Or something to fall back to at home after a busy day at the boutique on your Janome or Brother powerhouse?
Top-Rated Sewing Machines to Buy
The list is in front of you and now it is up to you to decide which one to go for. If you were to ask us, we'll definitely go with these three models:
Singer 9960 – the best overall with top features and the guarantee of the Singer brand. It will stay with you longer than the stuff you stitch with it
Juki HZL-LB5100 – the most powerful machine on this list is also the most silent. If you are a fan of Japanese technology, there's no reason to go with any other model
Singer 7258 – a lot of beginners complain that certain sewing machines are difficult to operate and then they say that the art of sewing itself is complicated. With the 7258, you will have a different opinion (the right opinion? Yaass!) and soon will need an advanced model.
To conclude, everyone has their own needs and that is why it is best to measure these models against your requirements. And then let us know which one you chose and why.
And as you can see, Singer is the top brand for this decade with Brother just close by.
Conclusion
As you can see, the answer to the question "what is the best sewing machine" is a bit subjective. You have in front of you the top 5 best-reviewed models as well as 11 alternatives. What works best for you will depend totally on your requirements.
Hence, we have made sure to include statements that will allow you to relate. We hope these sewing machine reviews have helped you enough to make a choice and find out what the market looks like in 2023.
But if you are still on the fence, let us suggest to you the all-star model: the Singer Quantum Stylist 9960, one of the best-selling and much-discussed sewing machines in the past few years. It will only do one thing and that is: exceed your expectations in terms of professional sewing.
What more do you need?