Using embroidery designs has become a common thing in the fashion and clothing industry.
Regardless of whether you opt for free motion embroidery designs or computer-aided ones, your emphasis should be on the embroidery thread.
Top Picks of Best Embroidery Threads:
If machine embroidery thread is what you are after then, you have come to the right place.
At the end of this article, you will comfortably select the best embroidery threads in the sea of threads so keep reading.
Best Embroidery Threads in 2023
Here are the best threads for embroidery machines:
1 – Madeira Incredible Threadable Embroidery Thread

More than 100 years in the business and now a subsidiary of Tacony Corporation, Madeira is a German manufacturer of high-quality embroidery threads and accessories. There is no doubt about its singular superiority in the market as is evident with this class one Oeko-Tex certified thread.
Thread Review
Having 80 colorful spools of 220 yards each (660 feet) of strong rayon thread that you will actually use to add luster to your embroidery creations is one thing. Having two more filled bobbin thread of 1,650 yards (4,950 feet) each to assist in that job is another. Both are the main reasons for it to be the best embroidery thread.
In our tests, it showed great resistance to pulling and in-fabric skewing. It didn't break nor did it fray even under tense conditions as we tested it across fabrics such as cotton and suede.
Most threads also tend to shed tiny lint during or after sewing, but Madeira has taken care of that too. Even after weeks of surface assault on an embroidery design that we created the threading stayed intact. Your designs can now stay in their original conditions for a long time.
Strong, extremely durable, eco-friendly, and easily threadable – it does not get any better than this. The complementary Amazing Designs CD of embroidery art, a color card (pdf, downloadable) for easy identification of all 80 colors (with an online Pantone color matcher), and a carry strap just add to the advantage of owning this Madeira thread box.
Madeira makes the best threads and this set right here is the gold.
Thread Highlights
Suited for all types of embroidery, crocheting, tapestry, needlework, and quilting projects
Weight: 40 (on a scale from 30 (thickest) to 120 (thinnest))
Color Palette: 80 shades
Fiber: 100% viscose-rayon (Classic Rayon – Lustrous)
Length: All 80 spools contain 220 yards (660 feet) of thread each. The two bobbins contain 1,650 yards (4,950 feet) of thread each.
2 – Sulky Size-40 Embroidery Slimline Rayon Dream Assortment

Sulky, an American brand, has been around for decades. It is best known for its German-based ENKA certification through which it produces high-quality threads using 100% viscose.
Thread Review
The highlight of this Sulky rayon thread is its pastel and earthy color tones that are slightly different from the Madeira one you saw above. With a palette of gorgeous colors and a total of 104 pools, you will have enough to choose from for all your embroidery and sewing projects.
Whether your need a thread for your felt project, applique, embroidery, or even head wrap, this set of Sulky Slimline threads is very useful with their strong binding, reflective coloring, and overall shine.
(In that regard, rayon has an upper edge against polyester. There's an intrinsic sheen that rayon has which makes it a preferred choice for embroidery projects. But we recommend also going with your gut feeling as to which one is ideal for your specific project.)
The slot-wise plastic container is a boon as you can easily hang it near your work area without the fear of the spools falling off. It makes the management easier which is advantageous when you have so many spools and colors.
If you are a fashion designer, you will have multiple sets, and managing them can get difficult. But not if you depend on Sulky and its best rayon embroidery machine threads.
A friendly homegrown brand, depending on Sulky is like depending on the spirit of America.
Thread Highlights
Suited for all types of embroidery, felt, stitching, and décor projects
Weight: 40
Color Palette: 104 shades
Fiber: 100% viscose-rayon
Length: Each spool is 250 yards (750 feet)
3 – Mettler Poly Sheen Polyester Embroidery Thread

Mettler is known for its high-quality embroidery threads that are exported to over 100 countries. Popular in wholesale distribution, over the past 30 years it has developed into a household name.
Thread Review
Sometimes you need that extra sheen in your work. Something that rayon does not provide. So, you depend on Mettler's trademarked POLY SHEEN polyester threads with a large surface area for light reflection. This is the main reason why Mettler is featured at #3 on this list.
It comes in 435 colors and is available in two variations; 220 yards and 875 yards. Home users can make do with the first variation and can purchase as and when they have more requirements.
Apart from the sheen, Mettler POLY SHEEN threads are also known for their elastic qualities and high tensile strength. This means that they can be the preferred choice for high-tension garments like sportswear, children's clothes, work clothing, and hospitality laundry.
Another advantage of this higher strength is how it manages laundry treatments. With usual embroidered works, you have to take extra care while washing to avoid losing the sheen or the stitches. But with Mettler, do a chlorine bleach or a dry abrasion, the sheen and stitches will stay intact.
All in all, it's a perfect choice for a variety of decorative, embroidery, overlocking, and quilting projects. The high sheen remains the USP among users.
Thread Highlights
Suited for embroidery, overlocking, quilting, and sewing projects that involve high-stress garments
Weight: 40
Color Palette: 435 shades (range brochure)
Fiber: Polyester (POLY SHEEN)
Length: 220 yards (660 feet) each. Also available in 875 yards (2,625 feet)
4 – Floriani Polyester Embroidery Thread

A household name, Floriani is known for its wide range and continuous innovation with support for mobile apps and desktop software.
Thread Review
If there is one thing that Floriani excels in front of its competitors, it is the color output. Its threads are dyed in a lot that is five-year-aged, meaning the color will never leave the thread. In the US, its threads are marketed and distributed by RNK Distributing.
We know that this is a common issue when you use local products. But with Floriani, your projects will stay glamourous for years, aided by the threads' added strength and sheen. These affordable threads for machine embroidery are available in 300 colors and can be used across embroidery, quilting, and stitching projects.
What makes attaching yourself with the Floriani brand even more advantageous is that it also has a cool crafting software called Floriani Fusion. It gives you an application to make your own designs (check out its Pinterest profile for ideas).
Time to impress the spouse?
And in case you are looking for a case of colors, check out the Floriani120 Spool Thread Color Spectrum. It is a rainbow offering and gives you color shades to choose from. Do note that the original product is a single spool of thread (of one color).
Thread Highlights
Suited for all types of embroidery and quilting projects
Weight: Unknown
Color Palette: 300 shades
Fiber: Polyester
Length: 1,100 yards (3,300 feet)
5 – Isacord Quality Embroidery Thread Set

Isacord maintains the Make in America sentiment. What more do you need?
Thread Review
In this set you will get 35 of the high-quality polyester embroidery threads you will find in the American market. The third part of the Isacord series, this set has a combination of light and dark shades. These are enough for a home décor project or as a support for your ambitious fashion design project.
Whatever you use it for, the Isacord promise remains. High strength, good sheen, and the unbreakable guarantee are something that we all demand from our threads, right? Well, Isacord, with its nearly 40 years of innovation promises just that.
Apart from the threads, we are also impressed by the packaging in which this set comes. Makes for a nice gift for your loved ones.
Isacord also has a brilliant color conversion chart which you can use to match and convert shades from other brands. For reference of this set (set 3), here are the 35 shades by their numbers: 15, 17, 20, 111, 131, 310, 520, 600, 704, 853, 933, 970, 1102, 1172, 1300, 1532, 1876, 1902, 1904, 2363, 2508, 2520, 2521, 2550, 2830, 2900, 3040, 3522, 3554, 3840, 4122, 4220, 5415, 5500, 5722.
Isacord threads are not only of high quality but using them also reignites the American feeling.
Thread Highlights
Suited for all types of embroidery projects
Weight: 40
Color Palette: 35 shades in this set (explore sets 1 and 2 for more shades)
Fiber: Polyester
Length: Less than 1,100 yards (3,300 feet)
6 – Exquisite Fine Line Embroidery Thread Set

Exquisite is an underdog competing with the bigwigs; go with it if you want color range and thread strength.
Thread Review
A set of 15 colors, this FINE LINE spectrum by Exquisite is perhaps best known for its shades (neon colors included) and easy-to-use spools. Each of them has around 1,640 yards of thread which is the longest we have seen so far.
Makes it perfect for long-term investment especially in times of Covid-19 crisis where it is better if you stay indoors.
As for the quality, Exquisite claims them to be smooth, of high-tensile strength, and fastness of color (which means resistance to chlorine, soda, and UV rays). We tested this set out and can verify the claim. The threads are more suitable for machine embroidery lettering, which is what most of us do, right?
The entire Exquisite range has 288 color shades, but this set has only 15. They are: black, blue, suede, bone, chambray, blue cherry, Christmas green, crocus date, light navy, natural, neon green, neon rose, silver, white, and yellow.
Exquisite makes really good threads that last longer both when you use them in a project and when you stock them for future use.
Thread Highlights
Suited for lettering and embroidery projects; high-speed computerized embroidery
Weight: 60
Color Palette: This set has 15 shades; Exquisite's range is 288
Fiber: Bright, high-tenacity polyester trilobal filament
Length: Each spool is 1,640 yards (4,920 feet)
7 – Exquisite Medley Variegated Embroidery Thread

Another innovative thread type by Exquisite: a multi-colored thread for embroidery machine. This is what modern embroidery projects are made of.
Thread Review
For some projects, you need letters or designs that have multiple shades (a hue). Even the most advanced embroidery machine gives you trouble when you try to do it using multiple threads. Well, Exquisite has an easy solution: the Medley Variegated Poly thread.
It's a precision blend of polyester threads with three to four colors. So, naturally, you are looking at a higher weight (60). But the output from these threads is magnificent, to say the least. They change the look of the projects as they add more style, color, and range to them.
Just imagine how you can experiment with these threads in embroidery and quilting. It is a must-have in every modern fashion designer, DIYer, and home user's embroidery kit. Get it today. It is the best variegated embroidery thread.
Thread Highlights
Suited for high-speed embroidery, lettering, and home decor projects
Weight: 60
Color Palette: 15 shades
Fiber: Polyester
Length: Each spool is 1,094 yards (3,282 feet)
8 – Aurifil Mako Cotton 50wt Thread

Another Italian pioneer on the list, Aurifil is known for its cotton threads targeted at quilters.
Thread Review
In quilting and serging, the type of thread you use makes a big difference in the final output. You will see that difference when you start using Aurifil's cotton thread that spews magic as you embroider it into your project. Its colors blend easily, the threads do not break nor do they leave fabric dust in the bobbin or around the needles, and last for a long time.
One question that comes out when you deal with cotton is the amount of lint it generates. Not surprisingly, Aurifil threads produce a very low level of lint, so using it is a neater affair than expected.
Aurifil is so good that there's a popular story in the industry. That once someone uses Aurifil's best cotton threads for machine embroidery, they refuse to go back to any other. Now we know why.
Pro Tip – Get inspiration from a group of Aurifil designers who have their own websites. See here.
Thread Highlights
Suited for machine embroidery, quilting and serging, needle turn applique, hand piecing, and basting projects
Weight: 50
Color Palette: Comes in individual colors; has a range of 270 shades
Fiber: 100% long-staple mercerized Egyptian Cotton
Length: 1,422 yards (4,266 feet). Also available in lengths of 220 yards and 6,452 yards (cone)
9 – Janome Polyester Embroidery Thread

We already know the Japanese giant for its machines. Now we also know for its embroidery threads.
Thread Review
A review for Janome threads is not necessary because you can assume that they will deliver. These 100% polyester embroidery threads actually do because we tested them out on our Janome machine.
Very strong, colorful, and long enough to use across several embroidery and quilting projects, this set by Janome will be a great addition to your kit.
The 26 shades available are: White #001, Black #002, Gold #003, Pink #201, Vermilion #202, Orange #203, Yellow #204, Dark Brown #205, Bright Green #206, Blue #207, Purple #208, Pale Violet #209, Pale Yellow #210, Pale Pink #211, Peach #212, Beige #213, Brown #214, Wine Red #215, Pale Sky #216, Sky #217, Yellow Green #218, Olive Green #219, Silver Grey #220, Grey #221, Ocean Blue #222, Beige Gray #223, and bobbin thread.
Unfortunately, these threads are recommended only for use in Janome embroidery machines. We would suggest you follow that. In case you have a machine from another brand, choose one of the previous eight models on this list.
Thread Highlights
Suited for all types of embroidery, quilting, and sewing projects
Weight: Unknown
Color Palette: 26 shades
Fiber: 100% polyester
Length: Each spool is 270 yards (810 feet); only the white color spool is 325 yards (975 feet)
10 – Brother Disney Princess Embroidery Thread Kit

If you are not a Janome loyalist, why not try Brother threads? This one here is a special edition set with a Disney princess theme. The #11 on this list is a bobbin thread for Brother embroidery machines.
Thread Review
If you are a home user who likes to embroider kids' clothes and turn them into fancy costumes, you are going to go gaga over this Brother thread kit. Not just you but your daughters as well.
Specifically chosen colors to help you embroider designs from Disney movies, this kit has 24 pools of shiny and beautiful colors.
Choose from the designs of Cinderella, Ariel, Belle, Aurora, Jasmine, Snow White, and Rapunzel and impress your kids with your embroidery skills.
The threads themselves are of high quality and will work seamlessly on your Brother machines. Because they are made of polyester, they are bound to add a much-coveted sheen in your projects. Fancy a frock with the face of your child's favorite Disney princess on it? Start right now.
Thread Highlights
Suited for embroidery and quilting projects with a focus on kids' garments
Weight: Unknown
Color Palette: 24 shades
Fiber: 100% polyester
Length: Each spool is 1,100 yards (3,300 feet)
11 – Brother SAEBT Embroidery Bobbin Thread

We have only discussed embroidery threads so far. And now is the time to introduce to you the best bobbin thread around. From your favorite American brand, Brother.
Thread Review
The SAEBT bobbin thread is an essential accessory for all your projects. It not only makes your artwork look less dense but also blends easily with them. And if you have a Brother machine at home or work, we are not even going to ask you what thread you were using before.
This set comes with five spools of 60 weight each wound with 1,100 yards of white thread. They have a silvery coating over it which add to the sheen but also help in camouflaging. It's a dual advantage for all your projects, trust us. What's more? Brother bobbin threads are compatible with all other brands.
If you use Brother machines, do yourself a favor and get this set of five spools of bobbin threads today. Better than pre-wound bobbins. And are arguably the best bobbin thread for machine embroidery.
Thread Highlights
Suitable for computerized embroidery projects
Weight: 60
Color Palette: one shade (white)
Fiber: 100% polyester
Length: 1,100 yards (3,300 feet)
12 – The Finishing Touch Embroidery Bobbin Thread

A part of the Tacony Corporation (which owns Madeira), you already know that The Finishing Touch will deliver.
Thread Review
It is actually a bobbin thread but users are so satisfied with its quality that they use it as a white/invisible embroidery thread. Do what you prefer, but it shows the soft coating and good strength of The Finishing Touch threads that also come with a smooth finish.
Another highlight is its extreme affordability. Compare its price with that of Brother bobbin thread and you will never buy anything other than The Finishing Touch.
Use it across your embroidery projects and the polyester thread will deliver without any hiccup. It is made in Japan and is recommended only for Baby Lock and Brother machines.
Thread Highlights
Suitable for all computerized embroidery projects
Weight: 60
Color Palette: one shade (white)
Fiber: 100% polyester
Length: 1,200 yards (3,600 feet)
13 – New brothread 40 Brother Colors Polyester Embroidery Machine Thread Kit

Another underdog and a local manufacturer, New Brothread is widely used by home users, DIYers, and fashion designers. This is a set of good cheap machine embroidery threads.
Thread Review
A best-seller in the world of embroidery threads, the USP of New Brothread polyester threads is the high tensile strength. You can use them across different machines and in high-speed computerized basting and quilting without the fear of fraying or breaking.
We tested it across machine brands such as Baby Lock, Janome, Husqvarna, and Pfaff and it wound in the bobbin easily without any hassle. Thus, making it the best embroidery thread for beginners.
Each spool is about 550 yards long and the whole set comes with 40 luscious colors for all your projects. Buy them now and experience local American manufacturing.
Thread Highlights
Suited for all types of projects
Weight: 40
Color Palette: 40 shades
Fiber: Polyester
Length: Each spool is 550 yards (1,650 feet)
14 – Simthread Glow in The Dark Polyester Embroidery Thread

Simthread distributes its threads in both retail and wholesale, making it a popular choice for tailors, textile mill owners, and fashion designers around the world. This one here is a set of best glow-in-the-dark embroidery threads.
Thread Review
Much like the variegated thread, sometimes you want to experiment with your embroidery projects. And what perfect way than to use glow-in-the-dark threads that actually work?
This Simthread set is a widely popular polyester thread that will provide a great addition to your embroidery kit. Although its weight is 30, it is slightly thicker than normal embroidery thread (40 weight). So, make sure you use the recommended size 80/12 topstitch needle. We tested them on a 75/11 needle and it worked wonderfully.
Add some zing to your craft or fancy quilt or Halloween project with this flashy glow-in-the-dark threads that are resistive to wear and tear, machine washing, and even sunlight. That last part is actually foddered for these threads as they take light energy to reflect light in the dark.
Do note that the threads won't glow under a shadow in the daytime. We tested it and it only works at nighttime also provided you expose it to light for a good amount of time.
We did find variation in the intensity of the glow as well as the hue but we cannot complain because the final output is always charming to look at. Try them today!
Thread Highlights
Suited for all types of embroidery projects; Halloween projects, crafts, and school projects
Weight: 30 (higher than 40 in regular embroidery thread)
Color Palette: Five shades (yellow, white, green, blue, and peach)
Fiber: Polyester
Length: Each spool is 550 yards (1,650 feet)
15 – ThreadNanny Metallic Embroidery Threads

Next on our list is a brand based out of Florida. ThreadNanny only produces embroidery accessories, so you know the quality is top-notch. This one here is a set of 20 spools of metallic threads.
Thread Review
One more way to add some sparkle to your embroidery projects is to use metallic threads. A fine way to make your artwork stand out in a piece of garment, metallic threads can be a great addition to your toolkit.
This one here by ThreadNanny has 20 spools of gorgeous color shades that straight-out sparkle in your garments. Imagine a furry sweater with your kid's name on it – won't it make for a perfect Christmas present?
There is a lot more you can achieve with metallic threads and with this set, there is no need for fear of breakage or needle switch. You can use one of your existing needles and use these threads in any machine.
ThreadNanny is compatible with most popular brands. We tested it on a Brother machine and the final output is not hung in our test lab as a mark of good quality.
Thread Highlights
Suited for home décor and other fancy embroidery projects
Weight: Unknown
Color Palette: 20 shades
Fiber: Polyester
Length: 1,100 yards (3,300 feet)
16 – Embroidex 40 Spools Polyester Embroidery Machine Thread

Here come the best inexpensive machine embroidery threads. Embroidex polyester threads come in a variety of different colors. The threads are of high strength, which makes it durable.
The weight of the thread makes it suitable for use in a variety of projects such as embroidery, applique, and quilting.
Thread Weight: 40
Thread Fiber: Polyester
Quantity: 40 spools x 550 yards each spool
17 – Simthread 63 Brother Colors Embroidery Machine Thread

Simthread 63 is an embroidery machine thread made from polyester using superior technology. The threads are made to match using at the home level.
They are compatible with many embroidery machines, eg, Brother, Janome, Singer, Babylock.
Suitable for most embroidery machines
Thread Weight: 40
Thread Fiber: Polyester
Quantity: 63 cones x 550 yards each cone
18 – ThreadNanny 80 Cones Polyester Embroidery Threads

This thread provides you with 1100 yards of vibrant polyester thread per cone. You will normally get 550 yards per cone. The resistance to bleaching makes it suitable for use in applications that require constant laundry.
Can be used for home or commercial machine embroidery
Thread Weight: 40
Thread Fiber: Polyester
Quantity: 80 cones x 1100 yards each cone
19 – Radiant Threads 144 Prewound Bobbins for Brother Embroidery Machine

The 60 weight thread that is pure polyester is white and suited for most embroidery machines. The polyester material is tough and hence makes an active thread. There will be no need to replace them regularly.
Made for machine embroidery mainly
Thread Fiber: Polyester
Thread weight: 60
Quantity: 114 prewound bobbins x 140 yards each
Size A
20 – Madeira Bobbinfil Thread

The bobbin threads made from polyester comes in an excellent package of 1500 meters each spool. The 70 weight thread is strong and durable and easy to use without making the embroidery dense.
Made for machine embroidery with bobbin
Thread Fiber: Polyester
Thread weight: 70
Quantity: 1 spool x 1500 meters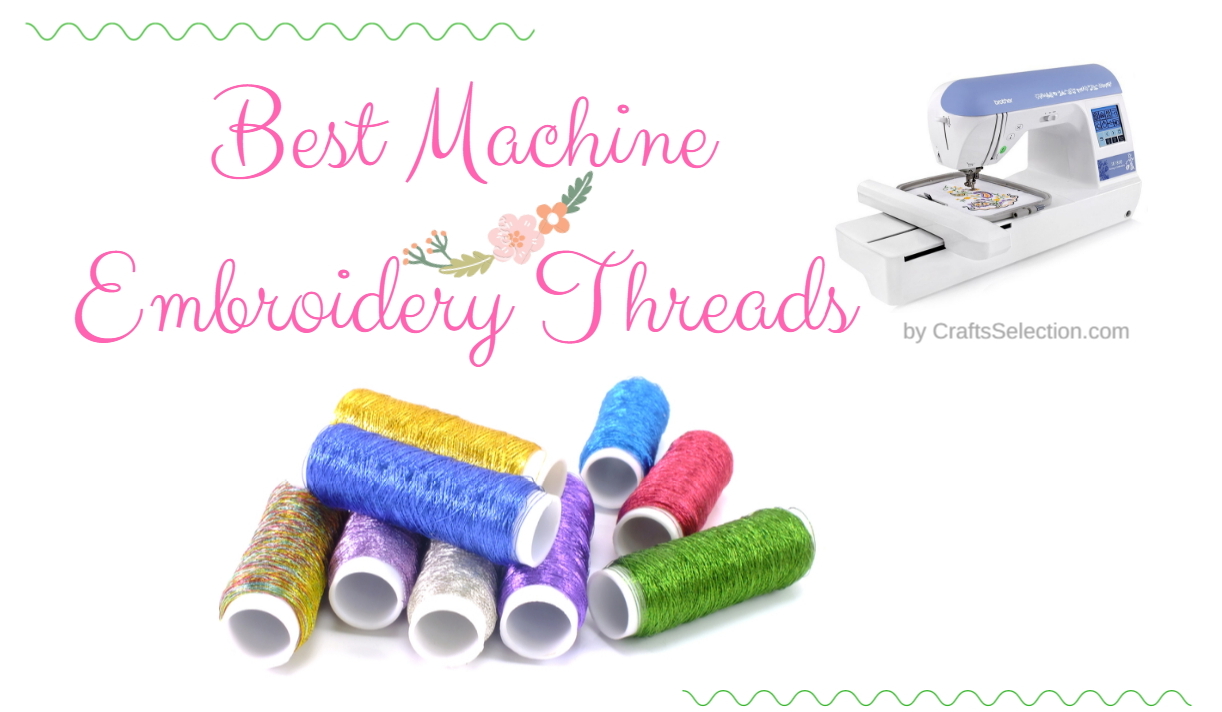 Best Embroidery Thread Brands
Sometimes instead of choosing embroidery threads by quality and type, you want to go by brand. You want to buy threads that are manufactured by the best companies out there.
If you have ever wondered what the best embroidery thread brands are, take a look below.
Madeira – Now owned by US' Tacony Corporation (established in 1946), it is a German brand that has been around since 1919. It exclusively produces embroidery threads and accessories and is known for its eco-friendly manufacturing process. Madeira is second to none when it comes to manufacturing the best embroidery threads in the world
Sulky – This American company originated from ingenious home-based stitching and was founded by a husband-wife duo. Although the duo has been working since 1976, the Sulky brand saw mainstream success in1985. It is known for a variety of reasons but something that has stayed with the brand is its unmatched thread quality and the homegrown nature
Mettler – Although originally founded in 1883, the Mettler brand is now run by the AMANN Group. Its products are manufactured in the Czech Republic and Germany and are widely distributed across the world. Thanks to its Oeko-Tex and Greenpeace DETOX certifications, Mettler threads have become sought-after products for high-quality sewing and embroidery
Floriani – With a tagline 'The name that means beautiful embroidery', Floriani has managed to win hearts globally due to its superior threads and other stitching products. The Italian brand has been around in the US since the early 1990s and has proved itself as a pioneer. It was founded by the 'Guru of Digitizing' Walter Floriani Jr.
Isacord – An American brand founded in 1981, Isacord was originally known as the American Sewing Machine Company. With a manufacturing unit in Missouri, Isacord is known for its high-quality threads and low prices. A rare combination in the time of capitalism. It owns the Sew for Less and The Sewcial websites
Aurifil – Another Italian brand on the list, Aurifil has been around since 1983 and is a leader in the manufacturing of cotton threads. Historically, Aurifil is based out of Milano and sources its materials from Egypt. Studio Auriga is its partner company
Exquisite – Affordability and quality join hands and create Exquisite threads. The brand, of which not much is known on the web, has a single-pager website and boasts of being one of the players whose threads are used for industrial purposes
The Finishing Touch – Part of the Tacony Corporation and cousin of Madeira and Baby Lock brands, the Finishing Touch is known for its industry-standard threads.
Inexpensive Thread Brands
Apart from these big names, there are also some underdogs in the American market that only focus on embroidery threads. We have already seen some thread sets manufactured by those in the list above. Let's take a quick look at them.
ThreadNanny – Around since 1999, it is based in Florida and manufactures its accessories in a local factory. Along with other similar players, ThreadNanny does both retail and wholesale distribution
Simthread – A Chinese enterprise, Simthread offers a variety of embroidery threads. Its popularity in the US is because of its wholesale business
New Brothread – A local manufacturer that has been around since 1988
Embroidex – It is also a wholesale brand that specializes in embroidery accessories.
Embroidery Thread vs. Floss
It's common for us to confuse embroidery thread and floss yet understanding the difference is significant.
Embroidery floss contains both divisible and indivisible strands you can use for stitching by hand. The floss comes in skeins rather than spools.
Embroidery thread, on the other hand, is a two-ply strand that comes wound on a reel, unlike the floss. The thread is particularly for machine embroidery and is thin and indivisible, in contrast to the floss.
How to Choose The Right Machine Embroidery Thread
Whether you are considering to make beautiful, artistic quilt or embroidery pieces, you need to know the particular machine thread to use.
So, when it comes to selecting the thread for machine use, you should look at the primary quality as the type and weight.
Thread Weight
The weight of thread you get depends on whether you want a thin or thick thread. A thin thread means that it has a high weight and is finer. A thread with less weight is thick and slightly more cumbersome.
The regular embroidery is at 30-40 wt while that of heirloom embroidery is usually light at 80 to 100 et. The typical weight of the thread is at 50 wt.
Types of Embroidery Threads
So many embroidery thread types exist all you have to do is make a choice. They include:
**Polyester
This synthetic material highly used and is standard for embroiders and quilters alike. The material is known for its robust nature.
The strength of the thread is from the use of multiple filaments in its make.
Polyester is also known for its shine, ease in bleaching and resistance to fading making it the best candidate for making linen and children's clothes.
**Cotton
Cotton thread is one of the best materials used for making heirloom embroidery. The best cotton is originally from Egypt and is free from any lint.
Using cotton thread has an outcome that looks like hand-stitched embroidery. The hand-stitching look makes it suitable for redwork, cross-stitching and quilting.
**Rayon
This material is from cellulose fibers that are soft and shiny. The material is easy to use and readily available with numerous color options for you.
Although there are many color choices, rayon material fades over time, unlike polyester.
**Silk
We all love to be in silk.
It is not only the smooth feeling but also the unusual appearance that you get from it. The best part about using silk is that it has the strength that polyester would offer and is as cotton.
Using silk is best for both machine, and hand embroidery and the nest part is that the stitches made on the fabric almost disappear too.
The Specialty Threads
These are specialty threads because their use comes in when embellishing embroidery. They are:
Metallic thread is one of the most common you can utilize in the market. The thread surrounds an inner core, and some of it can be flat rather than round.
The interesting thing is that the trait that makes it desirable is the same one that makes it hard to use. The stitch speed and the tension of the thread may decrease while in use.
Light Sensitive or Solar Activated
Which kid doesn't love bright clothes?
This thread when used, the clothes look white but then glows in the dark. You can put it to good use when making a Halloween costume and watch the work of your hands shine. Literally.
When the design or pattern you want to use requires different tones, then this is the thread to use.
The colors of the thread change gradually, and you can count on it to come in numerous different colors.
Monofilament Clear Nylon Threads
For invisible quilting, these threads are the way to go.
Bobbin Thread
The thread is a lightweight type, and you can use it when doing machine embroidery. When using light fabric for embroidery and you don't want the back to be dense due to the size of the thread then, the bobbin is the type to use.
The standard thread may make the embroidery fabric that is already thick enough to be denser.
Types of Embroidery Fabrics
Materials you choose for embroidery come primarily in blend, linen or cotton fabrics. Your choice ultimately depends on the end-user.
Some of the most common types of material that exist in the market are Aida cloth, toweling cloth, wool, and silk. It is important to know which embroidery thread is suitable for your fabric.
Cotton thread is suitable for use on lightweight fabric such as linen, rayon, and cotton. With a weight of 50, you can use it for applications such as applique and binding while that of 28 wt is for quilting. Silk thread is best for use on fabric such as silk and wool.
Conclusion
It's important for you to be able to identify which thread you require for the particular project in mind.
From the reviews, you can determine which of them are the best machine embroidery threads in each category. Always ensure that you check whether the thread you choose checks the boxes of weight and type of thread.
I hope that this machine embroidery thread review helps you be at ease with selecting the perfect embroidery thread for you. So, happy machine embroidering.