Using embroidery designs has become a common thing in the fashion and clothing industry.
Regardless of whether you opt for free motion embroidery designs or computer-aided ones, your emphasis should be on the embroidery thread.
Top 7 Picks of Best Embroidery Threads: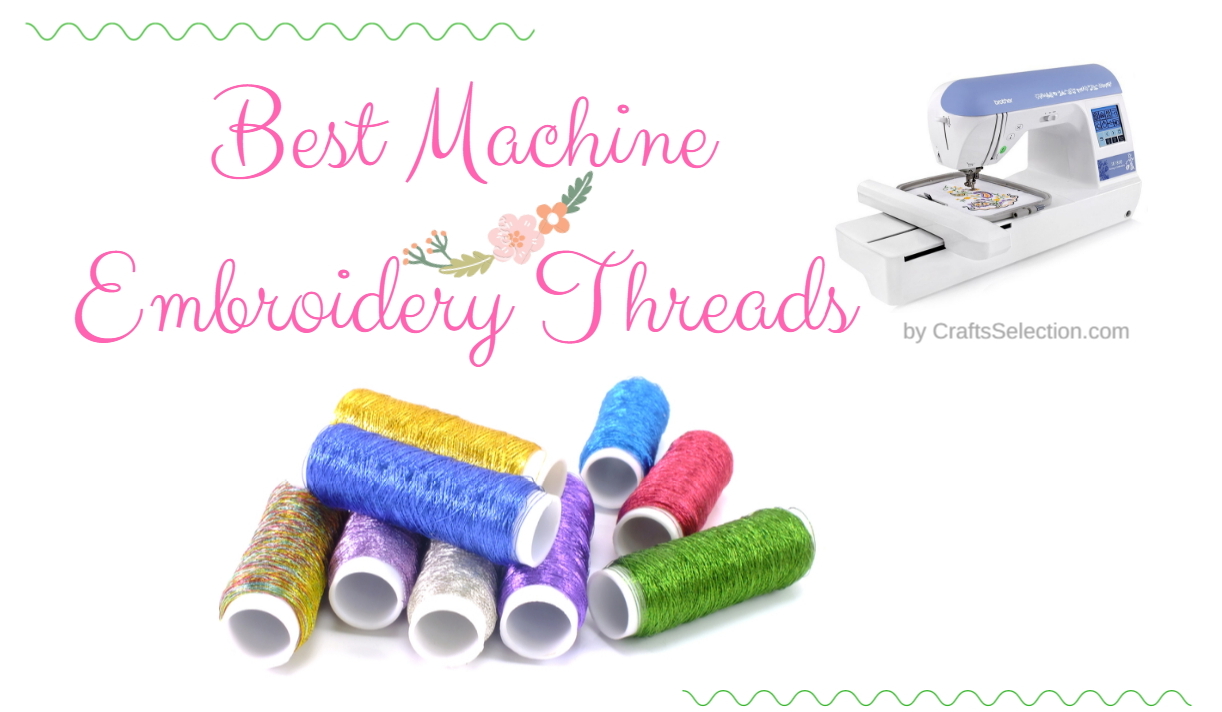 If machine embroidery thread is what you are after then, you have come to the right place.
At the end of this article, you will comfortably select the best machine embroidery threads in the sea of threads so keep reading.
Top Rated Machine Embroidery Threads 2020
Best Embroidery Threads Reviews 2020
Here are the best threads for embroidery machines:
#1 – Madeira Incredible Threadable Embroidery Thread

It is suitable for machine embroidery and outdoor fabrics
Thread Weight: 40
Thread Fiber: Rayon
Quantity: 80 spools x 220 yards each spool. There is also 2 spools x 1650 yard bobbin thread.
Pros
It has numerous colors choices for use
Affordable
The packaging is good
Cons
Are smaller to some than expected
The Madeira embroidery box containing 80 spools of thread plus two spools of bobbin thread, provides a variety of color options for you.
The thread is made from rayon fiber, which is strong and has a silky feel to it.
#2 – Sulky Size-40 Embroidery Slimline Rayon Dream Assortment

Suitable for machine applique, embroidery, and felt projects
Thread Weight: 40
Thread Fiber: Viscose rayon fiber
Quantity: 101 spools x 250 yards each spool
Pros
Has many color options
Easy to use
Good quality
Sulky embroidery rayon is a collection that comes in many different color palettes, which make your options broader.
It has 101 spools and the thread is suitable for use in clothes that all the time. The assortment of threads is well organized and is easy to use for starters.
Here comes the best inexpensive machine embroidery threads.
#3 – Embroidex 40 Spools Polyester Embroidery Machine Thread

Thread Weight: 40
Thread Fiber: Polyester
Quantity: 40 spools x 550 yards each spool
Pros
Great variety of colors
Doesn't easily fade
The thread, you can utilize for a broad range of applications
Affordable price
Embroidex polyester threads come in a variety of different colors. The threads are of high strength, which makes it durable.
The weight of the thread makes it suitable for use in a variety of projects such as embroidery, applique, and quilting.
#4 – Simthread 63 Brother Colors Embroidery Machine Thread

Suitable for most embroidery machines
Thread Weight: 40
Thread Fiber: Polyester
Quantity: 63 cones x 550 yards each cone
Pros
Has a wide variety of colors
Is bleach resistant
Strong threads hence no shredding or breakage
High quantity of thread per spool
Cons
Have flaws in the cone design
Simthread 63 is an embroidery machine thread made from polyester using superior technology. The threads are made to match using at the home level.
They are compatible with many embroidery machines, eg, Brother, Janome, Singer, Babylock.
#5 – ThreadNanny 80 Cones Polyester Embroidery Threads

Can be used for home or commercial machine embroidery
Thread Weight: 40
Thread Fiber: Polyester
Quantity: 80 cones x 1100 yards each cone
Pros
Affordable
Has long thread per cone
Resistant to bleaching
Has a wide variety of applications with presence of bobbin thread
Cons
Thread shreds easily
Thread might be too thin
This thread provides you with 1100 yards of vibrant polyester thread per cone. You will normally get 550 yards per cone.
The resistance to bleaching makes it suitable for use in applications that require constant laundry.
#6 – Radiant Threads 144 Prewound Bobbins for Brother Embroidery Machine

Made for machine embroidery mainly
Thread Fiber: Polyester
Thread weight: 60
Quantity: 114 prewound bobbins x 140 yards each
Size A
Pros
Is resistant to fading
Affordable
Easy to use
Has more thread on their wounds hence last longer
Cons
Lacks casing in packaging
Thread might not be compatible with all the machines
The 60 weight thread that is pure polyester is white and suited for most embroidery machines.
The polyester material is tough and hence makes an active thread. There will be no need to replace them regularly.
#7 – Madeira Bobbinfil Thread

Made for machine embroidery with bobbin
Thread Fiber: Polyester
Thread weight: 70
Quantity: 1 spool x 1500 meters
Pros
Polyester material is sturdy hence the thread doesn't break easily
Long thread for each spool
Cons
Lacks casing in packaging
Thread might not be compatible with all the machines
The bobbin threads made from polyester comes in an excellent package of 1500 meters each spool.
The 70 weight thread is strong and durable and easy to use without making the embroidery dense.
Embroidery Thread vs. Floss
It's common for us to confuse embroidery thread and floss yet understanding the difference is significant.
Embroidery floss contains both divisible and indivisible strands you can use for stitching by hand. The floss comes in skeins rather than spools.
Embroidery thread, on the other hand, is a two-ply strand that comes wound on a reel, unlike the floss. The thread is particularly for machine embroidery and is thin and indivisible, in contrast to the floss.
How to Choose The Right Machine Embroidery Thread
Whether you are considering to make beautiful, artistic quilt or embroidery pieces, you need to know the particular machine thread to use.
So, when it comes to selecting the thread for machine use, you should look at the primary quality as the type and weight.
Thread Weight
The weight of thread you get depends on whether you want a thin or thick thread.
A thin thread means that it has a high weight and is finer. A thread with less weight is thick and slightly more cumbersome.
The regular embroidery is at 30-40 wt while that of heirloom embroidery is usually light at 80 to 100 wt.
The typical weight of the thread is at 50 wt.
Types of Embroidery Threads
So many embroidery thread types exist all you have to do is make a choice. They include:
**Polyester
This synthetic material highly used and is standard for embroiders and quilters alike. The material is known for its robust nature.
The strength of the thread is from the use of multiple filaments in its make.
Polyester is also known for its shine, ease in bleaching and resistance to fading making it the best candidate for making linen and children's clothes.
**Cotton
Cotton thread is one of the best materials used for making heirloom embroidery. The best cotton is originally from Egypt and is free from any lint.
Using cotton thread has an outcome that looks like hand-stitched embroidery. The hand-stitching look makes it suitable for redwork, cross-stitching and quilting.
**Rayon
This material is from cellulose fibers that are soft and shiny. The material is easy to use and readily available with numerous color options for you.
Although there are many color choices, rayon material fades over time, unlike polyester.
**Silk
We all love to be in silk.
It is not only the smooth feeling but also the unusual appearance that you get from it. The best part about using silk is that it has the strength that polyester would offer and is as cotton.
Using silk is best for both machine, and hand embroidery and the nest part is that the stitches made on the fabric almost disappear too.
The Specialty Threads
These are specialty threads because their use comes in when embellishing embroidery. They are:
Metallic thread is one of the most common you can utilize in the market. The thread surrounds an inner core, and some of it can be flat rather than round.
The interesting thing is that the trait that makes it desirable is the same one that makes it hard to use. The stitch speed and the tension of the thread may decrease while in use.
Light Sensitive or Solar Activated
Which kid doesn't love bright clothes?
This thread when used, the clothes look white but then glows in the dark. You can put it to good use when making a Halloween costume and watch the work of your hands shine. Literally.
When the design or pattern you want to use requires different tones, then this is the thread to use.
The colors of the thread change gradually, and you can count on it to come in numerous different colors.
Monofilament Clear Nylon Threads
For invisible quilting, these threads are the way to go.
Bobbin Thread
The thread is a lightweight type, and you can use it when doing machine embroidery. When using light fabric for embroidery and you don't want the back to be dense due to the size of the thread then, the bobbin is the type to use.
The standard thread may make the embroidery fabric that is already thick enough to be denser.
Types of Embroidery Fabrics
Materials you choose for embroidery come primarily in blend, linen or cotton fabrics. Your choice ultimately depends on the end user.
Some of the most common types of material that exist in the market are Aida cloth, toweling cloth, wool, and silk.
It is important to know which embroidery thread is suitable for your fabric.
Cotton thread is suitable for use on lightweight fabric such as linen, rayon, and cotton. With a weight of 50, you can use it for applications such as applique and binding while that of 28 wt is for quilting.
Silk thread is best for use on fabric such as silk and wool.
Conclusion
It's important for you to be able to identify which thread you require for the particular project in mind.
From the reviews, you can determine which of them are the best machine embroidery threads in each category. Always ensure that you check whether the thread you choose checks the boxes of weight and type of thread.
I hope that this machine embroidery thread review helps you be at ease with selecting the perfect embroidery thread for you. So, happy machine embroidering.