If you like sewing, then you know that one of the most important things for the end result to be flawless is the process of cutting.
Even though this might seem to be as simple as just grabbing a pair of scissors and just do it, it is not an easy process at all. In fact, cutting fabric can be nightmarish, especially if you don't own the appropriate tools for that.
An essential device you will need if you want your pieces to look professional is a fabric cutting table.
Best Fabric Cutting Tables: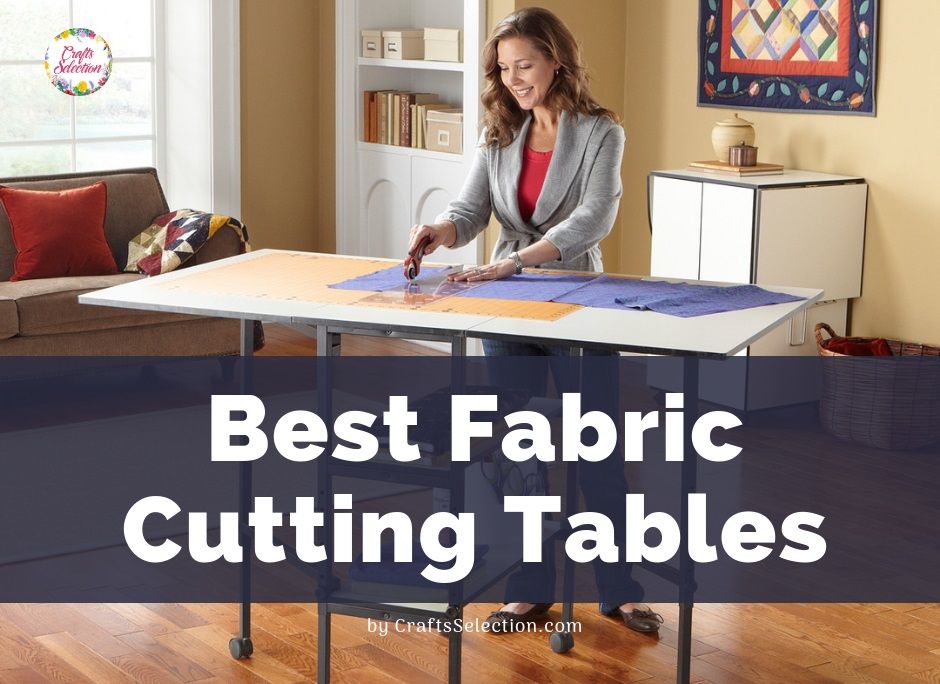 As the name indicates, these are tables that have been specially designed for cutting fabric without suffering from bad posture. Most of them include other benefits, such as drawers where to keep your sewing items.
Let's take a look at the best fabric cutting table for your home in the review below.
Best Fabric Cutting Tables 2023
1 – Sew Ready 13386 Quilting Fabric Cutting Folding Table

It's very easy to cut your fabric with this table. Apart from offering a stable surface, it has a grid with many units of measurement (such as inches and centimeters) to aid in the process. Sew Ready 13386 is also an adjustable height sewing cutting table. It has knobs that adjust to 1.5 inches as you desire.
The drawers and bottom shelf are very convenient for storing scissors, needles, rulers, and everything else you will need to sew properly.
The best feature of this product is the ability of the top table to fold. This way, you can store the table if you want when you are not using it. Finally, the casters lock so that it doesn't roll away while you are working.
Features Recap
Height: adjustable from 30.25″ to 39.25″
Dimension: 58.5″ (W) x 36.75″ (D) x 30.25″ to 39.25″ (H)
Material: powder-coated metal frame
Weight: 80 lbs as a whole
Other features: The table folds to 12. 25″ wide
2 – Sullivans 38431 Home Hobby Adjustable Height Foldable Table

You can use this folding sewing cutting table for any crafting or sewing projects that you have. It has been specially designed for pattern and quilting. Paper crafts are also welcome!
It also folds, so it's quite convenient if you have a small sewing room. The height also adjusts for more comfort.
Sullivans 38431 has a durable but lightweight metal frame, so it can handle any project! The two storage shelves it has at the bottom will make the process easier since you won't have to go somewhere else to look for your sewing accessories.
Features Recap
Height: adjustable from 29″ to 38″
Dimension: 59″ (W) x 35.8″ (D) x 29″ to 38″ (H)
Material: Metal frames
Weight: 77.2 pounds
Other features: Bottom shelves, foldable top table

3 – South Shore 7550727 Crea Craft Table

South Shore Craft Table can be used with many objectives: scrapbooking, jewelry making and, of course, sewing. It offers a lot of storage options that go from sliding drawers and movable compartments so you can store whatever you want in those spaces.
In terms of design, it is unique and versatile. The cutting table has 2 modules that include shelves, so you can assemble it according to your taste and requirements.
This sewing cutting table with storage was built with high-quality materials that meet every safety standard and does not pollute the environment.
Features Recap
Height: non-adjustable 30″
Dimension: 53.5″ (W) x 23.6″ (D) x 30″ (H)
Material: non-toxic laminated particleboard
Weight: total 240 pounds
Other features: storage shelves and drawers, extended warranty.
4 – Southern Enterprises Eaton Rolling Craft Station Sewing Table

This is an inexpensive fabric cutting table for home, very convenient for those without a large budget but who want to do what they love: sewing.
The work table is very spacious and has lockable casters that will allow you to move it around in a safe way. Different from other models, it is quite light (it only weighs 50 pounds).
The only drawback is that you will have to assemble it yourself. The white color is very stylish, so your sewing room will look flawless with the table in it!
Features Recap
Height: non-adjustable 29.5″
Dimension: 31.5″ (W) x 19″ (D) x 29.5″ (H)
Material: MDF and melamine paper
Weight: 47 pounds
Other features: 4 side shelves
5 – Mainstay Sewing/Craft Center – Folding Table

This folding cutting table for quilting has a lot of shelves, very useful for storing every item you'll need to quilt and sew without effort. It's also very easy to save space when closed.
The process of assembling it is quite simple since all of the pieces have been drilled already to simplify the task.
The only downside is that even though it looks like wood, it isn't: it is made of particle board. Still, that does not make it less stable or sturdy, so for the pricing, it is quite a convenient option to get.
Features Recap
Height: non-adjustable 28.5″
Open Dimensions: 63″ (W) x 19.5″ (D) x 28.5″ (H)
Closed Dimensions: 40.1″ (W) x 19.5″ (D) x 28.5″ (H)
Material: particle board
6 – Martelli Advantage & Martelli Elite Workstation

Martelli designed a large fabric cutting table for advanced quilters who truly need and want a professional tool. The idea behind the product is for it to be durable. It was built with top-notch materials like aluminum and a polyethylene surface that is very thick.
What is more, the table's legs lift electrically, meaning you won't have to make any effort to raise it or lower it. It raises or lowers 20 inches, which adds comfort for you to be able to cut while you are sitting or standing, as you prefer.
You won't have to make a lot of effort when moving it around as it comes with commercial-grade rubber locking wheels, but it does not mean it's not stable. Quite the contrary! It's hard to find a device so sturdy as this one.
It includes a great ruler that goes up and down, according to your needs. In addition to the incredibly high-quality table, the product comes with a lot of sewing accessories, such as a cutting mat and a set of rulers, that will make your life easier.
Features Recap
Adjustable height of 30″ to 46″
Dimension: 31″ x 59″ table top
Material: Aluminum and polyethylene
Comes with a lot of accessories: Cutting mat and rulers, Rotary cutter and blades, Clamping caddy, and more.
Tips to Choose a Good Sewing Cutting Table
1 – Ask yourself
Does it fit your sewing space? Size matters in this case. Luckily, there are many foldable models available. If you don't have a lot of space, you will still be able to own one of these devices without problems.
2 – Try to buy one that is not hard to assemble
There are many options out there, and some of them are very affordable, but then they are a nightmare to assemble. Either because they are way too heavy, or because you need hundreds of tools, hours and a lot of patience to finally see your table standing.
3 – Choose the right height
The perfect size for a cutting table (so as to prevent backaches) is not easy to define because it depends on the person. It should be around your waist, so you don't have to bend so much.
The best thing is to acquire, then, a table with adjustable height. After that, in order to see what is the best height to put the table on is to stand right, with your elbows forming a right angle. Your hands should rest comfortably on the table. You can adjust it a little bit according to your taste, but not too much to prevent back problems.
Conclusion
The best fabric cutting table will depend on your likes and needs. There are people who look for professional-looking products, while some others prefer that the table is lightweight, or that it has a lot of storage space.
Below, we give you our insight into the top 3 tables, depending on their features:
Great Value: Sew Ready 13386 Quilting Fabric Cutting Folding Table
If you are looking for a foldable, height-adjustable sewing cutting table at an affordable price, then this is your option to go. Let's not forget about the very useful grids it includes, together with units of measurement to cut your fabric in a precise, accurate manner.
Most Versatile: South Shore Crea Craft Table with Open and Closed Storage
This table is a great option for people looking for a sturdy, solid cutting table with lots of storage. Its shelves and drawers will hold all your items in just one place, so the rest of your house won't be a mess, and you won't have to spend hours looking for scissors when you need them.
Best Quality: Martelli Advantage & Martelli Elite Workstation
Martelli's product is the best choice for professional quilters or sewers. Its high-quality materials, innovative design, and flawless surface are well worth the money it costs.
By acquiring this table, you'll have a top-notch tool that will last for years to come and will surely ease your sewing process (especially when cutting fabric).
Of course, feel free to take a close look at each cutting table before you decide to spend your money on these products. No matter which one you pick, we are sure you will enjoy cutting fabric on them for years to come!