Brother XL2600i is a top selling product of the well-known Brother sewing machine brand.
The machine is loaded with astounding features that are easy to learn and use, thereby making it the perfect sewing machine for beginners and home sewers.
This Brother mechanical sewing machine has a lightweight, compact style and a built-in free arm that allows the operator to easily sew hems on pants or shirt sleeves.

Featured with 25 built-in utilities, decorative and heirloom stitches, Brother XL2600i is a perfect machine for home sewing projects such as altering, crafting, quilting and home décor, etc.
It is a reliable, powerful and convenient machine to use even if you don't possess much knowledge in sewing clothes.
5 Reasons To Own The Brother XL2600i Sewing Machine
1 – Easy to Use Mechanical Sewing Machine
With features that are easy to learn and use, Brother XL2600i sewing machine is a perfect fit for beginner sewers.
The simple design of XL2600i and the instruction manual helps the user to take on basic setup of the machine.
If you are doing any task which requires change of stitch, then you can easily do it by turning the dial of the machine, thereby saving lots of time.
In the same manner with built-in needle threader there is nothing to worry for threading the needle.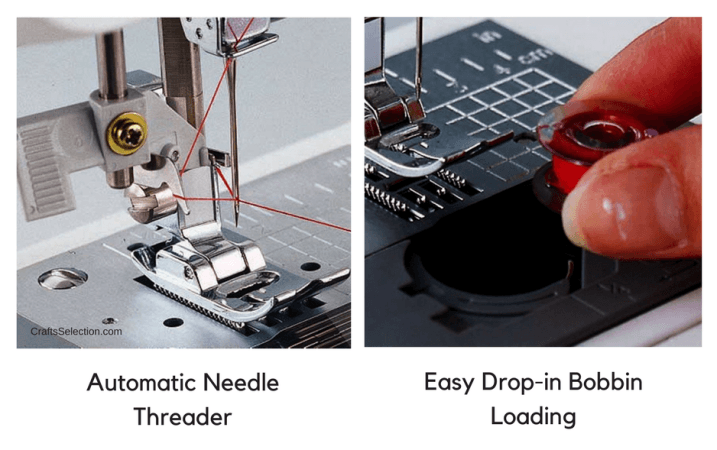 2 – Lots of Automatic Functions
Brother XL2600i is loaded with many automatic functions such as needle threader, thread cutter, drop-in bobbin loading, and auto bobbin winding which make the sewing and stitching task look easy.
Automatic features of Brother XL2600i also keep the pace of the machine totally under user control.
3 – Includes Plethora of Accessories
Brother XL2600i holds a plethora of accessories for making the device worth than purchasing. The device includes accessories like:
Zipper foot
Blind stitch foot
Buttonhole foot
Button fitting foot
Narrow hemmer foot
Bobbins, needle pack, twin needle, screwdriver and darning plate
Apart from the accessories that come with the machine, the device also holds bilingual English/Spanish instruction manual which can be handy in case user finds difficulty while operating the machine.
4 – Budget Friendly
Comes with lots of stitch options and a reasonable price, the Brother XL2600i is one of the best affordable sewing machines for starters.
This Brother machine is a great purchase for those who are beginner sewers and want to make their home sewing project simple and easy.
The mechanical device will definitely make your money worth count for you.
5 – Life-long Warranty
The Brother XL2600i sewing machine comes with a warranty period of 25 years which is applicable from the date when the machine is originally purchased.
Also, in case you are unsatisfied with the product or found any of the part missing at the time of delivery of product then you can discuss the issue with the customer support center or submit the issue (in text) at the company's official website.
Read more: Brother SM1738D Disney Sewing Machine For Kids Review
Brother XL2600i Sewing Machine – Feature Summary

25 built-in stitches, automatic 1-step buttonholes
Automatic needle threader
Built-in thread cutter, drop-in bobbin
Automatic bobbin winding system
Maximum sewing speed: 800 stitches per minute
1 bulb sewing light, free-arm included
25-year limited warranty
Pros
Lots of stitch functions
Very easy to use with automatic functions
Free arm machine for easy stitching of hard-to-reach areas
Value for the money
Cons
Some thread tension issues
Beginner's Tips for Using Brother XL2600i Sewing Machine
For proper functioning and longer durability of the product, it is recommended to follow certain tips that will help you to get the best output from your sewing machine. So here it is:
Tip 1
As XL2600i focuses on home sewers and beginners, therefore, it is recommended to make test swatches of all the stitches. This will help you to get familiar with your product in a quick manner.
Read more: How to Operate a Sewing Machine for the First Time?
Tip 2
Before trying sewing on a major project or actual clothes, try sewing on scrap fabric.
For this, you can select a stitch and sew on the scrap fabric for a couple of inches and again select the next stitch and sew again for couple more inches.
Practicing this on a regular basis will help you to become an expert in sewing projects.
Tip 3
To test out the buttonhole feature of the machine, you can once again repeat the same procedure or test buttonhole on the scrap of fabric which you have been using earlier for practicing sewing.
Once you have performed your sample buttonhole, you can open the fabric and see if the button goes through it easily or not.
Tip 4
You should also lock your stitch every time by backstitching at the beginning and end of every seam to protect the seams from accidentally pulling apart.
Tip 5
Make use of those sewing pins which has a round head on its end. Such pins are easily removable and easier to see.
Tip 6
While stitching, make sure you use the right size of needle for sewing projects. Slightly smaller or bigger needle might result in breakage in case of rough material is used.
Verdict
Many customers have used and stated that Brother XL2600i sewing machine is the perfect mechanical machine for beginner sewers.
Taking into consideration all the benefits and features of this Brother free-arm sewing machine, it is wise to say that XL2600i is the most inexpensive, lightweight yet powerful sewing machine.
Buying this machine will definitely make your money worth count for you.
See also: Top Janome Sewing Machines For Beginners