Everyone in the sewing business knows that Janome sewing machines are synonymous with high quality, durability, and user-friendliness. In fact, almost every sewer I know has owned a Janome product at some point.
Due to the popularity of the Janome brand as a whole, it can be difficult to choose the best Janome sewing machine for you.
Top 5 Best Janome Sewing Machines: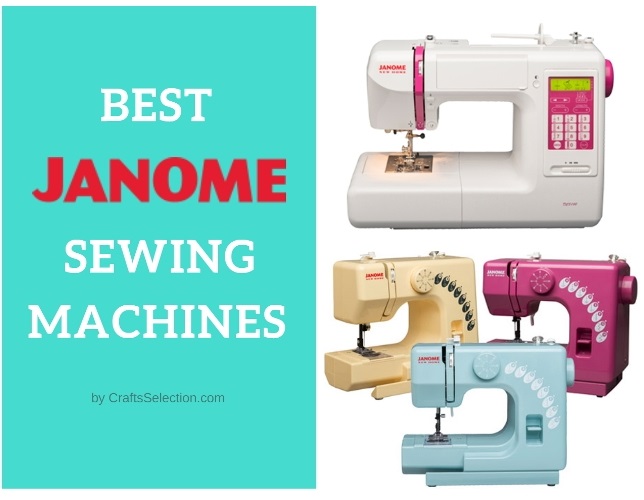 If you are in this predicament, you have come to the right place. Below are top Janome sewing machines for beginners, intermediates and advanced sewers.
How We Picked
You're probably wondering how we chose all these amazing machines.
We picked machines that are highly affordable and easy to use. They are especially recommended for home users and intermediate sewers such as sewing hobbyists and young enthusiasts.
Best Janome Sewing Machine Reviews 2023
#1 – Janome 2212: Best Janome Sewing Machine For Beginners
The Janome 2212 Sewing Machine would make a perfect first sewing machine

Feature Highlights
This affordable sewing machine comes with an exclusive bonus bundle. This bonus bundle includes a pack of 10 Janome bobbins and size 14 needles. Its key features include 12 built-in stitches and an easy to use four-step buttonhole.
Weighing in at only 15 pounds, this Janome sewing machine is lightweight and therefore easily portable. Its retractable handle enhances this portability.
This machine's zigzag stitch width adjustment and stitch length adjustment make it especially easy to use.
This ease of use is also facilitated by its large dials and its uncomplicated threading system. It's important to note that this machine also comes with a built-in thread cutter making it convenient to use.
This Janome 2212 mechanical sewing machine so features a reverse lever that simplifies locking of stitches. This machine's simplicity and ease of use make it the best sewing machine for beginners.
However, it also comes with some drawbacks. The major one is that it's not a heavy-duty machine. It is not able to sew heavy fabrics such as denim and leather.
#2 – Janome HD3000: Best Janome Heavy Duty Sewing Machine
If you're looking for a heavy duty machine, I recommend the Janome HD3000 Heavy-Duty Sewing Machine.
It comes with 18 built-in stitches and a needle threader. These features make stitching easy and convenient.

Feature Highlights
This Janome heavy duty sewing machine is made almost entirely of metal making it durable and steady. Its steadiness ensures the production of straight high-quality stitches. This steadiness also allows it to sew tough fabrics like denim and canvas.
The Janome HD3000 is without a doubt the best sewing machine for denim. Additionally, it has ample storage space in its top compartment and within its retractable arm.
Although this machine is manual, it does come with a ton of amazing features like an automatic thread cutter and an auto size buttonholer.
The auto-size buttonholer is one of the coolest features of this machine. It automatically adjusts the size of stitches to fit the specific buttons provided.
Using this sewing machine also gives you the power to adjust the length and width of stitches manually.
The Janome HD3000 is best suited for use in places where there is a huge workload.
In spite of all these awesome features, it also faces some challenges. For instance, it does not work well with sudden changes in fabric density.
#3 – Janome 4120QDC: Best Janome Sewing Machine For Intermediate Sewers
Well, the Janome 4120QDC can impress you for so many amazing features starting with its 7 one-step buttonholes or wide LCD display for an enhanced experience.

Feature Highlights
This is a go-to machine for intermediate users. The features and functions are simply exceptional and will impress you in the first detailing.
As I said, there is a wide LCD display that makes your experience more comfortable and seamless in operating the machine.
If you have created a mind-blowing design and want to save it for future reference then you can do so with this machine's stitch pattern memory capability.
I will also shed some light on other significant features like speed control slider, extra-high presser foot lift, 7 one-step buttonholes, 7-piece feed dog, built-in thread cutter, twin-needle guard, and various other.
The features of superior editing and mirror stitching makes it the best Janome computerized sewing machine.
Now, there is another very interesting feature of locking stitch button plus auto declutch bobbin winder. I will say that this machine is very interesting and will be highly suitable for people that are still getting into advanced sewing practices.
I am super impressed with the brilliant feature of auto declutch bobbin winder, American, European and Cyrillic alphabet fonts, and 7 one-step buttonholes features. This is an amazing machine available at a suitable price.
#4 – Janome 8200QCP: Best Janome Sewing Machines For Professionals
The Janome 8200QCP is a professional-grade sewing machine with advanced features including 16 Snap-On presser feet and multiple fabric compatibility.

Feature Highlights
The Janome 8200QCP is one of the best Janome sewing machines for professionals and well-known for its useful advanced features such as Acufeed fabric feeding system that helps in guiding the fabric from top to bottom, giving more efficiency in work.
It comes with a variety of 170 stitches. Trust me, you usually don't need as many stitches but the good thing is that if you want to experiment with new things with every new project then this model will give you a lot of options. It is especially helpful for quilters.
Other than that, you can also find three alphabet stitches and 10 built-in one-step buttonholes. You can enjoy amazing sewing flexibility with adjustable stitch width and length.
To prevent any accidents or mistakes, you can also lock the stitches.

Then there is an LCD panel control that gives you every information about settings in use. You can also enjoy some pre-fixed settings like elongation, memory, mirror, direct pattern selection, and twin-needle feature.
The foot pressure can be adjusted with a turn of a dial which ranges between 1 to 7. The higher pressure is used to handle tough fabrics while lower pressure is for the easy ones.
Other features like multiple led and large workspace also make it an advanced sewing machine for professionals.
In summary, the adjustable 16 Snap-On presser feet and 170 built-in stitches make it one of the best sewing machines that home business-owners and professionals can trust.
#5 – Janome MC6650: Best Janome Sewing Machine For Quilting
The Janome MC6650 has got everything you desire from a sewing and quilting machine. It is a stunning product for intermediates who need a high quality sewing machine for quilting.

Feature Highlights
The Memory Craft series of machines from Janome has seen a lot of customer's affection. Other than basic sewing, these are also popular for quilting in the most effective way.
It is fashioned with all essential features that help you to complete large projects with ease. Starting from the LED screen with a number pad and push-button control, it gives you more control over the functionality of the machine.
The impressive stitching speed of 1000 SPM ranks it into professional-grade machines. Also, there are 170 built-in stitches and 2 alpha-numeric fonts for the decorative craft.
There are also a series of other impressive functions like memorized needle up and down, automatic needle threader, start/stop button, one-push needle plate conversion, easy reverse button, and favorite stitch setting.
The machine is available with Superior Feed System with a top-loading bobbin and independent bobbin winding motor that makes sure while working, you never run out of thread.

As far as the work area is concerned, it is illuminated with 6-led lights installed in three different locations. The large 10 x 4.7 inches flatbed and deep throat make ample space for effective quilting.
Furthermore, the machine comes with a mammoth of accessories that is fairly helpful in undertaking different sewing and quilting projects.
One thing that impressed me to the core was a 25-year warranty on mechanical parts and 5-year security on electrical parts. This is certainly the best Janome quilting machine and I highly recommend it to all.
This machine is ideal for the hobbyists and intermediate users with a choice of 170 stitches and 1000 SPM power. The MC series of Janome has brought more strength to hobby sewers.
#6 – Janome TS200Q Sewing Machine
This is one of the latest Janome sewing machines with rich features for an intermediate user.
The Janome TS200Q gives more power, precision, and opportunity to the inspiring sewers with an eye for fabric craft. It is a machine for garment sewers with high versatility.

Feature Highlights
If you have been a Janome fan then you should know its machines are a masterpiece. This model is no different, especially when compared with the other brand machines with almost identical functions.
To begin with, there is a large assortment of 200 stitches in this machine. I mean, isn't this amazing. Imagine all that you can do with so many versatilities in a machine.
Moving forward, there are other astounding features like 7 mm stitch width. When I compared other machines with this one, I found that most of the competitive brands are offering 5 mm stitch width however this one is definitely doing it better.
The LCD digital display is lit enough to give you a clear vision of features in use. Plus, there are 7 buttonholes and a built-in needle threader.
You can also lock the stitch and resume it whenever ready. The construction is done with aluminum alloy material and this is surely one of the most promising products on the market.
The assortment of 200-stitches in this machine definitely makes it a winner in the sewer's community, especially to all of you who are in garment stitching. Also, it has a maximum stitch width of 7 mm which is much better than its counterparts.
#7 – Janome JW8100: Best Janome Sewing Machine For Home Sewists
The Janome JW8100 is a wish come true for sewing enthusiasts and hobbyists. It comes with great precision and functions to help you hone your sewing skills.

Feature Highlights
As a hobbyist, you usually don't want to spend a lot on a sewing machine. Certainly, it's not like the machine is helping you make daily bread and butter that you will not be able to compromise on any professional-grade feature.
What impressed me was the different types of stitches this machine is offering.
The 20 fashion and basic sewing stitches, 18 quilting stitches, 28 home décor stitches and 27 heirloom stitches give you enough playroom to try new things and feel proud of your creations.
The accessibility is also very convenient through the backlit LCD screen. It doesn't just tell you about the features in progress but also help you change them seamlessly.
The functionality is quite simple. You get 7-piece dog feed, built-in needle threader, 7 one-step buttonholes, needle up/down position, and many other similar features.
Also, there is a great feature of locking the stitch which will help the beginners to level-up their work as they can simply stop and resume from where they left.
Overall, it is the best Janome sewing machine for home sewists at a highly affordable price and inclusive of beneficial features.
This affordable sewing machine is dedicated to sewing enthusiasts who want to level-up their skills in sewing as it has got great features of 100 distinctive types of stitches and easy usability.
#8 – Janome Sewist 709: Basic Janome Sewing Machine For Beginners
The Janome Sewist 709 Sewing Machine is made to perfection for your kids or even if you are warming up to the idea of sewing. It is a standard machine with meager but effective features.

Feature Highlights
You are a beginner and looking for a Janome mechanical sewing machine with efficient features, well, this is the answer.
You noticed I said mechanical? It is because the machine doesn't have any digital displays or functions. But let's be real, the cost on which this machine is available, it will be unfair if we ask for such a feature.
But yes, you get a rotator to change the stitches and access different features. On the face of the machine, you can see stitches with their respective alphabets. This will give you an instant idea on which alphabet will give you which stitch.
Since this is a Janome machine, you can expect perfection from the work. The maximum stitch width is 5 mm whereas the length will be 4 mm.
To make your work easy, you get built-in needle threader and extra high-pressure foot lift. Also, there is 1 four-step buttonhole.
Overall, the working and functionality of this machine are too simple. You will not have to go online and search Youtube videos to learn how that machine works. This is a Janome sewing machine for starters with the most standard features.
The low-price and simplicity of this machine is its unique feature that will make every sewing project more indulging for the beginners.
#9 – Janome Arctic Crystal: Best Janome Sewing Machine For Kids
Have you seen your kids curious about the sewing job you do?
If yes then it's the perfect time to get them something that can turn into art for them. The Janome Arctic Crystal Sewing machine is the answer as it is the most useful sewing machine for kids.
It is a standard product with a choice of 15-stitches, ideal for kids to get into the concept of sewing

Feature Highlights:
It's important if your kids are showing interest in sewing, you get them a quality entry-level sewing machine to help them explore a new stream of the profession.
The Janome Arctic Crystal Sewing Machine can be your go-to product as it comes with every feature that a child can need to begin with sewing.
I will start with the assortment of 15 basic to semi-decorative stitches that will help them understand the basics about stitches and it can also motivate them to create something exceptional.
The stitches can be changed using the dial and the description of various stitches is printed on the machine itself.
All other features are quite standard. You get a 1 four-step buttonhole and a 3-piece feed dog. The maximum length and width of a stitch are 4mm and 5 mm respectively.
There is a push/pull bobbin winder which will require some practice for kids to learn. The simplistic working and functionality of the machine make it a suitable first sewing machine for kids.
Janome's History at a Glance
Here's a little backstory.
The Janome brand was established in 1935. The word Janome literally means "snake's eye" in Japanese.
This name is derived from the round metal bobbins that this company introduced to the market. Up to this day, these are the bobbins used, doing away with the old-fashioned shuttle bobbins.
With a research laboratory in Tokyo, it's easy to see that the Janome sewing machine company is refreshingly serious about innovation.
Janome produces a variety of machines that serve various consumer needs like sewing, quilting, embroidery and overlocking. They have a little something for everyone.
These affordable machines give you everything you need in a stylish way. It's no wonder there are so many positive Janome sewing machine reviews.
Conclusion
The many Janome sewing machine reviews speak volumes about this brand's popularity. In fact, it is one of the leading brands of sewing machines. It's no wonder there is a large variety to choose from.
However, these featured machines are without a doubt the best ones in the market right now. They cater for the needs of kids, beginners and even professional sewers. At the end of the day, it's up to you to choose the one that suits you best.