Sewing is supposed to be an art which takes quite some time to master, but there are some of you out there who have already inculcated a knack to sew fabrics and make an artwork of your own.
The right type of sewing machine with the best features is what everyone looks for and why not? When it is art we are talking about, there is no compromise with the quality.
Among the best sewing machine brands, Brother is considered an eminent supplier of high-quality, innovative products. The company is renowned for its state-of-the-art machines and accessories.
Top 5 Best Brother Sewing Machines: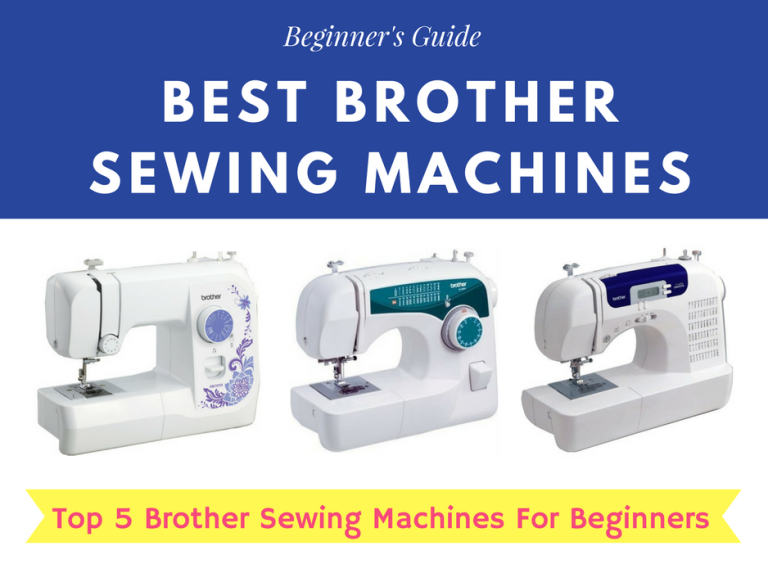 So here we are to guide you and help you to buy the best Brother sewing machines that are very easy to use for beginners.
Best Brother Sewing Machines for Beginners 2023
Best Brother Sewing Machine Reviews 2023
#1 – Brother CS6000i Sewing and Quilting Machine

Pros
Very easy to use
It has simple features that are basic enough to learn
Lightweight, easy to carry to sewing class
Good price
Cons
No backlight on the LCD panel, dim light over work area
Only suitable for basic sewing projects
This Brother CS6000i sewing machine is one of the best we have come across. It is filled with quite a number of unique features that are sure to aid the users in their sewing.
Firstly, the main problem, threading, is taken care of completely with this sewing machine. The easy threading makes it very convenient for the users.
The automatic threader makes sure that your thread goes through the needle at the first try itself. The large table allows you to stitch and make quilts without any trouble at all. Large projects can be handled with ease.
The built-in speed control makes it convenient for one and all and there is absolutely no need for any foot control system. The Brother CS6000i sewing machine can give a wide range of stitches and serve a wide range of stitching purposes.
Furthermore, the price is a little low compared to the features and that is the reason it is opted by users across the world.
However, there might be a little trouble with the light for those who have eye problem. But that can be overcome easily by using an extra lamp around the stitching area.
Brother CS6000i - Highlights
60 stitches, 7 styles of automatic 1-step buttonholes
Automatic needle threader
Electronic variable speed control
Fast sewing speed, up to 850 stitches per minute
Built-in free-arm
25-year limited warranty, bilingual user manual
Great value for the money
#2 – Brother SE600 Computerized Sewing and Embroidery Machine

Pros
Easy to use
Features both sewing and embroidery functions
Computer connectivity for more design input
Affordable price
Cons
Threading and thread tension issues have been reported by users
Unlike many other leading sewing machines, the specialty of this Brother SE600 is that it has a computerized system for sewing.
The basic function of this computerized system is that by connecting your machine to the computer, you can quickly and conveniently transfer innumerable purchased patterns and designs from iBroidery.com and use it on your desired fabric anytime.
Another very attractive thing about the Brother SE600 is that the touchscreen color LCD display eliminates the trouble of using a single button differently for different purposes.
The LCD light is also bright enough and the stitching workspace is also bright and spacious for your purpose.
Overall this is a very reliable and versatile device. Furthermore, the price that you pay for this very useful sewing embroidery machine is hardly anything compared to the features it has to offer.
However, you must keep in mind how you use the device. This is because in some cases you might have to change the needle in case the thread tangles.
Brother SE600 - Highlights
103 in-built stitches, 8 buttonhole styles
80 embroidery designs, and 6 monogram fonts
LCD touch screen for easy control and stitch selection
Large 4x4 embroidery area
Automatic needle threader
Built-in tutorial
#3 – Brother XM2701 Mechanical Sewing Machine

Pros
Very easy to set up and use
Compact design and lightweight
Offers many different types of stitches
Cons
Only suitable for light duty and basic sewing works
The user manual is not clear enough for beginners
The main attractive feature of this Brother XM2701 sewing machine is its easy and user-friendly stitch selector.
Though it is capable of applying only a number of stitches, each one of them is perfect and the selection procedure is also easy. You can just turn a knob to select the stitch of your choice and change it as often as you need.
The top drop-in bobbin is simply the best that you can have. Unlike other machines of its kind, the bobbin is jam resistant. The free arm aids in sewing cuffs and sleeves along with a couple of other things very easily.
Overall, the product has been rated as one of the best of its kind. Another very attractive thing about this sewing machine is that it is available at a very affordable price in the markets.
The main thing that a couple of users have complained about is the user manual alone. It is somewhat difficult to comprehend in certain areas but does that matter?
If you have used sewing machines before then this one is as easy as a pie there is absolutely nothing to be worried about.
Brother XM2701 - Highlights
27 built-in stitches, 1 step auto-size buttonhole
Automatic needle threader
Easy stitch collector
Automatic bobbin winding system
Good price
#4 – Brother XR9550PRW Project Runway Sewing Machine

Pros
Large variety of sewing stitches
Comes with a wide table for quilting projects
Lightweight and portable
Comes with multiple accessories
Cons
Not suitable for heavy duty sewing works
Little noisy when working
There might be a hundred or even thousand sewing machines available in the markets these days and a number of them might be by Brother itself but there are some features that set this Brother XR9550PRW Project Runway above a number of them.
The main feature that sets it apart is that its stitch capability. Unlike most other devices that provide about 60 or 70 built-in stitches, this one consists of 110 built-in stitches that will help you work on different fabrics at ease and create masterwork of your own.
The needle position button is another thing that is very useful for the users.
On the other hand, the brightly lit work area, the easy threading facility, the free arm, jam-resistant bobbin and 165 stitch functions make it pretty good buy for sewing lovers.
This Brother XR9550PRW can give your work a new meaning altogether.
The drawbacks of this device are that it is a little noisy and not very powerful for heavy duty sewing; however, we can overlook it given the innumerable benefits it has to offer.
Brother XR9550PRW - Highlights
110 built-in stitches, 8 styles of 1-step auto-size buttonhole
165 stitch functions
Needle position button
Automatic needle threading system
Full assortment of accessories
Free arm for sewing cuffs and sleeves
#5 – Brother XM1010 Sewing Machine

Pros
Compact design, well-built
Simple, easy to use
Affordable
Cons
Short power cord
No automatic needle threader
The most convenient thing about the Brother XM1010 sewing machine is that it is extremely lightweight and portable.
The threading procedure of the machine is also very quick and user-friendly.
All you have to do is follow a couple of instructions in the form of diagrams printed on the machine itself and the threading will be done soon enough.
The bobbin winding is also convenient compared to other machines of its kind. With the free arm available, you can sew the finest sleeves and make the most comfortable and fitting clothes for your kids.
The stitch selector is also simple and readable easily. For the best interest of the users, it has a handle that allows it to be carried around from one place to another at ease.
There is absolutely no need to worry about the price of this product; the price is pretty cheap compared to the ones of its kind with similar features.
However like there is a flip side of a coin, the only problem with this device is that if you are a beginner and depending on the user manual then it might take you a couple of tries to get a grip on the working of the sewing machine but otherwise you are good to go.
Brother XM1010 - Highlights
10 built-in stitches, one 4-step auto-size buttonhole
Free arm for sewing cuffs and sleeves
4 sewing feet: zigzag foot, zipper foot, buttonhole foot, button sewing foot
Jam-resistant quick-set drop-in top bobbin
Best for every sewing and mending
Cheap price
Best Brother Sewing Machine Comparison
Conclusion
These Brother sewing machines have been opted by thousands of customers over the years and it has been serving their purpose pretty well. In the present day, Brother has become a very well-known brand when it comes to sewing machines.
Another specialty of each of these machines is that they come with a number of attractive features but an affordable price.
If you are thinking of buying a machine anytime soon then you must surely go through the features and the reviews and then make your choice. Make your choice wisely and let the machine do the rest.