When you need a strong embroidery machine that will serve you well throughout the years, shopping online can be a great option for people with little time to visit the stores.
However, the sheer amount of choices that you will find may have you feeling overwhelmed.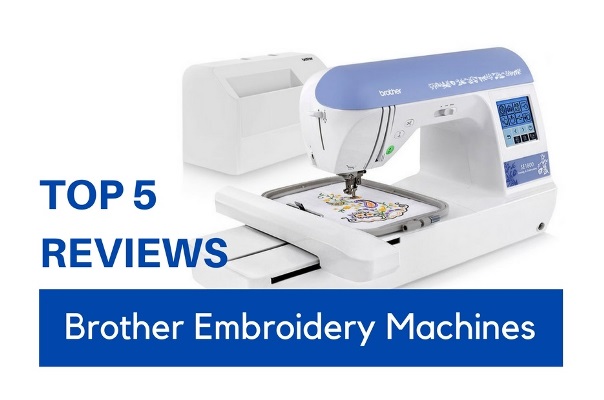 Hopefully, with this comprehensive guide to some of the best Brother embroidery machines on the market, you soon will be on your way to purchasing a top notch machine to fit your needs.
Consider the following Brother embroidery machine reviews. One or more of them may be just what you are looking for.
Best Brother Embroidery Machine Comparison Table
To put you at ease, here's the top 5 Brother embroidery machine comparison chart for you to quickly skim through before diving into detailed reviews.
Top 5 Brother Embroidery Machine Reviews
1. Brother PE770 5×7 Embroidery-only Machine
The Brother PE770 computerized embroidery machine is an excellent choice for anyone who is a beginner at embroidering.
The digital embroidery machine is ideal for many purposes in its 5 x 7-inch hoop format.  The large surface area makes it possible to integrate designs without having to rehoop.
Pros
Good for learning, simple and straightforward to learn
Easy threading with automatic needle threader
Large embroidery area
Inbuilt memory
Cons
The screen is small and inadequate for doing designs
Not very durable
The Brother PE770 is quite easy to use, though the quality of work is amazing for such a simple machine.
A feature that is particularly helpful is the built-in memory that allows for you to store designs you want to use in the future.
Utilize the multiple design editing functions to be able to produce amazing creations such as floral, quilt, and scrollwork designs among others.
Connect it to the computer via the USB port and cord that is included to allow you to import any other designs that you want. Make sure that you use genuine Brother hoops with it.
Read full Brother PE770 review
2. Brother SE400 Combination Computerized Sewing and 4×4 Embroidery Machine
This is a great beginner embroidery sewing machine that many customers love. You can do so much with the Brother SE400 – sew, embroider and quilt to your heart's content.
Pros
Easy to set up and use
Features both embroidery and sewing capabilities
Automatic thread needle and cutter
Great value for the money
Cons
The hoop size is limiting
The back-lit touch screen LCD display lets you view what you are doing with ease. The one-touch thread cutter is an innovative feature to cut the top and bobbin thread without a hassle.
Connect it to the computer so you can import designs straight from websites such as iBroidery.com. Also, you have access to 70 built-in designs, 5 lettering fonts and 67 unique sewing stitches.
The 4 x 4 surface area allows for ample space to embroider, so you can let your creativity run free.
It's very easy to use, though you will want to read all the way through the instruction guide so that you do not make any mistakes and keep it close by.
The one feature that people are not happy about is how the foot pressure doesn't adjust, making it tough to sew thin materials.
The Brother SE400 is great for anyone who wants a starter embroidery sewing machine combo.
Read full Brother SE400 review
3. Brother Designio Series DZ820E Embroidery Only Machine
The Brother Designio DZ820E is ideal for both beginners to embroidery and professionals. Many individuals have said that it was the best purchase they made.
It is incredibly user-friendly, though if you have any questions, you can rely on Brother's customer service.
Pros
Large embroidery area (5x7 inches) with two extra hoops
Complimentary starter kit (six spools of thread, extra bobbins, stabilizer, scissors, etc.)
Automatic threading, thread trimming
Inbuilt tutorials, design editing option, 2-LED powered work area
Excellent user manual by Brother makes it easy for beginners
The back-lit touch screen LCD display makes it possible to view tutorials that are built into it, and look at the design editing features that are included.
You also will receive 200 embroidery designs on a CD, as well as a handy starter kit containing high-quality thread, steel embroidery scissors, extra bobbins and much more.
It also comes with two extra embroidery hoops so it saves you a lot of time preparing for a second project while the machine is working on the first one.
You can download over 5,000 unique designs through iBroidery.com. The needle threading function is quite easy to use, saving you a headache.
This Brother computerized embroidery machine contains everything that you could possibly need to just take it out of the box and begin embroidering.
The only thing that is an issue is that the thread tension can be too loose, but it's a fairly easy fix. Just make sure to test it out on cheap fabrics first.
4. Brother LB6800PRW Project Runway Computerized Embroidery and Sewing Machine
If all you need is the best Brother embroidery sewing machine, this is a great choice and well worth the cost. Embroider both quilts and quilt labels with this machine, as well as various other types of projects.
Pros
Good quality of stitches
Lightweight and portable
Inbuilt memory (512 KB), on-screen editing
Comes with a convenient Project Runway rolling case
Good price for the package
Cons
Not compatible with Apple Mac
Small hoop 4x4, no options to upgrade
What people love the most about this Brother LB-6800PRW machine is that it is virtually silent, and it runs so smoothly. People who do not know much about sewing can use this with no trouble.
It is easy to thread the bobbin and top thread so that you have stitching that is consistent and even. Use the one-touch automatic thread cutter for cutting the bobbin and top thread easily.
The Brother LB-6800PRW comes with comprehensive sewing functions, 67 unique sewing stitches, a back-lit touch screen LCD display for easier viewing, 4 x 4 design and editing functions.
You also get a 4 x 4 inch embroidery hoop, a set of 7 sewing feet, USB capability with cable, soft cover, embroidery bobbin thread, and a rolling bag.
One issue that bothers some quilters is that it can be difficult to finish a full-sized quilt using the machine due to it having a narrow throat, but with some adjustments, they were able to complete one.
Read full Brother LB-6800PRW review
5. Brother PE525 4×4 Embroidery Machine
This small Brother embroidery machine is impressive for its size – it is excellent for home embroidery projects. It is easy to use and lets you produce high-quality creations.
Pros
Affordable
Compact and easy to use
Nice built-in designs
Cons
Limited embroidery hoop size 4x4 inch
Small screen makes it hard for seeing details
With a 4 x 4 surface area, there is adequate work space for nearly any type of project you are working on.
Enjoy using the 70 built-in embroidery designs, 120 frame pattern combinations, 5 lettering and monogramming fonts. Use the LCD touch screen that is back-lit to access your designs, tutorials and more.
The fact that it can connect to the computer means that you can access 5,000+ designs from iBroidery.com and other sites. Thread your needle with ease using the automatic needle threader.
The Brother PE525 is easy to use, high quality and is designed using excellent craftsmanship. There isn't a wide area in which to do embroidery, and the fabric holder can be tough to use but anyone can do it with a bit of patience.
Conclusion
Embroidering and sewing can be both challenging and rewarding. It makes all the difference when you have a high-quality embroidery machine. Brother manufactures many of the best home embroidery machines that you can buy, so peruse them to see which you would like.
We hope that these Brother embroidery machine reviews will help you make a wiser purchase. Don't hesitate to share with us your experience with embroidery in the comment section below.
Have fun with Brother!