When you need a strong embroidery machine that will serve you well throughout the years, shopping online can be a great option for people with little time to visit the stores.
However, the sheer amount of choices that you will find may have you feeling overwhelmed.
Hopefully, with this comprehensive guide to some of the best Brother embroidery machines on the market, you soon will be on your way to purchasing a top notch machine to fit your needs.
Top 5 Best Brother Embroidery Machines: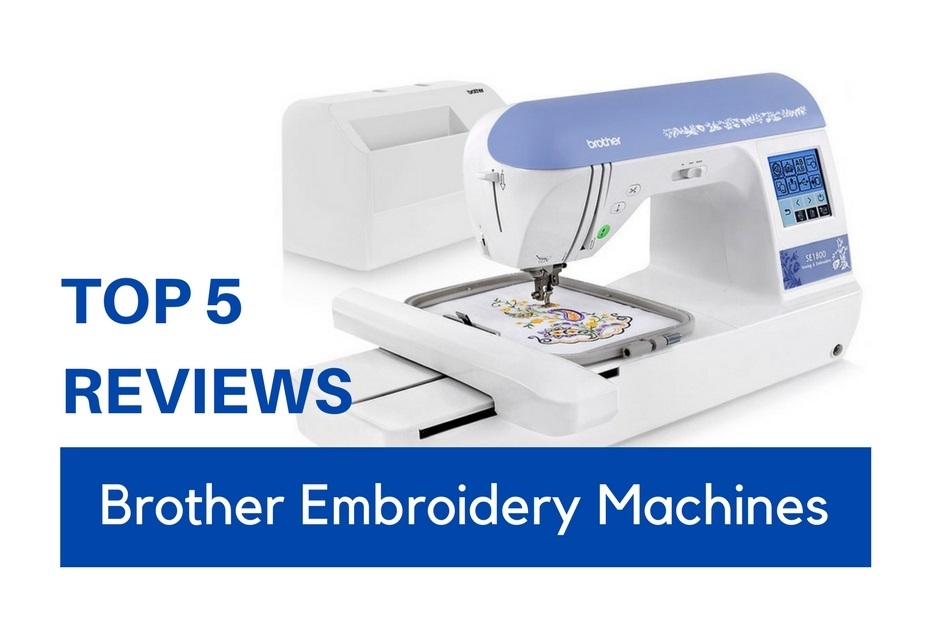 Consider the following Brother embroidery machine reviews. One or more of them may be just what you are looking for.
To put you at ease, here's the top 5 Brother embroidery machines for you to quickly skim through before diving into detailed reviews.
Best Brother Embroidery Machines 2023
Best Brother Embroidery Machine Reviews 2023
#1 – Brother PE800 – Best Brother Embroidery Machine For Beginners
If you are in search of an exceptional option which can help you in creating the best embroidery designs then Brother PE800 is one of the perfect choices you can make. This embroidery machine is suitable for beginners and experts in terms of all functions.
The handling of the machine is quite simple and none of the users has to go through the complicated part of the understanding mechanism for months.

Pros
Good for learning, simple and straightforward to learn
Easy threading with automatic needle threader
Large embroidery area
Inbuilt memory
Cons
The machine supports PES or DST files when you import the embroidery designs
Brother PE800 Embroidery Machine Overview
The Brother PE-800 embroidery-only machine has the Women's Choice Award in 2018 and it's one of the best new Brother embroidery machines.
The machine has beautiful florals, seasonal and kids designs, plus 10 frame shapes with 14 stitch patterns. By just touching the lever, the threading process will automatically be done for you. This feature will help you when you have to change the several threads in one project.
One of the eye-saver features you can take advantage of its built-in LED light. It will help in illuminating the needle area so you can focus on the embroidery design and can look at the project closely.
This Brother embroidery machine also has editing and additional design features which can save you from stitching the wrong design. The flexibility of the machine helps in rotating, mirror imaging and for the increase, a decrease of the size.
Verdict
This Brother PE800 embroidery machine is the best choice for the people who were looking for the fast, versatile and amazing match to their skills. The price of the machine is also affordable and it will help users in enhancing the skills with time.
#2 – Brother SE600 – Best Brother Embroidery Machine For The Money
This Brother computerized embroidery machine comes with the latest and advanced features to simplify the work. The machine has won the Women's Choice Award 2018 on the basis of its performance and reliability.
Brother SE600 is suitable for both beginners and expert sewers who can handle the advanced features.

Pros
Features both embroidery and sewing capabilities
Comes with 103 built-in sewing stitches, auto-sized buttonholes
Automatic needle threader makes the process of threading easier
The smart LCD display helps in reviewing the design
Cons
Limited 4x4-in embroidery area
Brother SE600 Embroidery Sewing Machine Overview
Brother SE600 computerized sewing and embroidery machine is just not suitable for the experts but people who are beginners can also attempt to use it.
With the help of enhanced technology and multiple customized features, you can level up the embroidery game. The design editing features help in changing the color of the thread individually in the design.
You can utilize the 80 designs available in the machine or can import your own with a USB port. For the free motion sewing, it has drop feed and needle up-down feature for the variable speed controls. The 7 quick change feet push you towards attempting the professional projects on this machine.
The 25-year limited warranty, as well as free technical support, will help you overcome any problem in the machine.
Verdict
I recommend this Brother SE600 machine to any beginner or expert sewer out there looking for the computerized embroidered machine loaded with the advanced features. It has the power to simplify the work and can provide you with a vast range of designs.
#3 – Brother SE1900 – Best Brother Embroidery Machine For Home Business
Brother SE1900 sewing embroidery machine is a versatile machine which can improve the creativity as well as unleash your professional side.
Due to the amazing features, you can almost create any embroidery design available in the market. From the beginners to the expert, this sewing machine is suitable for all.

Pros
Features both embroidery and sewing capabilities
Large 5x5-in embroidery field, nice LCD display
Large variety of embroidery designs and sewing stitches
Great value Grand Slam package at a good price
Cons
There are some learning curves for beginners
Brother SE1900 Embroidery Sewing Machine Overview
One of the top-rated Brother embroidery machines, the possibilities of creating anything from this machine are endless. The USB Flash drive allows the user to import hundreds of embroidery designs to the machine and use them whenever they want to.
The automatic needle threading function is quite easy to use, saving you a headache.
The Brother SE1900 embroidery sewing machine can help you in placing the designing wherever you want at the project with the help of rotating feature.
It has 5×7 embroidery hoop which gives freedom to the user to create anything and to do designing as much as they want. In just a few simple steps, even as a beginner, you can create large designs as well.
You can easily transfer any embroidery design to the machine without the help of software which can make things complicated. The easy handling of this machine is something which attracts the customers.
This Brother computerized embroidery machine contains everything that you could possibly need to just take it out of the box and begin embroidering.
Verdict
In my opinion, the best thing a sewer can expect from the embroidery machine is its ability to handle multiple projects. This Brother SE1900 embroidery sewing machine has all the things you were looking for as well as affordable in terms of price. It's a long-term and reliable embroidery machine for professional work.
#4 – Brother PE535 – Easy Brother Embroidery Machine
This small Brother embroidery machine is impressive for its size – it is excellent for home embroidery projects. It is easy to use and lets you produce high-quality creations.
Along with the latest advanced features, this machine allows the user to create their own design on the LCD display and you can even customize each thread.

Pros
Compact and easy to use
Nice built-in designs
Large color LCD display
Cons
Limited embroidery hoop size 4x4 inch
Brother PE535 Embroidery Machine Overview
The Brother PE535 is easy to use, high quality and is designed using excellent craftsmanship. With a 4 x 4 surface area, there is adequate work space for nearly any type of project you are working on.
This Brother embroidery-only machine comes in handy with 80 built-in embroidery designs, 120 frame pattern combinations, 9 lettering and monogramming fonts.
With the large LCD touch screen that is color, you can quickly access your designs, tutorials and more. The fact that it can connect to the computer means that you can access 5,000+ designs from iBroidery.com and other sites.
However, there isn't a wide area in which to do embroidery, and the fabric holder can be tough to use but anyone can do it with a bit of patience.
Verdict
The incredible value and ease of use make the Brother PE535 one of the best Brother embroidery machines available today and you are going to enjoy your work. It's user-friendly and no one has to go through certain complications to use it.
#5 – Brother PE550D – Best Inexpensive Brother Embroidery Machine
Brother PE550D is a versatile embroidery machine which is dependable and affordable for everyone.

Pros
Beautiful 125 built-in designs including Disney designs
Large, easy to use color LCD display
Easy threading and editing designs
Cons
Limited embroidery hoop size 4x4 inch
Brother PE550D Embroidery Machine Overview
Brother Disney embroidery machine PE550D is one of the most amazing and dream-come-true kind of a machine. Here you can have a number of Disney designs to copy them on the fabric later.
Automatic needle threader will work by just tapping a lever. 125 built-in designs give you the freedom to include any of these in your project or you can import some from the internet.
The 3.2" smart sew LCD display allows you to view the full picture in the colors. For the precise placement of the design on the project, there is an alignment system to save your work from any kind of mishap.
Verdict
This Brother PE550D is one of the most inexpensive embroidery machines for beginners. It has beautiful Disney designs which makes it unique from the others.
Conclusion
Embroidering and sewing can be both challenging and rewarding. It makes all the difference when you have a high-quality embroidery machine.
Brother manufactures many of the best embroidery machines that you can buy, so peruse them to see which you would like.
We hope that these best Brother embroidery machine reviews will help you make a wiser purchase. Don't hesitate to share with us your experience with embroidery in the comment section below.
Have fun with Brother!