The all-new Brother SM1738D is the ultimate child-friendly machine that has hit the market in 2017. The 4 Disney Faceplates it comes with, is a fresh concept in the sewing industry.
It is a basic sewing machine that is best for a beginner seamstress. However, the incredible and colorful faceplates provided with the machine, make it an attraction for kids as well.

Brother SM1738D Sewing Machine - Feature Summary
17 unique built-in stitches, one 4-step auto-size buttonhole
4 interchangeable Disney faceplates
Disney dust cover
4 sewing feet: zigzag foot, zipper foot, buttonhole foot, button sewing foot
Brightly lit LED work area
Free arm for sewing cuffs and sleeves
25-year limited warranty
Lightweight at 10.36 lbs
Highlights of Brother SM1738D Sewing Machine
Here are some reasons why Brother SM1738D is a good basic sewing machine for everyday use:
Easy to Use
The SM1738D Sewing Machine comes lightweight, easy to carry and easy-to-use.
The easy stitch selector of this Brother Disney sewing machine is like turning a dial. It is easy even for kids to sew right away as the stitching dimensions are pre-set without any need to adjust further.
The jam-resistant top bobbin is reliable as it gives even stitch while ensuring the bobbin stays in place.
This machine comes with four kinds of sewing feet that are easy to learn:
Zigzag foot or J foot is an all-purpose stitching foot to produce straight seams, stretch blind hem, satin stitches, overcasting, and zigzag
Zipper Foot or I foot is used to attach zippers on both the ends quickly and easily
Buttonhole Foot or A foot, the built-in four step feature for buttoning with this foot ensures that your buttonholes are very easily created
Button Sewing Foot or M foot is a revolutionary feature of SM1738D as it saves time and hassle of manual buttoning.
Ideal for Beginners- Adults and Kids
Owing to the fantastic features mentioned above, the reviews of Brother SM1738D sewing machine have so far been in favor of it as an ideal fit for the beginners both adults and kids.
The bonus is the exceptionally well-created instructional DVD. The DVD comes with help in four languages, the manual, however, is in just two languages- English and Spanish.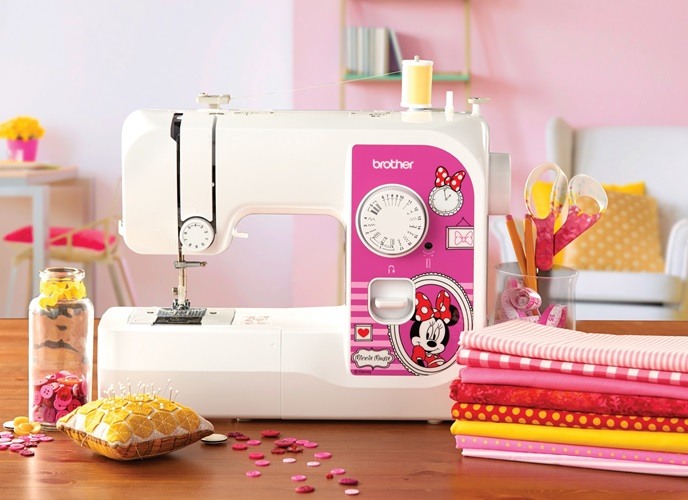 The four interchangeable Disney faceplates is an added decal exclusive to Brother SM1738D. The much-loved faceplates ensure sewing is fun and not a boring, mundane activity.
The machine also works well for occasional sewing, for learning or practicing stitching.
Good Performance
The machine can make a variety of stitches, make buttonholes effortlessly, and even sew on the buttons.
Straightforward operation with a free arm allows sewing sleeves, cuffs, and hard to reach areas conveniently.
Brother SM1738D makes even stitches without skips and other issues. The machine boasts an excellent mix of stitches to allow varieties of stitching happen.
Limitations
As much as this sewing machine is an amazing option for beginners, it also has some drawbacks.
The major one is its non-durable plastic components like the presser foot. It is another inconvenience to work with the foot as they frequently need to be raised and lowered which could easily break off.
Another drawback is that the machine comes with no needle or needle threader. So when you order Brother SM1738D, buying some inexpensive needles and needle threaders along with the machine is a wise idea.
Read more: Best Singer Sewing Machines For Beginners
Verdict
Brother SM1738D sewing machine is a great basic sewing unit for the ones seeking to kick-start their stitching hobby or career.
For kids, even if a keen interest doesn't develop, this Brother Disney sewing machine could serve to follow them up to adulthood.
The machine performance is made to guide the beginners, and it is a reliable unit to create a variety of stitches, buttonholes and conduct other simple and even professional operations.