Embroidery needles are titanium-coated sharp pointed objects used for needlework projects.
When picking the appropriate needle, it should correspond to the thickness of both the fabric and thread that you're going to use in your project.
Sometimes, you don't know which needles are perfect for your embroidery stitching and you often mistakenly choose the wrong needle.
Remember, if you don't select the best needle, it may ruin your needlework project.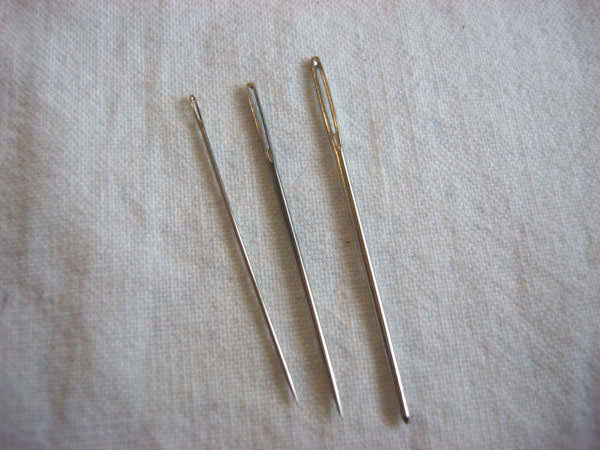 We normally encounter different kinds of needles that vary in size, width, length, point, eye, and thickness. We don't have even any idea what needle that fits right for the embroidery work.
To master the technique in choosing the right needle to use, you may read this article and be guided to the proper procedures and needle techniques to assure a perfect result of your needlecraft.
Characteristics of an Embroidery Needle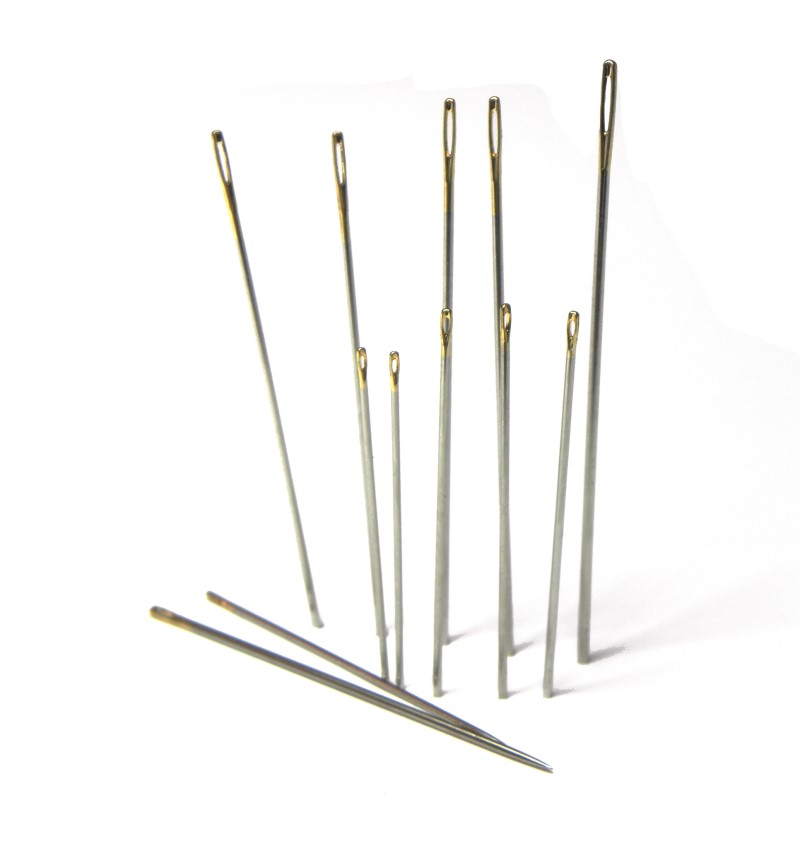 Size
As we all know, needle sizes vary depending on the needlework, fabric, thread, and style. You'll go to apply.
For embroidery, sizes from 1 to 16 are the appropriate ranges for doing the stitching regardless if you're using a machine or bare hands.
You should also take note this simple guide, the higher the number hence, the smaller size the needle is.
Don't get confused with the hand sewing needles and machine-based needles because they might look different in appearance but when it comes to their sizes, they're merely identical.
As far as embroidery is concerned, learn how to identify what fabric that you're going to use and come up with a voguish design and apply amazing embroidery techniques.
Width
Width pertains to the thickness of the needle that you will be using in stitching thin or thick fabrics.
Normally, when you do the embroidery, there's no standard of fabric to be used. Any kinds of fabric as long as the embroidery can be applied, you may select among these wide selections of textile.
So, it depends on the chosen textile if how thick your needle will be. Make sure to test your needle if it can penetrate to the fabric without any difficulty.
Length
Usually, the length and width correspond as to each other. If the width is thick, expect the length to be longer and vice versa.
The length has something to do with the tricks on how to sew using bare hands and it may also help in having a fine embroidery when it comes to the sewing machine.
Typically, when we sew the fabric, we insert the needle in multiple times and pull it out in an instant so that it will create stitches in parallel dash lines.
Point
The sharp edge of the needle refers to the point. This part should be tough and not brittle enough to break since sewing some thick fabrics might be complicated sometimes especially if you have a petite needle.
Frequently, thick and pointed needles are the popular needles being used to create designs and stitches in an embroidery technique.
Eye
The eye of the needle also indicates the proper needle to use for embroidery.
In fact, we have three types of needle's eye namely small, medium, and large.
The small size was normally used for standard sewing, while the large size usually appears like an elongated hole that normally used for thick fabrics such as leather.
When it comes to the embroidery, the medium-sized will be enough to create a distinguishing craftsmanship through the embroidery.
What Types of Needles are Perfect for Embroidery
1. Chenille Needles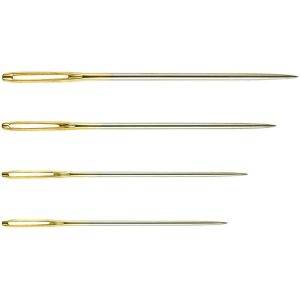 This type of needle has a long eye and a sharp tip. Chenille needles have a comparison with a tapestry needle in terms of sizes. Their sizes can start from 14 and up to a bigger size of 28.
As the name says it, Chenille needles are used for chenille embroidery. But other than that, chenille needles have other common uses too. These needles can be a perfect use for crewel embroidery crafts or just any kind of embroidery in wool.
Chenille needles are also a good tool in some tricky thread as they become easy to use and decreases the frustration from a stressful thread.
2. Milliner/Straw Needles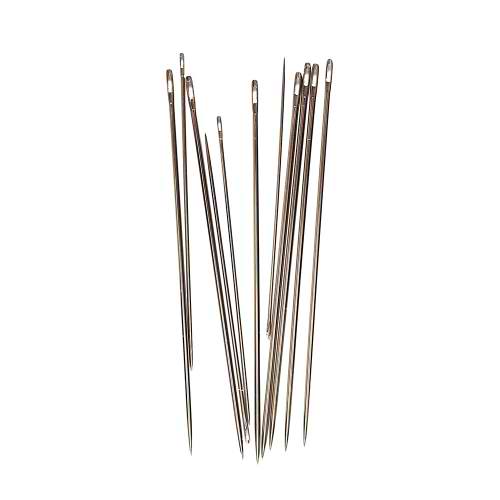 Milliner needles or most commonly called as "straw needles" have a round and smaller eye, its shaft has the same thickness like the eye. Its eye does not have the bulky shape located at the needles top portion.
Milliner needles come in the largest size of 1 and up to 10 being the finest.
These needles are ideal for several types of stitch in which a needle is wrapped around with thread several times and the needle needs to pass through the wraps.
Some of these knots that work easier with the help of a milliner needle are a cast-on stitch, bullion knot, French knots and a drizzle knot.
3. Beading Needles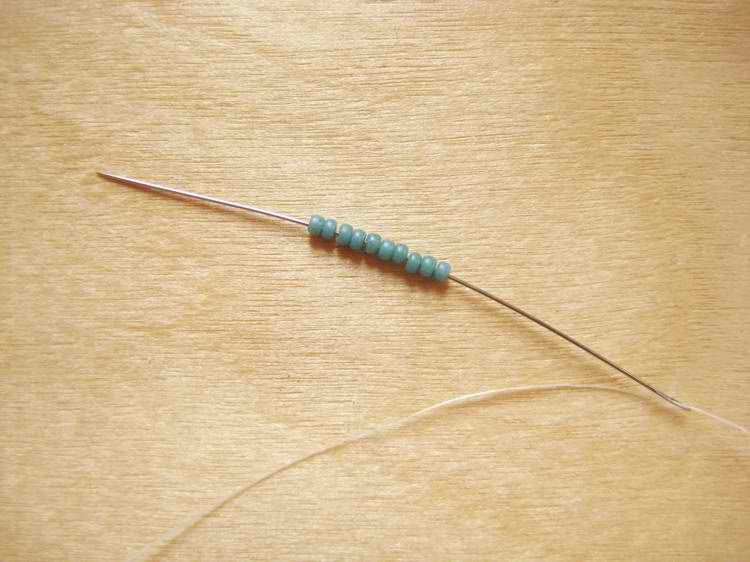 When working with beads, the use of normal or common sewing needle won't work and may just create some frustrations for you. This is the reason why beading needles are created.
The beading needles specifically created and used to make beading works done easily and efficiently.
This type of needle may just look like the normal sewing needles seen around. But actually, beading needles are more flexible, thinner in size and contains a smaller eye or a threaded hole.
Beading needles can be best used for stringing.
4. Quilting Needles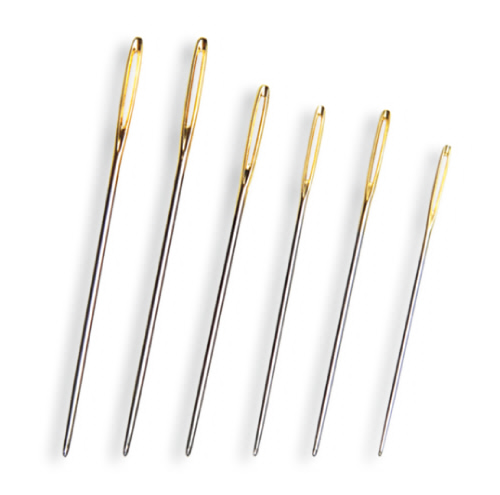 The art of hand quilting involves a detailed work of sewing running stitches through a sandwich of layers of the quilt. This process is surely a sophisticated work, which is why a special needle is needed in order to effectively and efficiently finish the project.
Quilting needles are also called as between and are specifically the best choice for the traditional hand quilting. These needles are commonly short, sharp and narrow and have a small and rounded eye or thread whole.
Quilting needles come in the small size range of 3-12, but don't underestimate this little metals because they are created to perform with the best function for hand quilting.
Different Kinds of Accessories That You Can Use for Your Embroidery Needle
Magnetic Needle Case

Keeping your needles intact and properly secured, you may use this magnetic needle case. It has magnetic properties that can hold your needles and it has a covering so that, the needles will never be spilled.
Needle Organizer
A needle organizer was also an item that can keep your needles in a compact storage. Needle organizers vary in their color and shapes so you may select your favorite needle organizers.
Moreover, you may actually improvise a home-made needle organizer.
Needle Threader

Sometimes, we don't have our eyeglasses to insert the thinnest floss in the needle's eye.
So, a needle threader is the popular trick to do when you're having a difficulty in inserting the needle. It is easy to use and it will surely amaze you.
Conclusion
Make your needlework craft a splendid and voguish fabric ever by choosing the best needle to correspond with your textile and thread.
Now, you know the things that you should know when it comes to the size, width, length, point, and eye of the needle so your embroidery needle craft will surely come out with amazing results!
In addition, you're provided with relevant ideas about the needles perfect for your embroidery stitching to make your needlework project more interesting and stunning such as chenille needles, milliner/straw needles, beading needles, and quilting needles.
The variety of accessories for needlework were also discussed in this article to give you the best hints on how to properly use your needles such as magnetic needle case, needle organizer, and needle threader.
Hopefully, the topic caught up your attention and learn something new today. Start stitching your masterpiece with your favorite embroidery needle now!