Whether you are a beginner or a fashion designer, having a good sewing machine is necessary for improving your sewing skill set. However, one does not need to strain their legs with a traditional sewing machine for this purpose.
With the evolving modern technology, home sewing machines have gained several convenient features that are sure to make your job easy.
Top 5 Best Sewing Machines For Home Use:
In this comprehensive guide, we have included detailed reviews of the best sewing machine for home use available in the market based on their durability, ease of use, and functionality.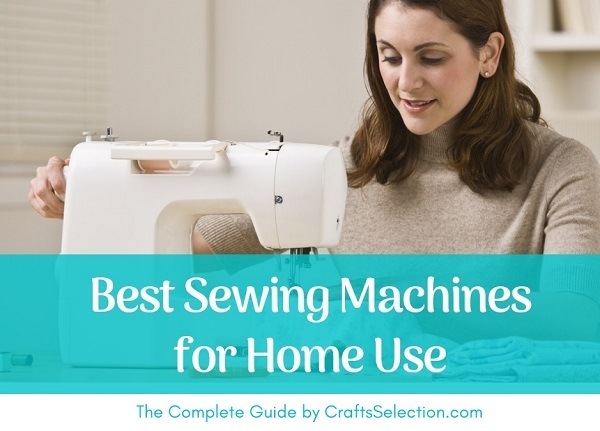 By the end of this review, you would be able to decide which sewing machine is best for making clothes at home as well as for different kinds of sewing and mending tasks.
If you are in search of a top-rated sewing machine, especially for general sewing at home then this is where you should look for.
Otherwise, you are totally new to sewing, we suggest you read our complete guide to top sewing machines for beginners to find the right machine.
Best Sewing Machines for Home Use in 2023 Review
To make your work easier and help you choose the best home sewing machine according to your requirements, we have reviewed the top ten sewing machines available in the market for home use and basic sewing tasks.
#1 – Best Overall: Janome MOD-100 Computerized Sewing Machine For Home Use

Janome had released its series of MOD sewing machines in the early months of 2016. The MOD series has a total of 7 sewing machines that are quite different from each other when it comes to the total number of built-in stitches.
The MOD-100 is a computerized sewing machine that has 100 built-in stitches and 7-one-step buttonholes.
Janome is a reputed manufacturer for making the easiest-to-use sewing machines in the world in the most sophisticated manner. It is equipped with all the latest features that can help you complete different projects with full power and precision.
The LCD screen is backlit that has simple navigation buttons, making it easy to choose the stitches.
At the same time, the machine is affordably priced, which makes it a convenient option to buy for a beginner.
Overall, the Janome MOD-100 is the best sewing machine for home use and is a complete package in itself. This is a perfect machine for different categories of users. It also comes with a 25-year warranty, giving you complete peace of mind.
Highlighted Features:
100 built-in stitches
Seven one-step buttonholes
Built-in needle threader
7-piece feed dog
Back-lit LCD screen
Memory function
Storage compartment
Free arm
Drawbacks
The major drawback of this machine is that it does not have any fonts for monogramming, which may be a problem for some users.
#2 – Best Quality: Juki HZL-LB5100 Computerized Sewing Machine For Home Use

Juki was founded in the year 1938 in Tokyo, Japan. It has been one of the best home sewing machine brands for several decades now.
The HZL-LB5100 model by Juki is an affordable computerized sewing machine. It is highly known for its excellent performance at a low price.
You can choose from the 100 different built-in stitch designs and customize the width and length of the stitch. The model has a compact size and is light in weight, making it highly portable.
This Juki model is a sturdy option that gives an exceptional stitch quality and operates quietly without producing any noise. It is a good quality sewing machine for home use and excellent value for the money that you pay.
According to many sewers, the Juki HZL-LB5100 is quite user-friendly and is a perfect option for a beginner or if you are stepping into the world of sewing.
This easy to use Juki sewing machine has all the basic and advanced features that one might need. You can use it for basic sewing tasks or home décor items.
Highlighted Features:
100 stitch patterns
LCD control panel
One-step buttonhole
Automatic needle threader
Variable Speed Ride
Needle Up/Down Positioning
7-point Feed Dog System
Drawbacks
The only drawback of the HZL-LB5100 is that the stitching speed of this model is quite slow as compared to its competitors in the same price range.
#3 – Best Value: SINGER Quantum Stylist 9985 Sewing Machine For Home Use

Singer is a renowned name in the sewing industry and produces some of the top-rated home sewing machines in the world. They are known for their durable construction.
The Quantum Stylist 9985 from Singer is a computerized sewing machine that comes with several great features and numerous sewing patterns. It is quite convenient to use and can stitch even thick fabrics.
This model can be set up within a few minutes and can help you cover even the toughest of projects in a small amount of time.
The Singer Quantum 9985 is known for its huge range of features like needle up/down, pattern elongation, automatic thread trimmer, and stitch memory.
It is a complete package in itself and has a great level of performance. The machine can help you in handling even the most difficult sewing patterns as it has 960 built-in stitches.
Singer 9985 can easily be called a tailor-made model for the experts that are looking for a versatile and reliable sewing machine.
Highlighted Features:
13 buttonhole styles
960 stitches
6-alphabets
Sewing assistance guide
Color touchscreen
Easy-to-load bobbin system
Automatic thread cutter
Presser foot sensor
Drawbacks
Although Singer Quantum 9985 is an attractive buying option, it might not be precisely suitable for heavy fabrics such as velvet, wool, denim, or multiple layers of any thick fabrics.
Another drawback worth mentioning is that one might face the problem of needle breaking with this machine while trying out thick fabrics for sewing.
#4 – Best Budget: Brother Computerized Sewing and Quilting Machine HC1850

Brother HC1850 Computerised Sewing and Quilting Machine are one of the bestsellers of the Brother brand across the globe. It is a favored choice for beginners, intermediates as well as advanced users.
The model is affordably priced and can be used both for regular sewing as well as quilting. The sturdy machine can handle multiple layers of thick fabrics with ease, which is not common in sewing machines at this price range.
It has 130 built-in stitches along with 8-styles of 1-step automatic buttonholes and 55 alphanumeric monogramming. One can also easily adjust the sewing speed in this machine. The different variations of features are sure to enhance your sewing experience.
The lightweight and compact design make it easy to carry around. The wide detachable table can help you handle your quilting requirements with ease. This makes this machine a great quilting sewing machine for home use.
Highlighted Features:
130 built-in stitches
8 Styles of 1-step automatic buttonholes
14 quilting stitch functions
The sewing speed of 850 stitches per minute
One built-in monogramming font
Adjustable sewing speed
Drawbacks
The Brother HC1850 has several monogram capabilities. However, one of the drawbacks is that you cannot adjust the size of the letters freely to elongate them. This model has just a single block-style font.
Also, this machine doesn't contain a fabric cutter or an auto thread. This function is generally available in high-end devices. For cutting of threads, one needs to pull the threads to the side cutter of the sewing machine.
#5 – Singer 7258 Computerized Sewing Machine For Home Use

The Singer brand is known for its elegance and a great sewing style. Its model 7258 is technologically innovative with great precision and performance.
The Singer 7258 is one of the best Singer sewing machines for home use. It is well-known for its strong and sturdy frame along with a heavy-duty motor that enhances the quality of this sewing machine.
It has 100 different pre-programmed stitches that provide a unique combination of stitches for different kinds of projects.
It is also recognized as one of the most affordable home sewing machines by most of the people. It enriches the sewing experience of all kinds of users.
Highlighted Features:
100 Built-In Stitches
7 Fully Automatic 1-Step Buttonholes
6-point feed dog system
Auto-tie off functions
13 needle positions
LCD screen display
Drawbacks
Singer 7258 has the main limitation that the stitching through this machine can be done only up to 5 mm. Generally, the sewing machines in this price range offer a stitch width of up to 7 mm.
One also gets limited with the fabric thickness with the Singer 7258. Although generic fabrics can be handled with ease, this sewing machine cannot handle heavy fabrics such as denim, or multiple layers of fabrics.
#6 – Singer 4411 Heavy Duty Sewing Machine For Home Use

The well-known Singer brand has introduced the Heavy Duty 4411 sewing machine that can handle different types of heavy-duty fabrics such as denim, quilts, or canvas.
The most attractive feature of this home sewing machine is that it can make as many as 1100 stitches in a minute so you can have a complete product in no time if you use this machine.
The sewing machine has 11 built-in stitches that contain basic as well as decorative stitches and one buttonhole. The bobbin system is easy to load and hassle-free.
This Singer model is a durable, reliable, and affordable option that is sure to fulfill all your requirements. The Singer 4411 sewing machine is sure to last for a long time and can work for long hours without causing any issues.
It can handle different kinds of fabrics, and it has a motor that has 60% more power than other sewing machines in the same range.
This is the best sewing machine for mending tasks and is sure to bring an introduction to commercial sewing at the comfort of your home. It is your go-to product if you are looking for a sewing machine for faux leather and upholstery fabric.
Highlighted Features:
11 Built-in Sewing Stitches
The sewing speed of 1,100 SPM
Four Pressure Feet
Drop-in Bobbin System
60% Stronger Motor
Drawbacks
The Singer 4411 has the main drawback that it does not have an option of automatic needle threading. This feature has become a standard feature, and not having one in this machine makes it a big negative.
There are also no 1-step buttonholes that might need more of your involvement while making buttonholes. Additionally, the device doesn't stop automatically while you are making buttonholes, so one needs to be careful about when to stop.
#7 – Brother SE600 Computerized Sewing Embroidery Machine
The Brother SE600 sewing machine is a 2-in-1 model that combines the functions of sewing as well as embroidery. It comes from one of the most popular brands in the sewing market – Brother, and thus, you can be assured of the quality of the sewing machine.
This is an updated version of SE400 and the best sewing embroidery machine for home use.

The Brother SE600 is a combination computerized sewing machine that gives you an option to do the basic sewing tasks along with the option to do embroidery at an affordable price.
One does not need to buy another machine for embroidery if the Brother SE600 is there, and thus, one can save on a good amount of money. This sewing machine is highly functional, though you might have to figure out how to control the machine if you are a beginner.
The machine has great in-built designs; one can even import their designs while editing them.
Brother SE600 can handle different types of fabrics, is easy to set up, and is quite functional. This is one of the best combinations of sewing machines available in the market.
Highlighted Features:
103 built-in stitches

80 embroidery designs

The sewing speed of 710 SPM
4×4 embroidery area
7 sewing feet
Touch LCD display
Drawbacks
The SE600 has a drawback that the auto-threader in this machine does not work as you might want. This model might also not be as durable as the other sewing machines in the same category.
Another major point to note is that the machine does not have any inbuilt embroidery software; thus, you might have to spend some time searching for one. However, once you do, you can upload your designs into this sewing machine and work with them efficiently.
#8 – Brother Quilting and Sewing Machine PQ1500S

Brother PQ1500S is a great option for advanced users, both for sewing as well as quilting purposes. This heavy-duty machine is of high-quality and is worth an investment for advanced users who want a machine that can do both sewing and quilting.
It does straight stitch only and can sew flawlessly.
The sewing speed of this machine is quite high, at 1500 stitches per minute. Several convenient features come along with this machine, such as 4-feed dog settings, adjustable pin feed, a bed extension table, and a knee lifter, making it the best sewing quilting machine for home use.
Although this model of Brother is not exactly the cheapest, however for the range of features that it offers, this machine is a must-have for professionals and advanced users.
It is also highly functional and sturdy, with an ability to handle all types of heavy-duty tasks with ease.
Highlighted Features:
The sewing speed of 1500 SPM
12" x 18" extension table
Retractable drop feed dog
7" x 8.6" sewing space
Auto thread trimmers
Drawbacks
The PQ1500S has a drawback that its thread cutter might trim the thread a bit shorter than required. It might also happen that it might unthread the needle. This can be corrected by continuing with the sewing and pulling up the bobbin thread.
#9 – EverSewn Sparrow 30 Home Sewing Machine

The EverSewn Sparrow 30 is a computerized sewing machine that contains several basic and advanced features, packed in an affordable sewing machine that is useful for users of different categories.
The machine can handle the most basic sewing tasks to the more complex ones. This machine can also take care of your embroidery needs.
In case you are looking for expert quality of sewing, then the EverSewn Sparrow 30 Sewing Machine is the one that can easily fit in your requirements.
This machine has all the necessary features that can handle the simple repairs to the more complex sewing.
It is simple to set up and use, along with being durable. The EverSewn Sparrow 30 comes with an automatic threader that can cut the threads according to your required length at a breakneck pace.
Additionally, this sewing machine comes with a seamless and sleek extension cable.
The best part is that this machine can do free motion quilting at once and then return to the normal sewing process at a quick pace. You can even sew quick fabrics with it.
Highlighted Features:
310 stitch patterns
Memory function
7 Presser's feet
Extension table
Easily adjustable sewing speed
Drawbacks
The main drawback of Ever Sewn Sparrow 30 is that the foot pedal is flimsy and needs the right amount of pressure to start sewing.
Additionally, the automatic threading and cutting feature of the machine might cut the thread too short for some people.
#10 – Brother Sewing Machine XM2701

The Brother XM2701 is a robust and fun sewing machine that has a vast range of benefits – starting from the lightweight design to the 27 in-built stitches that can help you complete any project with ease.
It has 6-sewing feet and comes with an instructional DVD which can even help people who are learning how to sew.
The best part about the Brother XM2701 sewing machine is its price point. The model is a good cheap sewing machine for home use, and it would be hard to find a sewing machine with so many features within this price range.
With 27 built-in stitches, this model can handle the basic sewing tasks. It is a great option for beginners.
Being light in weight along with having a compact size, this sewing machine is quite portable and easy to carry around. It is best for users who are mostly traveling and need a sewing machine to carry around.
Highlighted Features:
27 built-in stitches
6-sewing feet
One-step buttonholer
Top drop-in bobbin
LED-illuminated workspace
Easy needle threader
Instructional DVD included
Built-in free arm
Drawbacks
Although Brother XM2701 is a great option, however, it has its drawbacks. The foot pedal of this machine can be quite sensitive. In case you want a medium sewing speed, it can be a difficult task as even a slight press can increase the sewing speed of the machine by a reasonable amount.
Secondly, the LED light is not very bright, which can be an issue for some users.
Benefits of Sewing at Home
There are several benefits of sewing at home. Following are some benefits of sewing at your home that you should consider:
Stress Relief: With the help of sewing, mindfulness is enhanced, and at the same time, anxiety and stress are reduced.
Sewing can help promote the feeling of relaxation and positivity among individuals. Since one is forced to concentrate on the task at hand, the job of sewing can help you unwind and become immersed.
Improved coordination of hand-eye: In case one wants to enhance the motor skills, sewing is a great way to do that. Sewing requires you to have an eye for detail and thus requires your complete attention. This encourages hand-eye coordination and relieves you of any physical issues like back pain.
Brain Growth: One needs to be creative to master the art of sewing. This helps in improving the ability of the brain cells and helps them grow. Sewing thus helps in the mental growth of an individual.
Happiness: Craft activities are known to provide satisfaction to individuals. Similarly, sewing enhances dopamine in the brain, which makes us feel happy and positive.
Fights dementia: One needs to remember specific steps while sewing. This makes the brain work harder and keeps it active, clear, and focused. Thus, the art of sewing can help in preventing dementia as one grows old.
Why Should You Learn to Sew
The rewards of learning how to sew at home are many. Once you start learning how to sew, you will gain a great interest in this art. There are also several reasons why you must learn how to sew. Some of these reasons are as follows:
Home Décor: Sewing can be a great way to decorate your home. With a basic and inexpensive sewing machine, you can create several home décor products that do not require any particular skill or knowledge at your end. Cut fabric, and you can start sewing curtains and pillows for your home.
Beneficial for Kids: Not only can sewing help you make some decorative items for your kids, but it can also help your kids in learning the art of sewing and exploring their creative side.
Kids are sure to gain a lot from this hobby as it will enhance their skills and increase their mental growth. You can even create some unique and personalized clothes and items for your children.
It's Green: Sewing is an environment-friendly option. This is because, with the help of sewing, one can recreate anything from old fabric and make it new and exciting.
You can even get such fabrics from yard sales and thrift stores and recreate them to something new.
Saves Money: Learning the art of sewing at home can help you in saving a few bucks. You can quickly repair or mend any old or new garments for yourself and your family and do not need to run to a tailor. This also helps in extending the garment's life, ultimately assisting in saving money.
Sense of Accomplishment: With sewing, you get a sense of accomplishment when you make something beautiful, and it is appreciated by your near and dear ones. One even gets a feel-good factor on looking at your personalized designs.
Recreational activity: Sewing can be a great way to enjoy and have fun while building something new. It can serve as a high recreational activity for people of different age groups, be it children, adults, or older adults.
Sewing Business: If you learn the art of sewing, you can start a home-based sewing business that can help you earn the right amount of money and is sure to help you in the long run. Many people around the world do this.
Conclusion
Sewing is done on a large scale as a profession or a home business. While it is not possible to afford an industrial sewing machine at home, one can have the best sewing machine for home use.
Investment in a good sewing machine can seem daunting, as well as exciting. One should be able to invest in a sewing machine that gives the best performance and, at the same time, fits your budget.
With this comprehensive review, we hope we have covered everything you need to know about the best sewing machines for making clothes at home.
These machines were carefully selected after reviewing several sewing machines for their functionality, durability, and performance. The sewing machines have been shortlisted to include all the latest home sewing machine reviews.
Here, we are sure you have been able to find the best home sewing machine that fits all your requirements as well as your budget.