Singer is known to be one of the best sewing machine brands in today's markets.
There are some of the best Singer sewing machines that have been rated pretty high by the users all over the world due to its very attractive features and benefits it has to provide.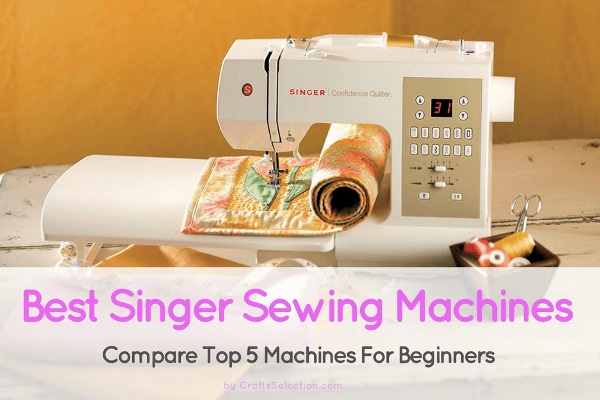 To help in narrowing down your search, we have gathered top 5 Singer sewing machines for beginners in the following comparison table.
Top 5 Best Singer Sewing Machines For Beginners 2019
Best Singer Sewing Machines For Beginners 2019
Best Singer Sewing Machine for Beginners Reviews
If you are looking for a good starter sewing machine and considering buying a Singer model, this guide will help you make a wiser choice.
#1 – SINGER 7258 100-Stitch Computerized Sewing Machine

Pros
Easy to use
Large variety of built-in stitches
Speed control (max. 750 stitches per minute), automatic tension
Automatic needle threader, tension control, and 6 styles of 1-step buttonholer
Bright work area
25-year limited warranty
Cons
Does not perform well on thick materials (denim, elastic, etc.)
This Singer 7258 sewing machine has been awarded for its extremely efficient performance and the ease of work. There are quite a few attractive features that make this product such a suitable one for beginners.
The programmable needle makes it so much more convenient to thread the needle as well as lift it up or down from the feed as per the requirement.
There are as many as 100 in-built stitches for the best interest of the users. There are as many as 10 presser feet in this machine, which is quite high compared to most sewing machines these days.
Furthermore, the heavy duty metal frame ensures that the feed is regular on the stitching area and the fabric does not skip stitches at any point.
This product is very affordable and comes with a 25-year limited warranty.
However, the only problem with this product is that stitching many layers of material together becomes difficult and hence you need to use it wisely. But nonetheless, the device is very much affordable and useful altogether.
#2 – SINGER 4423 Heavy Duty Sewing Machine

Pros
Easy to use, basic machine for beginners and home users
Powerful enough for heavy-duty sewing
23 built-in stitches, automatic 1-step buttonhole
60% strong motor allows it to sew through heavyweight fabrics
Very fast sewing speed, up to 1,100 stitches per minute
Automatic needle threader
Cons
The LED light is not bright enough
It doesn't sew very well on many layers of leather or denim
The Singer 4423 sewing machine is known for its high speed and quality stitches. The speed of the device is as very high and it can stitch as many as 1,100 stitches per minute which is quite higher than normal sewing machines available these days.
Heavy duty stitching can be done quickly and there is absolutely no compromise with the quality of the stitch.
The best thing about this sewing machine is its smooth feed bed. The Motor provided in it is 60% stronger than its peers and it is in the true sense a heavy duty machine.
The completely automated 1-step buttonhole makes it possible to stitch buttonholes at ease. The free arm is another feature that makes sewing a piece of cake for most of its users.
The main drawback of this machine is that, in case you are thinking of stitching leather or denim, then this product might not be so hardy. But take into account all its features, the Singer 4423 is one of the best buys.
Read more: Best Sewing Machine For Home Use Reviews And Comparison
#3 – SINGER 2259 Tradition 19-Stitch Sewing Machine

Pros
19 built-in stitches, 1 automatic 4-step buttonhole
Automatic bobbin winding
Multiple needle position
Free-arm with onboard storage for easy access to accessories
Simple and easy to use
Affordable price
Cons
Only suitable for light to medium-duty sewing
This is one of the leading products of Singer that has become quite popular in the present day. This Singer tradition 2259 sewing machine is designed especially for beginners and anyone who has started their sewing hobby.
The stitch length controller and the zig-zag width controller make it very useful and handy, especially for beginners who want to try out many different stitches and on many different fabrics.
The multiple needle-positioning of the machine also allows the user to stitch at ease any product with utmost efficiency and style. The bobbin winding is automatic as well.
However, this is a basic sewing machine and does not contain many advanced features. But that cannot be a reason for rejecting it.
After all, all of us are aware of the proverb 'old is gold', this traditional product is one of the best of its kind.
Find more inexpensive sewing machines for beginners here
#4 – SINGER 7469Q Confidence Quilter Computerized Sewing and Quilting Machine

Pros
98 built-in stitches, 6 automatic 1-step buttonholes, 19 needle positions
Includes an extension table for large quilting projects
Comes with bonus quilting accessories
Automatic needle threader, thread cutter
Drop feed for free motion sewing
Cons
The LED light is pretty dim
As you have already formed an idea from the name of the product, the Singer Confidence 7469Q is most suitable for making thick and thin quilts. Not all sewing machines are strong enough to stitch quilts to begin with.
You can stitch baby as well as adult quilts with ease. The large feed area is just of the right dimensions to aid in quilt stitching.
There are as many as 98 built-in stitches and 6 one-step fully automatic buttonhole. The bobbin winding clutch is also automatic and it also consists of an extra pressure foot control.
Even though this affordable machine is so good, the machine is mainly suitable for beginners, professional stitching cannot be done as easily. But overall the machine is a good package.
Learn more: Best Threads For Singer Sewing Machine
#5 – SINGER 9960 Quantum Stylist 600-Stitch Computerized Sewing Machine

Pros
600 built-in stitches, 13 automatic 1-step buttonholes
5 built-in alphabets, 25 needle positions
Automatic needle threader, automatic thread cutter
Includes a wide table for working on a large project
Large variety of presser feet
This is another top-selling Singer sewing machine. The best and the most attractive features consist of 600 built-in stitches, 13 automated button-hole styles, and 5 fonts, which ensure the individuality of each stitch and a huge variety of sewed products of the best possible quality.
Another special feature is the auto-pilot mode which aids in sewing without the foot control.
The machine can decide and adjust the length and the width of the stitches by itself and can have an amazing end product.
It also has a drop feed with box feed motion. With this SINGER 9960 Quantum Stylist, you can sew fast as well as slow based on your requirement.
Overall this is a very versatile sewing machine from Singer.
On the flip side it might look a little costly, but that we can overlook given the features of the machine isn't it?
Best Singer Sewing Machine Comparison Chart
Conclusion
It is important for you to know about the various features of the machine you are about to buy.
I hope this Singer sewing machine reviews will help you choose the most suitable machine for your purpose.