Creating a consistent, quality, and uniform embellishments through applying embroidery concepts takes stairway steps to master the designs completely, especially if you only artistically employ your hand needlework expertise.
It might take a couple of hours or even days to finish an embroidery project hence, the call for the machine becomes a popular trend.
Many beginners and curious people tend to interrogate the idea, "Are embroidery machines hard to use? ".

The perception is, you will not be able to learn unless you try it.
Thinking in a complicated way might result in difficulty, but if you exert adequate effort, motivation, and interest in learning a particular craft, you may be surprised that you can do it and even surpass your expectations.
Learning on how to use an embroidery machine is just easy when you put 100% passion, willingness, and faith in doing the embroidery.
In this article, you will be provided with relevant guidelines that will serve as your primary reference in using an embroidery machine.
See also: Tips For Choosing a Home Embroidery Machine
How to Start Using an Embroidery Machine?

Step 1 – Understanding the Embroidery Machine
In setting up your machine, you should be knowledgeable first with the parts and functions of the machine.
Have a great time to understand and navigate the machine before starting to use it hence, in this way, you will be able to prepare for the stitching, designing, and embroidery proper.
Take note and understand every role of the embroidery machine parts.
Read more: How Do Embroidery Machines Work?
Step 2 – Practice Threading the Machine

Practice on how to properly attach the thread by placing it on a bobbin, covering it with a bobbin case, and placing it on the machine.
You should align the thread with the spool pin, thread guide, thread take-up, presser foot until it reaches the feed dog.
You may circulate the balance wheel and press the pedal to effectively align the thread.
Find out: Types of Embroidery Threads
Step 3 – Choose a Design
After the challenging part of threading, you are now ready to start with your first project.
You should select and load a design based on the built-in software of your machine.
Step 4 – Choose the Right Fabric and Embroidery Supplies
Choose a quality stabilizer and textile material that will be easy to hoop.
Be sure to properly place the fabric to capture the design perfectly and avoid the textile to be distorted during sewing.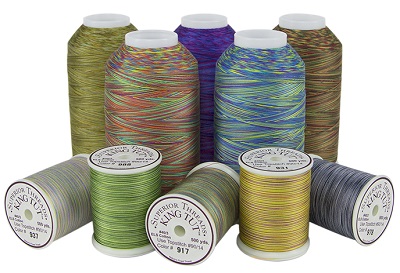 Step 5 – Keep Up with Embroidering
Keep up the good work and practice as many times as you can to enhance your skills.
Improve your embroidery by learning on how to adapt and play with the stitches to produce state-of-the-art designs.
Things to Consider Before Using an Embroidery Machine

1. Time and Budget
Are you willing to spend for an embroidery machine?
You may search and estimate the costs of the equipment so that you will have an idea on how much budget to prepare, especially if you're really willing to purchase and learn on how to use the machine.
Check this article for the best beginner embroidery machine!
2. Make a Canvass
If you have the spare time to search on the various threads and textiles, you should look for the quality and cost efficient threads and fabrics so that you may prepare for what brands to use.
3. Watch Videos as Self-Study
Aside from the instruction manuals and DVD tutorials, you should have to search on your own and look for the various techniques in making different styles of embroidery stitches.
It is an advanced self-study guide to learn the basics and intermediate embroidery techniques.
4. Motivation and Interest
Learning the concept of embroidery entails discipline in reading, practicing, and exerting effort in dealing with the stitches, textiles, and machine operation.
You should devote your time to learning the machine embroidery and find it enjoyable when you start doing the hands-on experience.
The Verdict
The complexity of using embroidery machines depends on the individual's interests, knowledge, and capacity to learn. There's nothing difficult if you strive hard in learning on how to use the embroidery machine.
Moreover, it is not enough to just simply knowing the fundamentals and intermediate techniques because what matters most, is the consistent practice of having a hands-on experience with the machine.
The creativity and originality play a vital role with the designs of your textile, hence, it comes along with the inherent ability to show off artistic embellishment patterns as a form of a finely-made fabric adornment.
Mixing all of these elements would surely produce a profound and elegant embroidery project.