Give your creativity new heights with an embroidery hoop.
An embroidery hoop is a valuable tool in every stitcher's basket. It can give your fabric a new elegant look. Whether it's a new or old one, it can transform your material.
Embroidery hoops compliment all even if you are using an embroidery machine or just hand stitching or interior designing. It has something for everyone.

Embroidery hoops carry very long history. Since then its structure has been more or less same. But its utility has increased over time. Now people are using it for their distinct purposes.
Recently, I have visited one of my friend's place, and I was like wow after seeing her embroidery hoop collection, she has taken it to the next level.
So there are many people, who are using it for different ideas, whether it's a showcase or a tool for showing their art.
I have seen people who even don't know what embroidery is; even though they are using it for their own reasons. It's all about creativity.
Structure of Embroidery Hoops
Hoops consist of two wooden circular rings and a metal screw which joins them together.
Both the rings hold the fabric in between them and screw helps in tightening the fabric so that you can quickly figure out each fabric in your cloth.
It comes in various shape, size, and materials. Choosing the right one depends on the usage.
These provide flexibility to users because it can be attached to any surface and leave you both hands free which increase the productivity.
Hoop helps in holding the fabric in the right place by holding it tight. The pressure of needle will do the rest.
By going in and out in tissue, it will create that striking effect. The more tightly it will hold the fabric, the more robust effect you will see.
How to Choose the Right Hoop for You?
Size

Most of the people ask this question, how to choose the perfect size for your hoop.
The answer is very simple.
Ask yourself, why you need it. It all depends on usage, for which purpose you are going to use it, that's all. You decide this, and you are ready to go.
One important thing is your comfort level that you need to realize before choosing any size.
It doesn't matter how much large is your embroidery pattern. But what matter most is that how big hoop you can handle in your lap and hands.
See also: Best Large Hoop Embroidery Machines For Small Business
Shapes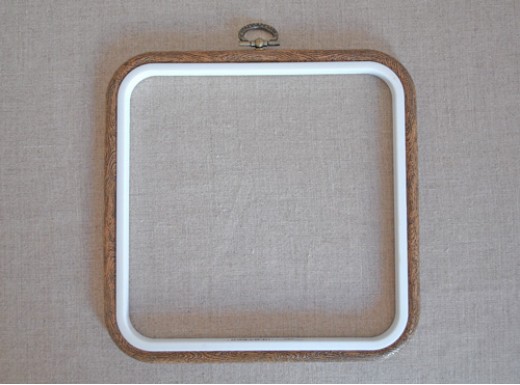 Embroidery hoop comes mostly in rounded shape. But they are also available in square and oval shape.
Again it is a matter of project requirement. So shape is also a matter of preference.
Material: Wooden versus Plastic versus Metal Hoop
Modern day hoops are made up of wooden, plastic and metal. Mostly it depends on personal choice.
Personally, I prefer hoops made up of wooden bamboo. Because they are elegant, cheap and comfortable for everyday usage. You just need a bit cautious while using them because high tension can break their inner ring.
Plastic rings possess longer life cycle as their tensile strength is high. Metal hoops are not readily available because of cost and low practicality.
How to Put Fabric Into an Embroidery Hoop?
Step 1: Wash your hands and rinse the hoop with a piece of cloth so that your fabric doesn't attract any dust

Step 2

: Lose the metallic screw on the outer ring and let two rings go apart. Examine carefully both the rings for any misalignment.

Step 3

: Now put the smaller ring on a plane surface and put fabric over it. Now put the larger ring on fabric.

Step 4

: Press it carefully. Check for any overlapping of material.

Step 5

: Tight the screw as much as possible so that fabric doesn't slip while working.
Now you are ready to go but just remember one thing, don't tense it too much as this can cause tension in the rings and which will eventually result in misalignment or can even break the inner ring.
These days embroidery hoop doesn't remain a tool only for patterning, but its application has just gone to another level.
For creative people, it has become an invaluable tool in their portfolio. They just have made a craft out of these two small rings.
Now it's your time to let your creativity fly.
Read more: How to Build an Embroidery Frame?