I love printing at home, but like with everything else in my DIY journey, I always search for tools that are reliable and easy to use.
That's how I stumbled upon a Cricut Easy Press. This machine is created to deliver quick and professional results for iron-on projects.
I researched this product in depth to find out how it compares to similar units. It was continuously reported offering impressive results, which last. And if you're printing items that you plan to sell, durability is crucial.

Other than that, it is also simple to use, has variable temperature control settings and comes in different sizes, covering all press needs.
I got myself a medium size of EasyPress 2 and it completely changed the game for me. I tried both standard heat presses and irons.
Heat presses are just too bulky and cumbersome for me, and irons never deliver professional results. And once trying it on several projects, I can say that it really does what it says – fast and even results of a heat press combined with the convenience of an iron.
But like with every product, this machine is not for everyone. In my Cricut Easy Press review, I will cover this product line in detail.
By the end of the article, you will be equipped with all information you need to decide if this is the right tool for you!
What Cricut EasyPress Can Do?
The EasyPress machine is designed to combine the power of a heat press with the convenience of an iron. Unlike standard heat presses, it's not hefty and doesn't occupy much storage space.
It's a great solution for iron-on projects. You can just place the item you want to print on any flat surface, place vinyl on it and put the Easy Press on top.

This iron-on press delivers quick results, and unlike a household iron, provides even pressure throughout your print. It will also heat up to a high temperature much faster.
Therefore, I think the Cricut Iron Press is a great choice if you do a lot of printing projects, like T-Shirts, pillows, personalized cups or canvases.
Though most of my projects are on fabrics, I've read from other users that they also use this press on other mediums, such as wood, metal and ceramics.
Cricut Easy Press Family
Cricut Easy Press Family was born in 2017 and completed in 2018, and there now several options and sizes.

The EasyPress 2 is perfect for larger projects, such as T-Shirts, pillows and canvases.
The Mini version, on the other hand, is very practical for hard to reach spots and curved surfaces, such as hats and cups.
Cricut EasyPress 2 Review
Irons don't deliver even heat, and heat presses can be cumbersome to use. EasyPress is Cricut's solution, that combines the convenience of iron with speed and results of a heat press.
The EasyPress 2 is simply a more advanced version of the original. It offers improved features and an impressive heating system.

The dual-heating elements and ceramic-coated plate are much more durable than cheap technology found in competitive products.
It delivers even heat throughout, unlike irons that are usually hottest in the middle and get significantly cooler towards the edges.
It's important to say that EasyPress 2 is also much safer to use. The large handle protects your fingers from heat, the included Safety Base protects your surface while it's out of use, and the auto-shutoff feature activates after 10 minutes.
With these safety functions, your kids can join you in your projects too!
The lineup of smart features doesn't end there. This press also remembers your last temperature and time settings. That means you will save a lot of time on set up and input if you're doing many similar projects.

Finally, it heats up in under three minutes, which is a significant factor when you compare it to traditional heat presses that may need up to 15 minutes to heat up.
But one of the things I like the most about this machine is that it's available in three sizes. That means you can find the perfect one for your favorite projects.
The small version measures 6 by 7 inches and heats up in less than a minute. It's great for things like bags and baby clothes.
The medium Cricut t-shirt press is 9 by 9 inches, like the original EasyPress. It heats up in 2 minutes and is great if you want to do all sorts of different projects with a single unit, like T-shirts, pillows, canvases and many more.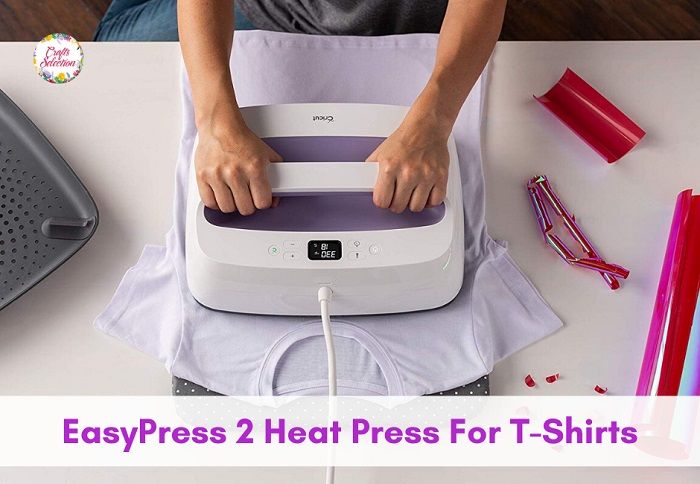 The large Easy Press 2 is also available and its dimensions are 12 by 10 inches. It's an answer to common user feedback that EasyPress isn't big enough to compare to professional heat presses.
The jumbo size is perfect for large projects such as blankets, sheets and banners. And though it's large, it's still easy to handle and heats up in no more than three minutes.
Finally, this press comes in many colors, including mint, raspberry, blue, lilac and rose.
I know I sound like an EasyPress fan girl by now.
But after years of using iron, then trying to find a heat press I don't hate, I'm very excited that this alternative is available. The only thing I regret is that I didn't find it sooner!
Cricut EasyPress Mini Review
The Cricut EasyPress Mini is the latest addition to the Circut EasyPress family. Measuring 1.92 by 3.12 inches it's an even smaller version than the Small Easy press I mentioned above.
Although the small size might seem restricting, it actually opens a possibility for many projects that you couldn't do with large sizes.
This Cricut heat press is great for printing on hats, shoes, bags, mugs, hair accessories, sleeves, pockets and smaller wood items.
It is also small enough and has a tapered end to print between buttons and seams. Personally, I would also reach out to this version for my quilting and infusible ink projects.

Even if you already own a larger press, this one can be helpful for touch ups of parts you might have missed when using a larger machine.
Despite this size, the EasyPress Mini still has the same features I love with the original version. It has a ceramic plate that provides even heat throughout, a protective base and auto-shutoff feature.
The only difference is that it doesn't have a count down timer or specific temperature controls. Instead, you can select between 3 temperature settings – low, medium and high. The high can get up to 400 degrees which is much hotter than standard mini irons.
The mini version is available in raspberry color.
Personally, I think it won't be enough if you are working on large-scale projects a lot, but it can be a very useful supplemental tool, especially if you already own a larger version of EasyPress or other heat press.
Cricut EasyPress Comparison
So, how do the three versions of Easy Press stand against each other?
Let's start with what makes EasyPress, EasyPress 2 and Mini Press similar.
For starters, they are all more convenient and smaller than a standard heat press and deliver a uniform temperature, unlike household irons.
All three presses heat up fast and have safety features like auto-shutoff time, safety base and safe-touch exterior.
EasyPress 2 and EasyPress have precise temperature controls, while with Mini press you can select between three preset settings.
Easy Press Mini and EasyPress 2 have an advanced base when compared with the standard Easy press, which makes the surface much cooler.
Among these three, EasyPress 2 is the only one available in different sizes. Price-wise, the mini version is the cheapest, while the price of EasyPress 2 medium version and Easy Press differs in only around $10, depending on the seller.
It's important to note that all three presses are covered with a 1-year warranty for a worry-free purchase.
Which Cricut EasyPress to Buy?
Selecting the best EasyPress to buy depends on your projects. EasyPress Mini is a great option if your work on small surfaces the most, or already have a large heat press and are looking for a supplemental unit.
Standard EasyPress is a good option if you are working on medium-scale projects, want to save a bit of money and smart features aren't that important to you.
Finally, Easy Press 2 is a perfect option if you want the most advanced unit, that has sizes for all types of projects, the quickest heat up time and most safety features than all other units.
Pros & Cons
Here, I will list the advantages and disadvantages of getting Circut Easy Press instead of a traditional heat press.
Pros
Easy to use
Quick heat up time
Compact size makes storing effortless
Even temperature from edge to edge
Comes with many safety features
Comes in different sizes for all types of projects
Compact and lightweight
Attractive design
Cons
Standard heat presses are still a better option for professional use
A classic heat press can still reach a higher temperature
Pricier than many heat presses for hobbyists
FAQs
Is the Cricut Easy Press better than iron?
All versions of Cricut Easy Press are better than iron. While irons heat up the most in the center and the temperature can greatly vary, Easy Press provides an even temperature throughout for professional results.
Cricut Easy Press or Heat Press?
If you have a professional printing business and print a lot, then heat press is still a better option for you. If you're mostly working on DIY projects and are looking for a more convenient, easy-to-use and aesthetically appealing item, then you should go with the Circut Easy Press.
Can Cricut EasyPress do sublimation?
Can you use Cricut Easy Press on cups?
Yes, you can. The temperature between 300 and 350 degrees will work best for that.
Can you use Cricut Easy Press on wood?
Yes, you can. Use 300°F for best results.
Can you use Cricut Easy Press with Silhouette?
Yes, you can use Cricut Easy Press with Silhouette.
If you want to learn more, head out to the official website and their help page where you can find even more details.
Wrapping Up
So, you've reached the end of my Cricut heat press review. Although I don't think it's the best option for professional levels of HTV printing, it's an awesome solution for hobbyists.
If you're looking for the best compromise between a household iron and a standard heat press, Cricut Easy Press is the ideal machine for you.