Whenever anyone is looking for a presser foot or any other sewing machine accessory, one of the first questions they ask themselves is, "Will it fit my machine?".
After all, no one wants to spend money on accessories that they won't be able to use.

Fortunately, there are so many types and sizes of presser feet that it's practically impossible to find at least one that is suitable for your sewing machine. However, such diversity makes it a hassle to choose one.
How To Choose Sewing Machine Feet?
Below are some tips that will make it easier for you.
#1 – Find Out Whether Your Sewing Machine Is A Low Shank Or A High Shank One
This is very important if you are planning to get a screw on the presser foot. These types of presser feet are usually designed to fit either low shank or high shank sewing machines.
As such, a low shank screw on presser foot can't be used on a high shank machine and vice versa.
Just by finding out what kind of machine you have, you will be able to automatically disqualify some sewing machine feet.


To get such information, check your sewing machine manual. Alternatively, you can measure the shank height yourself. This is the measurement of the distance from the machine bed to the center of the thumb screw when the presser foot is down.
If this distance is half an inch, you have a low shank machine. If it is equal to or longer than one inch, you have a high shank machine.
It is worth noting that most home use sewing machines are low shank.
However, since most modern sewing machines use snap-on presser feet, you will probably never have to find out whether your machine is a low or high shank.
Snap-on presser feet can be comfortably attached to either low shank or high shank machines. Sewing machines that use snap-on presser feet usually come with adaptors that allow for easy attachment.
#2 – Determine Your Sewing Machine's Maximum Stitch Width
For your presser foot to work properly, its maximum stitch width should be the same as that of your sewing machine.
For presser feet, this value is usually indicated on the packaging. This is one of the reasons you shouldn't throw away your foot's packaging after unpacking it. It may also contain information about how to attach the foot to your machine.
To find out the maximum stitch width of your sewing machine, you will have to detach your zigzag needle plate and measure the length of the horizontal hole on the stitch plate.
The maximum stitch width of a sewing machine can be 5 mm, 7 mm or 9 mm.
#3 – You Can Use A Generic Presser Foot
Although it is advisable to use a presser foot that was specially made for your machine by your manufacturer, generic feet work just as good.
However, when in doubt, you should get a sewing machine foot from the same dealer who sold you your machine. This way you can ask them if they sell feet that are compatible with the machine model you bought.
#4 – Visit Your Sewing Machine Manufacturer's Website
Most sewing machine manufacturers have a web page for each of their sewing machine accessories. There you can find a list of all the machine models that are compatible with the accessory and videos or photos showing how the accessory works.
#5 – Buy Presser Feet From Your Local Dealer
When you buy any sewing machine accessory online, it becomes a hassle to return if it doesn't work or fit. Some online stores don't even accept returns. As such, it is advisable to buy sewing machine feet and other accessories from local dealers.
Not only does it make it easier to return unsatisfactory purchases, but you can also get some professional help picking out a suitable foot.
#6 – Test Run With Your Hand Wheel
Even if you think that the presser foot you bought is compatible with your sewing machine, you shouldn't just start using it without a care in the world.
Once you insert it into your machine, you should slowly turn your hand wheel instead of going straight to using your foot pedal.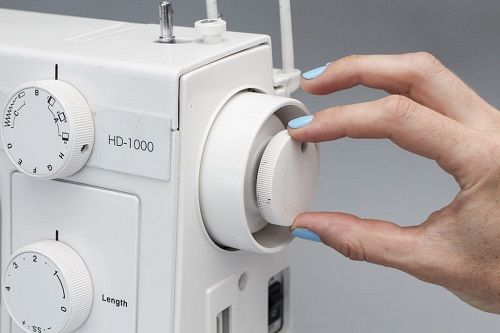 By slowly manually test running it, you can tell pretty early if you have the right presser foot or not.
One of the signs that you are using the wrong presser foot is when the needle hits or is too close to the edge of the presser foot when the hand wheel is down. While you can choose to simply raise the needle up a little, this is not advisable.
Trying to force incompatible presser feet to work with your machine can lead to machine damage and needle breakage.
#7 – New Machine Models May Not Immediately Have Compatible Feet
When you buy a sewing machine model that has just been released, there are chances that it will be able to work with the presser feet designed for previous models.
However, it is also possible to find that it isn't compatible with these accessories. In such cases, you will just have to wait it out.
Don't worry about it though. If the manufacturers made presser feet for previous sewing machine models, they will do the same for yours.
The Bottom Line
Ultimately, finding the right sewing machine foot will require a lot of research and a little bit of trial and error. Although it seems like a hassle, following these simple tips will help you find the right foot faster and with no damage to your sewing machine.