Choosing your first sewing machine isn't as easy as it is usually made out to be. From personal experience, I know how stressful it can be. Good news: it gets better.
Over the years, I have had the pleasure of owning several sewing machines, some of which were from the most popular brands.

As a result, I have gathered some useful tips that will surely make your selection process significantly easier.
I have decided to share these tips below so as to save you from some of the frustration I experienced when searching for the best sewing machine for beginners.
Never Buy A Machine That Is Out Of Your Price Range
As tempting as it may be to go beyond your budget, you shouldn't. Just buy the best sewing machine you can afford and call it a day.
After all, beginners don't need the high-end fancy features that expensive machines come with.
Only Get As Many Stitches As You Need
Just because there are sewing machines with up to 200 stitches doesn't mean that you have to get one of them. Before making a decision you should ask yourself, "Which stitches do I actually need?"
While most beginners are content with a sewing machine that only has the two basic stitches (straight and zigzag), some may need a little extra.
Personally, although I find great pleasure in knowing that they are available, I rarely use the extra stitches on my machine. Whatever you decide, don't go overboard and only have stitches you find potentially useful.
Go For A Heavy Duty Sewing Machine
Whether you are an amateur or a professional seamstress, it is always best to invest in a heavy duty sewing machine.
Such machines have strong metallic bodies and big motors that enable them to handle consistent work on heavy fabrics. Their nature also promotes high durability.

However, if you regularly have to attend sewing classes you will need a lighter model. Perhaps one with a plastic body but durable metallic part could prove useful.
Choose A Brand You Trust
Have you ever noticed that there are so many sewing machine brands these days? I feel like I am constantly discovering new ones every day.
However, anyone who has been sewing for a while knows that there are brands that have decades of good reputation. Some names that come to mind include Brother, Singer, Janome, Pfaff, Juki, Bernina, and Husqvarna Viking.
While Brother, Singer, and Janome have been known to produce both low-end and professional high-quality sewing machines, the other four brands usually concentrate on high-end machines.
Invest In A Quiet Machine
Although very few people think about this, it is important to research into machines that are quiet. This is especially important for those who sew at night. In short; most of us.
A quiet sewing machine will keep your neighbors off your case and your kids soundly asleep, giving you the peace to focus on your sewing projects.
Go For The Suitable Sewing Machine Type For You
Looking for something automatic and easy to use? Get a computerized sewing machine.

These machines come with programmable stitches and touch screens but at a steep price. If you can't afford these machines, then you can get an electronic one. Like the computerized ones, electronic sewing machines use electricity.
However, they aren't programmable. On the other hand, mechanical machines use no electricity. They are completely manual and easy to use. They also tend to be heavy duty and highly durable.
Get A Machine With Convenience Features
No matter which type of sewing machine you go for, make sure it has the convenience features you need. Some of the features I personally can't live without include:
1. Adjustable stitch size
Being able to adjust the length and width of your stitches is one of the most invaluable features you could ever have in a machine. Surprisingly, not all machines have this feature.
2. Built-in needle threader
This is one feature I am just not willing to compromise on. I don't know about you, but my hands aren't as steady as they used to be. And let's not even start talking about my eyesight.
I simply can't handle having to physically thread my machine needle every time I want to sew.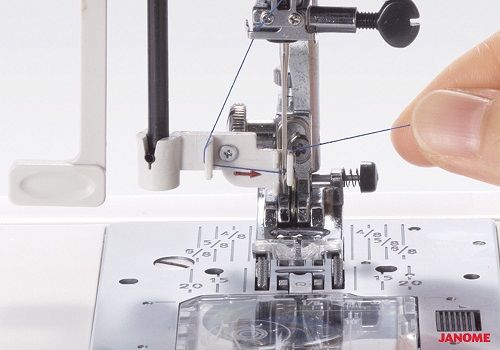 Trust me, you will save yourself a lot of time and energy by getting a machine with a built-in needle threader.
3. Top loading drop-in bobbin
Unlike other poorly designed bobbin systems, the top loading drop-in bobbin system has a clear cover plate. This makes it easy to see when you are running out of bobbin thread.
Another advantage of this system is that it allows your bobbin to conveniently drop into place or pop out without you having to disassemble anything.
4. Free arm capability
This feature comes in handy when you need to make many small projects.
Consider the Accessories That Come With The Machine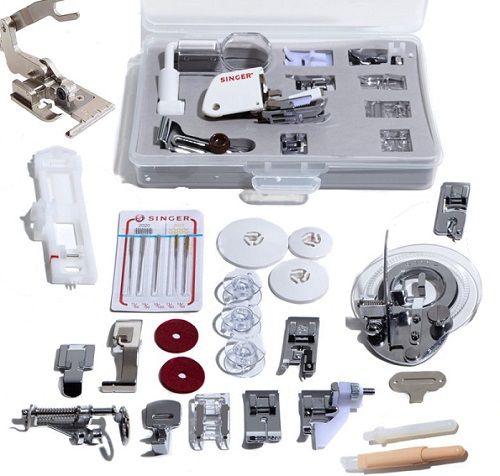 In order for you to have full sewing experience, you need an appropriate set of accessories. This mainly includes a variety of presser feet ranging from zipper feet to walking feet.
Ideally, these feet should be able to clip on and off, allowing you to easily switch between different feet.
In a nutshell
Ultimately, your first sewing machine should be determined by your own personal preferences and needs.
I hope this article has made it easier for you to figure out which one is the best fit for you. Feel free to share this article or leave some feedback in the comment section.