When speaking of innovative thinking, quality, and affordability, the one brand that comes to mind is Bernette. Owned by the Bernina textile group, Bernette sewing machines have been able to create a unique recognition because of their impressive technology and innovative features along with a sophisticated design that helps them stand out from the competition.
Top 5 Best Bernette Sewing Machines:
Whether you are just starting with sewing or you are an advanced user, Bernette has got you covered.
Why Use Bernette Sewing Machine?
Among the top sewing machine brands, Bernette has been known to produce machines that are versatile and outright innovative. Smooth functionality paired with outstanding capabilities and features, the Bernette machines satisfy every need you might have as a sewer.
They offer a wide range of powerful machines that can be used for sewing, embroidery and quilting. Besides having a history of producing exceptional machines, Bernette uses top quality materials to ensure its longevity.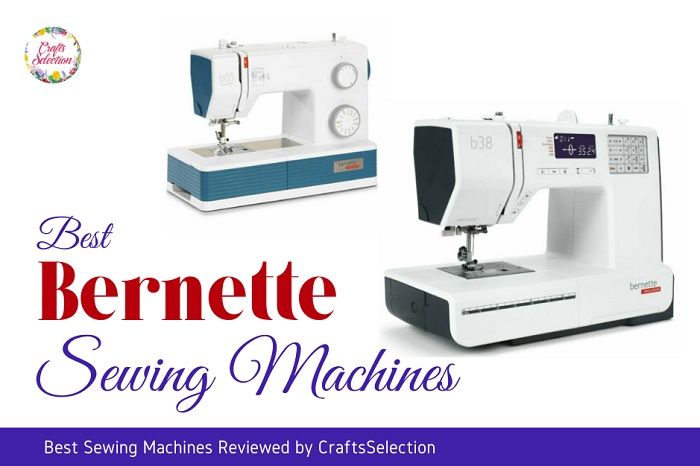 Moreover, when it comes to a professional quality finish and consistency, these machines have the ability to sew multiple layers of fabric with utmost ease.
Featuring a variety of technological upgrades, Bernette has come up with several Swiss designed machines over the years. From sophisticated electronic models to simple and basic mechanical machines, including a stand-alone embroidery machine and overlockers, Bernette has everything you need to create a broad range of items.
Best Bernette Sewing Machines in 2023
If you are fond of creating clothes, quilts, or even face masks, then you are going to need a highly versatile sewing machine. In this article, we have carefully selected the best Bernette sewing machines that will match your needs and preferences. Check them out below:
#1 – Best For Beginners: Bernette 05 ACADEMY Sewing Machine

If you are a beginner sewist considering investing in a basic yet reliable sewing machine, then look no further.
Precise as well as user-friendly, the Bernette 05 features a maximum sewing speed of 1100 stitches/min (the highest speed of Bernette machines) along with a half-speed mode that allows you to have more control over tricky projects.
We also like that this beginner sewing machine has 30 essential stitches including the sewer's most favorite lycra and blanket stitch. Its 12 presser feet eliminate the need to purchase additional presser feet to complete your initial projects.
The machine works smoothly on both thin and thick fabrics while it also comes with a convenient extension table which makes it ideal to accomplish large sewing tasks more comfortably.
Bernette 05 Academy or Bernette 35? Which is better?
If you are confused between the b05 Academy and b35, here are some comparisons between the two to help you make a better decision:
Bernette 35 is a mechanical sewing machine with a decent stitching speed of 850 stitches per minute whereas the 05 Academy offers the max speed of 1100 stitches per minute, proving you more powerful stitching.
b35 comes with fewer stitch options (23 inbuilt stitches versus 30 essential stitches of b05) but still ensures professional results every time.
Both machines come with automatic one-step buttonholes that allow them to accomplish sewing tasks easily.
Other upgrades of b05 Academy include adjustable presser foot pressure and 2 LED sewing lights that allow you to conveniently work at night time. As compared to the Bernette 05 Academy, note that the Bernette 35 lacks an LED light.
b05 comes with top-loading, drop-in bobbin (b35 comes with CS-hook bobbin)
Maximum stitch width of 6mm of b05 compared with 5mm of b35
An extension table is included with b05 purchase
Although both the machines come with practical features and advantages for young sewers, if you ask us to choose the best Bernette sewing machine for beginners, we would recommend the Bernette 05 Academy. As you will quickly grow in your sewing skills and projects, you will need extra features on this new Bernette model.
#2 – Best For Intermediates: Bernette 37 Sewing Machine

Modern and creative, the Bernette 37 has been designed to prevent skipping and looping of the thread. This model comes with advanced features like a user interface and on-screen adjustments that eliminate the need to use a foot pedal.
Using this machine, you can choose between 50 different stitches and 5 one-step buttonholes which means that you can customize your sewing projects with ease.
Another exciting thing about this Bernette compact sewing machine is that it lets you adjust the speed to suit your individual needs and according to the type of fabric. With 5 presser feet included, this machine is suitable for a variety of needs.
Like any other machine, the Bernette 37 also has certain drawbacks such as: you might face a delay when starting/stopping stitching, and it might reset itself when turned off, which can be inconvenient.
Other than that, considering all the features we must admit that this is one of the best affordable sewing machines on the market.
Useful Tips: Every intermediate needs to know that if you wish to neaten the seams of the fabric using the stitch pattern 8, you should use the optional foot C.
#3 – Best For Advanced Sewers: Bernette 38 Sewing Machine

With the capability to handle all sorts of materials, speeds, and stitches, this well-designed and intuitive model has a lot to offer.
Featuring a white exterior with a clean and modern look, the Bernette 38 comes with an interface and LED display at the front. It comes with extra features like an auto thread cutter and an extra-large table that you can attach as needed, which makes it ideal for bigger projects.
This Bernette computerized sewing machine is bundled with 8 presser feet to suit a variety of jobs. This model also lets you adjust the speed thus providing a safe and powerful operation.
Bonus points – it comes with all the standard accessories to help you get started. Other than that, it also comes with an intuitive touch screen and easy-to-understand manual that allows you to set up your Bernette within minutes.
Speaking of the drawbacks, keep in mind that this is not a portable machine. Even though it's not that heavy but, if you are looking for something lightweight and easy to carry around, then this model is not the one.
#4 – Bernette 77 Sewing Quilting Machine

Offering a massive selection of 500 stitches and 17 buttonhole options, this model is considered the most versatile sewing machine in its line. It quilts and embroiders while also performing all other standard sewing capabilities. Its 35 quilting stitches and 133 decorative stitches come in handy if you want to create exciting embroidery-like embellishments.
With its short-term and long-term memory, you can also store your stitch settings, which is especially convenient for future projects. Not just that, it also features a 5-inch color touch screen that provides control over its full range of functions.
8 presser foot soles with a back kick function are also included with your Bernette 77 that lets you raise or lower the needle, secure, and cut threads easily. The best part? With the semi-automatic needle threader, the presser foot automatically lowers itself to the correct position leading to a more convenient sewing experience.
Other than that, if you are interested in quilting then you must select a machine with a big sewing surface. Lucky for you, this model comes with a large extension table so you have a maximum support for your projects. Considering this fact, this unit is the best Bernette sewing machine for quilting and is ideal for all quilting lovers.
Useful Tips: Wondering if you can sew a thick fabric with your Bernette 77? From thin to thick, this machine sews all kinds of fabrics. To sew a thick material, all you must do is fold over several layers and come at it as if approaching a seam, you will be amazed at how effortlessly it sews over it.
#5 – Bernette 79 Sewing and Embroidery Machine

The Bernette 79 is a professional sewing embroidery machine that allows you to customize itself according to your needs and preferences. It has a 5-inch LCD touchscreen which displays and lets you choose embroidery designs.
Additionally, it also features a dual-feed mechanism that makes sure that all sorts of materials are fed evenly from above and below. A removable embroidery arm and three embroidery hoops are also included in this model.
The maximum 6″x10″ embroidery area is another striking aspect of this machine that a lot of users appreciate. Besides, if you ever feel like adding embellishments to your sewing projects, no worries, your Bernette can handle it fairly well.
Other noticeable features include a built-in walking foot, the programmable foot pedal, a knee lift, and a USB port that can be used to import embroidery designs. This means that you are not limited to the designs that come pre-programmed with the Bernette B79 only.
It also comes with a lot of other accessories such as:
Two Stitch Plates
Knee Lift Lever
Foot Action Pedal
Slide-on Extension Table
A Power Chain
The package includes a convenient quick start guide along with a dust cover with pockets to store accessories.
Also, keep in mind that it takes the Bernette 79 a while to turn on, but with so many clever features and customizable elements included, it's not a deal-breaker.
#6 – Bernette Sew and Go 1 Basic Sewing Machine

The Bernette Sew and Go 1 is a basic sewing machine with 10 stitches and 4 buttonholes. The machine's front has two knobs and a wheel on the top that can be used to set stitch length or thread tension. It also helps with the selection of stitches.
The pressure of the presser foot is also adjustable when sewing on lightweight or heavyweight fabrics. Its bobbins ensure that the thread tension remains consistent. The machine is equipped with LED lighting above the sewing surface, allowing you to see what you are doing.
Moreover, it also comes with a box where you can store different accessories like presser feet and needles. You will also love its compact size which means you can easily store it away when not in use.
Other than that, if you want to perform some special operation, you always have the option of purchasing additional feet and accessories.
Frequently Asked Questions of Bernette Sewing Machines
Conclusion
All the Bernette sewing machines in this list are efficient and deliver quality performance. What makes these sewing machines are favorite is the fact that they come with a range of comfort and advanced features which will help you to learn new stitching and sewing techniques thus allowing you to open doors to endless creative possibilities.
However, if you are still confused about which Bernette sewing machine to buy, here's what we recommend:
These machines are customized for users with specific needs so whether you are a novice or an experienced sewer, Bernette has something for everyone.