To those unaccustomed to sewing machines, they might seem to be pretty much all the same. In reality, nothing could be further from the truth.
Before purchasing a sewing machine, you need to conduct the appropriate amount of research to ensure you choose a machine that reflects your needs.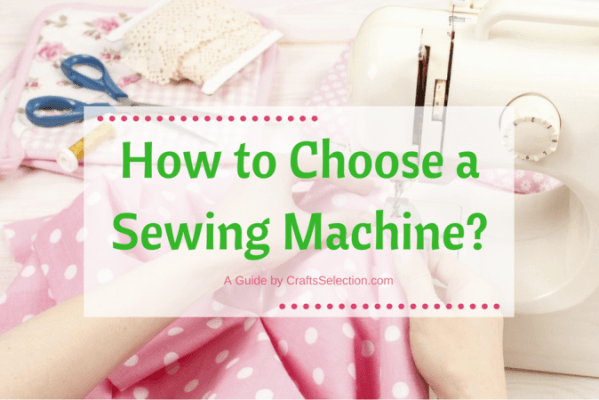 Failure to do will likely result in you wasting hundreds of dollars for features that are never used or ending up with a machine that cannot fulfill all your needs.
This article will help you to find the answer to your question "How to choose a sewing machine?"
Choosing the Right Types of Sewing Machine
The first thing to consider is what type of sewing projects you will be doing.
Mechanical Sewing Machines
If you stick to the basics, a mechanical model is sufficient.
These machines require you to manipulate most controls by hand and can handle simple repairs, clothing, and crafts projects.

They also offer basic functions such as creating buttonholes and backward, forward and zigzag stitching.
Although their functions may be limited, you can buy a high quality, dependable machine for a few hundred dollars.
If you opt for a cheap model be careful, as it may not be able to handle thick fabrics like denim, quilting or upholstery.
Computerized Sewing Machines
More advanced sewers may want to make the extra investment in an electronic or computerized machine.

They have a variety of benefits, including computer chips that can complete tedious sewing tasks instead of your hands, settings for dozens and sometimes even hundreds of stitch types.
They also come with different presser feet options to complete challenging jobs like piping and topstitching, and touchpad controls and an LED screen to make navigating these myriads of options easy.
Sewing and Embroidery Machine Combination

It is also possible to buy machines that can perform all the functions mentioned above, as well as complex embroidery and monogramming work for pillowcases, bedspreads and other garments.
Visit Local Stores to Choose Types of Sewing Machines
If you are not sure which type of machine works best for you, visit your local store with several different fabric samples and try some models that seem like they may be a good fit.
Independent shops are usually happy to let you test drive different machines, and although national retailers may have lower prices, independent shops often offer lessons, in-store repairs, and more personalized service.
Another thing to consider is that some models are only sold at independent shops.
Best Sewing Machine Brands You Should Know
When looking for machines to test, keep an eye out for these leading brands:
Brother International: Brother manufactures the whole spectrum of machines, from the most basic to the most advanced, and owns a 29 percent share of the home sewing machine market. Even their advanced models are renowned for their ease of use.
Singer: Singer is the leading brand with 43 percent of sales and offers models for sewers of all skill levels and needs.
Husqvarna Viking: Husqvarna is based in Sweden and specializes in high-tech electronic machines. Its most recent model is the Designer Diamond.
Janome America: Janome also focuses on electronic machines, from the most basic to the most advanced embroidery models, which at the time of writing is the Memory Craft 11000.
Kenmore: Kenmore is one of the biggest sewing machine companies, and offers basic to mid-level models available exclusively at Sears and Kmart.
Factors to Consider When Choosing a Sewing Machine
While trying the different models, make sure to be on the lookout for important factors which will tell you if the machine is a quality one, such as:
Ease of Use
Machines with good ergonomics and controls make using them simpler and more comfortable.
You want one that does not stall or make noise when working with multiple layers or thick fabrics, controls that are easy to reach and manipulate, and symbols or a LED screen easy to read.
Lots of space to the right of the needle is also a plus so there is plenty of room for your hands and the fabric.
If portability is a concern for you, make sure to pick a lightweight machine with a handle on top.
Conversely, if portability is not an issue, you may want to consider a cabinet based machine that can easily store everything you need in one place.
Quality of Backstitching
Make sure to check how well the machine backstitches, as this is a common function used for all different projects.
Pedal Sensitivity
It is especially important to pick a machine that has the right pedal sensitivity for you in order to maintain a comfortable posture for long periods of time.
Pay particular attention to this when trying machines out.
Also, consider how many pedals come with the machine and what tasks they can complete.
Basic sewing machines usually have a multi-purpose pedal to perform straight and zigzag stitches, but you may have to pay extra for buttonhole, zipper, and adjustable pedals (an adjustable foot pedal prevents puckering by regulating how tightly the machine holds the fabric while you sew.)
The number of stitches a machine can perform also varies; make sure to check the machine's maximum stitch length and width.
Speed Control
This is another useful feature, as it lets you determine how fast the fabric is fed through the machine, meaning you can sew at the tempo that is right for your skill level and the demands of the job rather than continually stopping and starting.
Quality of Components
Test all of the buttons to make sure they move easily and smoothly, and the quality of the pedal and needle attachments by putting the needle in the up and down positions.
If there is any movement in the needle, it means the connections are not strong enough. Some bobbin holders are cheaply made and break easily; check before you buy.
Additionally, machines that load the bobbin from the top rather than making your thread it in from a recessed compartment will also make your life easier.
Other things to consider
Once you have found several models that work well for you, there are some important pieces of information you need to find out before making your final decision.
It's essential to know the details of the warranty and the repair policies, as repairs by non-authorized technicians could void the warranty.
Many dealers offer in-store repairs, and those that don't should refer you to an authorized repair center, or the manufacturer (if they don't, find a different store.)