Much enthusiasm tends to manifest on the verge of acquiring a new asset either for personal use or commercial purpose.
Often, this pleasant feeling usually comes with some degree of fear – the fear of buying the wrong product. This is true of heat press machines, especially if you're new to it or if you're starting up a t-shirt or garment decoration business.
However, with the right information and guidance, you can select a heat press machine that will meet your needs and help you succeed in your business.

In this post, we will provide you with the right information and guidance that you need and discuss the necessary factors you need to consider to choose the right heat press for your intended purpose or project.
Let's begin!
How to Select the Right Heat Press Machine
There is a quality heat press machine for every project and level of business.
However, you need to be properly informed to identify and select a machine that will meet your needs. Some of this information, as well as the things you need to consider to select a heat press, include:
1 – Types of Heat Press
Heat press machines come in different designs, such as the Clamshell, Swinger, and Draw Swinger designs. Each of these types has its unique benefits as well as limitations.
The Clamshell
Designed in a V- shape, it opens and closes like a clam. The upper platen contains the heating element that generates the heat required for transfer while the lower platen is made of rubber pad – the base where you'll place the substrate.
This is the most common type of all heat presses and considered very suitable for beginners. It is very simple to operate, easy to covey, and does not occupy much space area.

It is the perfect heat press design to print on t-shirts and flags.
The main drawback of this design is that its upper platen can burn the back of the hand of its operator by error/ mistake due to the restricted opening between the two plates.
This makes the unloading and offloading of the substrate a little bit tricky, so you should be careful when using this type of machine.
Also, laying out projects with transfer paper can be difficult since it can curl from the heat above it.
The Swinger
Unlike the Clamshell design, the swinger design allows the upper platen to swing away to the left/right from the lower platen.
This type of heat press eases the unloading and offloading of t-shirts or garments with minimal risk of touching the heating element.

With a Swinger heat-press, you can rest assured that you'll have a better precision of transfer application. It is the ideal type for all kinds of garments and hard substrates.
Unfortunately, it is difficult to move from one place to another, and it requires much space for the top arm to swing. Its application is also a bit complex; hence, we do not recommend it for beginners.
The Draw Swinger
The Draw Swinger design combines the feature of swinging away from the upper platen with a lower platen that can be pulled out just like a file cabinet for effective and accurate heat pressing operation.
Like the swinger, the draw swinger heat press reduces the chances of being burnt and gives better access to the lower platen.
It is the best for high-volume businesses and provides a heat-free workspace.
The major setback of this design is the same feature that makes it better than the rest – the pull-able lower platen.
One needs to be meticulous with this part by holding it firmly after pushing it back to avoid inaccurate application of transfer due to shaking.
2 – Mode of Operation
Heat press machines are operated manually, semi-automatic, or automatic.
The Manual Operation:
The manual mode of operation is available in Clamshell and Swinger heat presses. The opening and closing of the machine are done manually, and the process of setting the timer, temperature, and pressure is done with the aid of knobs.
Heat press machines with this mode of operation are usually recommended for professionals since they are familiar with the healing process as well as the required temperature and pressure.
The Semi-Automatic Operation:
Some parts of the operations of the machine are manual, while others are automatic. Heat press machines with this mode of operation come only in a Clamshell design.
The Automatic Operation:

All the operational parts of the machine are digitally controlled.
The machine opens automatically when a timed heating process has elapsed. This digitalization attribute ensures an accurate time, temperature, and pressure.
Both Clamshell and Swinger heat press comes with this mode of operation.
3 – Size of Heat Press
The size of your heat press is one of the most important aspects you need to consider as the size required by a hobbyist differs from those who intend to use the machine for commercial purposes.
The size referred to here is of two categories; the general size of the heat press and the platen size in each heat press.

In essence, your choice of heat press is largely dependent on available space at your workstation and the size of the substrate you will be working with as well as how large the transfers you'll be using are.
Generally, more spaces will be needed for swinger and draw swinger designs. But if you have limited space in your workshop, the Clamshell design seems to be the best option.
If you're unable to decide the right size for you, the general classification of heat press according to their sizes below might be able to help.
Very small or "Label" heat presses: The size of this type of heat press ranges from 4" x 6" to 6" x 8" and is ideal for transferring designs to small items like tote bags and baby clothes.
Small heat press: The machines in this category are portable and relatively low in price. They are ideal for one-offs and small production runs and are available in sizes ranging from 9" x 12" to 12" x 14".

Medium heat press: These are the most popular machine with hobbyists and garment designers or decorators, especially the machines with the size 16" x 16", 14" x 16" and 15" x 15". Usually, they support repeated use and have a higher wattage.
Large heat press: These are the presses with a size of 16" x 20" or more. Large heat presses are suitable for a large scale production or workshop with a large amount of space to accommodate the machine. Some large heat presses are available in a 20" x 25" while some even go up to 40" x 64".
We recommend selecting a size that will be large enough to handle your future projects, especially when your business grows.
4 – Features of Heat Press Machine
The features you need to consider when selecting a heat press machine are:
Time: Accurate timing is the yardstick of quality heat printing. Here, a heat press with a digital timer-setter is the best option.
Pressure: Heat pressure setting comes either as an analog or digital. The digital is chosen over the analog because it provides precise pressure measurement ranging from light, medium, or heavy, rather than using guesswork with analog.
Another aspect to look into is the pressure adjustment. An over-the-center pressure adjuster guarantees that the pressure is evenly distributed. Hence, you should carry out a proper here.
Temperature: Just like the timer and pressure, a digital temperature adjuster shows the degree of hotness as you press the key. This provides you an opportunity to set the required temperature needed to complete the transfer process, as stated on the transfer material box.
Quality: The material used in producing the heat press is the concern here. Heat presses are produced using plastic or steel. The latter tends to withstand regular movement as well as the rigor of operating the machine.
A heat press that comes with a minimum of 2-3 years warranty assuages your fear of getting a substandard product.
Versatility: Certain heat presses are limited in the kind of transfer materials that they can handle. To avoid falling victim to this, you should buy the one that can do the job at hand or, better still, get the type that can print on the majority of the transfer materials available.
Durability: The durability of the heat press depends on constant usage, and the volume of production it handles. A small heat press used for a large volume of production from time to time will not be as durable as the one designed for large production.
Portability: A portable size is good for a heat press that you will move from one production unit to another, and that is mostly for private use.
On the other hand, if you can provide a permanent space or site to place or locate your machine, portability wouldn't be an issue anymore.
5 – Purpose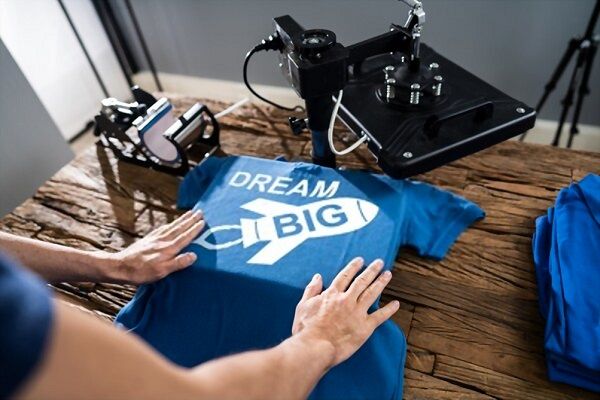 This focuses on whether you are buying the heat press for personal use or commercial purpose.
For personal use, small or medium-size machines should be okay. Its portability gives you the advantage of conveying it from one part of your house to another, most especially when not in use.
However, if you're buying a heat press for your business, then a large heat press with high specifications and special features will be able to cater to your client's needs.
6 – Cost/Budget
This centers on the amount you wish to invest in acquiring a heat press machine. Mind you, the cost of heat presses varies based on designs, features, method of operation, and the platen size.
The truth is: there is a quality heat press for every business's level and budget. So, you don't have to hemorrhage your bank in the name of getting the best machine.
However, you should avoid buying a cheap heat press as it can be difficult to troubleshoot and may even affect the quality of your work.
Also, you can increase your budget a little if selecting a good heat press machine with all the features you require for your job is all that matters to you.
Final Words
Whether you're a beginner or a professional, your heat press can work against you or help you succeed in your printing business. So, it is important to select the right heat press for your job.
In this guide, we have discussed some of the things you need to consider when shopping for a heat press and provided you with adequate information to help you make a well-informed decision.
Arm yourself with this guide to select the right machine for you and avoid the frustration of selecting the wrong product.