Sometimes the name Cricut is enough to get you excited. Producer of some of the best cutting machines and craft tools in the world, Cricut's products are like a godsend for DIYers and craft enthusiasts.
The same is true for the Cricut Mug Press, the latest tool by the American design company and one that has nearly broken the Internet.

Launched in early March, it is already being hailed as the best Cricut machine for mug printing. And we don't blame the initial reviews because it's truly a one-of-a-kind tool that is bound to revolutionize the way we look at mug printing.
Using the innovative Cricut Infusible Ink, the Cricut mug press boasts of crack-less and fadeless printing, which are usually common gripes when it comes to printing on mugs. But there is a lot more to it than meets the eye.
So, let's take some time to review Cricut's latest mug pressing tool in detail and see why the craft world has gone bonkers over it. We promise that we'll be as critical as possible. But if you are a Cricut user or know its reputation in the craft world, you already know this review is going to be rave.
Cricut Mug Press Overview
What is the Cricut Mug Press?
The Cricut mug press is an electric heat press machine exclusively for printing on ceramic mugs. The latest offering by the American design brand, it uses Cricut's Infusible Ink technology to transfer gorgeous designs onto ceramic mugs coated with polyurethane.
The thing here is that the ink particles attach themselves to the coating, giving the mugs a shiny look akin to those designer mugs you see in glittery showrooms.
Imagine a way to carve your own design in a mug that you use every day. That's Cricut mug press for you.
It's a small machine that is a cross between an electric toaster and an Apple product. Divided into two parts, one section is where you place blank mugs for printing and the other for the clamp to activate the press.

With a form factor that's half the size of the printer sitting on your desk right now, it's easy to carry and operate. The lack of extra bells and whistles on it is an advantage because it focuses only on one thing: permanent mug printing.
The idea behind the tool is to let you personalize your dull-looking white coffee mugs and add some zing into your coffee routine. (Or are you a green tea person?) Because it uses the pioneering Infusible Ink technology, the designs look vivid and last longer (forever, as the brand claims).
The best thing about the mug press is that you can create custom designs using the Cricut Design Space software, which means endless possibilities. That's print decals, freehand drawings, doodles, colorful sceneries, and felt pen designs.
In the craft world, endless possibilities are what we strive for.
Who Is It For? How Does It Compare?
According to the company, the tool is mainly intended for 'prosumers', business owners who run small art and craft arrangements. The premium price tag may confirm that but we feel it's a handy tool for everyone – from DIYers to craft enthusiasts to stay-at-home folks who have turned their hobby into a small business from home.
You can use the Cricut mug press as a design tool for your personal use or utilize it to expand your craft business. We feel that existing technologies that use traditional sublimation or heat transfer vinyl (HTV) do not do justice to the concept of mug printing. Sure, you get colorful designs printed on those mugs, but they soon fade away after repeated use. And you don't want your favorite design that has the face of your pet as a tiny motif to discolor or pale out within a few months.
That is where this revolutionary Cricut mug press comes and works its wonders.
Not excited yet? Read on to see how it works, what it can do for you, and how cutting-edge is its technology compared to existing methods.
Our Review
As the tool launches across the United States, we were fortunate enough to get a sneak peek into how it works. Our review of the Cricut mug press below will give you a detailed idea about its functions and features, while also noting the drawbacks. Especially when compared to the existing methods available for mug printing.
But, above everything, the question that we will try to answer is: is the Cricut mug press worth it?

How Does the Cricut Mug Press Work?
The modus operandi of the Cricut mug press is pretty simple and straightforward. If you have done mug printing before, just jump to the next section.
Major Components of the Cricut Mug Press
When you unbox the Cricut mug press, you will get the following parts and elements:
The Cricut mug press machine with a cavity for placing one mug
Power button
USB cord (24 inches)
5 LED indicators
Power cable

The Cricut mug press works on the principle of heat transfer sublimation. It uses a combination of heat and pressure settings along with its trademarked Infusible Ink technology to transfer designs onto polyurethane-coated ceramic mugs. It's similar to the method used to print on mugs traditionally with three key differences:
Zonal heating creates a perfect environment for permanent infusion
Cricut's Infusible Ink is better than iron-on and HTV
Enclosure meant only for mugs of a certain size
Together, these three factors make the Cricut mug press a better choice for mug printing. Additionally, the enclosure detects the temperature of the mug and the ambiance (room) to optimize the heat settings, giving you consistent results year in and year out.
A Word of Caution for New Cricut Users
You should know that the Cricut mug press is just a printing tool; you will need the Infusible Ink sheets or markers, heat-transfer paper, butcher kraft paper, an electronic cutting machine (Cricut Maker or Joy or Explore), and other craft tools like a lint roller and heat-resistant tape to complete the printing process.
How to Use the Cricut Mug Press?

For most people, using a heat press to sublimate a coffee mug is a task in itself. Although it looks easy on paper, things get really tough when you have to adjust the heat and pressure settings. Beginners definitely need some time to learn to find the sweet spot within the settings, which, to make things worse, are different for different types of materials.
None of that applies to the Cricut mug press. It's the simplest operation we have seen in any heat press device so far, making it trump other machines by the brand itself. (Read the sections below for quick comparisons.)
Just follow the steps outlined below to design your own personalized mug using the Cricut mug press in less than five minutes. It uses the simple mechanism of design, cut, apply, and press.
How to Set it Up?
You can set up your Cricut mug press in five easy steps after unboxing it:
Connect the power cord between the mug press and a power socket or an extension
Connect the USB cable between the mug press and a computer
Switch on the mug press and go to https://design.cricut.com/#/setup
Download the free Cricut Design Space or use the online version
Follow the on-screen instructions
This will roughly take 10 to 15 minutes. When the heat press is switched on, you may detect a burning smell; don't worry as this is the heat plate getting warmed up, which should subside as you continue to use the device.
Note – Cricut charges a monthly subscription fee for using design in its Cricut Access software.
What Extra Tools Are Needed to Use Cricut Mug Press?
If you already are a Cricut user, you most probably can get started immediately. But if you are new to the Cricut world of craft, mug printing with this new tool will need you to shell out extra. Here's a primer.
Cricut cutting machine
Cricut mug blanks
Infusible ink – sheets or markets
A computer
Cricut Design Space (free software with mandatory paid subscription; download here)
Heat-resistant tape
Cutting mat
Lint roller (optional)
Heat-resistance surface (optional)
A Cricut cutting machine is the most important extra tool here because that is what will help you make and cut mug designs. Your options are Cricut Joy, Cricut Maker, and Cricut Explore Air 2.
The second most important stuff is the ink. You can buy Infusible Ink sheets or markers (depending upon your method of drawing) from Cricut.com, Amazon and other retailers. To state the obvious, the Cricut mug press will only work with Infusible ink.

Two items on the list above are optional. But we still recommend them for a better output. While the lint roller will help you remove the minutest of particles (dust, etc.) from your mug before printing, the heat-resistance tape will allow you to cover the mug with the design properly during the pre-heat session.
Note – You will need a computer only during the setup and firmware update.
How to Operate?
Once you have unboxed and set up the Cricut mug press, follow these steps to get started:
Use the Cricut Design Space software and choose a design
Print the design on an Infusible Ink sheet using a Cricut cutting machine
Weed the design out by slowly twisting and turning the sheet
Firmly roll the printed sheet around the mug
Preheat the Cricut mug press (about 4 minutes) and place the mug in the cavity with the handle out
Turn on the press using the clamp and wait for 5 minutes
The Cricut mug press will beep and indicate that the pressing is done
Remove the mug from the cavity (the handle will not be heated)
Slowly remove the sheet from the mug to complete the process
Your coffee mug will be printed and ready for use immediately. There is a suggested cooling period of 15 to 20 minutes when you should not touch the mug. You can touch the handle (which will be cold) but not the sides (which will be very hot).
In our tests – and we had already selected a design – the entire mug printing process took about 20 to 30 minutes (including the cool-off period). This simplicity and quickness are what sets the Cricut mug press apart from others.
Pro Tip – Do not touch the heat plate anytime during the process to avoid burning your fingers. The plate can be extremely hot.
Costs Involved in Using the Mug Press by Cricut
As noted above, you will need to spend a little extra to use the Cricut mug press. Here are the things that you will need other than the Cricut mug press:
Together, these can set you back by around $100 along with the cost of the mug press. This is assuming that you already have the essential and optional tools mentioned in the previous sections.
What Can You Do with the Cricut Mug Press?
The Cricut mug press can be best used to personalize white coffee mugs by printing designs and messages over them. It's the best way to print on a mug, but from a commercial perspective, it can do a lot more stuff.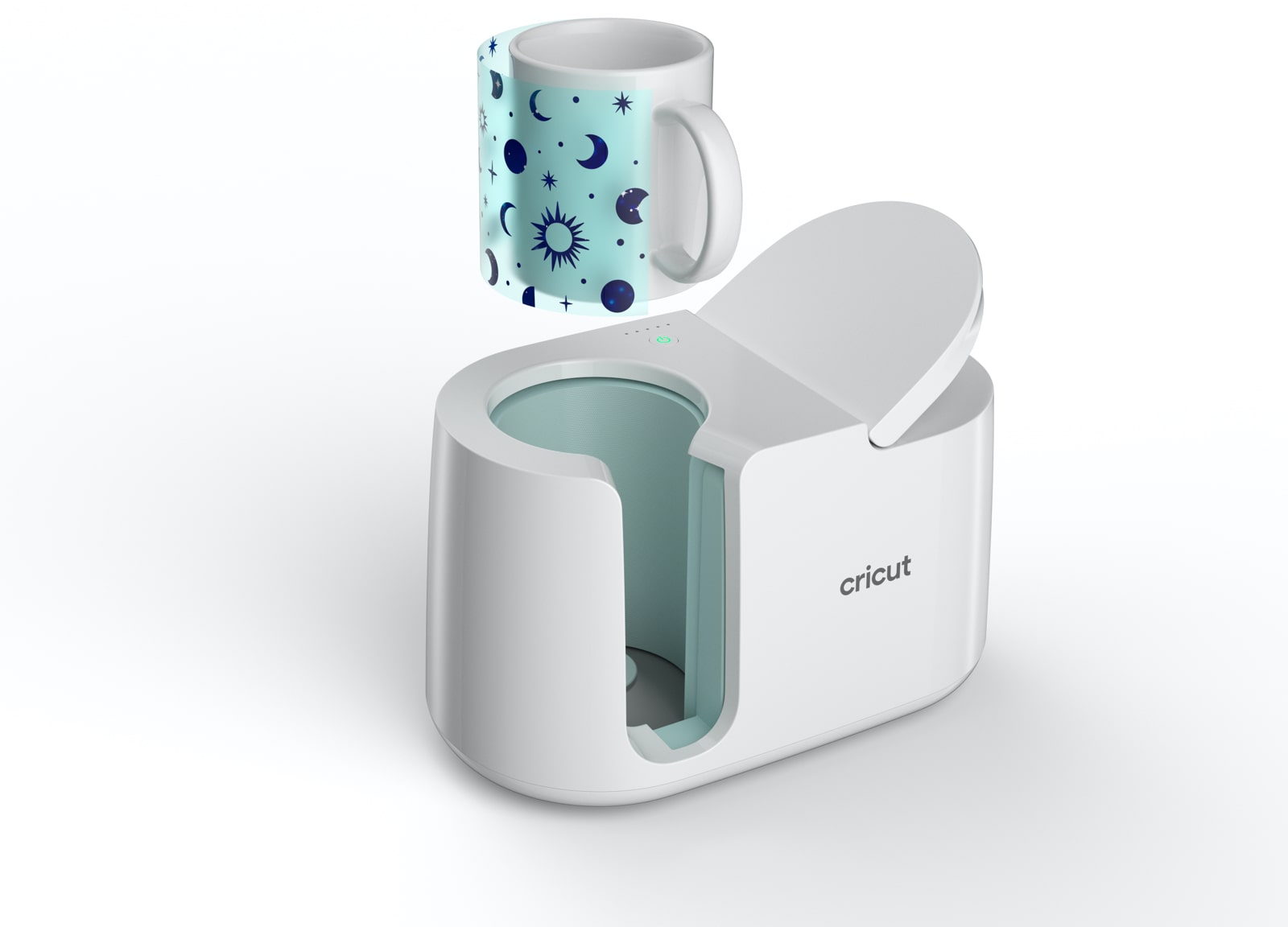 According to Cricut, its mug press can be used to create personalized mugs for a variety of occasions. It can be used by people who collect fancy cups for use (drink beverages) or as a showpiece; gift enthusiasts who like to go the extra mile when gifting their near and dear ones; and business owners who sell personalized products like pillows and t-shirts.
The fact that the mugs can be used in dishwashers and microwave ovens safely makes it the best choice to create mugs for any occasion out there – birthdays, anniversaries, corporate gifting, weddings, and more.
As we have mentioned before, the Cricut mug press creates endless possibilities. And that is what matters.
Which Sublimination Blanks Can You Use with Cricut Mug Press?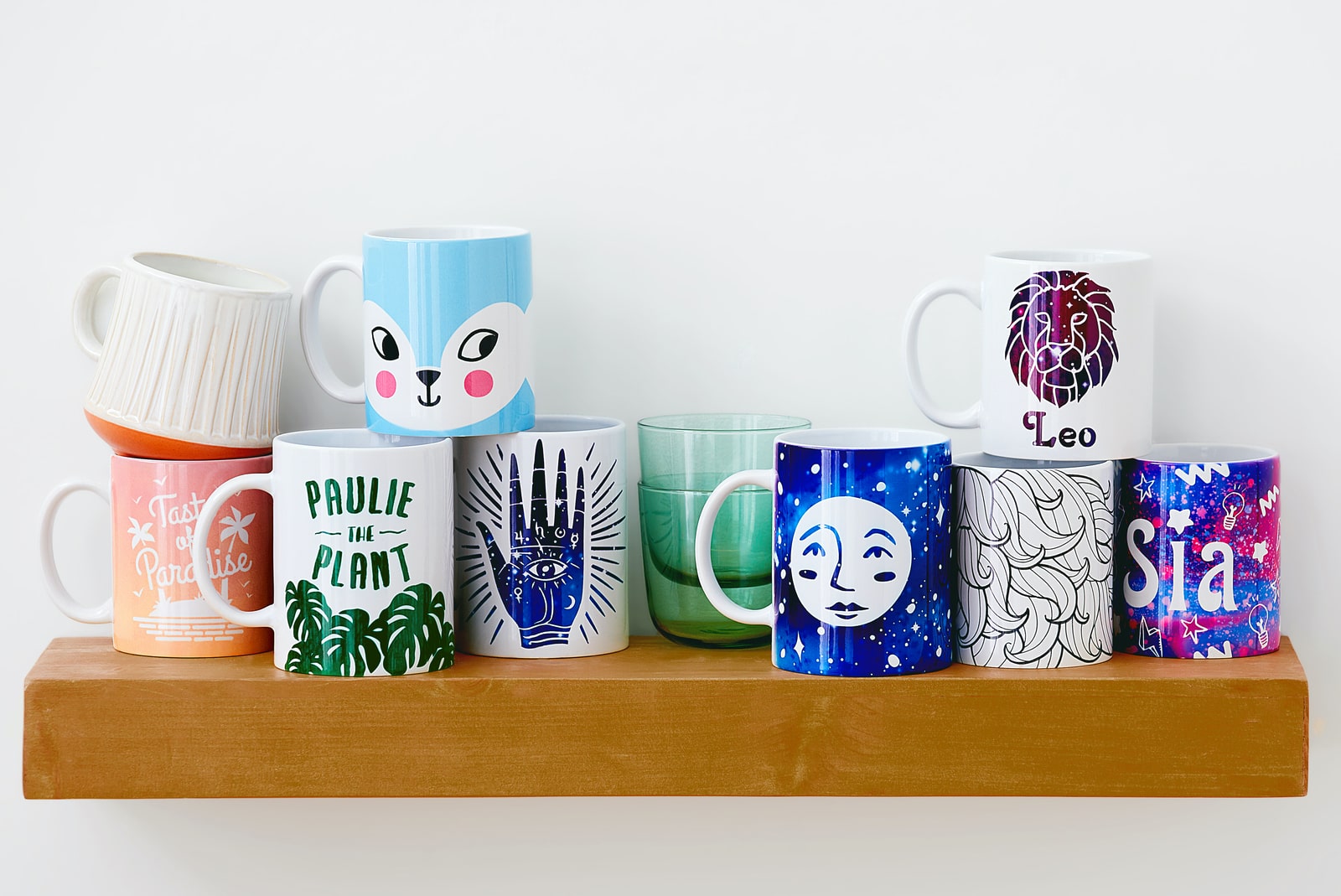 Based on our research, you can use two types of mug blanks:
Cricut mug blanks
Sublimation-ready coffee mug blanks
You cannot use dollar store mugs or basic ceramic mugs with this mug press. Neither can you use mugs with different shapes and curves. You will need the mug blank to have straight walls for them to work here. This is why we recommend the 12 oz. (350 ml) white Cricut mug blanks that are modestly priced. You may also go with the 15 oz. (425 ml) larger ones whose handles and interiors are grey in color.
We also tested sublimation-ready mug blanks we got from our local craft supplies shop and the Cricut mug press was able to transfer the design properly. This means you can experiment with glassware or ceramicware by other brands as long as they are sublimation compatible.
However, there was a clear difference in the finish. When you use the Cricut blanks, there is an obvious charm; they give out a neat and sparkly look – something that is important in designer mugs.
This could be considered a drawback because you cannot use generic coffee mugs and the Cricut ones have a premium price tag. You can find out more about this in the 'Demerits' section below.
Tips to Use Cricut Mug Press More Effectively
A master list of tips to make your life easier when working with the Cricut mug press:
While covering the mug with the Infusible Ink sheet, always start from the back center. The handle should be pointed at you to get the best alignment of your design
Use heat-resistant tape to keep the sheet in place (around the mug) for the best results
While placing the mug in the Cricut mug press's cavity, nudge its handle to the left or the right (depending upon which hand you use to drink coffee/tea) so that the design will fully cover that side
Avoid intricate designs with lots of tiny white spaces. This will make the weeding process easier
Don't use designs that will cover the area of the mug handle too as the press will not accommodate it
Run a lint roller on your mug blank before pressing to remove tiny dust and other unwanted particles
Leave the mug as is after pressing for 10-15 minutes to avoid burning your fingers
Buying a heat-resistant mat will let you avoid accidental burns when using the Cricut mug press
Always place the mug bottom side down to aid in consistent heat transfer
A quick list of don'ts while using the mug press:
Do not use vinyl or other types of ink with the Cricut mug press
Do not use regular pens or markers to create designs
Never touch the heat plate when the mug press is switched on
A list of a few maintenance tips:
You can use a damp cloth to wipe the Cricut mug press regularly when it's not switched on; use a dry cloth to wipe the heat plate
Always choose a well-ventilated room or area while pressing
Box the machine when not in use for an extended period
Use heat-resistant mat exclusively for your mug press
Cricut Mug Press vs. Traditional Mug Press
The Cricut mug press is marketed as a smart product that detects your ambient temperature and automatically adjusts the optimum heat and pressure settings for your mug. This is perhaps its biggest advantage over traditional mug presses.
There is a lot of room for errors in the traditional mug press. What temperature to set, what pressure settings are ideal, what ink type to use are some of the questions that rarely have one right answer. Plus, you need to go through a lot of trouble to get the right settings, which may still not give you the perfect results.
For example, when we used a traditional clamshell mug press, the output looked dull and faded. Everything was right and we used the right amount of ink but still, the design on the mug looked like it had already been used countless times.
With such machines, you can never know what the optimum settings are. If the temperature is set at 400 degrees Fahrenheit, how long should you press it for? Are three minutes good or should you go for two more?
In our experience, it's a challenging task. That is where the Cricut mug press shines, which uses a heat plate that transfers heat consistently throughout the mug's surface. This is why you see gorgeous, vivid, and evenly printed designs on mugs.
Other disadvantages of vinyl-based mug printing are high costs, complex operation, and fumes. Using it can be likened to working an industrial machine, which is not at all the case with this new Cricut tool.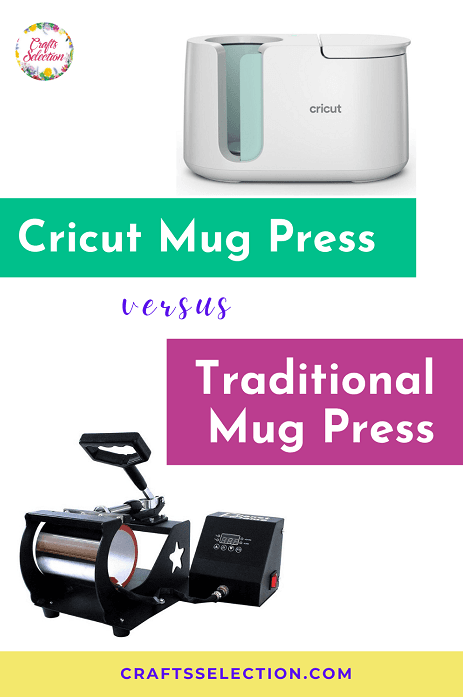 Advantages of the Cricut Mug Press versus Traditional Heat Press
Easy to use; no pressure and heat settings to manage
Safety-first, foolproof design
Professional-quality design prints
Safe for use in microwave and dishwasher
Automatic mug and ambient temperature detection to optimize heat and pressure settings
Multiple designs and drawings can be combined and weeded
The heat plate transfers heat from the sides and from the bottom side to aid in consistency
Designs last a lifetime
Insulated outer surface
Auto shutdown after 13 minutes of inactivity

Further, in comparison with silicone wraps and heat guns, the features of the Cricut mug press clearly stand out. The main problem with silicone wraps (it uses an oven) is the resolution. Although it prints better than traditional presses, the design looks substandard. There are spots and patches on the final design in addition to fumes that can spread in your house quickly. Although a separate oven is recommended for this, it can still create icky fumes which can be harmful.
Lastly, heat guns are not only dangerous to operate but also give atrocious results. There is no consistency in the design transfer nor there is any way to adjust the pressure because you are using your hands and judgment. Of course, better heat guns and pressure tools (for mugs) are available, but the question is: why waste your time and resources on these hit-and-miss tools when you can simply own a Cricut mug press?
Cricut Mug Press vs. Cricut EasyPress
Although this is like comparing apples to oranges, we still feel you should know why the mug press is an important addition to your craft arsenal.
The biggest difference is that the mug press can only be used to create beautiful mugs. The EasyPress is for everything from t-shirts to bedsheets to blankets to towels. Both use the Infusible Ink technology (although the EasyPress works on HTV too) and have excellent heat plate and heat transfer mechanism, but their applications vary.
The EasyPress is also highly customizable, whereas the Mug Press is a foolproof tool with just one button. However, both of them are great crafting tools that will be a worthwhile addition to everyone's craft kitty – from solopreneurs to hobbyists to DIYers.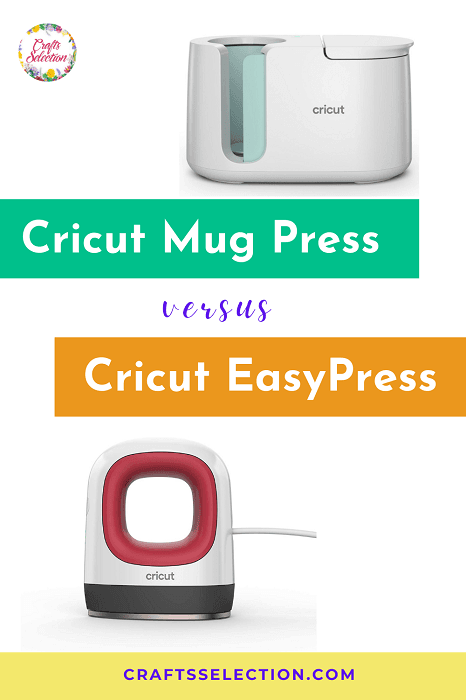 Cricut Mug Press vs. EasyPress Mini
The EasyPress Mini, in comparison with other EasyPress models, is a handheld heat press device that can be used for mug printing. It can work with both HTV and Infusible Ink. However, it's still dependent on you for pressure movements and heat settings, which can lead to a lot of guesswork.
You may use the Mini for mug printing, but the outcome will not be as neat and vivid and permanent as with this new tool. In any case, if you already own an EasyPress machine, a lot more thought will need to go to decide if you really want the Cricut Mug Press.
If you see yourself doing a lot of mug printing or are planning to start a business on a small scale, we recommend it highly.
Demerits of Cricut Mug Press
The Cricut mug press is a simple tool aimed at prosumers who would want to design cups and sell them. Yet it can only print on one mug at a time, making it an ideal tool for hobbyists, stay-at-home mompreneurs, and DIYers.
For business owners, we recommend professional mug press machines that can handle five to seven cups in a single batch. This throws up caveats that you should know about as an individual hobbyist or DIYer. Keeping these Cricut mug press disadvantages will help you make a better decision.
Generic Ceramic Mugs Won't Work

The Cricut mug press will not work with blank ceramic mugs that you buy off Target or dollar stores. You will either need Cricut blanks or mugs that are specifically made for sublimation projects. Otherwise, the prints won't stick and will wear off quickly.
In our tests, when we used a generic white mug, the entire design came off with a single cloth wipe. This is not only undesirable and a waste of supplies but also harmful.
The reason for this is that the Cricut tool fuses the ink with the polyurethane coating around the Cricut mugs. This coating is non-existent in generic mugs, preventing the infusible ink from gelling into the surface. The Cricut team, therefore, warns against using generic mugs.
Slightly Premium Price Tag
The price tag of $199 is higher than most other mug presses available in the market today. Since this is a new tool (that was launched only in March 2021), the price tag may come as a surprise for many.
But if you are someone who has used Cricut tools before, you know that this mug press will be worth it. It's a no-nonsense, simplistic tool that can be operated by beginners and professionals alike. If you have a steady craft business already, spending $199 for a lifelong investment should not be a concern.
Cricut Design Space Requires Paid Subscription
You will need the Design Space program to successfully create and cut designs for your mug press. While the software is free to download and install, you may have to pay a subscription fee to use it.
As of April 2021, the Cricut Access program costs $95.88 per year (paid annually) or $9.99 per month (paid monthly). The Premium plan will set you back by $119.88 per year. This is a hidden fee.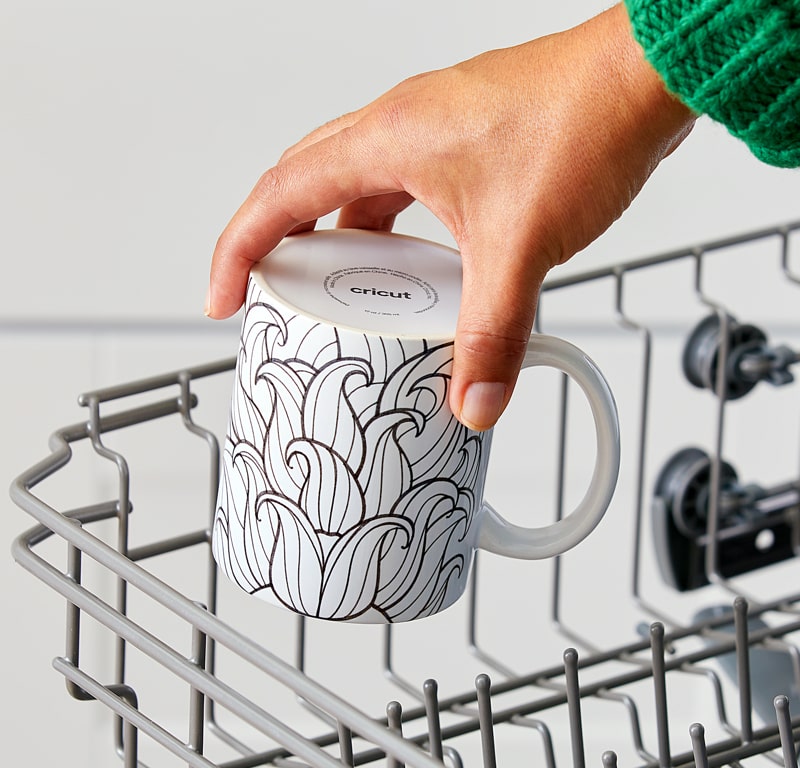 Cricut Mug Press FAQs
Short answers to some of the most common questions about the Cricut mug press:
Where can I buy the Cricut mug press?
You can buy the Cricut mug press online on Amazon, Cricut's official website, and other retailers.
How much time does the entire pressing process take?
You can press a mug in the Cricut mug press in about 20 minutes: 4 minutes for machine warm-up, 6 minutes for pressing, and 10 minutes for cooling down. This does not include the time taken to create and cut the design.
Can I use mugs pressed in the Cricut mug press in the microwave oven, dishwasher, or in direct sunlight?
Yes. Mugs made in the Cricut mug press are safe for use in microwave, dishwashers, and any other cleaning tools.
What kinds of mugs can I print using the Cricut mug press?
You can print on Cricut mug blanks and sublimation-ready, straight-walled ceramic mugs of any other brand.
Can I change the heat and pressure settings in this Cricut tool?
No. The Cricut mug press has no customizable settings as it automatically sets those based on ambient and cup temperatures.
How wide can my designs be in the Cricut mug press?
You can print designs that are not less than ½ inch from the handle, on either side.
Why is Infusible Ink better than HTV or iron-on?
Infusible Ink is Cricut's patented sublimation ink technology. It infuses the color at a molecular level on whatever surface it is working on, giving professional-quality and vivid prints. It is safe, does not generate harmful paint fumes, and stays on the surface for decades.
What is the largest mug/cup I can press on this?
Cricut recommends mugs of up to 16 ounces. Anything more than that will not hold.
Can I print designs on any glassware?
No. The Infusible Ink can only be transferred to ceramic surfaces that have a polyurethane coating. Glass surfaces will not work with Cricut's heat presses.
Can I print some fancy design on a mug's handle or its interiors?
No. The Cricut mug press allows printing only on the external walls of a mug.
Can I use the mug press in a country other than the United States?
You can but it is not recommended since the tool requires a power supply of 110 V. Other countries may have different voltage range.
What is the warranty of the Cricut mug press?
Cricut offers one year of limited warranty for its mug press.
Can I use iron-on vinyl/HTV with Cricut Mug Press?
No. The mug press will only work with Infusible Ink. Any other form of ink is not only recommended but can also damage the machine.
Do I have to pay monthly subscription to use the Cricut Mug Press?
You have to pay a monthly subscription fee to use the Design Space program. You use this software to make and cut designs for mug printing. The Cricut Mug Press i.e., the machine can be purchased with a one-time payment.
Conclusion
The Cricut Mug Press is one of the most charming and intelligent heat pressing machines we have seen. The sheer simplicity that it offers and the professional quality of prints that it infuses on mugs are enough to convince any crafter to get one.
But more than anything, it's a device that simplifies the art of mug printing which has been languishing with old-school and traditional methods.
If you are a chronic gifter and love all things crafty, the Cricut Mug Press should be a part of your crafting toolkit right now. Buy one today!