You bought your first embroidery machine, but a question comes into your mind "How to Choose the Right Machine Embroidery Thread?"
When you visit a store, there are a lot of choices that you have. And you can easily get confused due to the choices that are available.
But if you make an informed decision, you can choose the best embroidery thread of your choice.

A thread is made from either natural or synthetic fibers. Let us discuss the different threads available in the market.
Rayon
This is the first choice of most of the buyers due to its high sheen and attractiveness. It is available widely, is highly consistent and does not break or wear during high-speed stitching.
Rayon thread is available in a wide range and variety of colors. Also, a unique twist thread with multiple colors that are twisted together and form a single thread, which automatically gives shades and dimension to the design.
Rayon thread comes in two sizes: Standard 40 wt. and thicker 30 wt. They are available in multiple colors.
Some good brands include Gutermann, Coats & Clark, C & C ColorTwist, Isafil, The Finishing Touch, Megasheen, Madeira, Mettler Silky Sheen, Robison Anton, Signature, Scansilk& Sulky.
Polyester
This thread is also very popular and economical for embroidery. It's similar in effect to rayon and comes in multiple colors. It is perfect for child clothing and does not fade, shrink or bleed.
Although the Rayon thread is shinier when compared to polyester, the two can be interchanged for use. And both are really strong and can stand the tensile strength. If you keep them side by side, you can't tell the difference.
Another good thing about polyester thread is that it is very economical and its color does not fade. It can also stand the chlorine bleach. Some good brands include Isacord,
Some good brands include Isacord, Sylko, Coats America, Madeira Neon, Janome (acrylic), Robison-Anton, Mettler Poly Sheen, YLI Ultrasheen, etc.
Cotton
Cotton thread gives the beautiful performance and has a soft and lovely sheen. It is available up to very fine weights i.e. 100.
It is considered to be a very high–quality fine threads. For machine embroidery, 30 or 50wt cotton thread is considered to be appropriate.
Some good brands include Madeira, Mettler, Aurifil etc.
Silk
Silk is a very good absorbent of dyes. It is considered aristocrat in specialty threads.
Its strength is comparable to that of polyester and combines the stability of cotton. It does not break while sewing. Its shine is best of all the threads.
The threads with 30 to 50 wt are considered as a perfect choice for embroidery.
They are more costly and are worth the money especially when doing embroidery on luxurious fabrics. Some good brands include Janome, YLI Kanagawa and Tire.
Metallic & Mylar
Metallic threads contain the central core that is surrounded by metal foil. A polyester film is applied to the foil and then the color is applied.
Sometimes, a coating of the silver alloy is done to add strength. Although they can be sometimes unreliable, they give great results.
If you find a perfect match for your machine, then you will find that they are worth your money.
Although metallic threads need more handling care than cotton or rayon, by using it you accentuate the design of your embroidery.
Some good Brands include Coats &Clark, Sulky, Madeira, Mettler, Superior, YLI and Signature.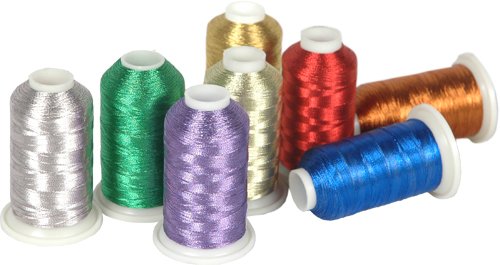 Besides these, special effect threads are also available. Some of these threads can change colors when they are exposed to sunlight and some glow in the dark.
So, if you are really looking for a good thread, keep in mind the above things.
In addition, don't buy old thread. You can judge the quality of a thread by looking at it. You should buy a reputable brand which is from a known source to avoid disappointments.
See also: Best Machine Embroidery Thread Reviews