What is a Serger Sewing Machine?
A lot of people have different things to say about what a serger is.
We don't know why others hate to deal in generalities, but we as sewing experts love to define our supreme beings – sewing machines and sergers – in the most general fashion.
In that regard, a serger is an advanced sewing machine that overlocks the edges of fabrics and prevents them from fraying, also ultimately giving them a groomed, professional look.
It is a professional instrument that usually complements a regular sewing machine and which makes a piece of fabric look more desirable.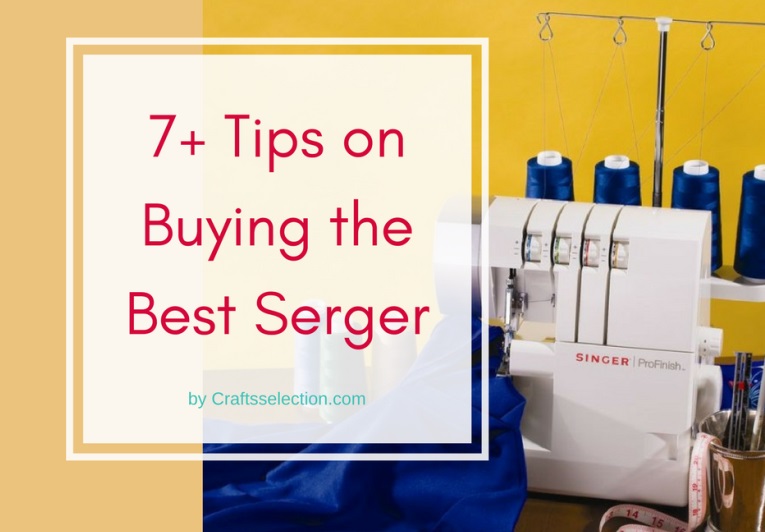 What Are Functions of A Serger?
Ever wondered how those flawlessly-stitched dresses at H&M and ZARA manage to pull you into the store? Say hello to the magnificent Serger!
Also known as an overlocker or an overlock machine, a serger is capable of a lot (a really lot!) of things including sewing of fabrics that are thick, stretchy, meshy, ravelly, and soft; seaming with multiple threads (essentially up to five); and creating different types of fashionable stitches such as rolled hem, frills, cover stitch, and the famous lettuce edge.
It is usually one that you own after you have mastered working with a sewing machine.
Investing in a serger is highly recommended if you are a seasoned sewer because the possibilities are endless and the whole process is enormously gratifying.
Have you seen those videos on YouTube titled "Most Satisfying Video in the World"?
Well, when you are working with a serger, there's no need for such videos; the satisfaction is right in front of you.
Trivia – A lot of people think the blade in a serger that snips unwanted fabric edges is its most distinctive feature.
What Are The Difference Between Sergers and Sewing Machines?
A serger is a complex instrument that will require you to enter a learning curve before you can master it.
It is different from a traditional sewing machine in the following ways:
Serger vs Sewing Machine
Sewing a perfect and durable seam using multiple threads in a variety of fashions is where a serger gives you a run for your money.
The sewing machine, in comparison, is restricted to single seams. It will take an eternity, plus a stack of skills, to create a rolled hem whereas, with a serger sewing machine, it's a walk in the park.
While sewing machines have bobbins to feed the threads to the needle, sergers use bobbins and a lopper system as it manages feeds from several threads.
This makes it easier for you to create ladder stitches, rolled hem, and ruffles using different colored threads – and that too in a single go.
One other advantage of owning a serger is the differential feed which aids in gathering (gather stitch) which can also be adjusted once you are done.
It is one of the most important features in a serger as it allows you to work on any type of fabric materials – from thin, ravelly fabrics to thick ones like denim and quilt.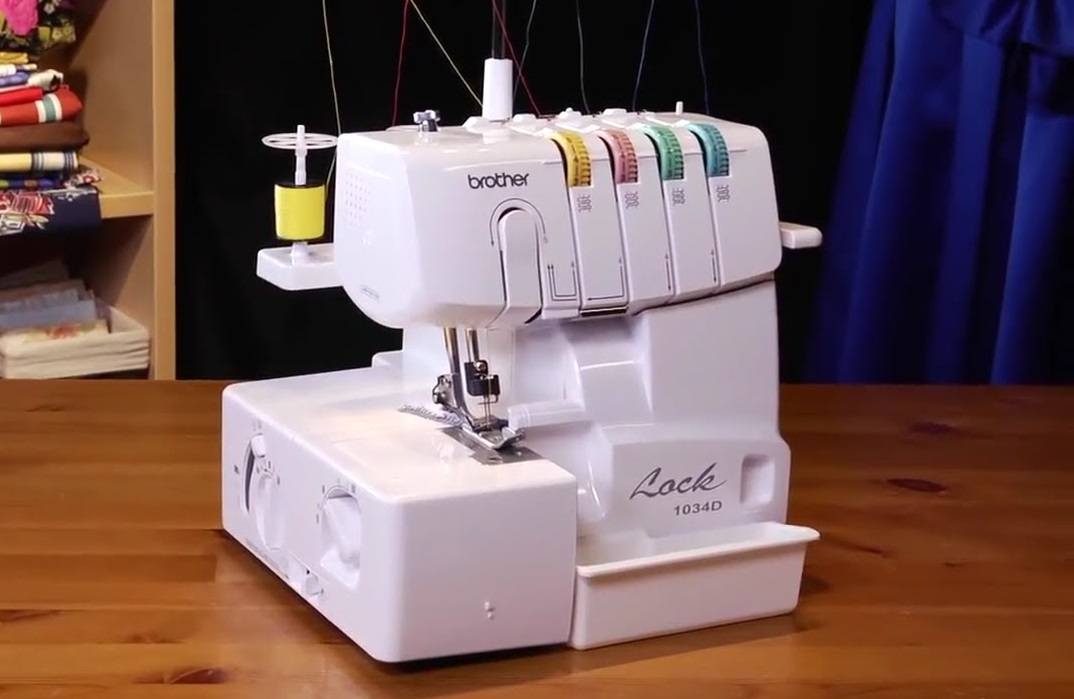 Can a Serger replace a Sewing machine?
Owning a serger does not mean you do not need a sewing machine. There are certain tasks that a serger is not capable of; for example, buttonholing and topstitching.
Therefore, an ideal setup would be to have both a good-quality serger and a sewing machine.
Should You Buy a Serger?
A serger has a lot of benefits, the most common of which have been listed below.
If you check even one of these as a requirement, you should definitely consider buying a serger.
In pure partisan words, a serger adds strength to your clothes and makes them stay as they are for longer.
So, if you are asking yourself this question, it all dumbs down to two major factors: what type of fabric are you working on and why.
Sews a much more durable seam than what a regular sewing machine is capable of
Trims off raw edges and overlocks it to prevent wear-off all in one-go
One-step cover stitch for tee shirts, flatlock, rolled hem, ladder stitch, and gather stitch
Work on all major types of fabric material
Uses multiple threads (minimum two, maximum five) (higher the number of threads, more durable the seam)
Create different types of stitches like 2/3/4-thread overlock
Decorative stitches, embellishments, quilting
It's unbelievably fast
A serger saves time with its one-step solutions, makes sewing difficult stitches easier, and gives your creations a look like it was produced in a couture designer's boutique.
As mentioned earlier, a serger is an advanced addition to your arsenal of sewing equipment.
Once you have reached the limits of your regular sewing machine, you will yearn for a tool that has additional capabilities that not only makes your job easier but also gives your creations a professional touch.
In a way, a serger is an expert's tool that indicates a sense of dexterity.
Downsides of a Serger
Although a serger has a lot of advantages over a sewing machine, you should also take a look at its down sides before making the plunge.
Here's a list of disadvantages of a serger:
It is an expensive tool when compared with a regular sewing machine. Although not one person who we know has regretted owning a serger, it is wise to understand one's requirements
Since it has multiple threads, the control panel can be intimidating at first. Multiple threads, multiple threading, multiple tension adjustments – literal tension!

A good rule is to go with sergers that are at the higher end of cost spectrum because they are easier to use and have automated systems (e.g.: check out the air-controlled automatic threader in Juki MO-1000 serger)
One might argue that these are not disadvantages, but just opinions opined by the naysayers.
After all, once you get a serger and start using it, there's no looking back. You just fall in love with it.
Trivia – Just ask a person who has ever owned a serger to list out its disadvantages. You are going to get a blank stare.
It should also be noted that before sergers came into existence, people used to pull off similar tricks using their traditional sewing machines.
But, the question is, don't machines exist to make our job easier? Isn't a serger a Godsend then?
Moving on, let's just look at the basic features of a serger and get an idea as to how relaxing and gratifying sewing with a serger can be.
Basic Features of a Serger
This section is particularly for beginners who have never used a commercial serger before.
This will give you an overview of how sergers work and what their basic features are.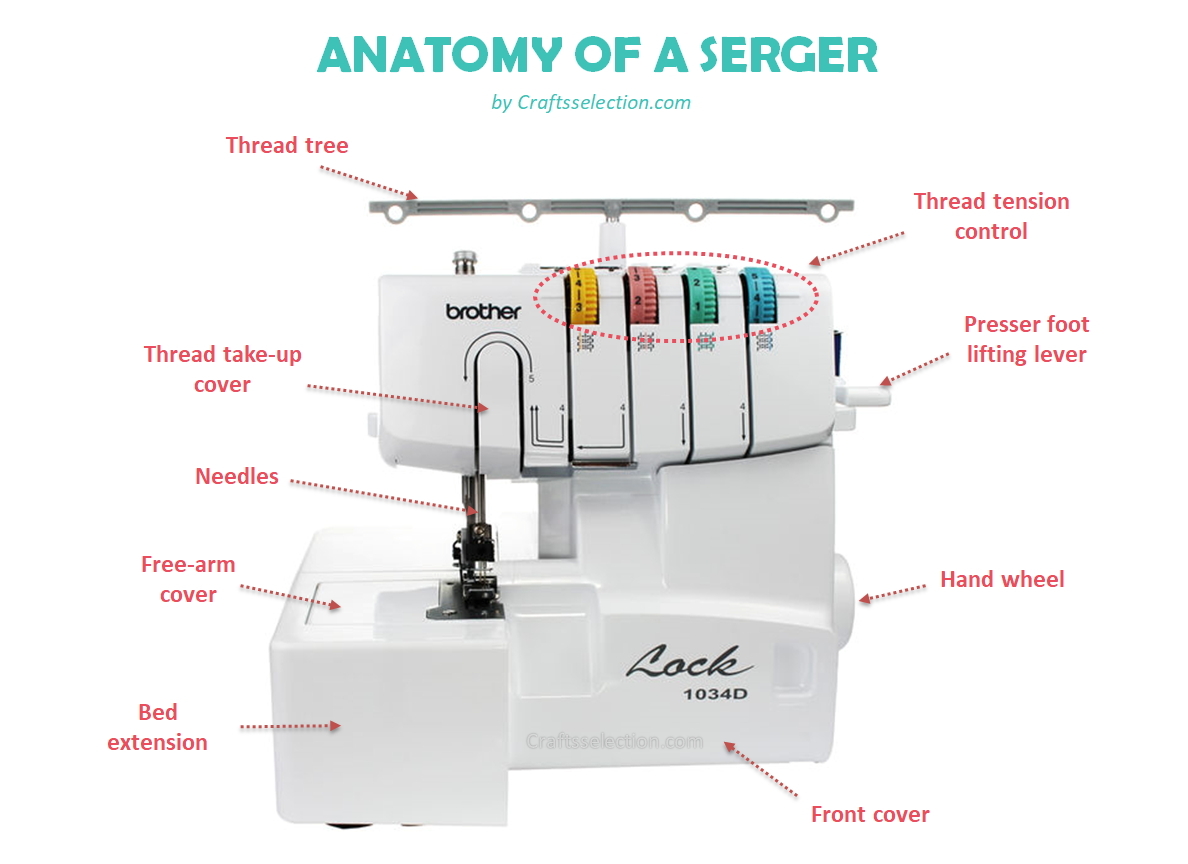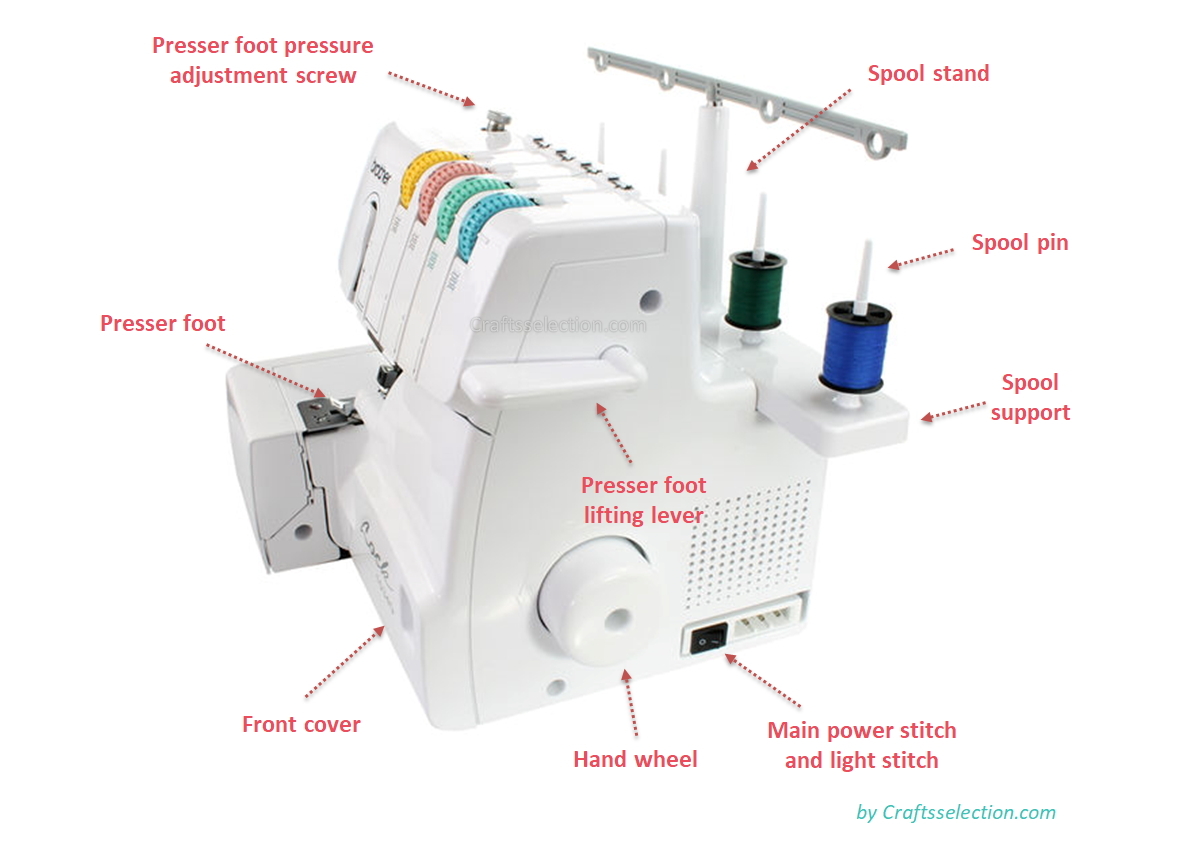 Looper/bobbin system – A serger usually has two loopers (lower and upper) and two bobbins which manage the threads in a 4-thread system. For example, in a 3-thread system, you take out one needle
Number of threads – There are different types of sergers based on the number of threads they support and use at a time.

A serger can have anywhere between two and five thread systems, with the most common being 2/3/4-thread sergers that are capable of doing sewing tasks using two, three, and four threads.
A 5-thread serger sewing machine is a high-end model not recommended to beginner users
While a 2-thread sew will give your fabric edge a basic seam (straight stitch), 3- and 4-thread serger models create tighter overlocking seams. Five-thread systems can also do speciality stitches
Trivia – Although not popular, even 8-thread sergers are available in the market. Go figure!
Number of needles – A serger usually has a maximum of two needles (placed at different lengths depending on the type of stitch and the number of threads). Most sergers use regular sewing machine needles. Due to the speedy operation, we recommend nickel-plated needles for extra durability
Threading system – Manual threading is often considered one of the toughest tasks in sewing. A self-threading serger, on the other hand, will just need you to guide the threads through the right loops and cavities and press a button or pull a lever
Differential feed – It is an intelligent mechanism that helps the fabric settle while it's being sewed. It controls the way in which the fabric is fed to the looper/bobbin system under the presser foot. A set of two separate feet dogs controls the feed which is usually set using a knob

Differential feed is usually denoted by numbers between 0.5/0.7 through 2.25/2.5. The higher the number, the straighter the seam flow
For example, take a piece of organza (or silk) and try to sew it with the differential feed set at 2.0. The result: excessive puckering on the edge. Now try it with the feed set at 0.5. That smile on your face is Instagram-worthy!
Differential feed must be set based on two factors:

Fabric material (e.g.: 0.5 for satin, 1.5 for cotton)
Type of stitch (wavy, straight seam, etc.)

Thread tension control – It is basically the correlation between the threads in the serger as they come together to stitch the fabric. Both manual and automatic tension control mechanisms have their own set of advantages. If you are a beginner, go with automatic control

The thread tension is usually denoted by numbers from 0 to 9, with 0 signifying lowest tension

Cover stitch – This is one of the many reasons why sewing machine veterans upgrade to a serger. Cover stitch is a popular type of stitch usually found in tee shirts and which can help you create decorative designs

Lettuce edge, piping, rolled hem are other types to look out for
For a serger with coverstitch capability, check out the "Professional models" section in our serger sewing machine reviews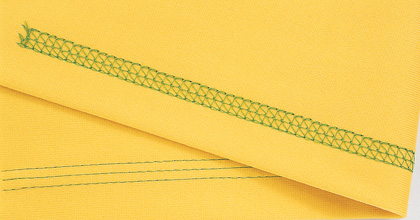 Free arm – If you are a homemaker who specializes in kids' clothing, then this is a must-have. A free arm gives you a knack to sew smaller clothes like sleeves and pant bottoms which are otherwise next to impossible
Accessories – Once you get into the learning curve with the overlock serger machine, you may need to use accessories like job-specific presser feet; stitch-specific presser feet; machine tools like tweezers, rolling knives; portable bags, and holding sleeves for the everyday user. The best serger machine will have a wide range of accessories
A list of secondary features to consider if you are an intermediate user:
Stitch length
Sewing speed, foot pedal
Work area illumination
Color coded threading paths, tension control (printed diagrams on the serger)
Removable blade
While the list of features is endless, you must look at the most important ones before buying. A heavy duty serger usually will have all these features.
Tips for Buying the Best Serger
Now that we have covered the basics and eased you into our guide, it's time to go through some tips to help you choose the best serger:
#1 – Understand your requirements
Are you going to use the serger on a daily basis for your home business? Invest a bit more and go for the heavy-duty models.
Are you an occasional user? The entry-level models are going to take care of you.
Oh, you are a fashion student? Girl, you need the one with most features so that you can experiment!
#2 – Go with a trusted brand
Brother, Singer, Janome, and Juki are the top brands in the sewing machine and serger scene.
Although there are other popular ones like Baby Lock, Bernina, Pfaff, and Husqvarna (although these last two are part of a single enterprise called SVP Worldwide, which also owns the Singer brand), we live by the above-mentioned four.
A great tip would be to go with a brand that you are already familiar with. Own a Brother computerized sewing machine? The Brother 1034D Serger it is!
Top Pick

Brother 1034D 3/4 Thread Serger
Best Serger For Beginners & Home Use
#3 – What is the serger made of?
No one tells you this: what are the insides of the serger made of? Plastic? Not going to work. Metal parts? Sign up!
Always go with a serger that is moderately heavy
In case you need to transport it every now and then, go for a lighter one
#4 – Try out a serger before buying
We know this is a tricky tip if you plan to order it online (which you should because of the discounts). If you have a friend who owns a serger, think it's time to pay her a visit! (Don't forget the cupcakes).
If that visit sounds like a bad plan, visit your nearest retail store and get a hands-on experience on the model that you selected (after reading the reviews, of course).
If satisfied, rush home and order it. This way you know what it feels like and you also spend less.
#5 – Don't go by the price
A serger that is worth $5000 does not necessarily have to be a good one. Instead, base your selection on the features.
The shift in prices usually has to do with how the serger is made on the inside. It has very little to do with the actual features, mechanisms, etc.
#6 – 3/4-thread sergers are going to be sufficient for most people
You may feel the hunger for getting yourself a 5-thread model, but think thrice because 9 out of 10 times you are not even going to use the specialty features.

#7 – A Serger with cover stitching function
Coverstitching is often the only stitch that people use a serger for. If that's the case, go with a model that supports this type.
#8 – How is the machine reviewed?
Look what the reviews say about the instruction manual (and DVD). Is it easy to read and understand?
#9 – Buy a second-hand serger? Yes or No
You may have read about buying a used serger from Craigslist or eBay, but is it really worth it?
In our decades-long experience, going for a second-hand serger is not recommended simply because you don't know how the owner handled it.
There's no room for uncertainty in sewing, which is an art. Only when you consider stitching as an art can you make wonderful creations, which starts from owning one of the best sergers around.
As we finally reach the end of our preamble on sergers, it's time to find the best serger that is the most suitable to your need.