Welcome to the exciting world of garment decoration and T-shirt making. You must have heard of different printing methods used in the garment decoration industry, especially sublimation printing and heat transfer printing and may be asking yourself which method of garment decoration is better.
The truth is: both are great; each method comes with its benefits and drawbacks! However, the right method for you or your business depends on your needs and what you intend to create.
In this post, we will take a close look at the pros and cons of each garment decoration method to help you determine the one that will be most suitable for your needs.
Now, let's get started!
Heat Transfer Printing
Heat transfer printing (also known as thermal printing, heat printing, and thermal transfer printing) refers to the use of heat and pressure to apply custom designs to garments or other items.
This printing method works by transferring custom designs or images from heat-applied materials to garments or other items when you apply heat and pressure.

Heat transfer printing method is used to decorate or print on a wide variety of items such as T-shirts, bags, caps, awards, plaques, and other items that can withstand the heat of transfer.
There are different types of heat transfer printing, two of which are commonly used in the garment decoration industry today. This includes vinyl (material-based transfer) and digital heat transfer printing (ink-based transfer).
Vinyl Heat Transfer Printing (Material-Based transfer)
This type of heat transfer printing relies on the use of film or physical transfer material with heat-activated adhesive backing such as iron-on vinyl (heat transfer vinyl) to transfer custom designs onto garments.
Digital Heat Transfer Printing (Ink-Based Transfer)
The digital heat transfer printing also makes use of heat but without the adhesive-backed material.
Instead, it uses an inkjet or laser printer to print your designs onto a special heat transfer paper with apparel ink so that you can heat press it on your garment to transfer your designs onto the fabric.
Adhesives are also used in this form of printing, but they are either on the transfer paper surface or already mixed with ink and activated with heat.
Please read our heat printing basics to learn more about the different types of heat transfer printing.
Pros & Cons of Heat Transfer Printing
Pros:
Heat transfer printing has a very low investment cost
It is easy and ideal for newbies
You're not restricted by the color of the item that you can decorate
You can go to two different printing routes with inkjet or laser printer
The decoration of both polyester and cotton substrates is achievable with this printing method
You can achieve self-weeding with laser release paper
Laser printers do not use ink; they use toner, so they do not clog
Cons:
Inkjet transfer papers can only work on textile materials
Inkjet transfer papers cannot achieve self-weeding
Bigger designs created with this method are more prone to cracking
Bigger designs have heavier hand feel (the artwork can be felt by the wearer of the garment decorated with this printing method)
When using laser printers, the type of transfer paper used for transferring designs onto textiles is different from the one required for transferring designs onto hard surfaces
Dye Sublimation Printing
Dye-sublimation (also known as sublimation printing) is a form of heat transfer printing and is quite similar to digital heat transfer since it also relies on ink and heat to transfer the designs.
However, it uses different materials, ink, equipment, and approach (as it does not rely on the use of adhesives to transfer designs).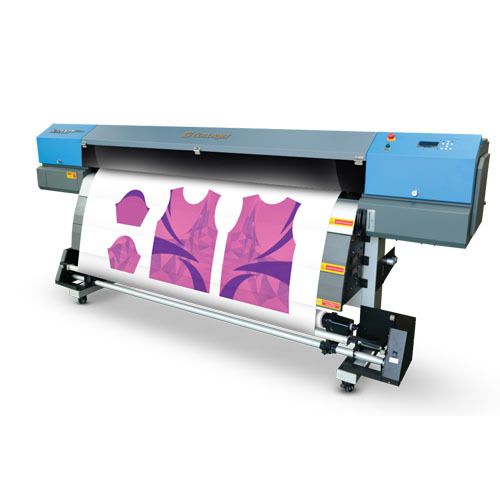 In sublimation printing, custom designs are created on the computer and printed on transfer paper with an inkjet printer using sublimation inks in this case.
Then the transfer paper containing the design is placed on the item that is to be decorated, and heat pressed using a commercial heat press.
The combination of pressure and heat from the heat press makes the ink or dye to 'sublimate' (i.e., it turns from solid to gas) and permeates and adheres to the fiber of the item you're decorating on a molecular level.
Since the design adheres to the substrate's fiber on a molecular level, the result is a permanent high-quality print that will never peel or crack.
The transferred design leaves no additional layer on your garment, so the decorated area has no different feelings to the touch than the rest of the garment. This printing method produces incredibly durable print which will last as long as the fabric itself is under normal conditions.
Dye-sublimation printing is used to decorate polyester materials, and can also work on a wide range of hard surfaces like puzzles, mugs, jewelry, custom water bottle, and many more.
Pros & Cons of Sublimation Printing
Pros:
Unmatched durability
The transfer is self-weeding
The design is not layered, so it has no hand feel
The investment cost is low
Yields incredibly clear and vibrant colors on both soft and hard substrates
Uses the same type of transfer papers on both hard and textile surfaces
Cons:
Can only work on poly-coated substrates and polyester fabrics
Sublimation ink clogs up in the printer extremely fast
The application of this printing method is limited to the substrate's color
Heat Transfer vs. Sublimation Printing – The Differences
By now, you should have understood what heat transfer and sublimation printing is and how they work. Now, let us get down to the nitty-gritty of the two printing methods and compare them in a few important areas.
Equipment Requirements and Startup Costs
Heat transfer printing is one of the most inexpensive methods of garment decoration.
To get started, you'll only need to invest in a laser or inkjet printer, heat transfer paper, a heat press, and the garments or t-shirts you'd like to decorate. Or you invest in vinyl, a vinyl cutter, a heat press and the garments you want to decorate.
Sublimation printing, on the other hand, has a higher start-up cost than the heat transfer printing option but that start-up cost has been reduced greatly in recent years.
With this option, you'll have to invest in a sublimation printer, sublimation dye or ink, sublimation paper, essential software, a heat press, and products you can print using this method.
Also, sublimation printers last longer than the printing machines used in heat transfer printing.
Durability and Feel
Heat transfer printing works by adding a layer of your design on top of the fabric or garment you're printing.
You can feel this additional layer with your hand. Also, the layer is not as durable as the sublimation prints as it can fade or crack over time after undergoing lots of laundry cycles.
Sublimation, on the other hand, uses a process whereby the ink integrates itself into the fabric and becomes part of it instead of forming a layer on top of the fabric. This printing process results in a garment decoration that is matchless in both feel and durability.
The Types of Fabrics You Can Decorate
You're more limited in the garment you can decorate with sublimation than with heat transfer printing.
First, you can't decorate 100% cotton material with sublimation; you can only print on polyester garments using this method. That is because the ink used in sublimation printing only adheres to polyester garment fibers.
However, you can decorate some poly-cotton blends with this method, but the decoration will not be as vibrant and bright as when you sublimate on 100% polyester fabrics.
Also, the fabric you're decorating must be very light-colored or white for your transfer to show since sublimation printing leaves no extra layer on top of the garment.
Heat transfer printing is the clear winner in this section in terms of fabric color and materials you can decorate. That is because it allows you to decorate both dark and light-colored cotton or polyester as well as cotton-poly blends.
While heat transfer printing leads in this section, it cannot be used on most other hard surfaces, unlike the sublimation that supports a wide range of hard surface substrates.
Time, Pressure and Temperature Requirements
Here, dye sublimation printing is the clear winner as it uses less temperature and pressure than the heat transfer printing method.
Also, the decoration is completed in less than 60 seconds, unlike the heat transfer that requires a longer amount of time to complete.
Weeding
Sublimation printing is naturally self-weeding. That is because only the ink is transferred to the garment, thus resulting in a printing, pressing, and peeling process that is easy and fast.
Apart from the use of "two-step" laser transfer papers, printing with heat transfer papers is not self-weeding.
You will have to weed the transfer by trimming around the design with scissors or a cutting plotter unless you want the shape of the paper to create a noticeable background on your garment. This trimming process can also affect the time required to complete the design.
The Colors You Can Print
Sublimation printing results in a permanent, realistic coloration with high resolution and clarity. It allows you to decorate fabrics with full colors, which is great if you have customers that want to print in a specific color (for instance, a color required for a company logo) or you're looking to print photos.
However, you may not be able to achieve the same high resolution, photo-quality transfer with heat transfer printing as with sublimation, irrespective of the type of heat transfer paper (inkjet or laser) you use.
Generally, for light-colored fabrics, your best bet is to use an inkjet heat transfer paper or a laser heat transfer paper that is printed using an OKI white toner laser printer to achieve photo-quality prints with heat transfer printing.
Final Words
Both sublimation and heat transfer printing are great ways to decorate apparel; both printing technologies are affordable and beneficial and can be used to decorate fabric with steps that are easy to follow.
The right method for you ultimately depends on your needs or what you're looking to create, so the choice is absolutely yours.
However, I suggest getting a dye sublimation printer if you're looking to decorate other surface substrates like tiles, mugs, plastic, pieces of jewelry, ceramic, etc. If you are going to stick only to garment decoration, then go for a quality heat transfer printer for your garment printing business.
Hopefully, this post has shown you the differences between the two printing technologies and has provided the necessary information required to help you on your path to apparel printing and decoration.
If you want to know about other printing technologies or other relevant information, read our heat printing basics or browse through our heat printing series.