Papercrafting is a low-cost pastime that can produce stunning creations for different occasions. It is a craft that anybody can enjoy and there are projects suited for all experience levels and age groups.
If you are feeling a little bored and lacking inspiration, then try out these simple and exciting techniques to kick-start your new papercraft project. The amazing thing is that you do not require any elaborate materials to make these crafts. You only need some cardstock and essential craft supplies.
#1 – Cupcake Collage

Collage making can be an exciting playtime activity for your young ones (aged 3 and above). Aside from keeping them busy during idle afternoons, the activity will also help them build on their motor skills. Your kids will have a good time creating these multihued and imaginative collages however make sure you have some real cupcakes ready for them after the activity.
What you will need:
Brown cardstock to make cupcake bottoms
Diverse scrapbook papers
9 x 12 heavy paper to serve as background
White cardstock to make the icing tops
Scissors
Tissue paper
Glue sticks
Adornments such as sequins and yarns
#2 – Flowers and Balloons Party Garland

Are you planning a get together with friends or family? Wow your guests with this awesome DIY flowers and balloons party garland. The flowers and balloons are tied together producing a stunning combination. This exceptional party décor will surely get you those admiring looks and comments.
What you will need:
Kraft cardstock
An assortment of colored cardstock
Large baker's twine
Paper flowers (three of each pattern)
Buttons or large brads
Electric die cutting machine
#3 – Pinwheels

Here is another cool craft you and your little ones can create using things that are readily available in your home. Creating paper pinwheels are always a favorite for children, and are an ideal project for those days when everybody just needs a bit of papercrafting fun.
They are also a fantastic way for burgeoning scientists to discover the power of air and breath. Your kids can practice normal breaths, fast breaths, and slow breaths, and find out how that alters the pinwheel spin. You can then use this activity to educate your children about windmills, turbines, and green energy.
What you will need:
Scissors

Ruler

Pencil

Masking tape

Straw

1 pushpin

Square shaped cardstock paper (1 piece)
#4 – Hot Air Balloon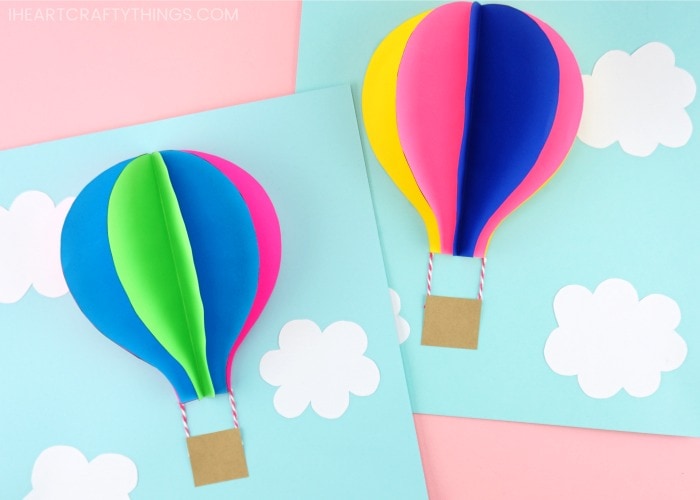 Hot air balloons have been around since the year 1783, and are the oldest successful human flight technology. Most individuals have seen these balloons floating quietly in the sky, however, only a small handful of individuals have ever flown in one.
There are many stories about these balloons in children's books, so your kids may have developed an interest in these sky lanterns. If you cannot afford a hot air balloon ride right now, your kids can take off with this colorful and lovely hot air balloon craft.
What you will need:
School glue or tacky glue
Glue stick
Baker's twine
Scissors
Tan cardstock
Cardstock or white paper
Colored paper
Light blue cardstock (12 inches x 12 inches)
Template
#5 – Gift Box

Are you planning to send someone a gift but cannot find the right gift box/bag for that special one? No need to be anxious. Learn how to create your personalized craft or gift box using cardstock in ten simple steps. This lovely gift box is simple to make and quite versatile.
This procedure uses a cardstock piece of 8" x 10" dimension. It produces a box with approximate dimensions: 4"x3.5"x1" (LengthxWidthxDepth).
After you have understood the fundamental principles, you can easily make other sizes by modifying the formula.
What you will need:
Template
Pencil
Ruler
Scissors or X-Acto Knife
Glue
8" x 10" cardstock sheet (One per box)
#6 – Ladybug Paper Purse

If you are looking for a way to tap into your kids' creative side, then you cannot go wrong with this paper purse craft. Your children will love the prospect to convert this papercraft into a practical everyday item that can hold a variety of items including crayons, pencil sharpeners, and snacks.
What you will need:
Craft glue
Scissors
Ruler
Pencil
Glitter glue or black glitter
Black cardstock
Red paper bag
#7 – Star Wars R2-D2

If you are a fan of Star Wars, then R2-D2 is probably your favorite droid in the series. Put your droid-making skills on display by making your own 3-Dimensional paper edition of the legendary plucky 'Star Wars' Robot R2-D2. This would make a fantastic gift for a relative or parent that fancies the Star Wars series.
What you will need:
Black cardstock
White cardstock
Markers, colored pencils, or crayons
Glue
Scissors
Fine tip black pen or marker
Template
#8 – Stimulating Donut Craft for Children

Donut crafts are trending these days and they are super cute. If you are planning a donut party, this very simple to make craft will add just the appropriate touch to the event.
What you will need:
Glue stick
Cardstock
Whole punch
#9 – DIY Envelopes

This is the 21st century and people have easy access to fast communication channels like phone, video call, Skype, Live Chat, and more. So why would anyone want to use snail (old-fashioned) mail? Well, because getting a letter in the mail the old-fashioned method makes people feel loved and special.
Whether you want to send well wishes to someone or a note to say hello, you do not have to spend loads of money on expensive stationery. Make your own envelopes using cardstock paper. They are very simple to make, and they are inexpensive.
What you will need:
Old envelopes to serve as templates
Cardstock paper
Pencil

Scissors

Paper clips or binder clips

Glue Stick
#10 – Rudolph Christmas Card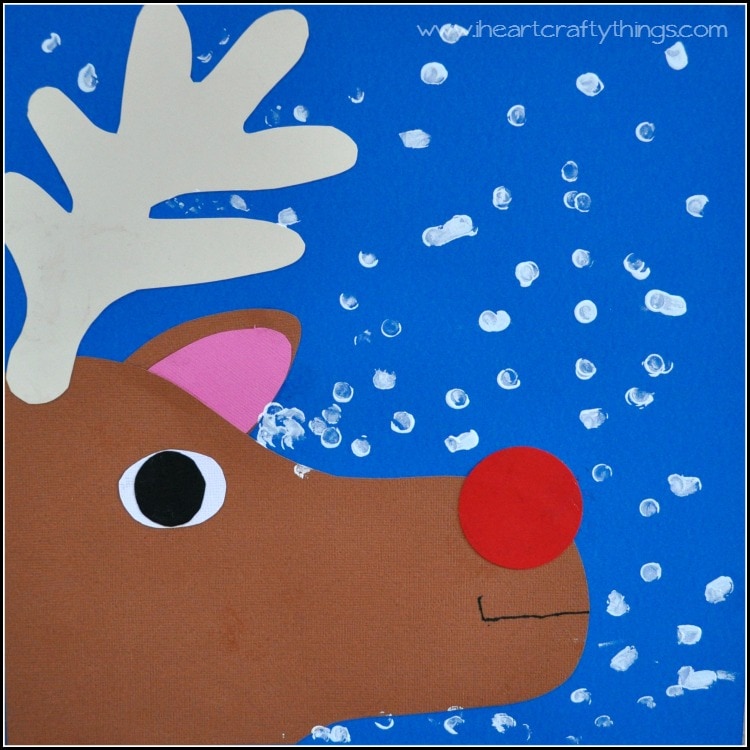 Christmas is fast approaching and now is the time to encourage your little ones to make Christmas cards for friends, family members, teachers, and any other important persons in their lives. This super easy Rudolph Christmas card is extremely simple to create, and thus appropriate for children of all ages.
What you will need:
Brown cardstock paper
Blue cardstock paper (12 inches x 12 inches)
Cream or tan colored cardstock paper sheet
Black, white, pink, and red cardstock paper sheet
Rudolph template
Glue Stick
Scissors
White paint
Black marker
Pencil
Eraser
Small paper plate
In summary
That's about it… Hope you and your little ones had a nice time doing these cool and exciting papercrafts. Happy papercrafting.