Whether you're a professional crafter, a hobbyist, or a beginner, investing on the best vinyl cutting machine is one of the wisest decisions to take to make a difference in today's world of crafting.
Not only will this tool help you create DIY arts and handle various craft projects, but it will also help to transform your craft and design workflow, create and reproduce crafts and designs more accurately, not to talk of the money and the time it saves.

But with a slew of vinyl cutting machine brands and models available on the market today, how can you select a vinyl cutter that will meet your needs especially if you're a beginner?
And if your old vinyl cutting machine not meeting your demands hence the need for an upgrade, what are the factors you should consider to select the right one for you?
The answers to these questions are just a few lines away.
How to Buy a Vinyl Cutter
When shopping for a vinyl cutting machine, there are some important factors you need to consider to select the right model for your needs and avoid the headaches and frustration that comes with buying the wrong product.
Some of these factors include:
Intended Use
Whether you're a commercial production company, a small home-based business, or a hobbyist, what you plan to use your new vinyl cutter for is the very first thing you need to put into consideration.
This will go a long way to helping you select the right model and type of vinyl cutter that suits your needs.

For instance, if you are a hobbyist or a keen crafter who is just starting out in the vinyl cutting world, a desktop vinyl cutting machine should be enough to meet your needs.
But if you are a small business or a commercial production company that provides sign writing and vinyl cutting services, then you need a commercial vinyl cutter with a lot more oomph than what you'll get from a home vinyl cutting machine.
Type of Vinyl Cutting Machine
Vinyl cutting machines come in various designs and are targeted towards different scales of usage, so you need to consider your intended use to select the right one for you.
The 3 major designs of vinyl cutting machine include:
Flatbed vinyl cutters
Roll feed vinyl cutters and
Desktop vinyl cutters
If you are looking for a vinyl cutter with stand, then you should go for a roll feed cutter. Roll-fed or roll feed cutters work with a roll of material and requires feeding a roll at a time.
And since they support a long roll of material, they allow for larger and faster production which makes them ideal for small businesses and commercial companies.
Flatbed vinyl cutters are the most expensive type of vinyl cutting machine; they usually occupy a large amount of space and are more suitable for cutting fabrics and thicker materials.
Flatbed cutters do not support a roll of material (you have to cut the rolls of material down into sections to use them on a flatbed cutter, and this may take a chunk of your time when working on a large production).

Desktop vinyl cutters are usually the cheapest; they are designed to be placed on a desk and mostly used by home users, hobbyists, and small craft cutting businesses.
Some models support a roll of material while others only support sheets of material, so if you own this type of machine and want to work with a roll of material, you'll have to cut the material down into sheets.
For further details on the type and design of the vinyl cutting machine, read our beginner's guide to vinyl cutters.
Size
The vinyl cutting machine comes in different sizes base on the size of vinyl sheets or materials they are compatible with.
The size of vinyl cutter you need depend on the type of craft or work you will be doing; this means you have to access the nature of your work to select the right size for you.
For instance, if you're a hobbyist, someone who enjoys arts and crafts at home, or someone who works mostly on long banners, then you can go for a smaller vinyl cutter as they'll often be enough to handle your crafting needs.

But if you are a professional crafter or someone looking to create large crafts and accommodate more customer crafting needs, then you should go for a larger machine.
Note:
You should also consider the size of your workshop, or the available space you have at home to determine the right size for you.
Vinyl is often available in a width of 38.1 cm (15 inches) or more and sold in rolls. If you go for a small vinyl cutting machine that cannot handle this type of width, you will have to trim your vinyl materials according to the size of the machine before you use them. This will result in a waste of time and materials.
Type of Material You Intend to Cut
Do you only want to be cutting vinyl or you want to be cutting it with other materials like fabric, foil, cardstock, tissue paper, leather, wood, and plastic too?
If you only intend to use your vinyl cutter to cut vinyl, then you can go for a less expensive model.
But if you intend to cut vinyl and other materials with your vinyl cutting machine, consider going for a higher-end model.
Before you select a model, check its specifications and see the type and thickness of materials or media it supports. It is also important to check that you're selecting a model that can feed the size of the media you'll be working with.

Smaller home desktop vinyl cutters can be limited in the size of materials you can feed into the machine whereas the mid-pro cutters and commercial or professional cutters do not have this restriction.
The thickness of the media or material you intend to cut is another factor you need to consider; you have to be sure the machine can handle the level of thickness you want to cut before you buy it.
If you want a machine that can cut different materials at different levels of thickness, you should look for a vinyl cutter with adjustable blade pressure or blade force.
The down force (also known as blade pressure or blade force) is how hard a vinyl cutting machine pushes its blade down into a material.
If you own a cutter with adjustable down-force, you need to increase the pressure for thick materials and reduce it for thin materials.
Speed
This has to do with the rate at which a cutter completes its cutting task. If you're a home user or a hobbyist, selecting a very fast cutter may not really make sense to you.
But if you're running a commercial craft company or a small business, you'll need a cutter that can create or cut your designs more rapidly than the regular cutters because you know your time is money.
So, if you fall into that category, going for a high-speed cutter to complete your vinyl cutting task in a timely way is recommended.
Precision
If you intend to cut large, intricate or detailed designs, you need to be sure a vinyl cutting machine can cut with the level of detail you want before you buy it; otherwise, it would be a waste of time and money.

Check if the cutter comes with features like enhanced or superior tracking abilities, media sensors to detect the surface of the material you load.
These features help to control the machine ability to precisely regulate its downforce (Smart Blade Landing) for a more precise cut.
So, try to check the specification and level of precision and design repeatability of a cutter to select a model that suits your needs.
Noise
If you're using the machine for commercial purpose or in a workshop setting, you may not worry about the noise.
But if you'd be using your vinyl cutting machine in your living room, then you have to worry about the noise and select a quieter model. The level of noise produced by a vinyl cutter depends on the type of drive motor used in the machine.
Read our beginner's guide to vinyl cutters to learn about drive motor and how to select the right one for you.
Budget
How much is a vinyl cutter, what is a good beginner vinyl cutter and how much can you spend to get yourself a really good cutter?
These are some of the questions you need to ask yourself, especially if you're a beginner to find the right product and set a more realistic budget.
Vinyl cutter cost varies; a cheap model can be sold for a couple of hundred dollars while the high-end models can cost thousands of dollars.
While a cheap cutter may be suitable for beginners, experienced users, especially the professional or commercial users, should go for a versatile high-end model.
Regardless of your budget, there are various options out there, so you'll find one that you can afford.
How Easy It is to Use the Cutter and Its Software
How skilled are you?
The answer to this question will help you decide whether to go for a more complicated model or a more user-friendly model.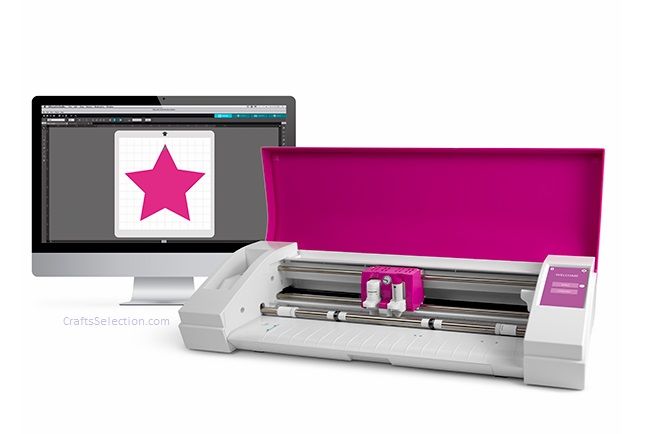 If you are a beginner or a hobbyist, it is better to select a vinyl cutting machine and software that is very easy to use and leave the complicated models to the professional crafters.
It is also advisable to select a model that is compatible with various design software and operating systems, so you can work on a different platform with the software that you're more familiar with.
Warranty and Support
In the perfect world, warranty, support, or part replacement will not be required.
Unfortunately, we're not in a perfect world, which means your vinyl cutter may malfunction or have some quality related issues even right from the box.
However, selecting a vinyl cutter with good warranty and support will not only give you rest of mind but will also help you avoid the frustration of being stuck with a bad product or one with poor functionality.
Avoid out-of-production or used models as they will be more difficult to service or maintain.
It is also important to consider the ease and cost of finding and replacing the damaged parts. Going for popular bands help in this regard as it will increase the availability of support and replacement parts.
Final Words
There are a lot of things to consider when selecting the best vinyl cutter for your needs in which this article has discussed some.
For more information and vinyl cutter buying tips, read our beginners guide to vinyl cutters or our best vinyl cutter reviews to select the right model for your needs.