Knowing a good selection of the best free fonts for a vinyl cutter is an important part of starting a vinyl business. There are lots of attractive fonts out there, but not all of them are available for free.
And of those that are, you will have to search for a while until you've found something that works well for your needs and has no quirks.
List of the Top Free Fonts for Vinyl Cutters
Here are our suggestions for some of the best free fonts for vinyl cutters on the market right now. You may not enjoy all of them, depending on your preferences, but this list should be a good starting point for finding even more fonts that work better for your needs.
1 – Joy Maker

A clean, smooth font designed for high readability while also maintaining an interesting profile. The crooked nature of most letters makes this font perfect for more artistic projects and things where you want your text to pop easily. It's also a very clean font that should be suitable for minimalistic designs.
The font is particularly good for users who want to easily scale their text to different sizes. It's one of the few fonts that work well in small and large sizes alike. It doesn't matter if you're planning to print small stickers or t-shirts with big, bold logos – Joy Maker should fit your requirements just fine in most cases.
Download: https://www.dafont.com/joy-maker.font
2 – Brand

A good mix between a classic design and a more modern, stylized approach. Brand's name speaks for itself – the font works great for logos and other short words and sentences. The details on some letters (like R and A) might make it unsuitable for longer texts as the font will make those look too heavy and difficult to parse at a glance.
But if you only need to stylize a few logos and don't plan on writing any longer texts, Brand should do a fine job. The disconnected nature of some letters, like O and Q, can make the font a bit tricky to work with if you need to cut around the edges of the letters. But other than that, this is a great font to pick up and start making projects with.
Download: https://www.dafont.com/brand.font
3 – Hinsa

A unique, fancy font that works great for cartoonish designs. If you like bold, confident shapes, this font will work great for you. It's not very suitable for text with varying capitalization, unfortunately. But it more than makes up for that with a flashy appearance that looks great on logos.
Hinsa can make it easy to combine bold, flat shapes with finely textured details. Your letters can either be colored in a single shade, or you can add speckles and other similar smaller details to imitate a realistic marker feeling.
Download: https://elements.envato.com/hinsa-cute-display-font-XCCJARB
4 – Lemon Milk

Lemon Milk is a classic-styled font with a bold appearance, perfect for use alongside straight geometrical shapes and similar designs. It's a minimalistic font that can work well in busy designs as well as simpler, more straightforward ones. The font looks particularly good in italic and can easily be adapted to different visual styles.
One small downside of Lemon Milk is that it's only available in upper case by default. A lower-case version is available, but it's a premium version of the original free font. Given the overall design of the font though, you're not missing out on much by sticking to the free upper-case version.
Download: https://www.dafont.com/lemon-milk.font
5 – Santana

A peculiar font that gets more and more unusual with each added level of boldness, Santana is a good choice for logos and short texts alike. The condensed version can make an excellent addition to any stylized logo design, while the regular version can look great in a variety of settings and is very versatile.
Some stylistic choices can stand out a bit, such as the different thicknesses in the vertical lines of lowercase "p" and "q", as well as the unusual designs of "d" and "o". But for some projects, this font works very well right off the bat and doesn't even require any additional adjustments.
Download: https://www.dafont.com/santana.font
6 – Misses

If you're after something fancier, you should definitely give Misses a try. It's one of the best fonts for creating unusual, twisting texts that can easily fit into any artistic design. The font can be a bit difficult to read in longer texts, so it's only recommended for use in short logos, brand names, and other similar places.
That hasn't stopped some designers from using it in multi-line designs. And while this can definitely work, it's usually not recommended if you want to keep your message legible. You'll frequently see this font used in cozy, stylized designs. Some consider it a bit overused in this regard, but it still has a place on the market.
Download: https://www.dafont.com/misses.font
7 – Little Peanut

A font that can work great for various designs, Little Peanut immediately stands out with its flashy style and creative shapes. The font is great for caricatures, illustrations and other similar designs, but it can work well in other contexts as well. It's a versatile font that can add a lot to any designs aimed at children.
You don't necessarily need to use it exclusively in that context though. With a little adjustment, Little Peanut can also work well for more serious designs if you know what you're doing. However, if that's your main intention, there are other designs that can probably do a better job in your case.
Download: https://elements.envato.com/little-peanut-font-KBDN6JJ
8 – Abril Fatface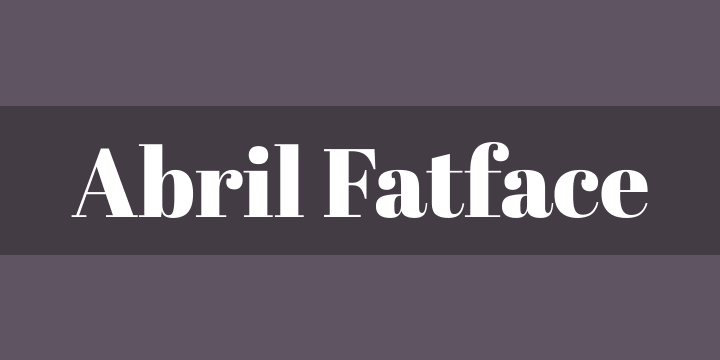 Abril is a well-known family of fonts, and Abril Fatface is specifically suited for use in vinyl designs. It's a classic font with bold vertical lines and emphasized serifs. The default version may be a bit heavy for some designs, but if you've got an idea that can leverage the full potential of Abril Fatface, you definitely won't be disappointed by what it has to offer.
Slimmer versions are available as well, but they are not free. If you primarily work with large designs that heavily emphasize the overall shape and layout of the picture, Abril Fatface should work just fine for your needs. If you're curious, you should check out the premium versions as well – maybe there's something in there that matches your requirements even better.
Download: https://fonts.google.com/specimen/Abril+Fatface
9 – Apple Juice

Apple Juice may not be easily readable in larger texts, but it's obviously not designed with that in mind. It's a heavily stylized font that can work well in logos and other individual designs that focus on short words and expressions. The font is specifically marketed toward people who want to use their vinyl cutters for commercial purposes with its license, but it can work well for hobby projects too.
Some might find the difference between lower-case and upper-case letters a bit annoying, especially when they overlap in confusing ways. The font requires some additional care to fit into your works properly, but once you get the hang of it, you'll never want to stop using it.
Download: https://elements.envato.com/apple-juice-font-HXMRCQ
10 – Sans Mateo

Another highly stylized font that's perfect for all those cute designs and drawings you want to convert to vinyl. Sans Mateo imitates handwriting quite well, though it does it in a bolder style that might not immediately fit every project you work on. As long as you keep that in mind, it can be a great choice for a large variety of projects though.
Sans Mateo is one of the best fonts for cutting out smaller vinyl stickers due to the thick design of each letter and the fact that you don't have to cut out any internal shapes for most letters. The rounded edges give it a nice, appealing look, accentuated by the occasional sharp corner or bulge in the letter's shape.
Download: https://fontesk.com/sans-mateo-font/
11 – Onelove

Want to make something look like it was written by a poet writing a love letter? Onelove is a perfect choice in this case, and it's one of the most popular fonts in this category. The author has really nailed the exquisite handwritten look. It can sometimes be difficult to tell that you're even using a premade font if there are no repeating letters.
The swashes and ligatures are what really make this font stand out from other fonts with similar design intentions. Every letter looks unique, and finishing a sentence written in Onelove will make you feel like an artist even if you don't consider yourself one.
Download: https://www.dafont.com/onelove.font
12 – Nouradilla

We'll finish the list with another handwritten font, this time a bit more on the fancy side. Nouradilla can work great for a variety of artistic designs and makes the perfect complement to cute vinyl stickers and t-shirt designs with simple images and shapes. If you want to decorate a holiday-themed design, this is one of the best fonts you can use for free.
Nouradilla also enjoys the benefit of still being relatively unpopular. Not many people have caught on to this one yet, so take advantage of that and use it in your designs while it's still fresh.
Download: https://www.dafont.com/nouradilla.font
Conclusion
There are many free fonts for vinyl cutter designs, and the above list is far from exhaustive. But if you don't even know where to look, it's a good start. Take a look at every font we listed and take note of the ones that would work best for your upcoming projects.
If you decide that some of them aren't completely suitable, you can easily branch out and look for similar fonts.