Having a good vinyl cutter is only one part of the equation for success. You must also know the best free vinyl cutter software on the market and take the time to compare different programs. Finding good software for a vinyl cutter can be a bit challenging if you've got any special requirements, so you should prepare for a lengthy search.
List of Top Free Software for Vinyl Cutters
If you don't know where to start your search, here are our suggestions for the best free software for vinyl cutters on the current market.
1 – Silhouette Studio

Pros
Packed full of features
Diverse range of supported formats
Easy to use
Cons
Requires premium version for some advanced features
Silhouette Studio is a popular software for vinyl cutting distributed with Silhouette's various vinyl cutter models. It's a solid application with a lot of features and is currently one of the most actively used programs on the market for vinyl cutter software.
It has a free and premium version. Most users should find the free version sufficient for their basic needs, though if you want advanced functionality – including a wider range of supported formats for exporting – you should upgrade to the premium version.
The program used to be associated with glitches and instability, but that's far from the case in more recent versions. Silhouette Studio 4.0 is where the company really turned things around and delivered a high-grade product that attracted thousands of users.
One of the best things about Silhouette Studio is that it's significantly easier to learn than other similar tools, even for beginners. This is quite different from previous iterations of the application, which were clunky and had a steep learning curve to them.
The interface is simple, yet powerful. You'll find all tools and settings grouped into logical sections, and everything is easy to locate with just a few clicks. A great vinyl cutting software for Mac and Windows alike, Silhouette Studio has a lot to offer.
Compatible operating systems: Windows, macOS
Compatible file formats: SVG, PDF, PNG, BMP, TIFF, JPEG
Download: https://www.silhouetteamerica.com/software
2 – Easy Cut Studio

Pros
Easy to use transform tools
Control your vinyl cutter directly from the application
Supports many vinyl cutters out of the box
Cons
Takes a while to get used to
Easy Cut Studio is aimed at beginners and experienced users alike. The program supports a variety of vinyl cutters out of the box, including models by Roland, Vinyl Express, Wishblade, and many others. No matter what vinyl cutter you're using, there's a good chance it will be supported by Easy Cut Studio without the need for any additional configuration.
You can edit your design in various ways, including standard transform tools like translate/rotate/skew. You can adjust your designs according to different layouts and cut sizes, which can be very useful if you're trying to create something for a specific sheet dimension.
The on-screen guide comes in great handy when trying to align your design properly without wasting any material.
The program allows you to directly control your cutter in various ways, including adjusting its speed and pressure. You can preview your cut directly from the tool before starting the actual cutting process. The highly accurate preview is perfect for ensuring that you're going to cut exactly as planned. It will account for any quirks of the cutter you're using, as long as it's supported by the tool.
Compatible operating systems: Windows, macOS
Compatible file formats: SVG, AI, PDF, EPS, PNG
Download: https://www.easycutstudio.com/download.html
3 – Design Space

Pros
Comes free with Cricut vinyl cutters
Sleek, minimalistic interface
Great for complex designs
Cons
Requires premium subscription for many features
If you have a Cricut vinyl cutter, there's no way to avoid using Design Space. It's the standard tool provided by the company, and it comes for free with Cricut products by default. Despite that, there are still some premium features which are only available if you buy a subscription for Cricut Access, so keep in mind that you won't get to use every feature offered by the tool by default.
Still, Design Space is a great suite even without a premium subscription. It has a clean, intuitive interface, and receives constant support from its developers. The interface has a modern, minimalistic look, but don't let the lack of clutter fool you – it still comes with lots of useful features for creating your designs and sending them to your Cricut vinyl cutter.
One of the great things about Design Space is that it's particularly suited for complex designs. You can create designs with lots of intricate twists and transitions and they will come out perfectly when you run them through the cutting machine. Other tools on the market may struggle with more complex vector shapes, but that's never a problem for Design Space.
Compatible operating systems: Windows, macOS
Compatible file formats: SVG, DXF, JPEG, PNG, GIF, BMP
Download: https://design.cricut.com/
4 – Sure Cuts a Lot

Pros
Offers many free shapes by default
Intuitive interface that doesn't take long to learn
Automated tracing
Cons
Not updated frequently
Mac version is not native and uses an emulator
Another popular application with lots of features available, Sure Cuts a Lot is a favorite of many professionals on the market. The program comes with a free and premium version, but the free one should be more than enough for your needs unless you need to do some more specialized operations. It's probably the best free vinyl cutting software if you don't care about any of the premium features.
You can take advantage of more than 200 shapes available by default, and you can easily use any TrueType and OpenType fonts, similar to other high-end applications on this market.
Overlaps and other complex designs are not a problem for Sure Cuts a Lot, and you can take advantage of an intuitive interface that shows you your final result exactly as it's going to look when it's cut by the machine.
One feature we found particularly useful is the automated tracing. It allows you to vectorize raster images and make them editable in the application. It's not perfect, but no automated vectorizing tool on the market is at the moment.
And for what it's worth, Sure Cuts a Lot delivers results that stand significantly above most similar applications in this regard.
Compatible operating systems: Windows, macOS
Compatible file formats: SVG, AI, PDF, PNG, EPS
Download: https://surecutsalot.com/software/software_scal.html
5 – Adobe Illustrator

Pros
Best-in-class vector design tool on the market
Great for complex projects with lots of components
Supports advanced workflows
Cons
Requires premium subscription after free trial
Heavy on your computer
Probably the most popular tool on the graphic design software market, and one of the most powerful vector design suites ever, Adobe Illustrator is a powerhouse when it comes to working with vector images.
The free trial should be more than enough to get a sense of what Illustrator has to offer, although exploring the application in full can take months, even for experienced users who know what they're doing. This is the best software for vinyl cutters for users who know what they want.
The transform tools of Adobe Illustrator are simply amazing and remain unmatched by any other tool on the market. Illustrator allows you to make complex transformations and edit your images in intricate ways with minimal effort once you've figured out how its interface works.
It also supports intensive workloads, including editing images with thousands of components. If there's one application that can handle all of that without crashing, it's Illustrator.
Adobe is constantly hard at work improving the feature set of Illustrator. The company understands its market quite well, and you can expect to see lots of new features with each update. Some of them might not be directly useful to you, but you should still find something interesting in each major update delivered by Adobe. Illustrator is well worth its long-term subscription for all it brings to the table.
Compatible operating systems: Windows, macOS
Compatible file formats: AI, PDF, DWG, CDR, PDF, EPS, BMP, and many others
Download: https://www.adobe.com/products/illustrator/free-trial-download.html
6 – Graphtec Studio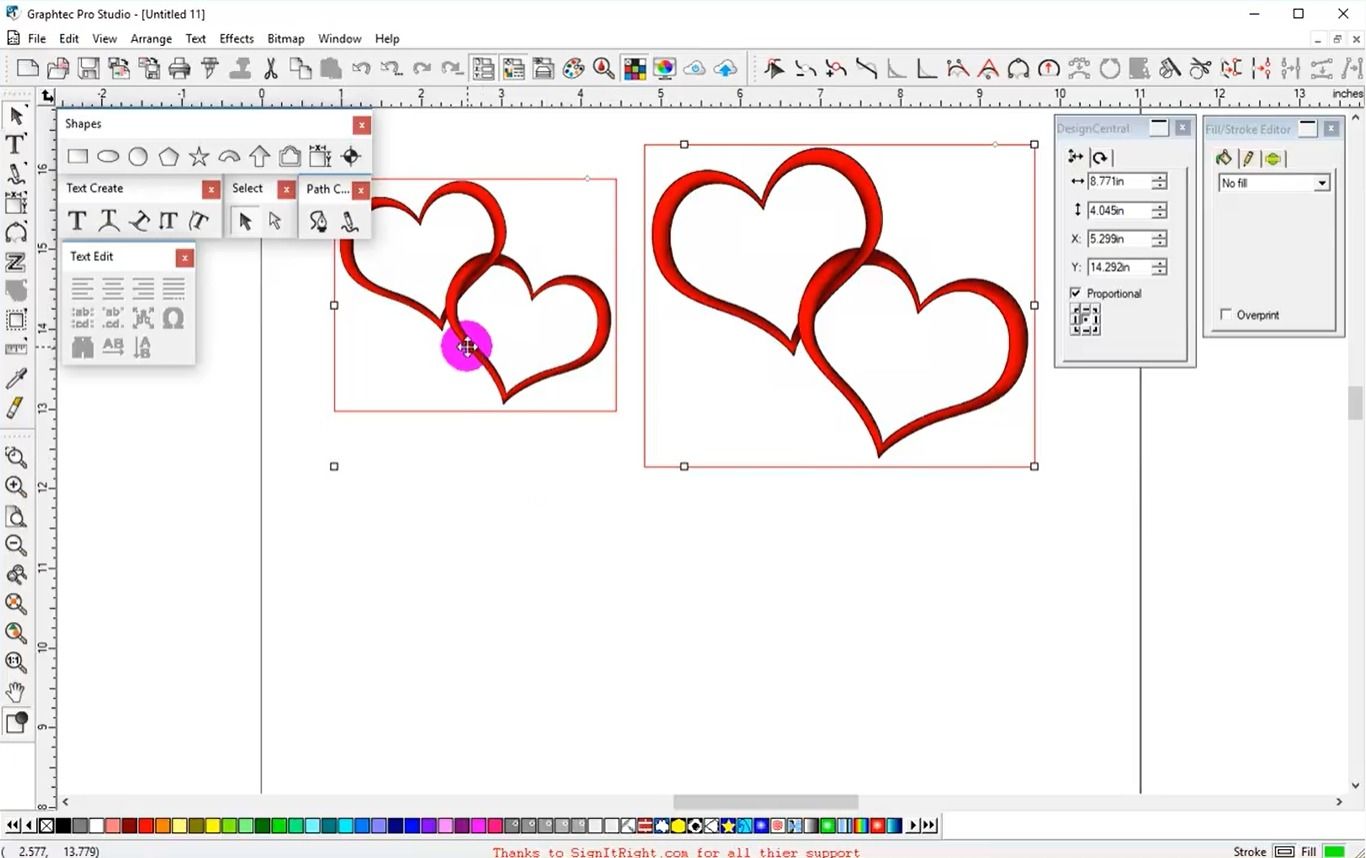 Pros
Supports lots of different file formats
Great for editing text
Cons
The interface is often confusing and looks outdated in places
Graphtec Studio is free for owners of Graphtec vinyl cutters. The application offers a good mix between simplicity and powerful features. It may not be the most advanced or modern suite on this market, but it still gets the job done. The interface looks a bit old and out of touch with current trends, but it doesn't take long to get used to it. For some users, it can actually be a nice break from the flat layouts of some more modern tools.
Beneath the clunky exterior lies an application with plenty of useful features. You've got all the basic editing and manipulation tools you'd expect from a program like this, plus some advanced features like configuring the cutter's behavior directly from the application.
Graphtec Studio is particularly good when it comes to editing text and other similar parts of your projects. Simple edits like shape manipulation, adding effects like shadows, and duplicating an object, are easy to do and come with lots of configuration options.
Some users might find Graphtec Studio's interface a bit overwhelming at times, as the application has a tendency of throwing a whole bunch of buttons and menus your way on every screen. It has a more "engineering" feeling to it than a typical designer tool, but it doesn't take long to get used to that.
Compatible operating systems: Windows, macOS
Compatible file formats: EPS, DXF, GSD, GST, GSP, WMF, PNG, JPEG, BMP, GIF
Download: https://www.graphtec.co.jp/site_download/gps/gps_std_en_w.html
7 – Inkscape

Pros
Offers a wide variety of features by default
Various community extensions are released regularly
Cons
Somewhat clunky at times
More difficult to get started with
Inkscape often gets overlooked on the free vinyl cutter software market, which is a shame because it has plenty of features and is an overall solid suite for editing vector graphics. It's one of the classic free vector tools and is commonly recommended as a free alternative to Illustrator. You can make use of various editing tools and add even more through extensions.
The community around Inkscape is far more dedicated than the communities of other similar tools, with people constantly releasing free extensions and other useful things. If you run into any problems using Inkscape, it won't take long to get a reply after posting a thread in one of the many forums dedicated to it.
The application is also great at handling different file types and offers great compatibility overall. It can take some additional setup to get it to work with your preferred vinyl cutter, but it's not a significant problem with most models on the market. As long as your cutter is not some obscure model with limited software support, it shouldn't take long to produce your first cut designed in Inkscape.
Compatible operating systems: Windows, macOS, Linux
Compatible file formats: EPS, PDF, SVG, AI, PNG, JPEG, BMP
Download: https://inkscape.org/release/inkscape-1.2/
Closing Thoughts
Now that you know what some of the best free vinyl cutter software suites on the market are, all that's left is to make your pick and figure out which one would work best for your needs. Take as much time as you need, as it's very likely that once you've chosen your main tool, you'll continue using it for a long time.