Have you always wanted to try out quilting but have no idea where to start?
If for the life of you, you don't even know what supplies to get, then you have come to the right place. In this article, you will find all the supplies you need to make your quilting as uneventful as possible.

Here are the top 16 necessary tools for beginner quilters:
1. Sewing Machine
Well, it comes as no surprise that you will need to get a proper sewing quilting machine before you start off on your quilting journey.
Now I am not saying that you should get the most expensive one out there but it will sure help if you got a high-quality one.
Ideally, you should aim for a machine that creates good straight line stitches. It should be a machine that you can comfortably do ¼" seam allowances with.

Some of the sewing machine accessories that come in handy during quilting include a walking foot to keep your fabric still as you quilt and a darning or free-motion foot for free motion quilting.
Other sewing machine attachments that are useful for quilting include an open-toe machine foot and a quilting bar.
2. Scissors
Whether you are cutting paper, fabric or even pieces of thread, you will definitely need at least one pair of scissors. Ideally, you should have a pair of scissors for fabric and another for paper alone.
Interestingly, there are several types of fabric scissors that you can look into. These include:
Large fabric shears: These should be lightweight, comfortable to use, and long enough to cut through the fabric easily. They should never be used on paper lest they become dull. Needless to say, they are perfect for cutting around templates and other areas that other types of cutters can't easily reach.
Small scissors: Due to their portability and ability to get into tight spaces, these are great for small projects
3. Rotary Cutter
Another must-have tool for quilting is a rotary cutter. While it is not suitable for reaching all the tight spaces that scissors can, it is perfect for making clean straight cuts.
Fortunately, there are many sizes of rotary cutters to choose from, the most popular ones being the 45mm and the 60mm ones. This is majorly due to the fact that these sizes can easily cut through several layers of fabric.
Specifically, the 45mm rotary cutter can cut through 2 to 3 layers of fabric; something that makes it very popular among quilting beginners.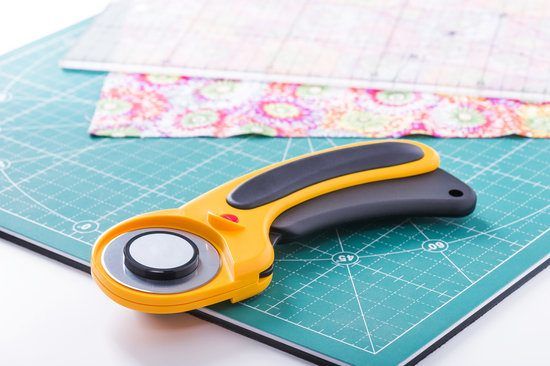 However, there are also smaller sizes of rotary cutters; 18mm and 28mm ones. These come in especially handy when cutting out applique shapes.
When choosing a rotary cutter, there are several tips you should keep in mind:
Feel free to hold the rotary cutters in the store in order to know which one feels the most comfortable
Always choose a rotary cutter that is self-closing or has a safety clasp
Always buy an extra pack of rotary cutter blades
4. Self-Healing Cutting Mat
Self-healing cutting mats go hand in hand with rotary cutters. Not only do they protect the surface that you are working on but they also suffer no indentations from the continuous cutting you are doing on top of them.
Moreover, they come with ruler grids that make fabric measurement and alignment extremely easy. These cutting mats can come with a variety of amazing features such as being foldable or the ability to spin and rotate.
They also come in a variety of sizes, the most popular ones being the 18" by 24" and 24" by 36" ones. Ideally, you should choose the largest mat that you have space for.
5. Acrylic Quilting Ruler
This is yet another essential tool for quilting beginners. Quilting rulers are usually transparent and come with some gripping quality that allows you to use them comfortably without any slipping taking place.
An ideal quilting ruler should have the following characteristics:
Sturdy
Easy to read
Suitable size for the purpose
Non-slip
It is also worth noting that quilting rulers come in a variety of types and sizes. These include:
5", 6" and 8" width rulers: These can be 12" or 24" long
Square rulers: These come in a variety of sizes ranging from a 5½-inch one to a 12 ½-inch ones
Specialty rulers: These include 60-degree triangle rulers and tribology rulers.

6. Fabric
In order to create high-quality quilts, you will need to get some high-quality fabric.
For quilting, especially for beginners, I highly recommend 100% cotton. Even professionals will tell you that cotton is the quilter's best friend.
After you have mastered it, then you can progress to your satins, velvets and other fancy fabrics.
7. Thread
High-quality thread is integral to producing good quilts. Most quilters use 50 wt. 100% cotton thread; it is the most highly recommended.
While this thread comes in a variety of colors, the most recommended ones are neutral tones like tan, beige, cream, grey or white. This is because these colors blend well with most fabric colors.
Feel free to choose from a variety of good brands like Gutermann, Aurifil, Superior Threads, Sulky and Mettler.

8. Needles
As a quilter, you should always have an extra pack of machine needles.
Not only can your sewing machine needle break in the middle of your quilting, but you will also need to change your needle whenever you want to start working on a new project. As such, you will need to stock up on some universal needles.
If you are thinking of doing some hand quilting, there are several types of needles you could invest in. These include:
Betweens: These needles are sharp yet short and strong. This makes it easy for them to go through the layers in your quilt. As such, they are the most popular needles for quilting
Sharps: These long, thin needles are commonly used by quilters who regularly piece their blocks by hand
Straw needles: These are long, sharp, flexible and easy to manipulate. They are perfect for applique and binding
9. Seam Rippers
Even the most experienced quilters make mistakes, let alone a beginner.
As such, it is very important for every beginner to have a seam ripper. This tool makes undoing seems very quick and easy.
While your sewing quilting machine may have come with a basic seam ripper, there is nothing stopping you from getting yourself one of those fancy modern ones that come with an ergonomic handle and retractable blade.
After all, it doesn't hurt to have an extra seam ripper, just in case you misplace one.

10. Pins and Cushions
Whenever you need to hold your fabric in place; which you will need to do a lot when quilting, nothing comes in handy like pins.
They help you increase the accuracy of your piecing process. You will be happy to know that there are several types of pins such as glass headpins, silk pins, applique pins, and safety pins.
As their name suggests, applique pins are best suited to securing fabric for applique. On the other hand, glass head and safety pins are best for projects that require ironing and basting respectively.
It is also important to remember to get a pin cushion or a magnetic pin bowl to store all your pins. This will help avoid any accidents associated with misplacing your pins.
11. Iron and Ironing Board
As any quilter will tell you, ironing is an important part of the quilting process. As such, an iron and ironing board are good tools to have.
If you already own these tools for personal use, they should work just fine, especially if your iron has a steam function. Alternatively, you can get an iron that is specifically designed for quilters.
12. Clips
These are a great alternative to pins. They can be used for not only holding your binding in place as you quilt but also for holding your pieces of fabric or quilt blocks together so that you don't misplace them.
Clips come in extra handy when you are working on accessories or home decor projects.

13. Quilting Gloves
These gloves allow you to properly grip your quilt and move it around with ease. When getting quilting gloves to make sure you get the right size for your hands.
14. Quilt Design Wall
A design wall is a good way of displaying different aspects of your quilting project so that you can take in how they would look like together.
While you can make your very own design wall using batting and insulation board, you can also buy one from a quilt shop.
15. Die Cut Machine
If you are planning on using complex shapes for your quilting projects, you could look into getting a die cut machine to quickly cut them out for you. You can get some good options for AccuQuilt and Sizzix.

16. Starch
This is a good thing to have when you are dealing with lightweight or stretchy fabric. Starch ensures that your seams are extra crispy!
Parting Shot
Well, there you have it; all the tools you need to start your quilting journey. Get them at your nearest quilt shop and start working. Remember, practice makes perfect.