Today we are here to talk about some of the best home embroidery machines that you will find in the market.
To help in narrowing down your search, we have gathered the best embroidery machines for home use in this article.

Best Embroidery Machines For Home Use Comparison
The following tables will give you a fair idea and comparison about the best embroidery machines for home use along with their specifications:
Best Home Embroidery Machines Reviews
#1 – Brother PE770 Embroidery Machine
The first embroidery machine that we are going to consider here comes from the house of Brothers and is one of the finest available in this category.

Pros
Large embroidery area (5 x 7 inch field)
Fast embroidery speed (up to 650 stitches per minute)
Very simple and easy to use
Bright lit working area
Cons
Cannot be operated while connected to a computer
Feature Highlights
The Brother PE770 embroidery machine has an impressive 5-inch x 7-inch field that works well on your materials. There is enough space for you to work on your creative designs. You can work freely without having to worry about the restriction of space.
It has 136 in-built designs that you can use on your work. The set of 6 lettering fonts can come in handy too. If you consider the machine as a whole, there are unlimited designs that can be used on your cloth pieces.
The fact that the Brother PE770 has an internal memory ensures that you have access to numerous designs. But that doesn't end there.
If you feel like you want to add newer designs to your work, you have the option to get the same done by the use of USB ports and memory cards.
You can import designs from these external drives and then store them in the internal memory and have a good time embroidering.
But if you want to stick to the normal memory designs, then you get to access a range of 10 frame shapes and 12 border styles.
However, if you want to experiment with the existing designs, you also have the opportunity to do that too. You can edit your designs, rotate them and change the size of the shapes according to your convenience.
Read full review of Brother PE770 here
Low Points
One issue that the users have complained about is the fact that the machine cannot be operated while connected to a computer.
Otherwise, downloaded designs work well on this. The backlit LCD screen adds the cherry on the cake!
#2 – Brother LB6800PRW Project Runway Embroidery and Sewing Machine
The next product in our list of best embroidery machines for home use, Brother LB6800PRW Computerized Embroidery and Sewing machine is the real definition of versatility.

Pros
Multiple choices with a large variety of sewing stitches
Includes a one-touch automatic thread cutter for quick thread cutting
Comes with a convenient carrying case
Light-weight and easy to use
Cons
Small hoop, no options to upgrade
Feature Highlights
The 67 sewing stitches are the testimony to the fact. The design area is enough for your special embroidery styles. It comes in a 4-inch x 4-inch space.
But where do you see all the exquisite design ideas?
All of this is displayed on the backlit LCD screen. There is more to this, of course. 120 design patterns and 5 lettering fonts complement the inbuilt designs.
To add to the whole thrill, you can import designs from iBroidery.com or other such sites. The device is compatible with all computers (exclude MAC) for the best experience.
There is a memory card slot that allows you to put in designs according to your choices.
Apart from the wide range of design ideas, the Brother LB6800PRW Embroidery and Sewing machine comes with a few other attractions. These include the 7 specialty sewing feet, a designer rolling bag and the embroidery bobbin thread.
All of these make your sewing experience a memorable one.
To add to it, there is a one-touch automatic thread cutter that reduces your problems.
Also, the machine facilitates threading the needle with ease so that you can go on to your stitching ventures soon.
Read full review of Brother LB6800PRW here
The product is very reliable, as reported by the users. The built-in tutorials make this embroidery machine a very user-friendly device.
Low Points
The default stitch isn't the most attractive one, so you have to get used to changing it every time.
For a beginner who is trying out his or her hands at embroidery, this is a great way to start, with ample designs and ease of use.
#3 – Brother SE400 Computerized Sewing and Embroidery Machine
The next product that we are going to talk about is also from Brothers. This is another efficient embroidery machine from the same brand.
But this time, it is not just about embroidery.
Sew, embroidery, and quilt are the functions in the Brother SE400 Sewing and Embroidery machine.

Pros
Large variety of stitches and up-to-date functions
It works quiet and sews beautifully
Affordable
Cons
Small hoop, only suitable for small embroidery projects
Feature Highlights
You will have an area of 4-inch x 4-inch for your sewing purposes; that is pretty much enough for your work.
The LCD display will make things comfortable for you. You will have access to 67 stitching designs, each of them unique in their features.
Apart from that, there are 70 built-in embroidery designs and 5 lettering fonts. If you wish to make something creative, you will have all the resources to yourself to make it count.
The one advantage the Brother SE400 Sewing and Embroidery machine has over the others is its connectivity with the computer. With this feature, you will be able to import designs from different websites on the internet and bring them to life through your work.
Another feature in this embroidery machine that tends to attract people is the automatic needle threader and needle cutter.
We all know how difficult it is to thread a needle. The work gets done here very easily and reduces your tension.
The work space in this machine is very brightly lit which ensures that you do not have to work in dark or have to keep all the room lights on while you work.
Read full review of Brother SE400 here
Low Points
The users have remarked that out of the 5 fonts, 3 almost look identical. So this is one of the drawbacks of this machine.
Otherwise, this product has been a huge hit amongst the people with its computer connectivity, automatic needle threader and the ease of bobbin preparation.
The needles installed inside are organ needles and are available in different sizes.
#4 – Brother PE535 Embroidery-Only Machine
There is a certain charm about embroidery machines. It gives one the key to freely bring out the creativity in ourselves.
This is the reason a lot of people still hone this passion of embroidery at home. This is a feeling that the brand called Brother understands very well.
Thus, presenting to you the next machine Brother PE535 that comes with all the facilities that will make your embroidery experience a good one.
The sleek design and elegant looks are perfect for a home setting.

Pros
Compact and beautiful design
Very easy to use and customize designs
Easy-to-see color screen
Feature Highlights
As an updated version of Brother PE525, this new model PE535 comes with larger LCD touch screen display allowing you to edit or view your designs with ease.
What's more?
The Brother PE535 comes with 80 built-in designs, plus 9 unique lettering and monogramming fonts (a lot more than the Brother PE525).
Also, you can download different fonts and patterns then transfer them onto the machine via its USB port.
The 4-inch x 4-inch embroidery area is perfect to let your imagination flow and be en route to making something spectacular with your design.
The workspace is brightly lit so that you do not have to worry about the lack of lighting whenever you stitch.
The automatic needle threader is another attractive feature in this device that saves you time.
Low Points
However, this machine is restricted to do only embroidery work and cannot perform much of heavy normal sewing work.
So if you're new to embroidery or you only want to embroider small designs, this user-friendly embroidery machine is a great machine to buy.
#5 – Brother PE550D Embroidery Machine with Disney Designs
When it comes to embroidery machines, Brother is the most popular name here and rightfully so.
Over the years, they have come up with some of the best products in this category and continue to do so even today. But there is something that sets this PE550D embroidery machine apart from the rest.

Pros
Good selection of Disney designs and fonts
Easy to set up and use
Easy-to-read LCD
Feature Highlights
This machine is capable of producing 45 Disney designs which are nothing short of bliss for lovers of Mickey Mouse and Donald Duck.
These are easy to produce embroidery designs. This becomes even more useful if you have kids at home.
That is not the end!
Apart from the 45 Disney designs, there are 80 other ideas built in inside the machine. Add to that, it comes with 9 lettering fonts (6 English and 3 Japanese).
If you still aren't perfectly content with the designs, there is no need to worry yet. Brother will take care of it that you are cent percent satisfied with this product.
So, after you are done with the inbuilt designs, you can move on to the designs available on the websites online by connecting your embroidery machine to the computer.
Also, there is a USB port that helps you bring in designs from different sources to this machine.
The LCD touchscreen display is perfect for editing your designs. You can view all your ideas there and then plunge into the world of beautiful embroidery decoration.
The Brother PE550D embroidery machine assures you high-quality work and designs and brings to you accessories like a needle set, bobbin thread, seam ripper, screwdrivers, USB cable and the likes.
Low Points
Again, there is only one drawback with this machine. The device can only perform embroidery work and is not able to do the normal sewing work.
Other than that, this device gives you the best performance.
Read more: Singer embroidery machine reviews
#6 – SINGER Futura XL-550 Computerized Sewing and Embroidery Machine
The next product on our list is the well-known Singer Futura XL-550.
This is one product that has received rave reviews off late and therefore it is our duty to make you privy to this information.

Pros
Large embroidery area
Great sewing functions
Includes a convenient speed control
Smooth even stitches
Feature Highlights
Let us talk about the basics of the product, which is the SwiftSmart threading system of the product. This is a system that even some of the best embroidery system doesn't have but this product does.
The advantage of having this system is that it is solely responsible for guiding the thread from the spool to the needle and the thread to the needle very easily. For the latter, you will find a separate thread lever which is really convenient.
The next thing we need to look at is how much space it requires and how much space we get. With a 10-by-6-inches hoop, it's not surprising that this Singer embroidery machine is one of the top home embroidery machines with largest hoop.
The dimensions of the product are 23 x 9.5 x 13 inches and weighs just 23 pounds making it a wholesome albeit a lighter machine to have.
The distance between the right of the needle and the arm length is 210mm which is more than sufficient to accommodate large objects like quilts and other such materials.
The unique feature of the product is the AutoPunch Software. The reason we say so is that you will be able to make designs like logos, clipart, images and other designs into embroidery designs effortlessly.
Low Points
Now we come to negatives of the product. The only problem that some people have brought in our purview is the needles at times break quite easily.
This is a problem that has bothered the manufacturers as well and that is the reason they have left no stone unturned to make sure that this particular issue doesn't crop up and create unnecessary problems for the users; after all the customers are their topmost priority.
#7 – SINGER Futura XL-400 Computerized Sewing and Embroidery Machine
Next up is an embroidery machine that also comes from the house of Singer.
The brand name of Singer is quite a popular one in this field of embroidery machines. Technology makes this a smart device that comes with some of the best performances.
Singer makes sewing easy and that is what we will notice in this Futura XL-400 Computerized Sewing and Embroidery machine. This can be completely customized with the help of technology.

You can get different design ideas from different places and then place them together in one file and use it to make your own designs.
Pros
Large embroidery field with multihooping capability
Beautiful embroidery designs
Very bright work light
Cons
It requires a steep learning curve
Feature Highlights
Let us look into some of the properties of this Singer embroidery sewing machine, one by one.
For home users, it comes with 125 embroidery designs that are more than enough for your work. This gives you a head start to your sewing dreams.
There are also 5 monogramming fonts that make your work interesting and creative.
Secondly, if you are not fully satisfied with these ideas, you can make use of the software provided to create and edit your designs and display them on your work of cloth.
Next, we are going to talk about the hoop provided. Even though the hoop is a 10-inch x 6-inch one, it has multi-hooping capacities.
There are also 6 LED lights provided that light up the work space so that you do not have any problems related to lighting. This also prevents eye strain.
Low Points
As some of the users have reported, you cannot align the hoop vertically, it can be attached in only way. This might be a small problem for some.
But the good news is that you can rotate your design in any direction you want to. This makes your work a lot more convenient.
Advantages of A Home Embroidery Machine
Here are some of the advantages that you will get from using an embroidery machine at home:
1. Issue of Labor
One thing that was really a big issue earlier was the fact that in manual embroidery, people or humans were the only ones who had to work around the clock to give the patterns and designs on the materials.
The whole process was tedious and required a lot of attention. But in machine embroidery, the participation of man has been hugely reduced.
Another advantage that you will get here is that chances of human error in designing also decreases tenfold. It also means that you will also get near perfect or flawless products which are something that all of us want.
So here the machine embroidery is having dual advantage which can only be music to an embroidery enthusiasts ears.
2. Cost Effective
You have to understand that when you are employing people to perform such skilled work then it is but natural that they will charge a particular amount of money as it involves creativity and expertise.
In addition to that, there is the cost of the threads and needle and other ancillary objects. So you will find that the end cost you incur is very high.
But if you do the same work with the help of home embroidery machines or home monogram machines then you will save a lot of money. This is another plus to having a proper embroidery machine for home use.
3. Time
As mentioned earlier, embroidery is a tedious work and consumes a lot of work which in effect means that you will stand to lose a lot of time to it.
But if you use an embroidery machine then you will get your end product in almost no time which means that you can save a lot of time.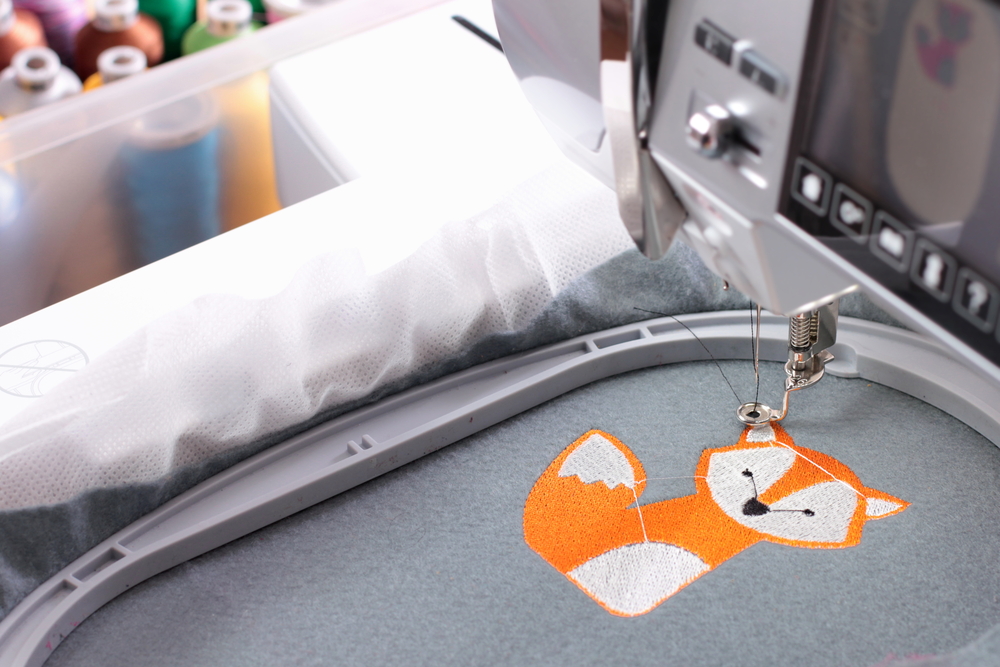 4. Designs and Patterns
Another good thing about embroidery machines is that you will find (whether you have an older or an advanced model) pre-loaded designs and patterns.
This makes sure that you don't have to think too much to get the best designs for you.
How Does An Embroidery Machine Work?
One thinking that must have crossed your mind is that how does the whole process of machine embroidery actually work. This is why we decided to include this particular information in our review.
Embroidery, in general, is known for the intricate needlework and naturally, they take patterns catering to the designer's interests.
But in machine embroidery, any such requirement is not needed. Everything here is digitized and minimal effort from humans is to be given here.
This means that even if you are not very good at designing but are an embroidery enthusiast, with the help of the embroidery machine you can get the desired designs.
As far as designing is considered, the process is pretty easy once you get to know what it is that you exactly need to do.
Steps On Using An Embroidery Machine At Home
Firstly, embroidery machines for home use often come with pre-loaded designs and pattern.
So if you are an operator then you will need to select the design that you want to give to the textile from the screen on the product.
In most of the older machines you will find that the designs are pre-loaded but as you move on to the newer models, you will get the option of editing the already existing designs. This helpful editing function enables you to make your own designs and patterns easily.
After choosing the designs, the fabric on which the embroidery needs to be done is attached to a stabilizer.
After all the preparations are complete the user will have to push a button that will start the process. The machine will actually tell the
The machine will actually tell the embroiders the exact moment when they will have to change the threads and will guide them through the completion of the process.
Helpful Tips To Choose The Best Embroidery Machine For Home Use
Here are some of the tips that you should follow to get yourself the perfect home embroidery machine:
The first thing that you should do is decide why do you need the machine as it will help you decide what type and the kind of specifications that you would need in your product.
The second thing that is of utmost importance is that you should check out the features that are being offered and whether your computerized embroidery machine for home has the minimal features of embroidery and sewing.
You will also need to see the type of designs that are on offer before deciding on which machine to choose. It is a must that you go for a product that gives you more and better designs and patterns within your budget.
Moreover, the budget plays a very important role in choosing the product as you wouldn't want to spend excessive money unnecessarily, therefore get a clear idea about your priorities.
You must give due care especially in checking the other features that you are getting with your embroidery machines. Plus, the warranty is an important issue, so do verify how many years of warranty the machine gives and what are the parameters for availing them.
Conclusion
We hope that these best home embroidery machine reviews have been helpful as we have tried to give you an unadulterated look into the embroidery machine world.
We hope that after looking at the features, advantages, and reviews of the best products in the market, you are better equipped for choosing the right embroidery machine for yourself.