The following tables will give you a quick comparison of the best heavy duty sewing machines that we have analyzed and selected for your consideration.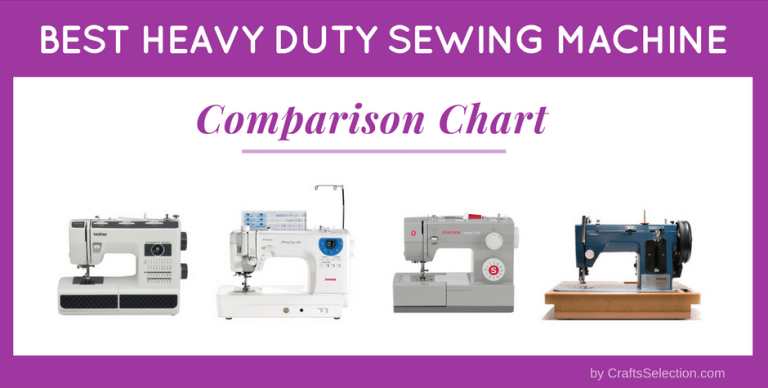 These machines are selected from three price ranges:
Best heavy duty sewing machines under $200 that are perfect machines for everyday sewing and mending. They are the best heavy duty sewing machines for home use
Mid-priced heavy duty machines that are perfect for advanced beginners, home businesses and sewers with limited budget (under $800)
Hi-end powerhouses (over $1000) that are perfect for fashion designers, business owners and professional sewers. They are top rated sewing machines for leather and upholstery fabrics.
Read More: Best Heavy Duty Sewing Machine For Home Use Reviews
Best Heavy Duty Sewing Machines Under $200 & Mid-Priced
Brother ST371HD
SINGER 4423
Janome HD3000
Brother PQ1500SL
Sailrite LSZ-1 BASIC
Best For
Home sewer
Home sewer
Home sewer
Quilter/
Professional
Amateur Sailmaker/
Professional
Built-in Stitches
37

23
18
1 (straight stitch)
2 (straight stitch & zigzag)
Buttonhole Styles
1 One-step
1 One-step
1 One-step
n/a
n/a
Feeding Mechanism
Feed dog
Feed dog
Feed dog
Feed dog

Walking foot

Max. Speed
800 spm
1100 spm
860 spm
1500 spm
500 spm
Needle Threader
✓
✓
✓
✓
Free Arm
✓
✓
✓
Work Light
✓
✓
✓
✓
Weight
14.3 lbs
14.5 lbs
18.7 lbs
24.2 lbs
49 lbs
See price
at Amazon
See price
at Amazon
See price
at Amazon
See price
at Amazon
See price
at Amazon
Best Heavy Duty Sewing Machines For Upholstery & Leather
Janome MC-6300P
Sailrite LSZ-1 PREMIUM
Consew 206RB-5
Best For
Quilter/
Professional
Sewer/
Professional sailmaker
Upholstery sewer/
Professional
Built-in Stitches
66
2 (straight stitch & zigzag)
1 (straight stitch)
Buttonhole Styles
4 One-step
n/a
n/a
Feeding Mechanism
Feed dog

Walking foot

Walking foot

Max. Speed
1000 spm
500 spm
3300 spm
Max. Stitch Length
5mm
6mm
10mm
Presser Foot Lift
1/4" (6mm)
0.375" (9.5mm)
9/16" (14mm)
Needle Threader
✓
n/a
n/a
Work Light
1 LED
Flex20 LED Iight
n/a
Weight
26.5 lbs
62 lbs
82 lbs
See price
at Amazon
See price
at Amazon
See price
at Amazon
See also: Best Quilting Machine Comparison