Sewing machines had been the popular tapestry equipment used as early as the ancient times for an ease of stitching and designing of the garments and home decorations. In modern times, there were vast of manufacturing plants that produced different brands and features of a sewing machine.
One of which is the famous sewing brand – Brother. As the name suggests, it is one of the prominent and largest manufacturing brands that can produce around 50,000 machines per month with thousands of staff operators and producers.
Their plant sites were located in Zhuhai, China (mechanical sewing machines), Taiwan (computerized sewing machines) and their new factory in Dong Nai Province, Vietnam.
 Photo Source: http://www.allbrands.com
Instead of doing hand embroidery, you can trust the Brother sewing machine because it features thread coloring, jump, stitch count, stop, trimming, density, and weave. You can even set your favorite logo and integrate it with the machine's system.
Many tailors have been asking, "what embroidery format for brother" are applicable? In this context, you will know the significance of the format and compatibility of the format of your sewing machine's software. All you need to do is to follow these 3 Easy Steps that includes check, read, and test rules.
If you're having a hard time to verify the appropriate format for your Brother sewing machine, you can follow these 3 step guidelines so that you can assure what is the right format to look for a design and install in your machine's system.
3 Easy & Quick Ways to Choose for an Embroidery Format for Brother
1. Check the Model
Most of the Brother sewing machine models are installed with PES readers. When you encounter a design with a file extension .pes format, therefore, it is safe to say that this is an applicable extension file for a Brother sewing machine.
By the way, what do a .pes stands for? A .pes refers to physics editor sheet file and this format is invented for embroidery machines such as Brother sewing machine models.

 Photo Source: http://www.sewingmachinesplus.com
Usually, every single stitch requires a two (2) to four (4) bytes (2B to 4B) hexadecimal data to come up with a stroke. Just imagine, how many bytes does a design contain if you'll count every stitch of it, probably, a thousand or more.
Furthermore, every Brother sewing machines have different versions of their units. The oldest unit has a PEC extension file format version 1.0 while the latest have a PES 6.0 version. To know more about their format, software, and sewing size, you may also refer to this link https://www.embroidery.com
2. Read the Manual
Another option to know what format to be  used is to follow the instructions written on the sewing machine's manual. It incorporates the details of the machine, how to operate it, and the preprogram extension file compatibility. Usually, most of the sewing machine's packages include a CD or DVD tutorial sessions for setting up the embroidery.
You may also check the settings of your sewing machine and look for its general settings to know the available formats before downloading and installing a design. Like the other gadgets, a sewing machine has also it's device information so that the user will know the compatibility feature of the machine.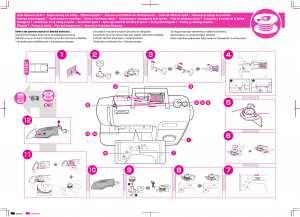 Photo Source: http://homeappliance.englishmanuals.com
Knowing everything at this point, you're now ready to download and install your favorite cartoon characters, Aztec patterns, anime casts, or floral designs on your machine. Either you look for a free design on the internet or pay a subscription for acquiring a good design.
3. Test the Embroidery Machine
After downloading the design that you desire, test the embroidery machine first by trying out a small portion of the stitch. Place a textile as a test sample to know if the design runs smoothly and if it is compatible with the machine.
Make sure to adjust the appropriate settings and features of the machine for your test activity. If the design comes out naturally on your fabric, then you may now start doing embroidery stitches for your tapestry masterpiece.
If you're using a Brother SE 400, you may refer to this clip and watch on how to import a design to your machine so you can create a digitize embroidery.
Conclusion
All throughout this segment, you're now sufficed with essential information especially in the world of sewing machines specifically in choosing the appropriate format for your Brother model sewing machine. Just remember these three (3) initials – CRT and recall the check, read, and test sewing machine procedures.
The first thing to observe, always check the model and see to it if the format of the designs is compatible with the machine's system. Furthermore, a proper installation of your embroidery software is a right way to set up your designs. You will not surely get a system error when you follow the instructions and operations accordingly.
Finally, test the design first before you concentrate in your embroidery so that you will know if the software runs smoothly or not. You may now download, install, or purchase preferred design for your fabric and begin the professional embroidery using your Brother sewing machine. Have a wonderful design on your tapestry and show off what you've got!